This delicious warm Spring salad recipe combines roasted asparagus, egg with oozing yolks, parmesan shavings and toasted pine nuts. The perfect Spring meal in my opinion!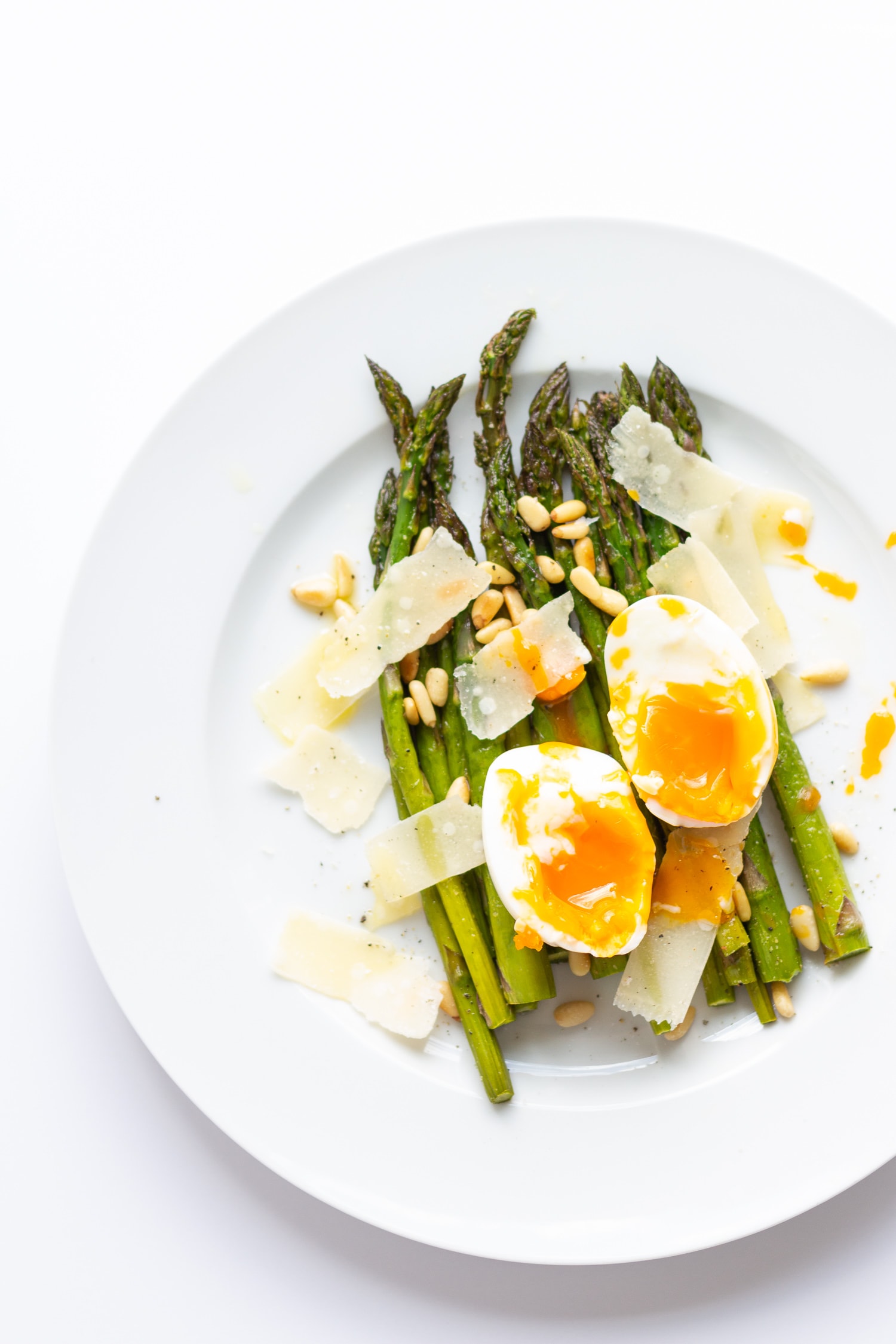 One of my favourite parts of Spring is the return of local produce because it just tastes so much better than the stuff that is shipped in throughout the winter. Asparagus is one of the first veggies to show up at the market and I couldn't be happier. I absolutely love asparagus and definitely eat my fill while it is in season. However, just a friendly reminder to remember that you have eaten asparagus when you go to the bathroom (you are not in a state of medical emergency and nothing is rotting inside of you – the stinky pee gets me every time, haha).
This warm salad is the perfect Spring meal in my opinion. You only need a few ingredients but they just combine so well together. The oozing yolk from the egg creates the perfect sauce for the roasted asparagus. Top that off with parmesan shavings and toasted pine nuts – YUMMY! This salad seems to taste even more delicious if you eat it out on the patio with a glass of wine! I think you are going to love it!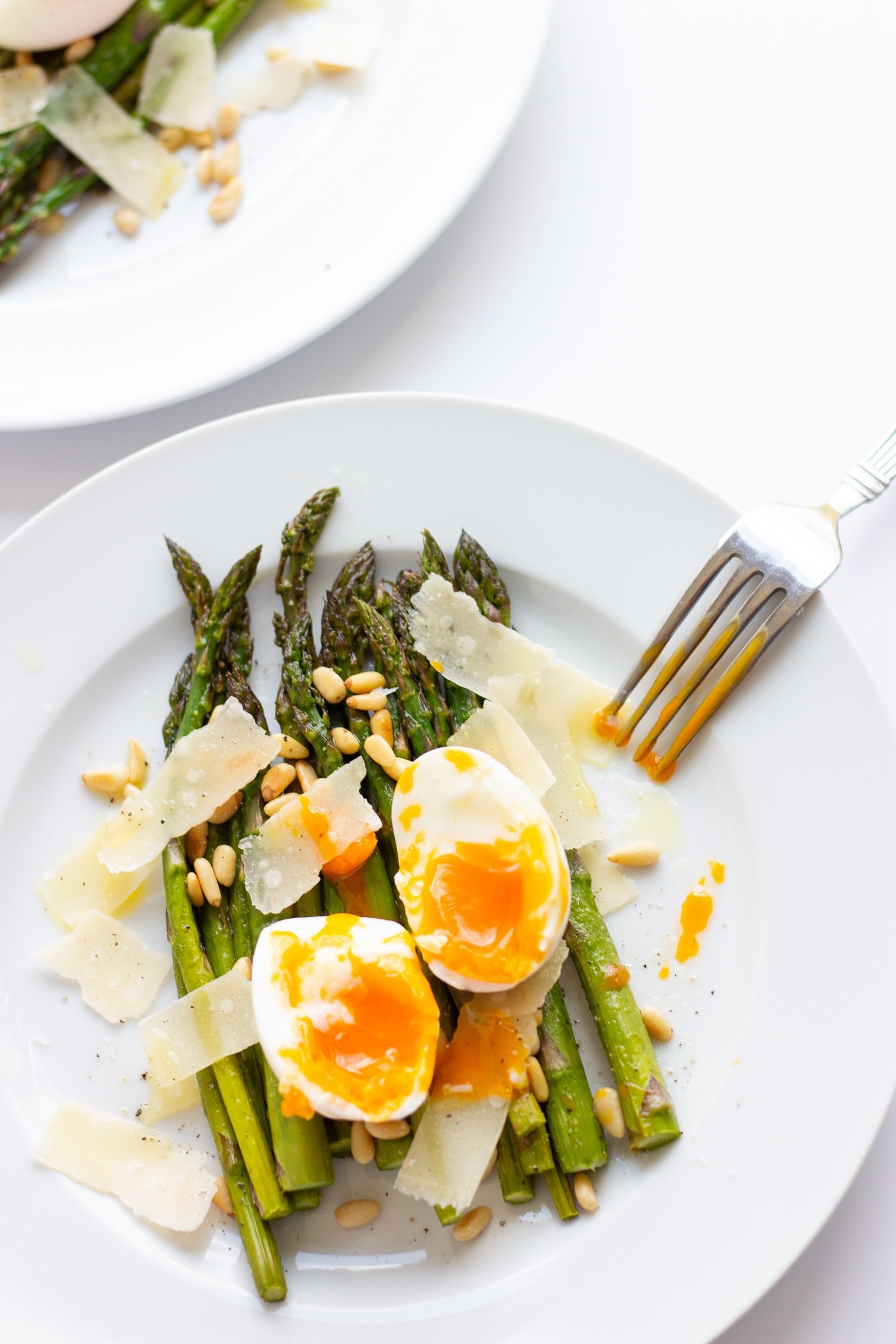 Ingredients For This Salad
To make this delicious Spring salad, you will need:
Asparagus: This is the star of the show especially when it is local and in season.
Eggs: The eggs can be poached, soft boiled or fried. The key is to make sure that the yolk is runny. That gorgeous yolk acts as a sauce when you cut into the egg.
Parmesan: Shave off some pieces with a vegetable peeler.
Pine Nuts: Lightly toast the pine nuts in a pan to really bring out the flavour.
Extra Virgin Olive Oil: A drizzle of good quality olive oil brings it all together. If you are feeling fancy, you could also use some truffle oil.
Salt and Pepper: A sprinkle of Himalayan or sea salt and freshly ground pepper to season and finish off the salad.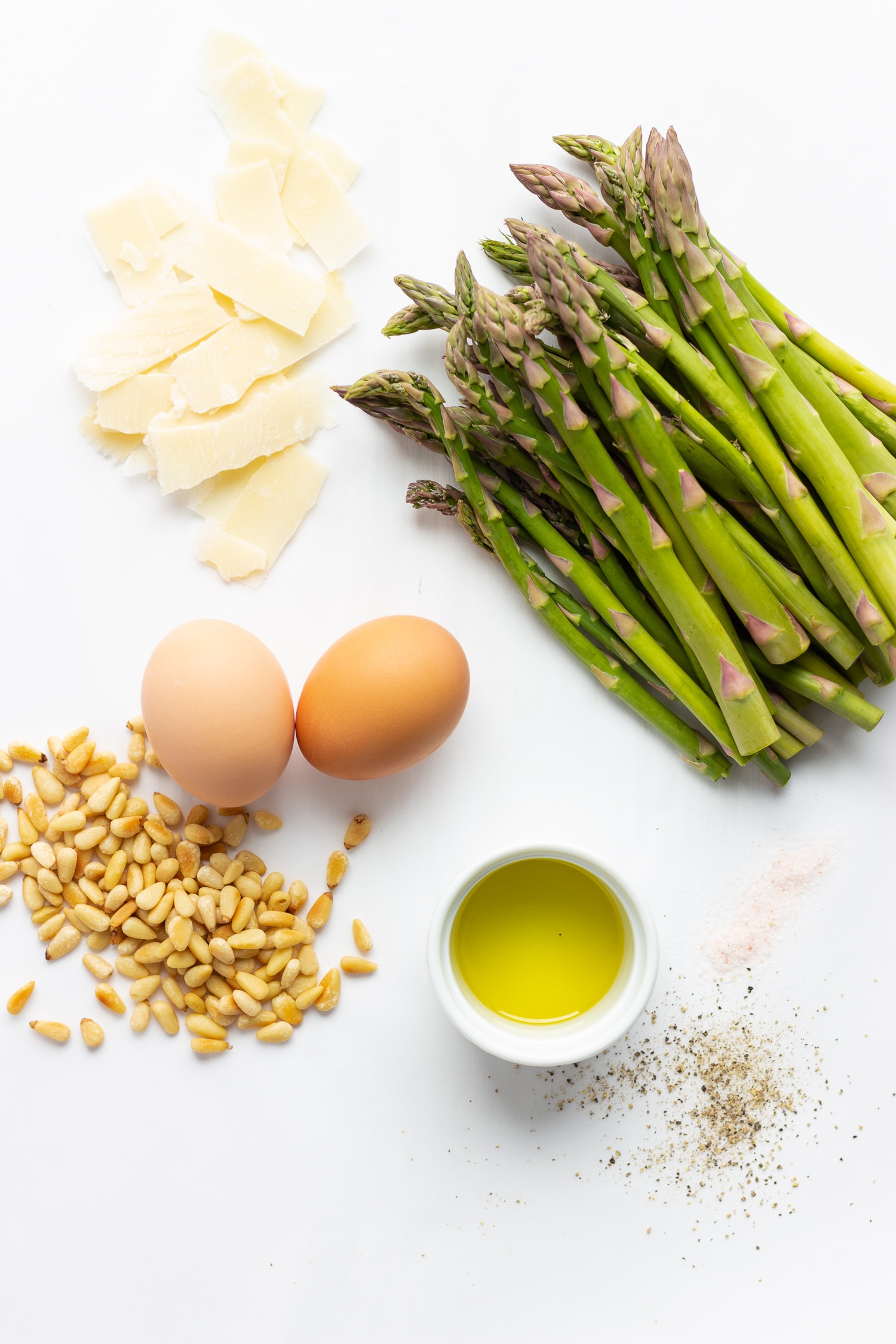 How To Make This Salad
To get this deliciousness into your belly, simply…
Roast Asparagus: Toss the asparagus with a little olive oil, salt and pepper and roast in the oven until tender and slightly golden.
Cook Eggs: Soft boiled, poached and fried all work. The key is to make sure that you have a runny yolk. The method choice is yours.
Plate It Up: Place the roasted asparagus on plates and top with an egg. Sprinkle over some shaved parmesan and toasted pine nuts. Drizzle over some EVOO (extra virgin olive oil) and season to taste with some salt and freshly ground pepper. Now sit down and cut into the egg with the side of your fork . Just watch that beautiful yolk cover your asparagus. Dig in and enjoy!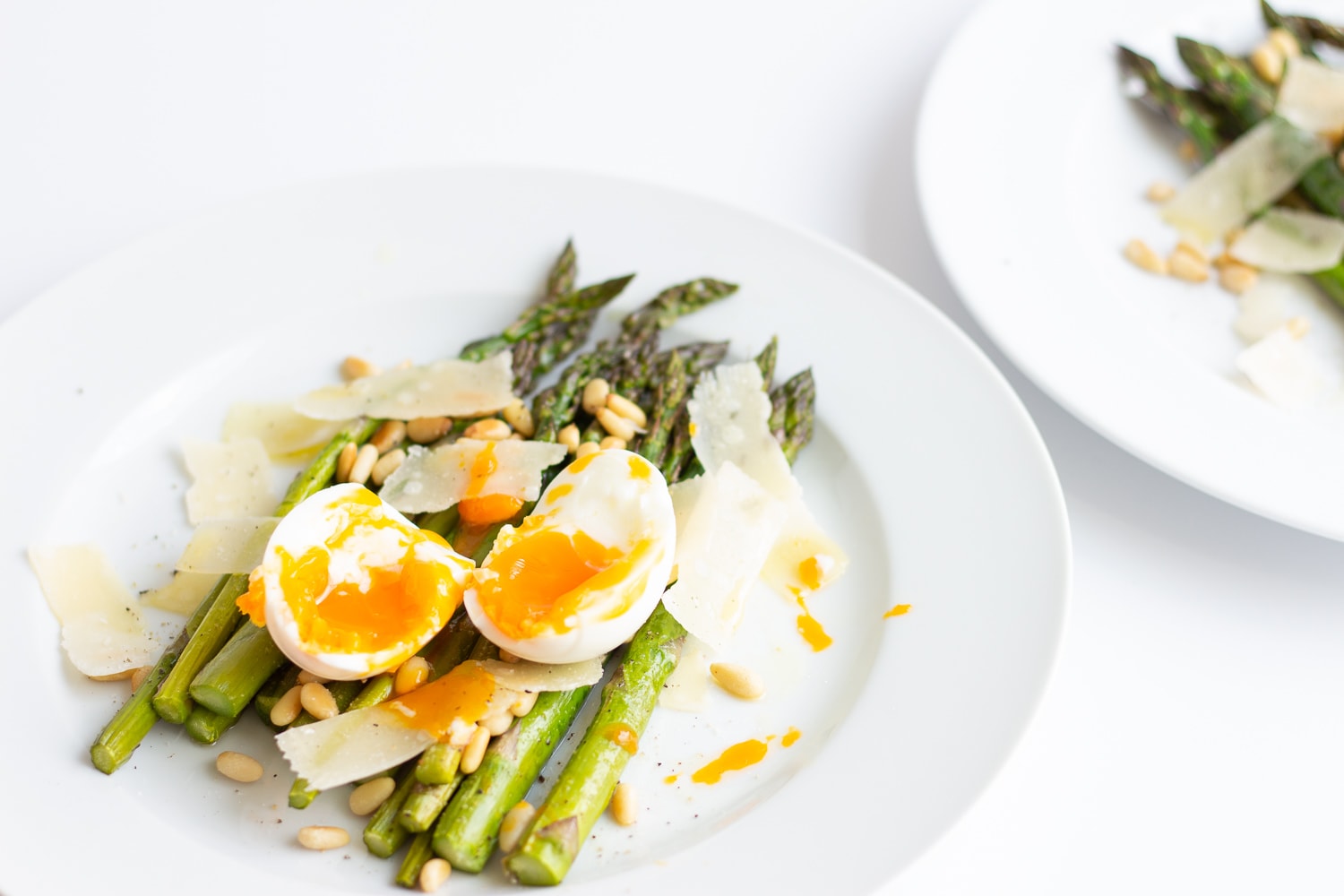 Health Benefits of Asparagus
Besides being delicious, asparagus also has a number of health benefits:
Excellent source of essential vitamins and minerals, especially folate and vitamins A, C and K
Packed with antioxidants
Serves as a natural diuretic to help keep your urinary tract healthy
Good for your digestive tract since it contains significant amounts of inulin (a prebiotic fiber)
Helps with a healthy pregnancy – asparagus is high in folate which is important for pregnancy
Good source of fiber
Helps fight cancer – asparagus is rich in glutathione, a detoxifying compound that can help destroy carcinogens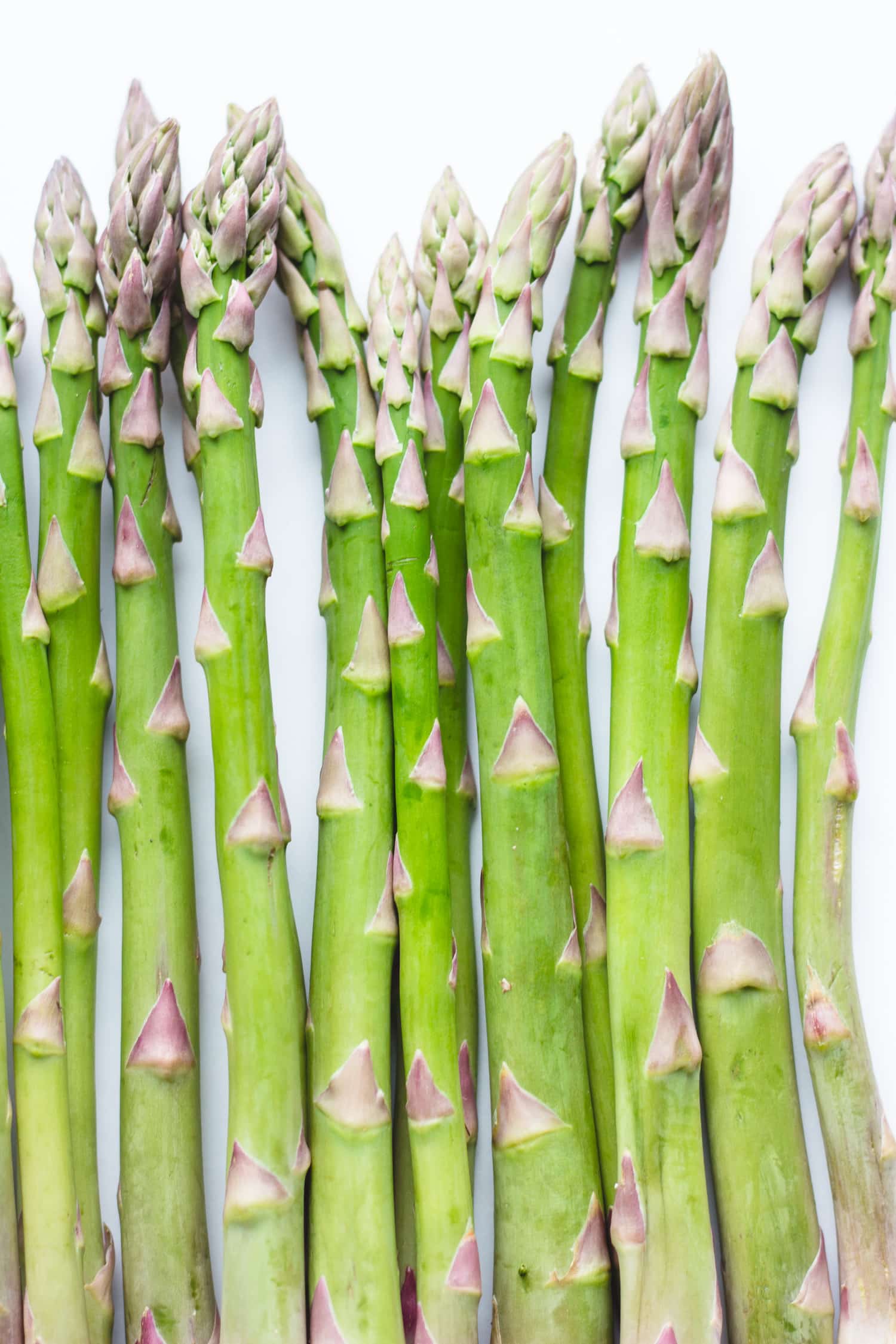 Print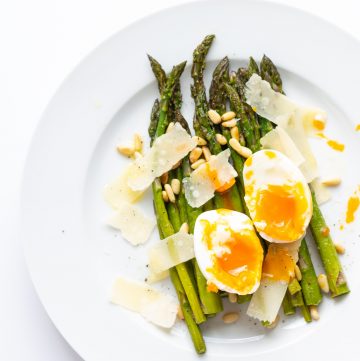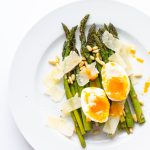 ROASTED ASPARAGUS WITH EGG AND PARMESAN
Author:

Vanessa | Maple + Mango
Prep Time:

5 min

Cook Time:

10 min

Total Time:

15 min

Yield:

2

servings

1

x
Category:

Salads
---
---
---
---