These 5 books about health, food and nutrition are truly inspiring and life-changing reads. Add these must-read books to your reading list!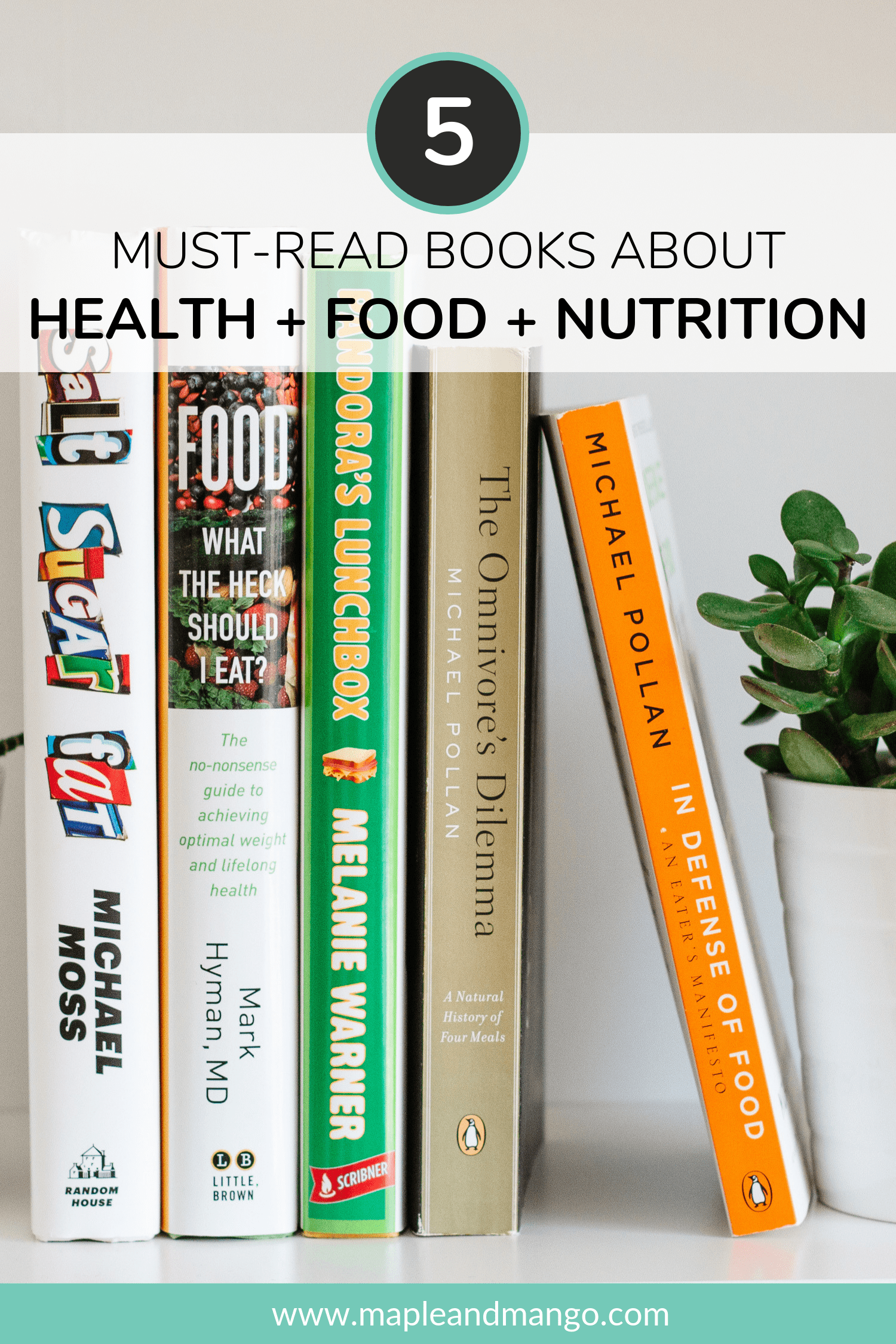 If you are interested in health, food and nutrition then these are 5 books that you will want to read. No confusing fad diet books on this list…just some research-driven, inspiring reads.
I have rounded up five of the best must-read books (in my opinion) to learn more about health, food and nutrition. All of these books are interesting, have had an impact on me and played a role in the formation of my Food + Wellness Philosophy. I was introduced to a few of these while taking the Culinary Nutrition Expert Program (an amazing program that combines cooking skills with nutrition) and a few I have read since. I highly recommend adding these life changing books to your reading list!
In Defense Of Food
This is an amazing book that can be summed up by Pollan's famous quote: "Eat [real] food. Not too much. Mostly plants." In this book, Pollan discusses how our food system became crazy and confusing instead of one that values real, whole foods. It seems that the more we focus on nutrition, the more confused and less healthy we become. In this book, Pollan shows how we can start making thoughtful food choices and return to a simpler, more pleasureful way of eating.
Buy here: In Defense Of Food by Michael Pollan
Salt Sugar Fat
"Salt Sugar Fat" is a very interesting book which exposes the processed food industry and shows the ways in which these multinational corporations are hooking consumers on their products. Pulitzer prize winning investigative journalist Michael Moss focuses on the three common additives of the food system (salt, sugar and fat) and examines how and why corporations use these three ingredients to manipulate us. Moss explains how the processed foods companies strategically create addictive foods and market them effectively.
Buy here: Salt Sugar Fat by Michael Moss
The Omnivore's Dilemma
The Omnivore's Dilemma comes down to one very basic question – What should we eat? This book focuses on where our food comes from and examines agriculture in America. Michael Pollan follows each of the food chains that sustain us – industrialized food, organic food, and foraged food. In each section, he eats a meal created using only ingredients made with those products. This is an easy to understand and engaging read that brings awareness about important issues.
Buy here: The Omnivore's Dilemma by Michael Pollan
Food: What The Heck Should I Eat?
This is a nicely organized and easy to understand book with information on all types of food. Each chapter examines a specific food group and dives into topics like the nutritional impact and science behind it, what the experts got right and wrong and what we don't know for sure.
Buy here: Food: What The Heck Should I Eat? by Mark Hyman
Pandora's Lunchbox
This book explores the world of processed foods, the powerful effects on our health and what we can do about it. Warner reveals industry secrets of how our most basic staples are being transformed into processed food-like substances to boost profits. This is an entertaining and informative read on the food industry.
Buy here: Pandora's Lunchbox by Melanie Warner
Additional Books
It was tough to stop myself at 5 books so here are some additional books that are also amazing reads!
What are some of your favourite books on health, food and nutrition? Let me know in the comments below.
⬇ PIN it for later! ⬇