Looking for something to make with fresh strawberries? Here are 12 easy and delicious strawberry recipes that you need to try! Lots of amazing options to choose from including drinks, breakfast, snacks and desserts. The hardest part is deciding what to make first!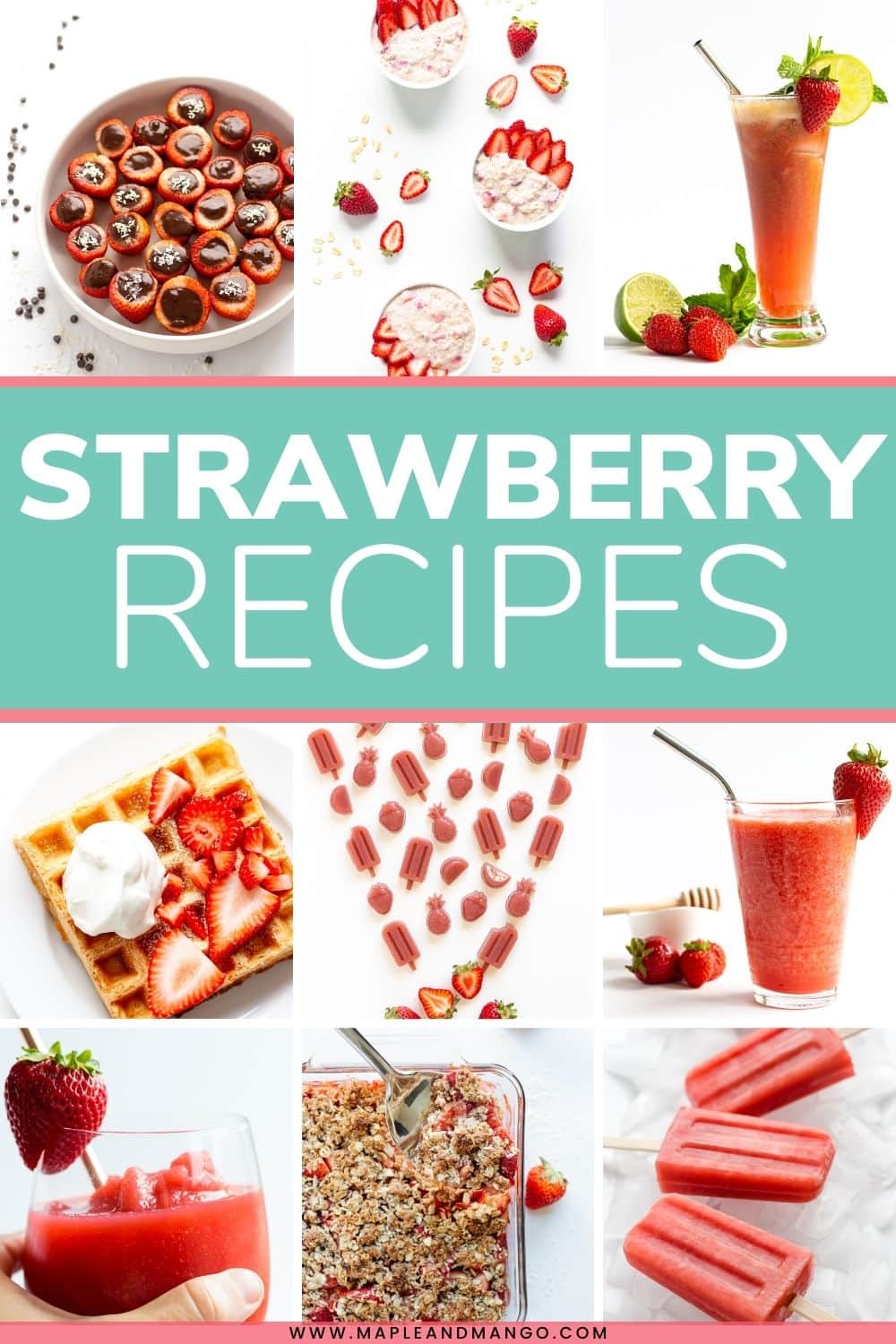 I LOVE strawberries! Especially when they are in season. Nothing beats the smell and taste of local strawberries. They are just so incredibly good!
Wondering what to do with all those fresh strawberries? First, make sure to snack on them straight up by the bowlful. Then, once you have had your fill, make some of the delicious recipes below that I have rounded up for you.
Some of these strawberry recipes are healthy, some are super easy and all of them are made from real food ingredients. Everything from breakfast ideas, drinks, desserts and more!
5 Strawberry Fun Facts
Before we get to the recipes, here are a few fun facts about strawberries. You never know – they might come in handy during a future trivia game;)
The average strawberry has 200 seeds.
Strawberries are grown in every single U.S. state and Canadian province.
Strawberries aren't true berries. Technically a berry has its seeds on the inside. Botanists actually consider each seed on the strawberry to be its own separate fruit. What?!?
Strawberries are a member of the rose family.
Strawberries contain more vitamin C than oranges.
What To Make With Strawberries
Looking for things to make with strawberries? Here are 12 easy and delicious recipes using fresh strawberries to choose from. Enjoy!
Strawberry Compote
Learn how easy it is to make this super delicious strawberry compote recipe. Just 4 simple ingredients and so versatile! Use it as a topping on a variety of breakfast and dessert dishes.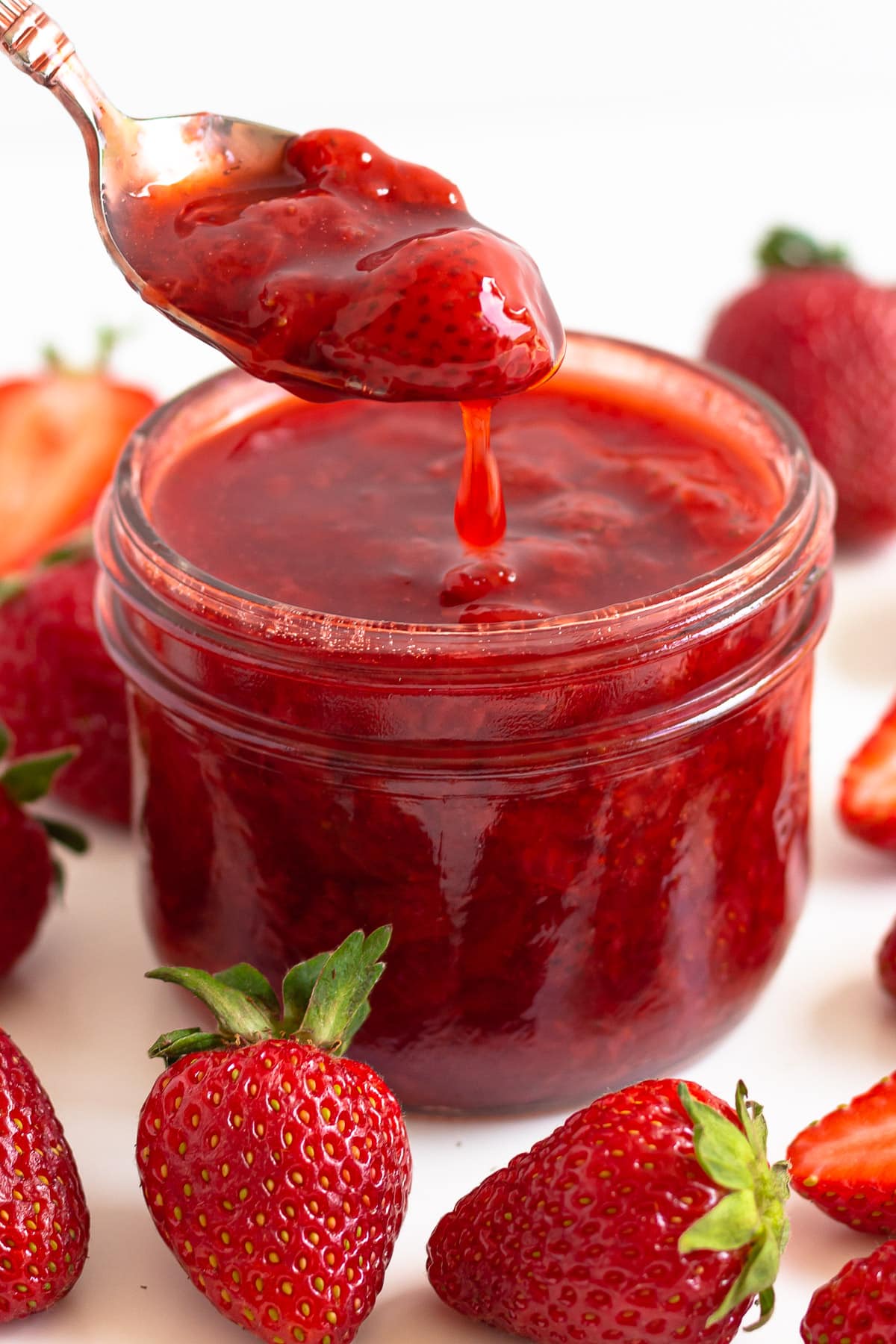 Strawberry Overnight Oats
This Strawberry Overnight Oats recipe is creamy, delicious and features sweet, juicy strawberries. Yum! Prep them in just 5 minutes for a quick and easy make ahead breakfast (or snack).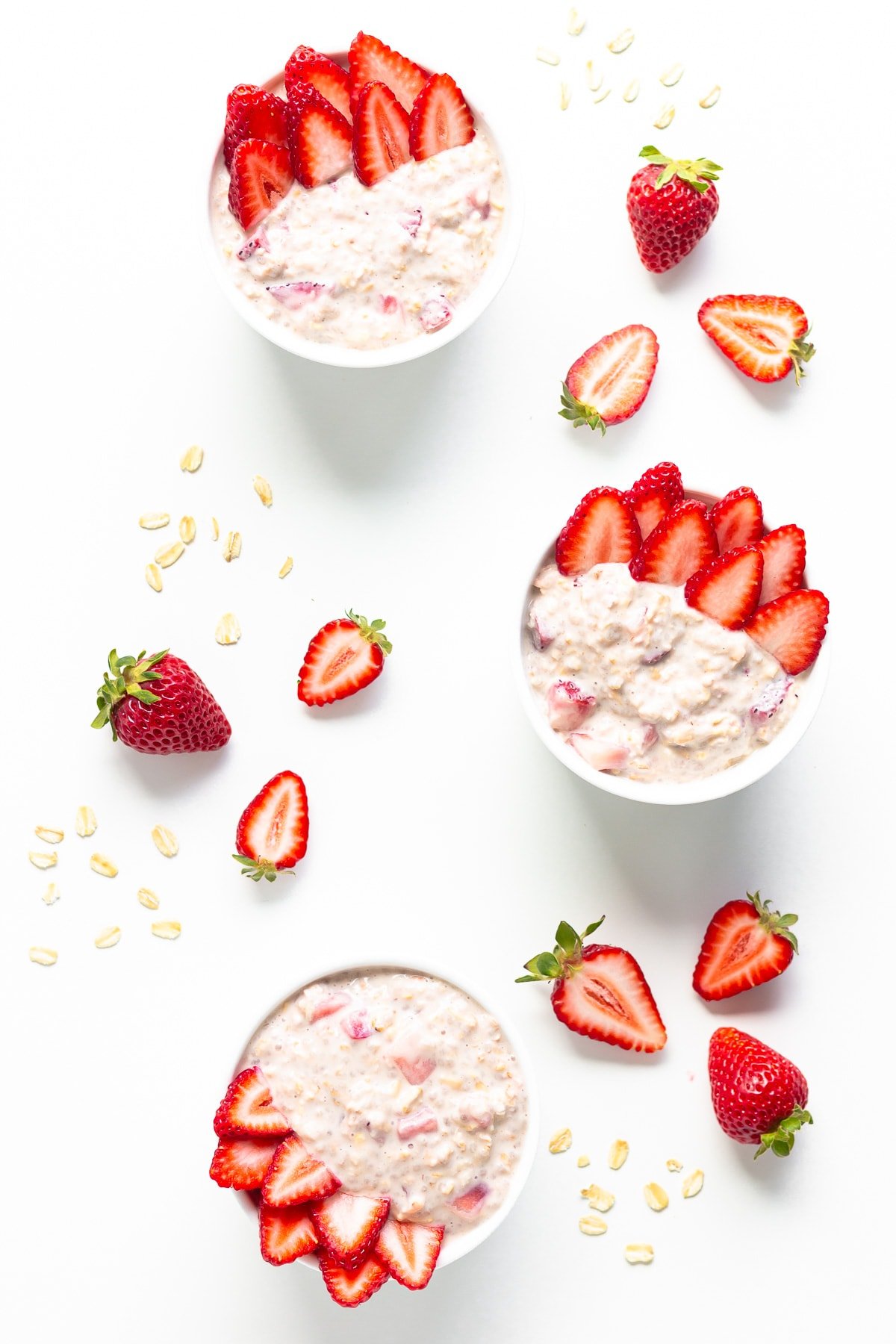 Chocolate Coconut Cream Stuffed Strawberries
Chocolate + Strawberries are a perfect pairing! These Chocolate Coconut Cream Stuffed Strawberries are so decadent and easy to make. These disappear quickly! The perfect treat for date nights, parties or special occasions like Valentine's Day.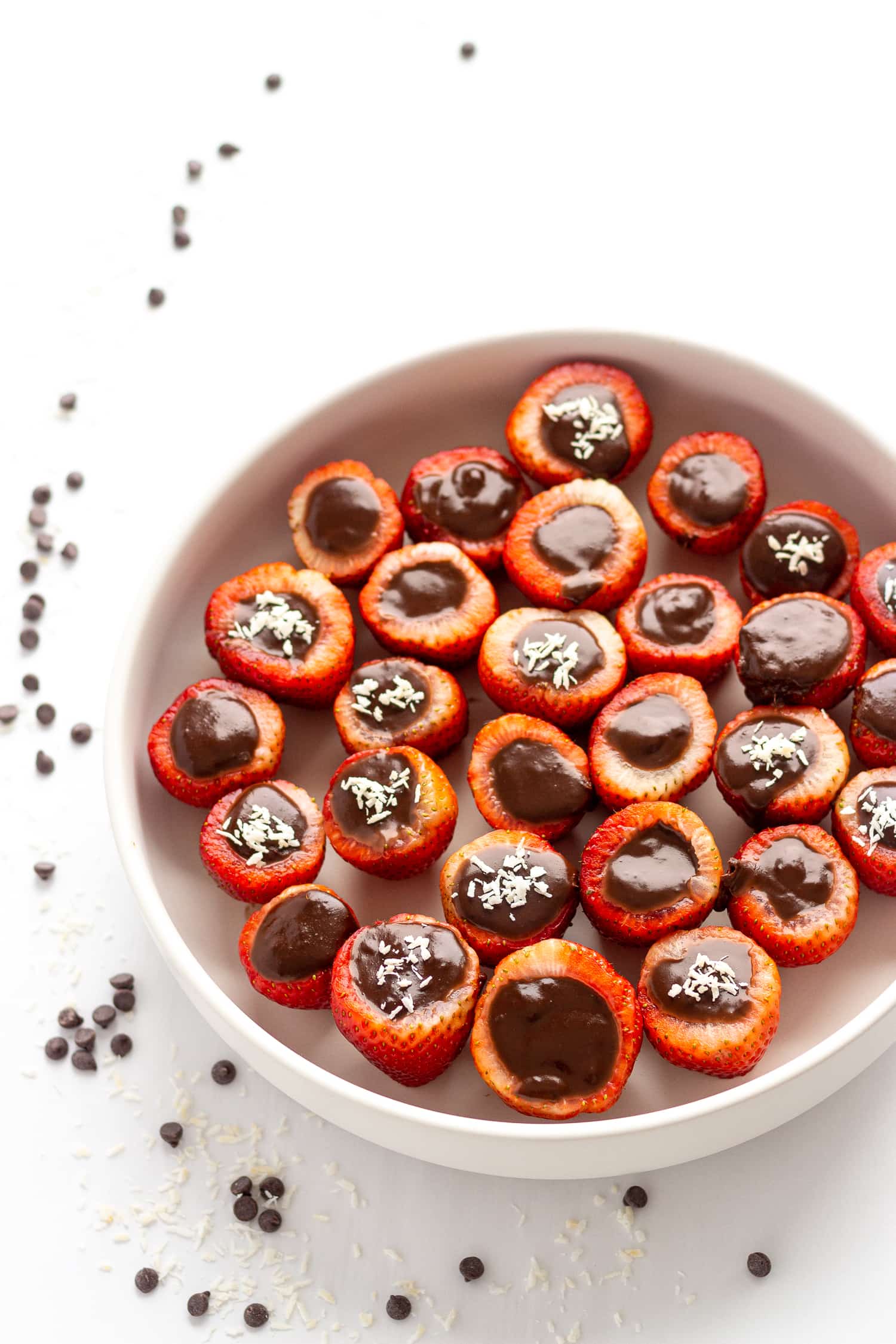 Healthy Strawberry Slushie
This refreshing Strawberry Slushie recipe is super easy to make with just four simple ingredients and a blender. Perfect for hot summer days, kid friendly and made with healthy real food ingredients that you can feel good about!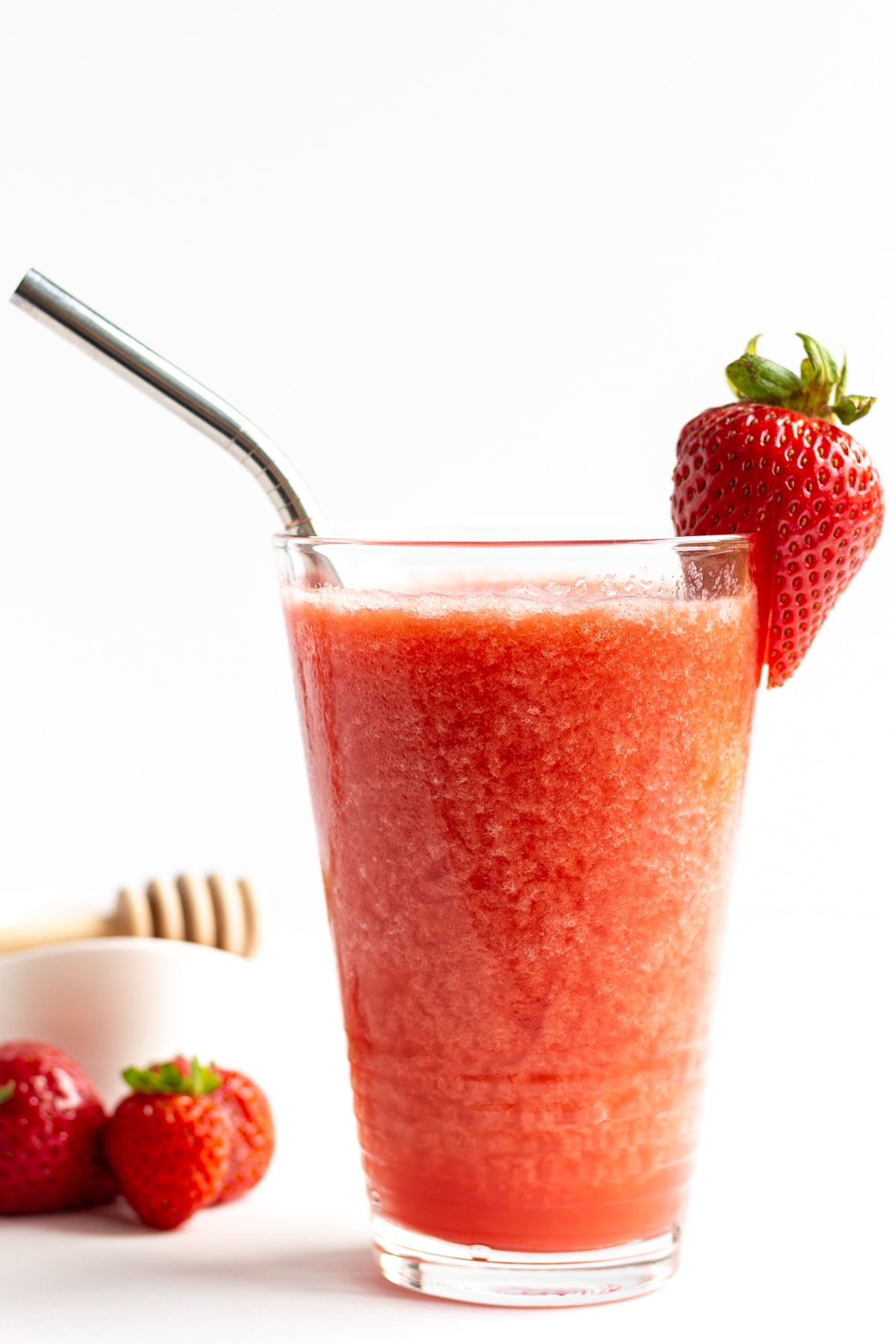 Watermelon Strawberry Popsicles
This Watermelon Strawberry Popsicle recipe is made from real fruit and absolutely delicious! A healthy, refreshing treat that tastes like summer!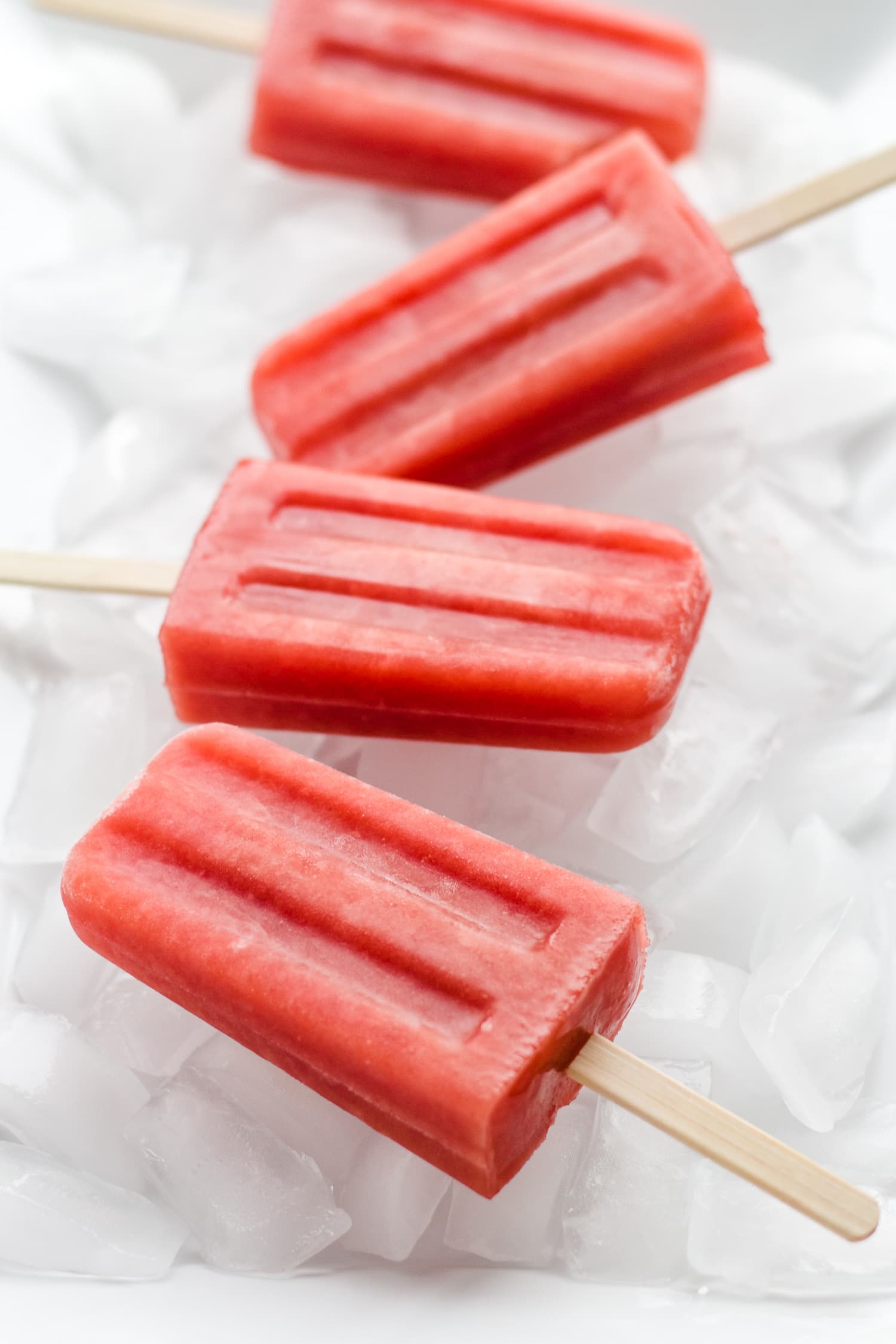 Healthy Strawberry Gummies
Learn how to make Healthy Strawberry Gummies with real fruit. These homemade fruit snacks are chewy, addictive little treats that both kids and adults will love!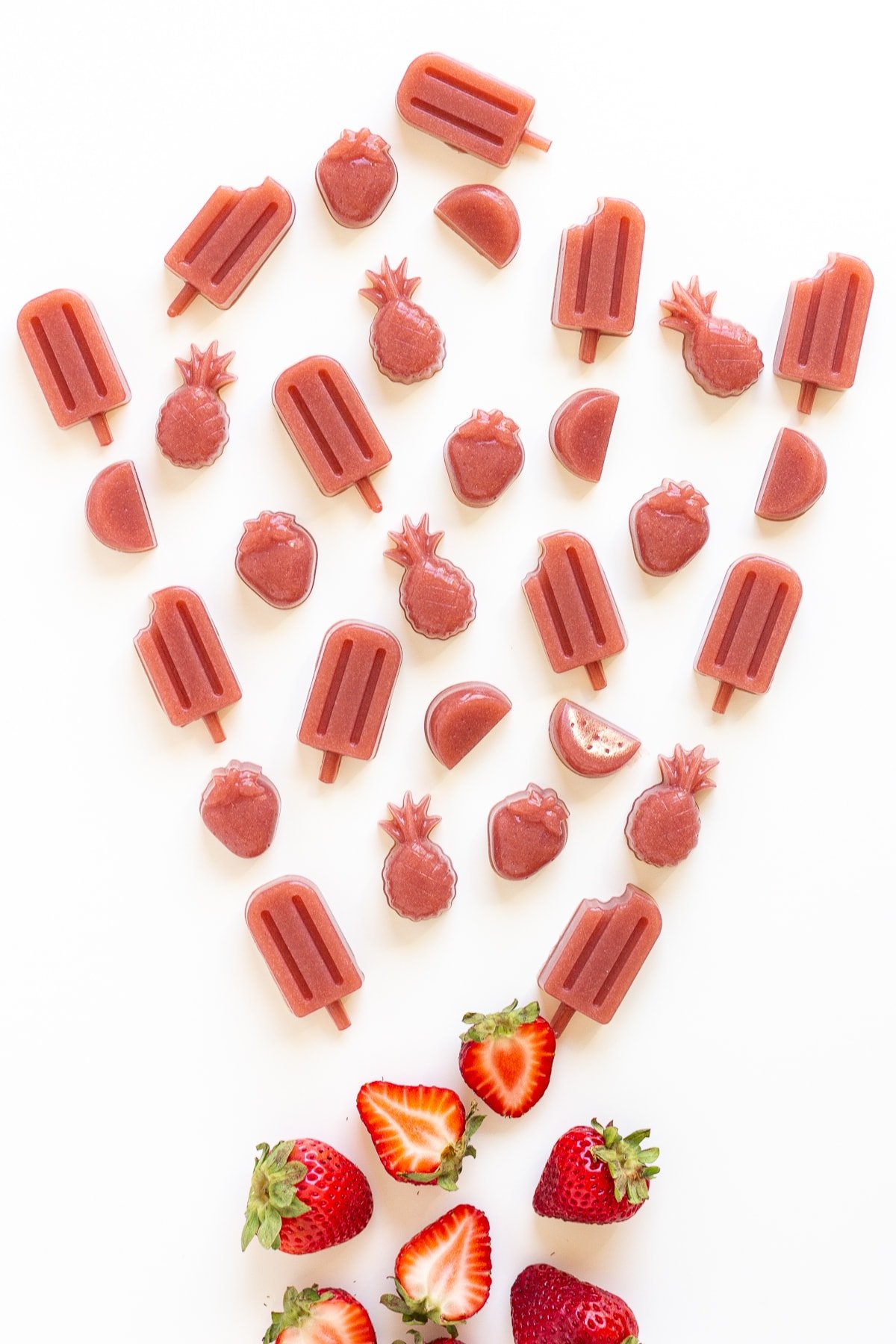 Strawberry Mojito Mocktail
This Strawberry Mojito Mocktail is a delicious, light and refreshing drink recipe made with a few healthy, fresh ingredients. Perfect for hot summer days!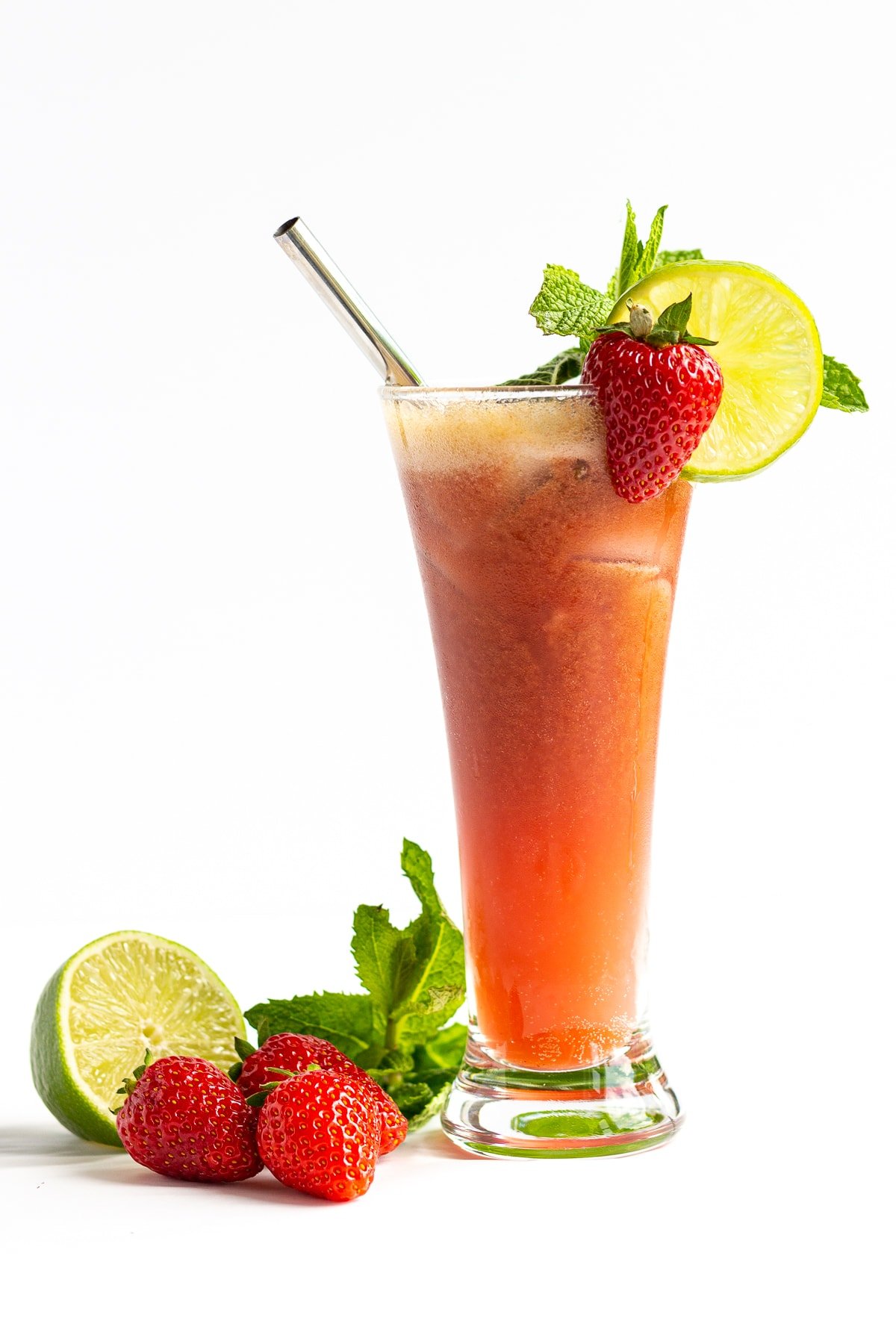 Maple Custard With Strawberry Compote
This Maple Custard with Strawberry Compote is a simple dessert that is perfect for summer entertaining. The combination of creamy maple custard topped with a delicious strawberry compote is so yummy!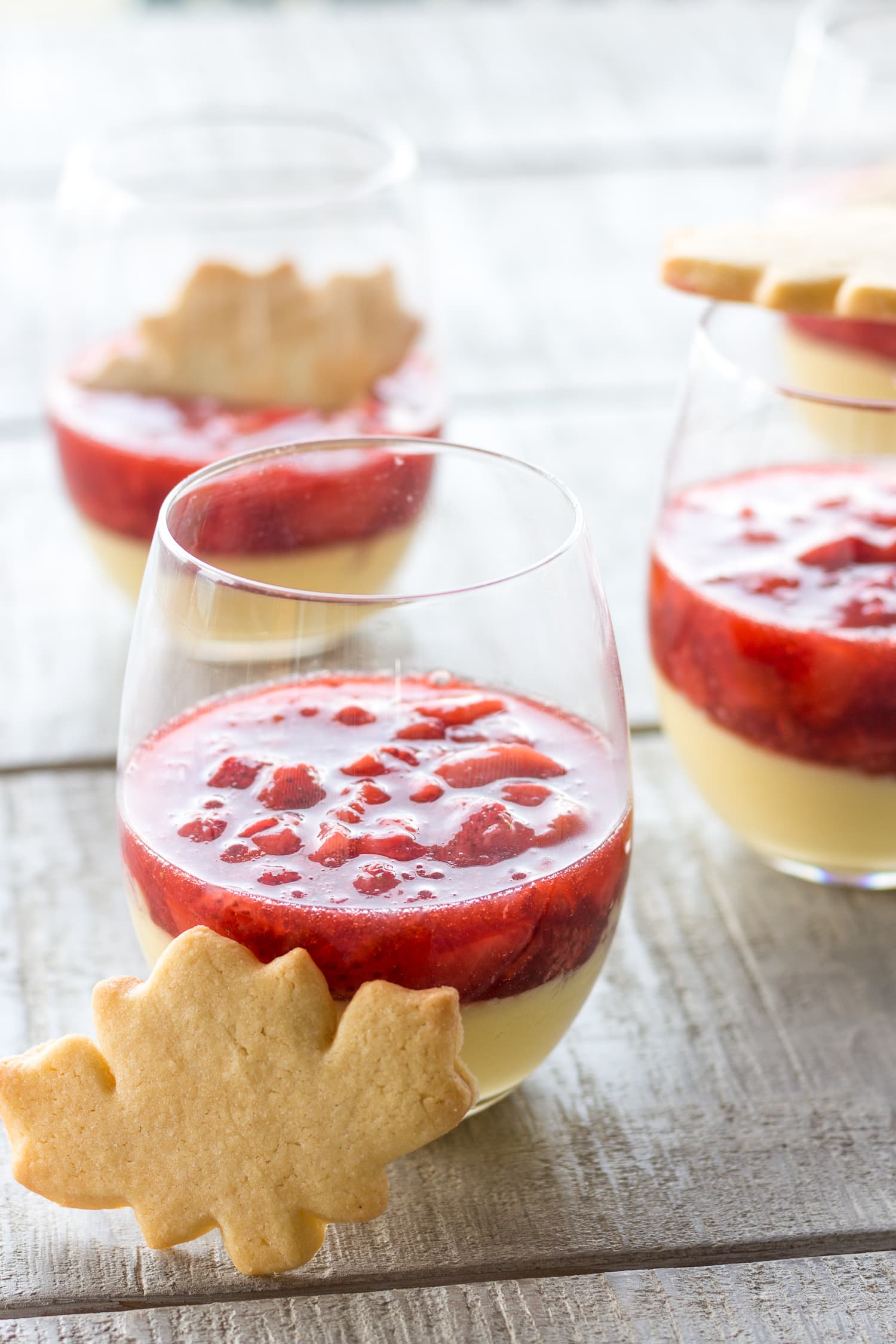 Strawberry Coconut Crisp
This delicious Strawberry Coconut Crisp recipe is super easy to put together and perfect for strawberry season. The perfect summer dessert that is also packed full of healthy, whole ingredients.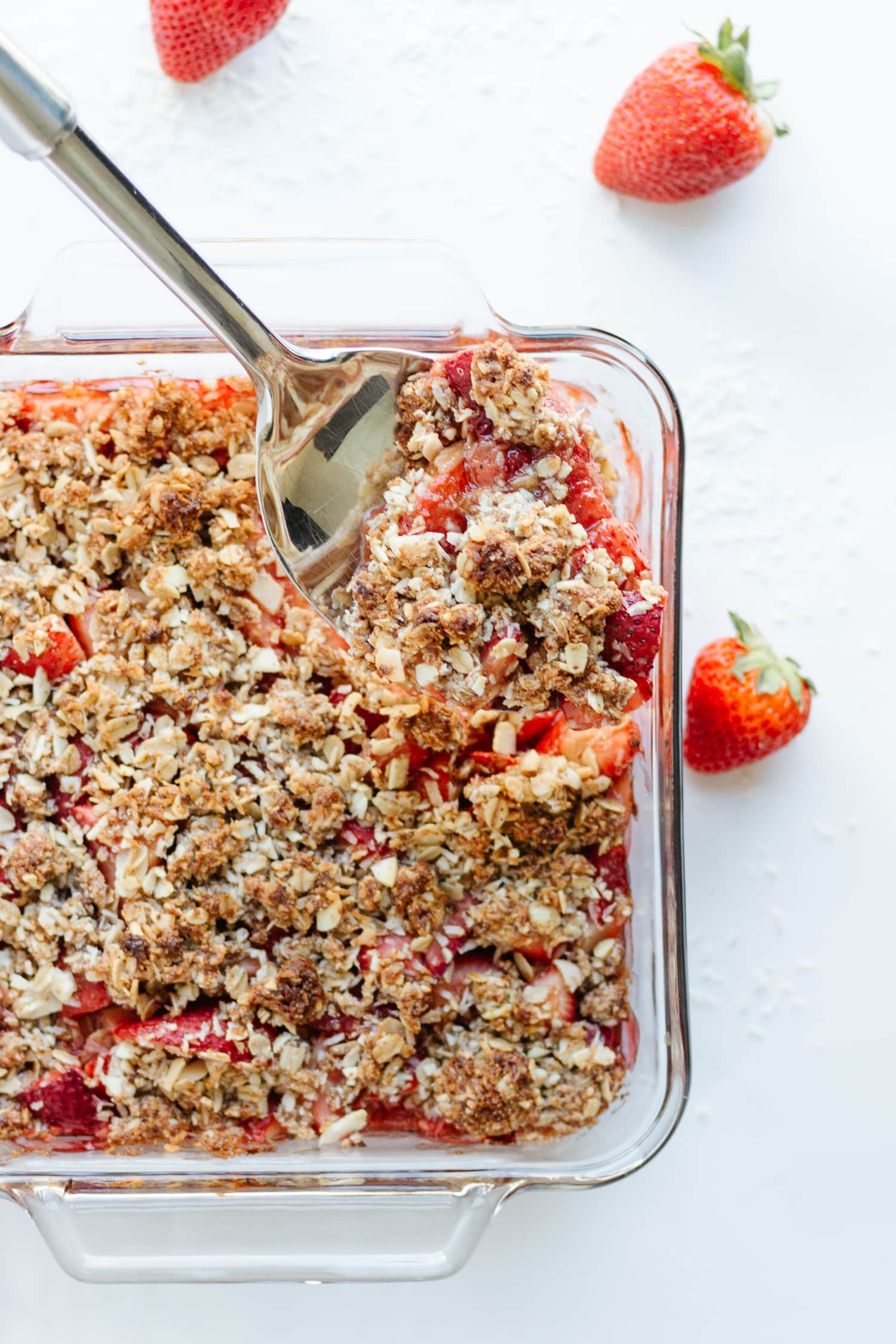 Spaghetti-Eis (German Spaghetti Ice Cream)
Spaghetti-Eis is a popular German ice cream sundae that looks like a plate of spaghetti. A super fun ice cream dessert that both kids and adults will love! Make some fresh strawberry sauce or strawberry compote to mimic tomato sauce.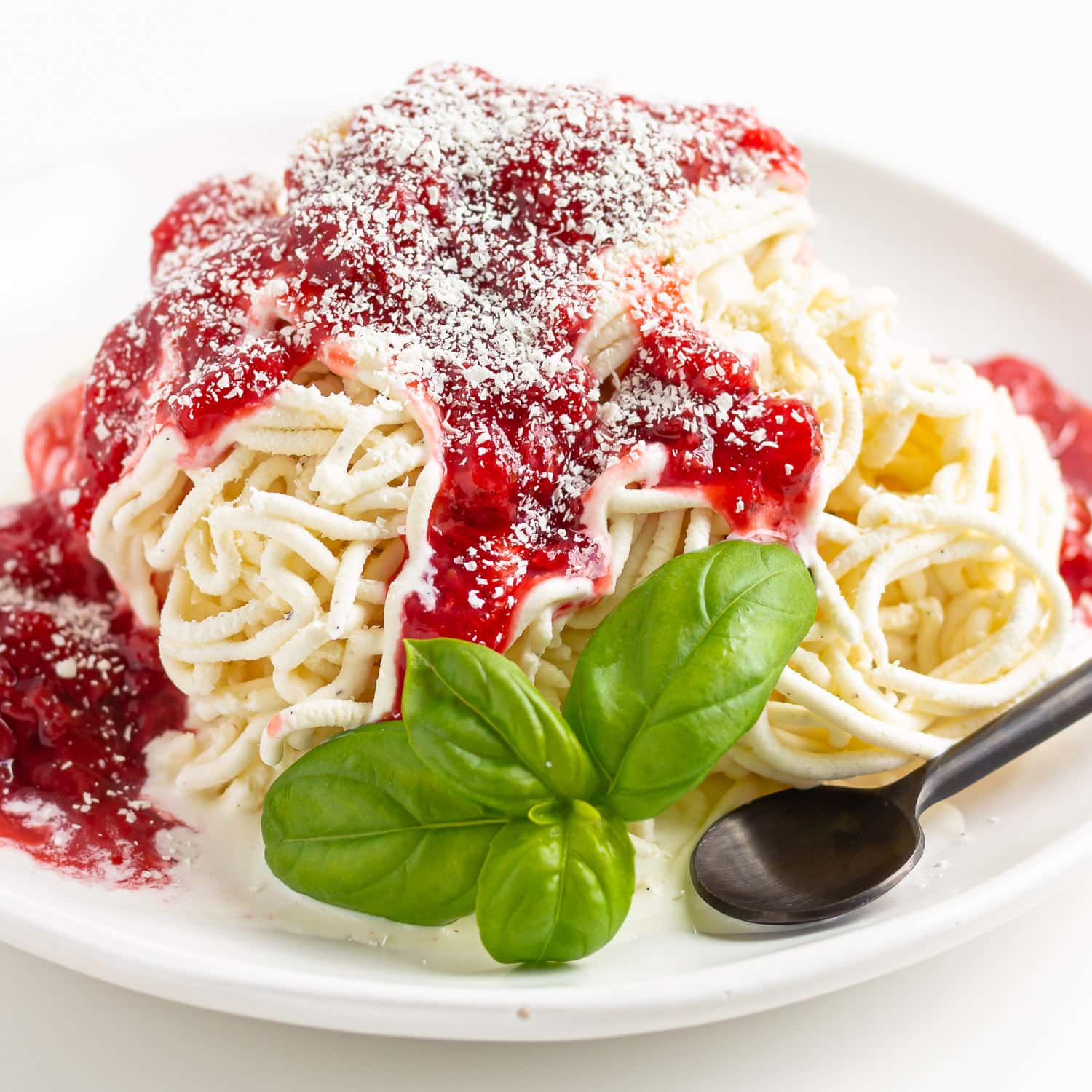 Strawberry Frosé (Wine Slushie)
This Strawberry Frosé recipe is the perfect summer frozen cocktail. It is basically a cold, refreshing and delicious grown up slushie. This is one of my favorite ways to use an ice cream maker – creates the perfect slush texture.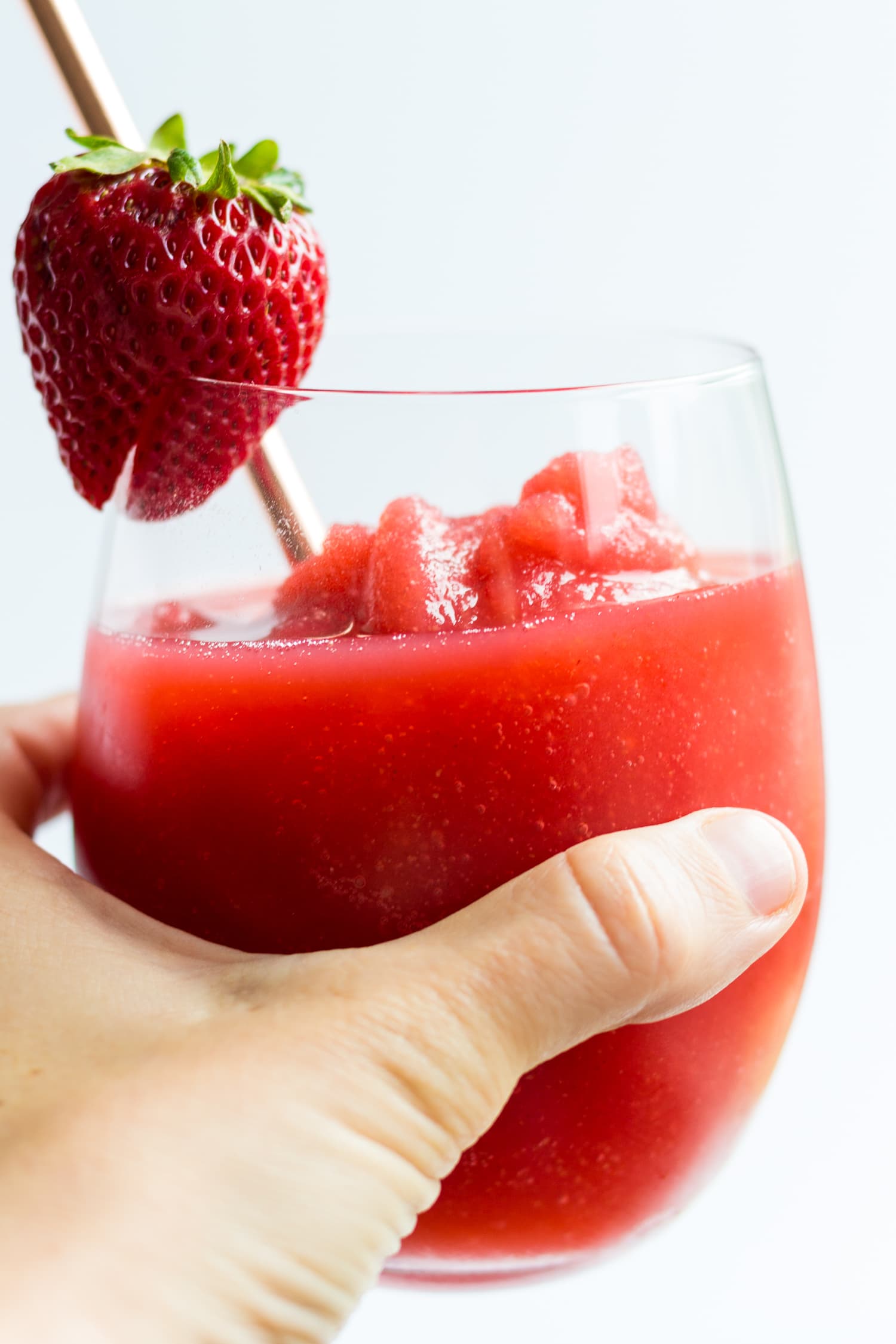 German Waffles With Strawberries And Cream
Waffles topped with fresh strawberries and whipped cream are absolutely delicious. My favorite waffle recipe to use for this are these sweet German Waffles. Perfect for a weekend breakfast, brunch or even dessert!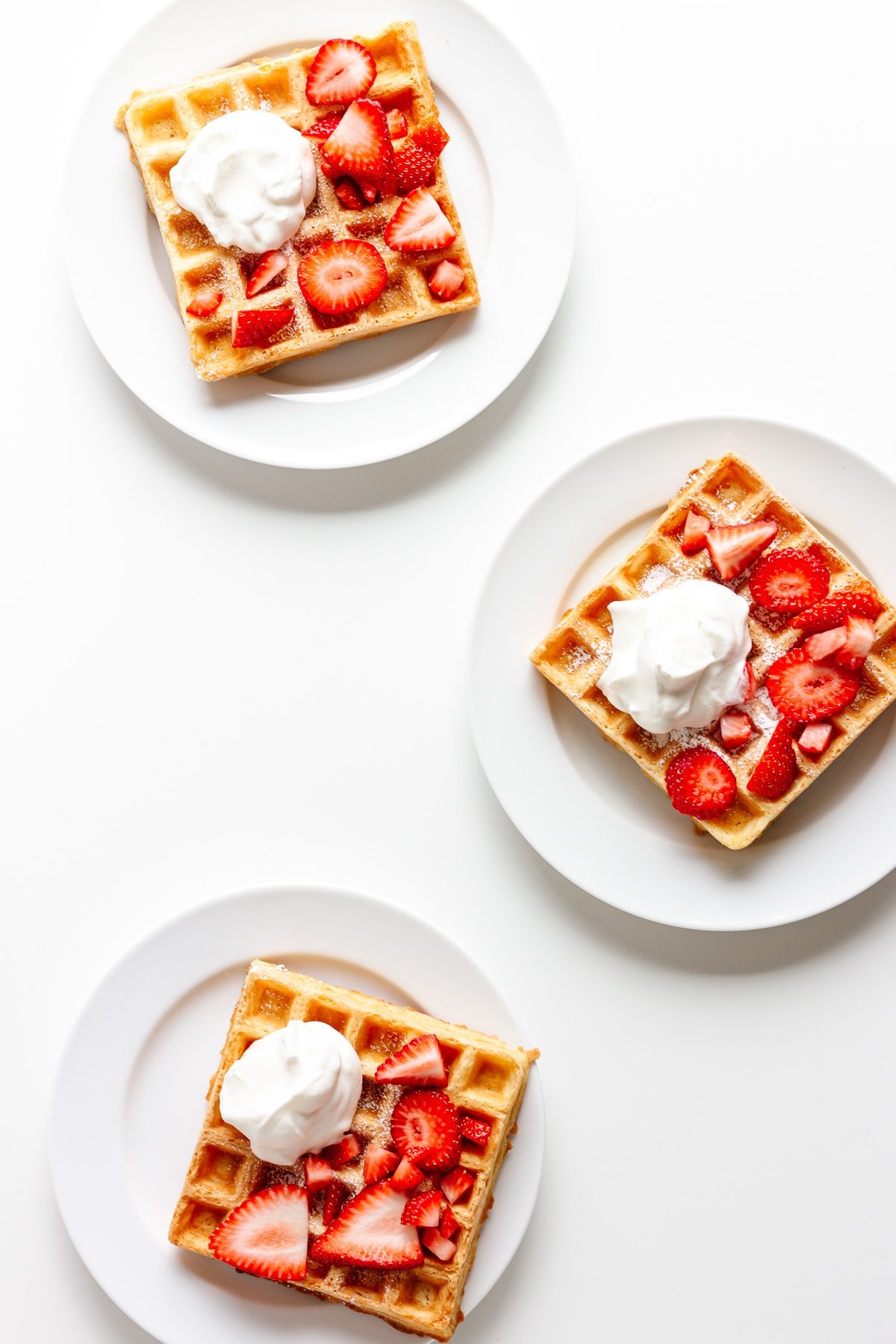 So the question is…which one will you make first? If you make any of these strawberry recipes, let me know by leaving a comment below or tagging me on Instagram so that I can see your beautiful creations.
More Recipe Roundups You Might Enjoy
Make sure to check out all the other recipe roundups! Here are a few that you might like:
⬇ PIN it for later! ⬇