Learn all about growing your own herbs and the health benefits of fresh herbs. Growing herbs is easy and adds incredible fresh flavor and a nutritional boost to your meals.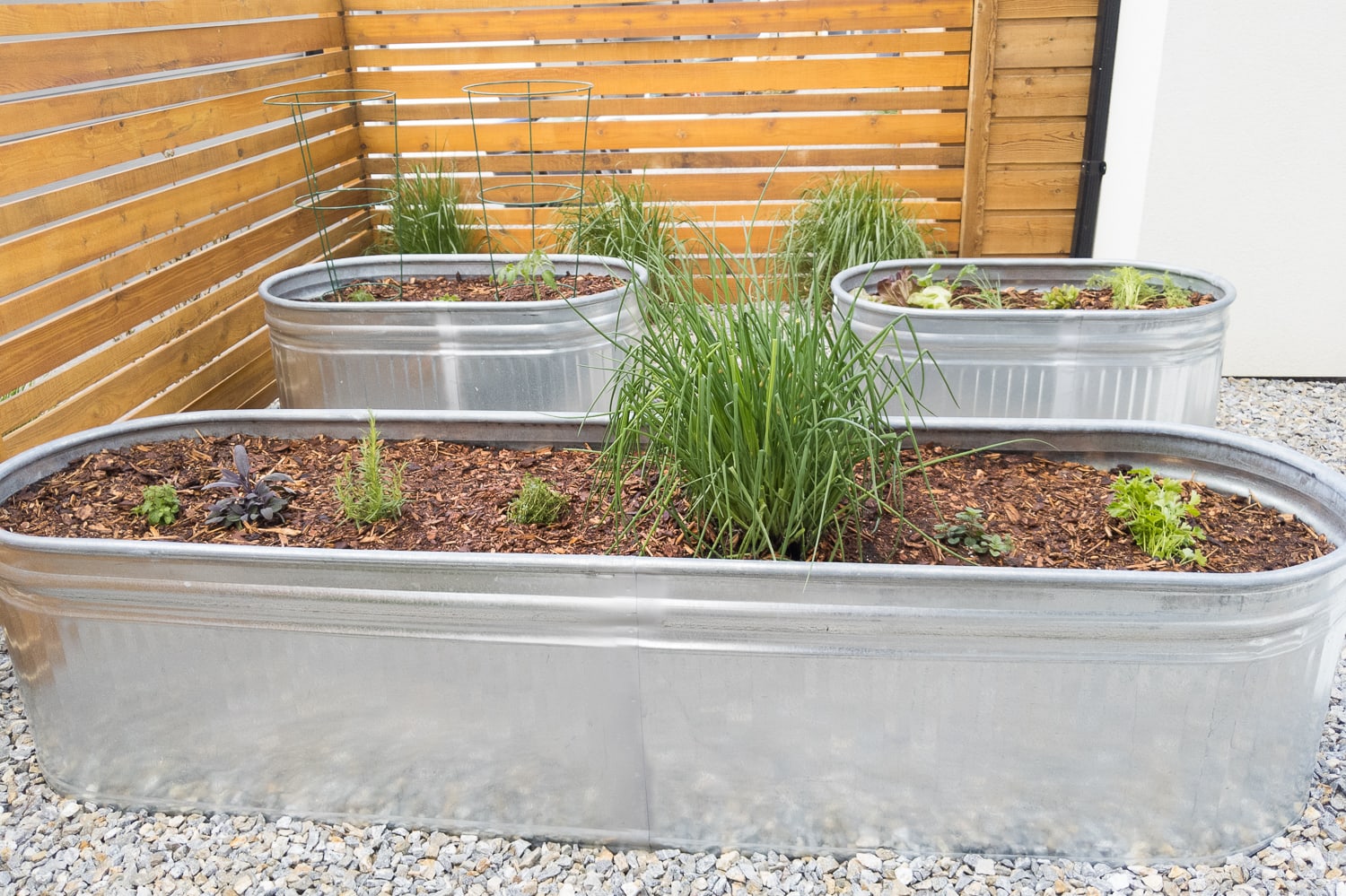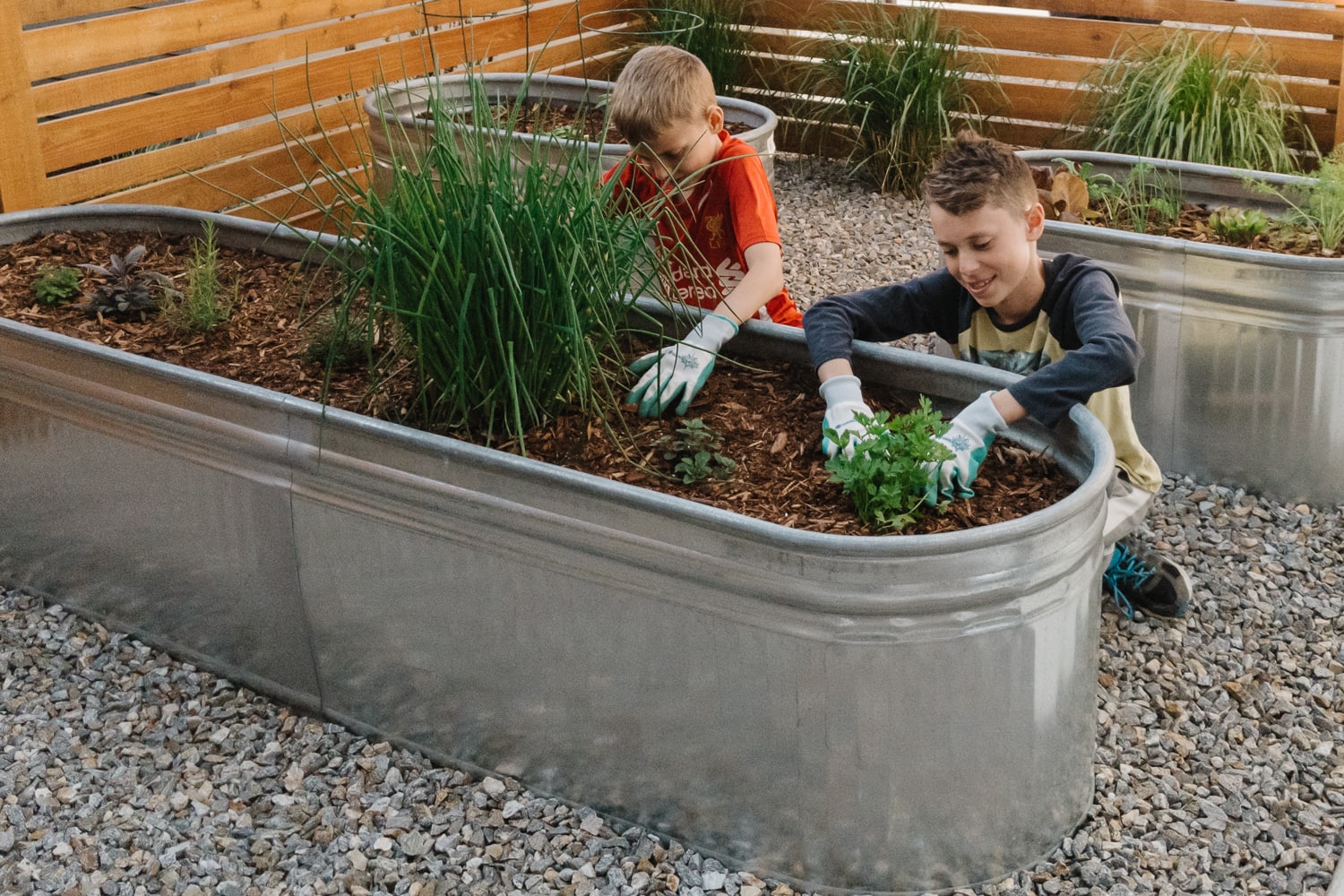 I love fresh herbs! Nothing beats the flavor of them. I am always so excited once I can plant a variety of herbs to have on hand instead of one or two sad looking herbs at the bottom of the crisper. Not only do fresh herbs add flavor and freshness to your meals but they are also extremely easy to grow. If I can grow them…..anybody can grow them!
The green thumb gene seems to have missed me. The women on my mother's side of the family going back for generations have been great at gardening and actually enjoy it. I broke the tradition since I have a hard time keeping plants alive and spending time in the yard just feels like a chore (probably why we opted for rockscaping and hearty plants). However, herbs are one of those plants that I have always had luck with whether in pots on balconies or currently in raised garden beds.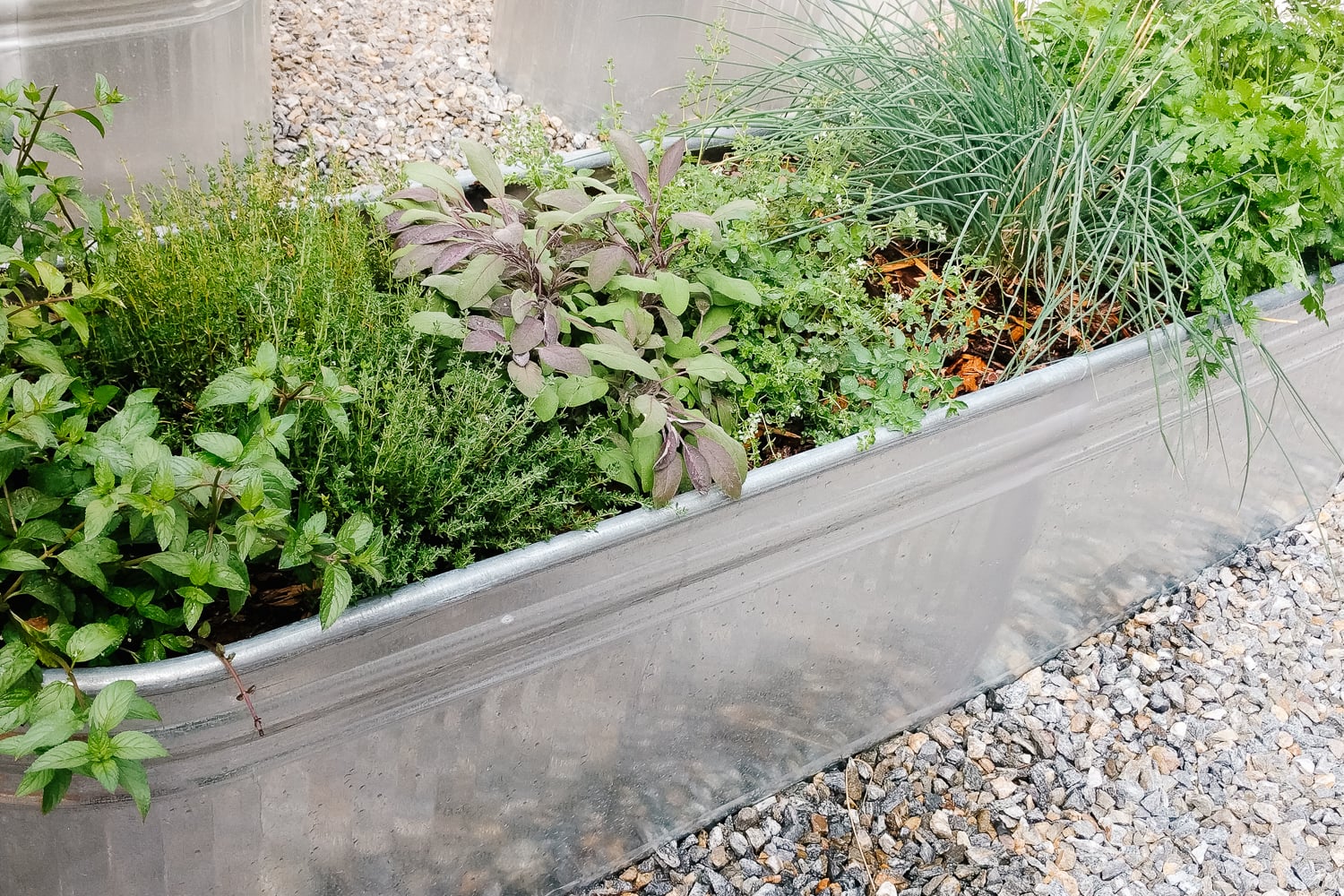 There are so many options when it comes to herbs so just grow the ones that you love to eat based on the room that you have. The herbs that I have planted this year are: parsley, chives, basil, oregano, thyme, rosemary, sage, mint and dill.
Why I Grow Herbs
There are a number of reasons why I grow herbs:
Easy to grow (even for me!)
Nutrient rich
Add incredible flavor to food
Economical – herbs are expensive to buy at the store and don't taste as great
Variety – by growing my own herbs I can always have a large variety at hand instead of one or two sitting in the fridge
Where to Plant
Herbs are usually pretty easygoing and just need some good quality soil, drainage and sunshine. To make it easy, I just buy the little herb plants at the garden center instead of dealing with seeds. Herbs can be planted in pots, raised garden beds or directly in the garden.
You can find lots of planter ideas and inspiration HERE. In my current home, I have three galvanized steel troughs (the type used for livestock) from Behlen Country similar to this one (but different dimensions). I have one that is 2x2x8 ft and two that are 2x2x4 ft. I believe they were picked up at a farm supply store and the landscaper then put a number of holes in the bottom for drainage and ran some drip irrigation through them.
What Herbs Should Be Planted Together
Here are a few tips on which herbs grow well together:
Basil: Great companion to parsley and oregano. Basil is also a great companion to tomatoes (which is where I plant mine). Growing tomatoes and basil next to each other is said to improve the flavor of each other. Hello caprese salad!
Rosemary + Sage + Thyme: These three herbs grow well together.
Oregano: Oregano is pretty easy going but does work well next to basil.
Chives: Chives are pretty easy going and work well with any other herb. I usually place it as a divider between clusters of herbs that prefer to be together. Chives are one of my favorites since they come back strong each year.
Parsley: Parsley should not be planted next to mint. Other than that, parsley is pretty easy going.
Dill: Dill is another easy going herb that also works well next to lettuces. I planted mine next to a variety of baby greens this year.
Mint: Mint does not get along with parsley. I plant these two at opposite ends of my large trough raised planter. Please note that mint is very invasive and can spread like crazy. It is best to either grow separately in a pot or if it is planted in your garden bed, you will need to consistently reach around under the soil and pull out the seekers before they take over.
Now go and enjoy those herbs! Make sure to consistently trim (prune) your herbs to encourage fresh growth and to avoid flowering and seeding. Prune early and prune often – from the top and not the bottom (bottom big leaves on herbs like basil act as solar panels so cut and use the delicious tender leaves from the top). Snip off any blooms as soon as they appear to extend the amount of time you get edible leaves. This is usually what you want the plant for with the exception of dill where you may be growing for the seed flowers to use in pickling.
Benefits Of Herbs
Here are a few of the benefits of herbs:
Rosemary: Rosemary is a rich source of antioxidants and anti-inflammatory compounds which help boost the immune system and improve blood circulation.
Mint: Mint helps soothe nausea and calm digestive issues. It is also high in antioxidants.
Oregano: Oregano is rich in antioxidants and has antibacterial and antiviral properties.
Thyme: Thyme is a natural diuretic and helps with respiratory issues. It is also high in antioxidants and has antibacterial and anti-fungal properties.
Parsley: Parsley is rich in vitamins A, C and K, improves digestion and is a natural diuretic. It is also high in antioxidants and has antibacterial properties.
Sage: Sage helps balance cholesterol and is rich in antioxidants.
Chives: Chives improve digestion and are high in antioxidants. They also have excellent antibacterial, antiviral, anti-fungal and antibiotic properties.
Basil: Basil is rich in antioxidants and has anti-inflammatory, antibacterial and antiviral properties.
Dill: Dill boosts digestion and is high in antioxidants. It also has antibacterial, anti-inflammatory and antimicrobial properties.
You may have noticed some repetitive benefits such as herbs being rich in antioxidants. Herbs are some of the most powerful antioxidants. Antioxidants help to protect your body from free radical damage triggered by stress and environmental toxins. So toss some fresh herbs into your cooking to give yourself a health boost (and flavor boost)!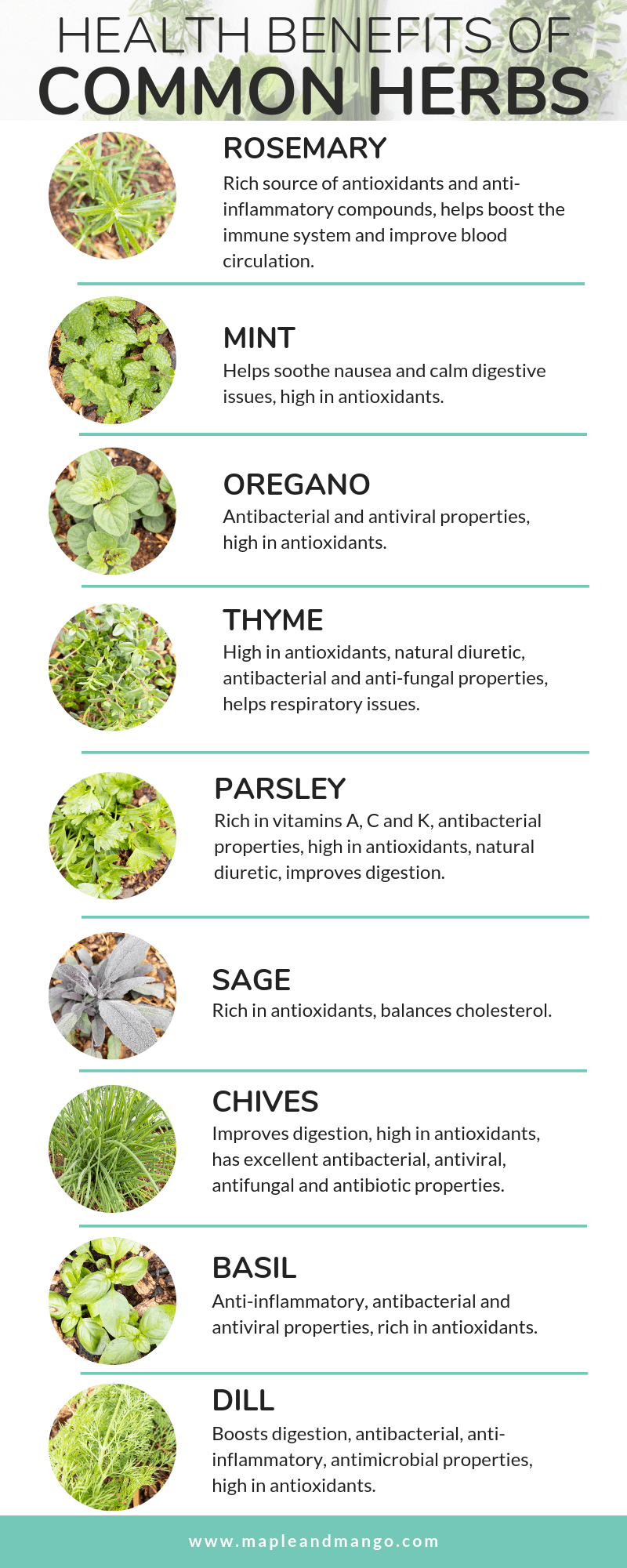 How To Preserve Fresh Herbs
Nothing beats the flavor of fresh herbs so add them to all your meals during the growing season. However, sometimes your herb garden can explode with more herbs than you can get through. Check out this post: Preserving Fresh Herbs: 2 Easy Ways, which outlines my two favorite easy methods to preserve all those herbs. It provides details and helpful tips on how to dry herbs and how to freeze into flavor cubes.
Do you grow herbs? Which ones are your favorites? Let me know in the comment section:)