This Bolognese Sauce recipe is the ultimate comfort food! A delicious, hearty meat sauce that can be made ahead, is freezer friendly and a total crowd pleaser.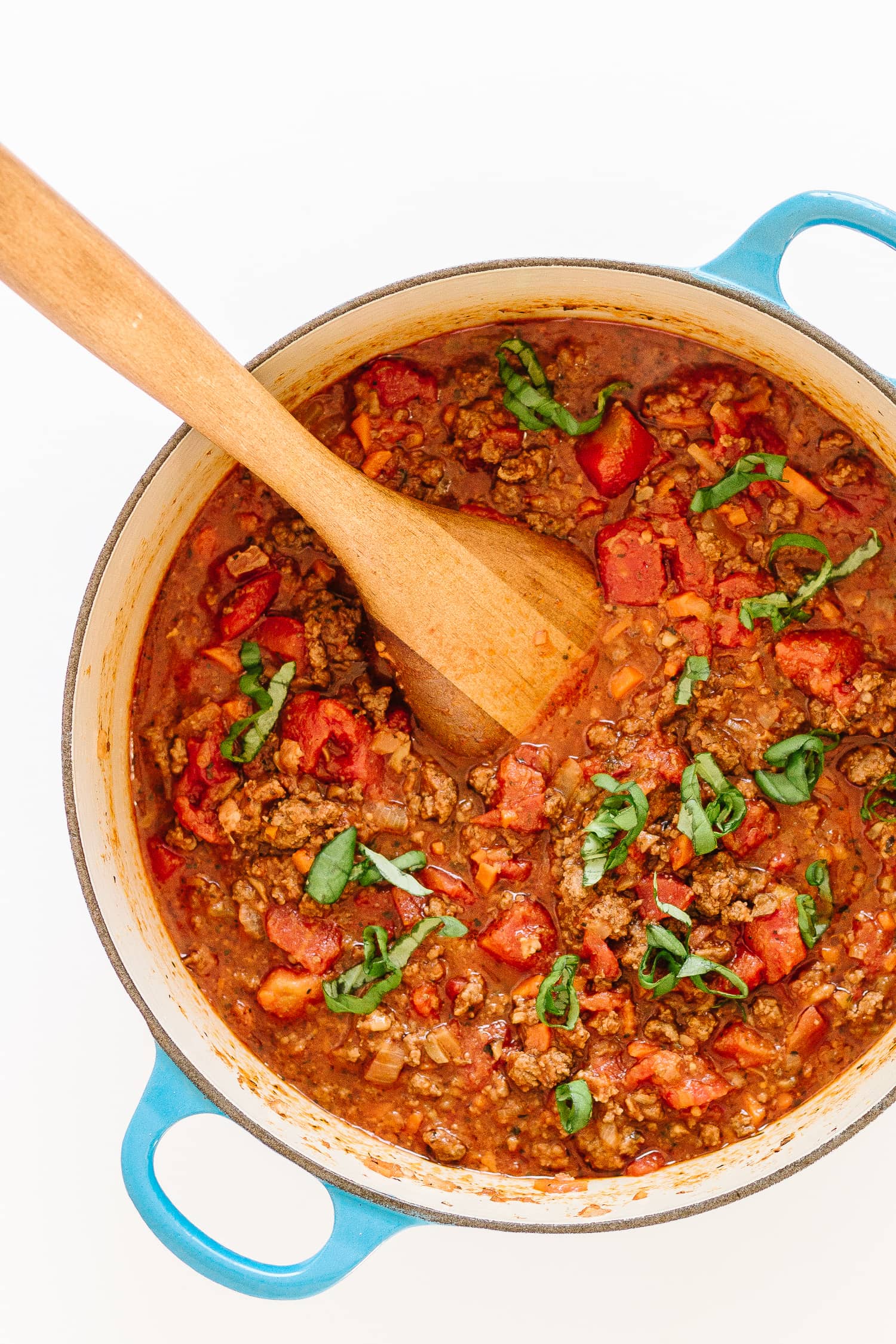 This Bolognese Sauce is my ultimate comfort food once the weather gets cooler. I love to take my time with this one since I also find it to be a calming, therapeutic process that is perfect for those evenings when you have nowhere to be. Turn on some good tunes, take in the amazing smells as it cooks, pour yourself a glass of wine and occasionally stir that pot while chit chatting with family, friends or having a peaceful moment to yourself. Once it is ready, I love to light some candles and serve it up over some pasta alongside a great salad. Super cozy!
Some of the reasons that I love this Bolognese Sauce so much are:
It is incredibly comforting
Perfect for entertaining since it is a crowd pleaser
Can be made ahead of time
Perfect for batch cooking since it is freezer friendly (I like to double or triple the recipe in order to have some comfort food ready to go in the freezer)
Bolognese is a thick, hearty meat sauce that originates from Bologna, Italy. Let me walk you through my beloved version that I have been happily making for years!
Ingredients Needed
To make my version of Bolognese Sauce, you will need:
Ground Beef: I like to use quality lean ground beef. Check out the options in your area for sourcing quality meat or have it delivered to your door by a company like ButcherBox.
Pancetta: Adds delicious depth of flavour to the sauce.
Veggies + Herbs: Carrot, celery, garlic, onion, mushrooms, bay leaf, oregano and basil are all added in to this delicious sauce.
Red Wine: Use a bit of dry red wine to deglaze your pot. Pick one that you will also enjoy drinking…since you opened it already!
Tomato Products: This recipe calls for canned diced tomatoes, tomato passata (strained tomatoes) and tomato paste.
Parmesan Rind: Special ingredient that kicks up the flavour and provides some delicious umami depth.
Seasoning: Bring it all together with some salt and freshly ground pepper. It is also optional to add a little Worcestershire Sauce or Tamari for an extra little something. Depending on the sweetness of your tomatoes, you may also want to add a touch of sugar to balance out the flavours.
You Want Me To Add Parmesan Rind?
Yup – you read that correctly! This is the special ingredient. Don't toss that hard bit of rind at the end of your Parmesan chunk. Pop it into a freezer bag so that it is ready to add into sauces like this one for an amazing boost of rich umami flavour. Just remember to remove it along with the bay leaf before serving!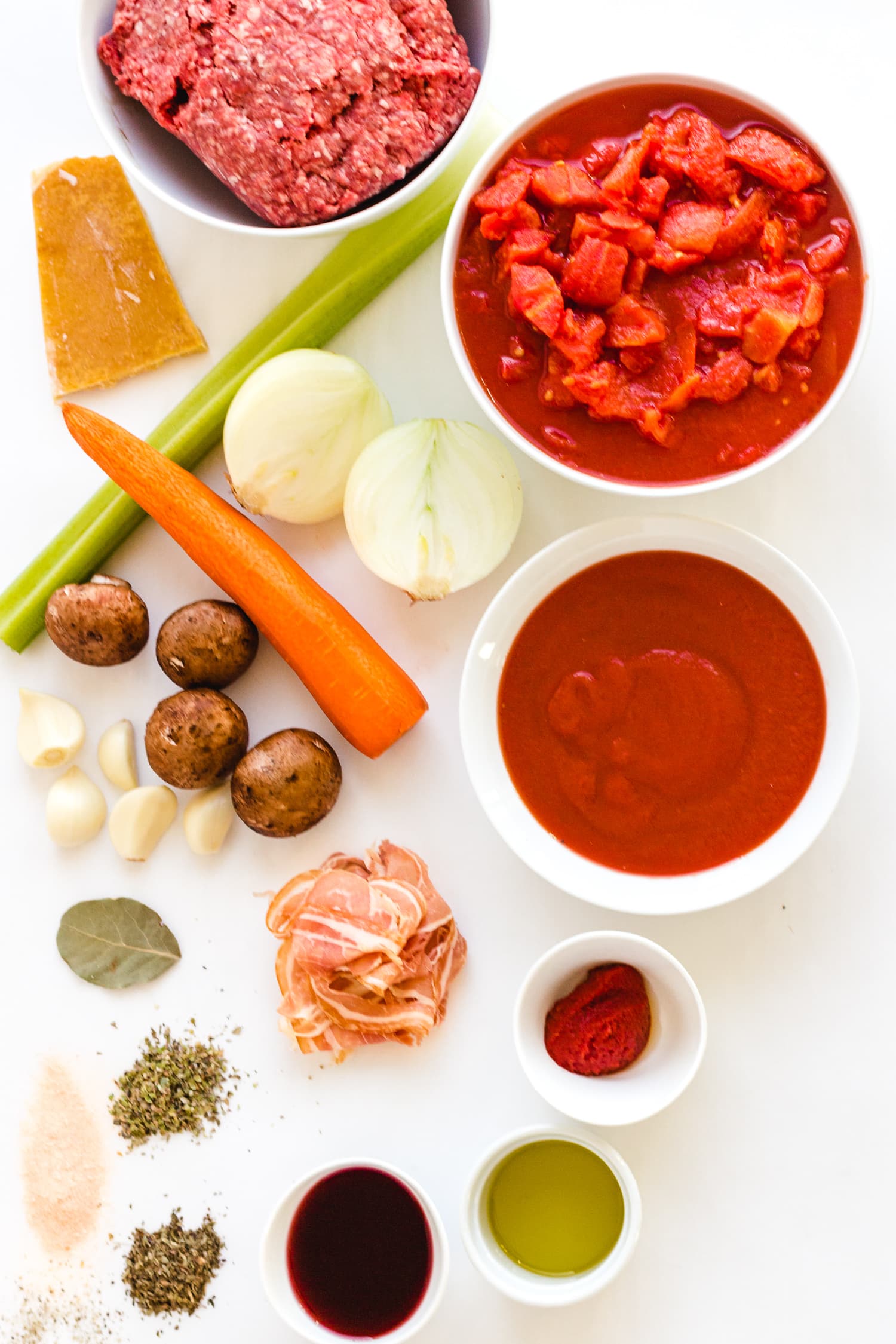 How To Make Bolognese Sauce
To make this comforting, delicious meat sauce, simply grab your favourite pot (I like to use a dutch oven for this) and let's get started…
Brown Meat: Brown the ground beef and remove from the pot.
Chop Chop Chop: Finely chop the pancetta, carrot, celery, onion, garlic and mushrooms. You can also use a food processor for this step.
Cook The Aromatics: Sauté everything you just chopped in some olive oil until softened and then deglaze the pot with some red wine.
Everything In The Pot: Add the remaining ingredients and the cooked beef back to the pot.
Let It Simmer: Pop on a lid and simmer for 1-2 hours while stirring occasionally. (Or longer if you have the time!)
Serve: Pull out the Parmesan rind and bay leaf and season to taste. Now it is time to serve it up and enjoy! I love this sauce over pasta or you can check out some other ideas listed further down.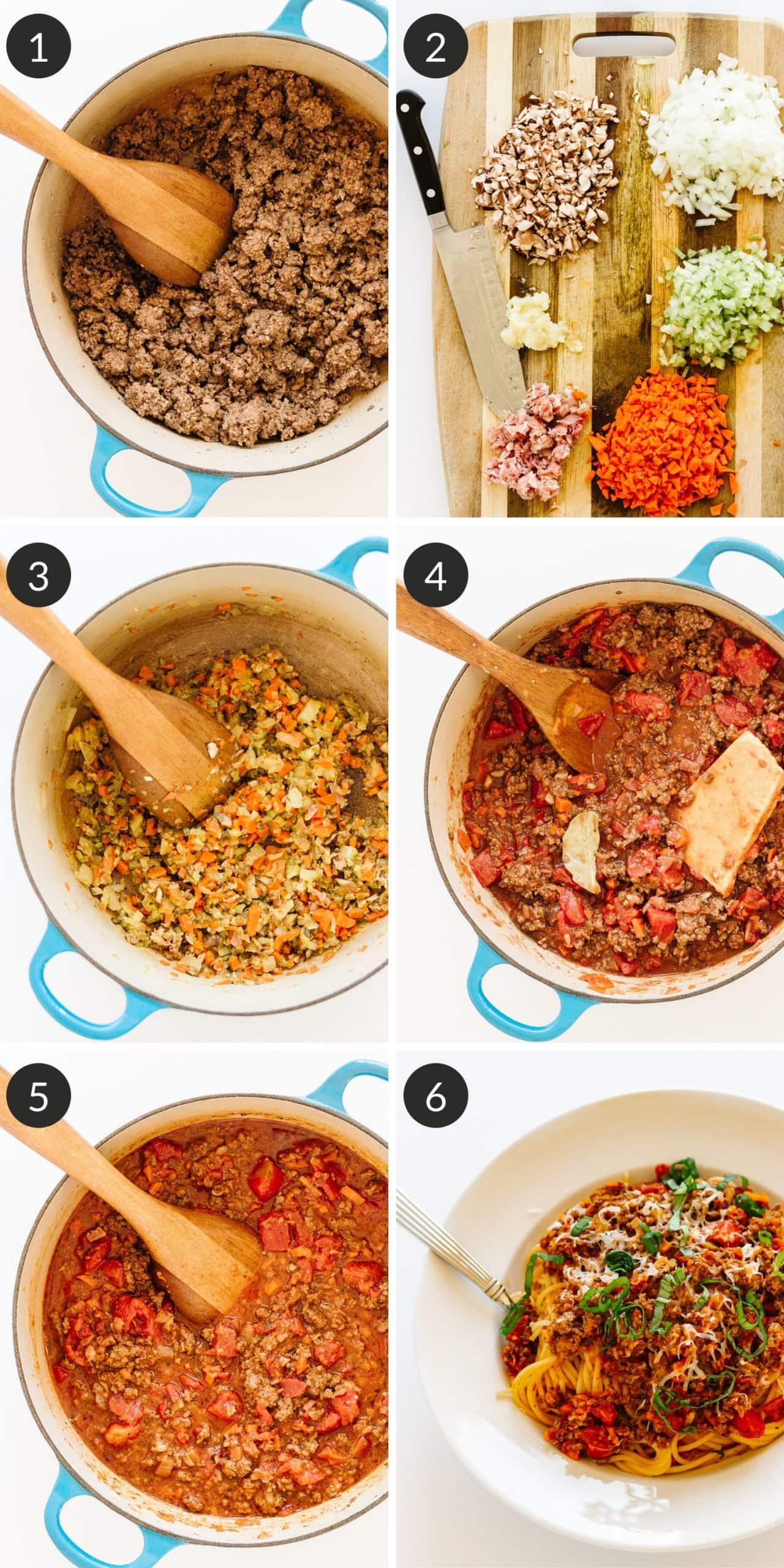 Detailed ingredient list and directions located in the recipe card below.
Slow Cooker + Instant Pot Instructions
Although I highly enjoy and recommend the process of making this Bolognese Sauce on the stovetop, sometimes you just need to walk away and do other things. So for those moments, here are the Slow Cooker and Instant Pot instructions.
Slow Cooker: Cook the recipe to the point of adding everything into the pot. At that point, just add everything into the slow cooker and set to Low for 6-8 hours.
Instant Pot: Use the "Sauté" function to brown the meat and cook the aromatics. When deglazing the pot with the wine, make sure to scrape up any bits stuck to the bottom. Cancel to turn off the heat, add in the remaining ingredients and give it a quick stir. Secure the lid and set the Steam Release Valve to the "Sealing" position. Press the Manual or Pressure Cook button and set to cook for 20 minutes followed by a natural release. Season to taste!
Ways To Use Bolognese Sauce
This hearty meat sauce can be used in a number of ways. Here are a few ideas…
Served Over Pasta: This is my favourite way – total comfort food! Serve it over spaghetti for Spaghetti Bolognese (or Spag Bol as the Aussies like to say – just one of the cute terms I learned while living there!). Also super delicious over a wider pasta like tagliatelle or pappardelle. Tip: Make sure to toss a little sauce with the pasta first to flavour it up and prevent it from clumping together. Plate it up and pour a good amount of sauce on top!
Use It In Lasagna: This sauce is absolutely delicious in lasagna and is used in my Ultimate Homemade Lasagna recipe (a family favourite!).
Serve Over Veggie Noodles: A low carb option is to serve it over zoodles (zucchini noodles) or spaghetti squash.
Top a Baked Potato: Makes a great topping for baked potatoes.
Stuffed Zucchini: Pile some of the sauce into zucchini boats, top with cheese and bake.
Pasta Bake: Mix together with cooked short cut pasta like rotini, top with cheese and bake in the oven.
No matter how you decide to use the Bolognese Sauce, I suggest pairing it with a great salad and a glass of the remaining red wine!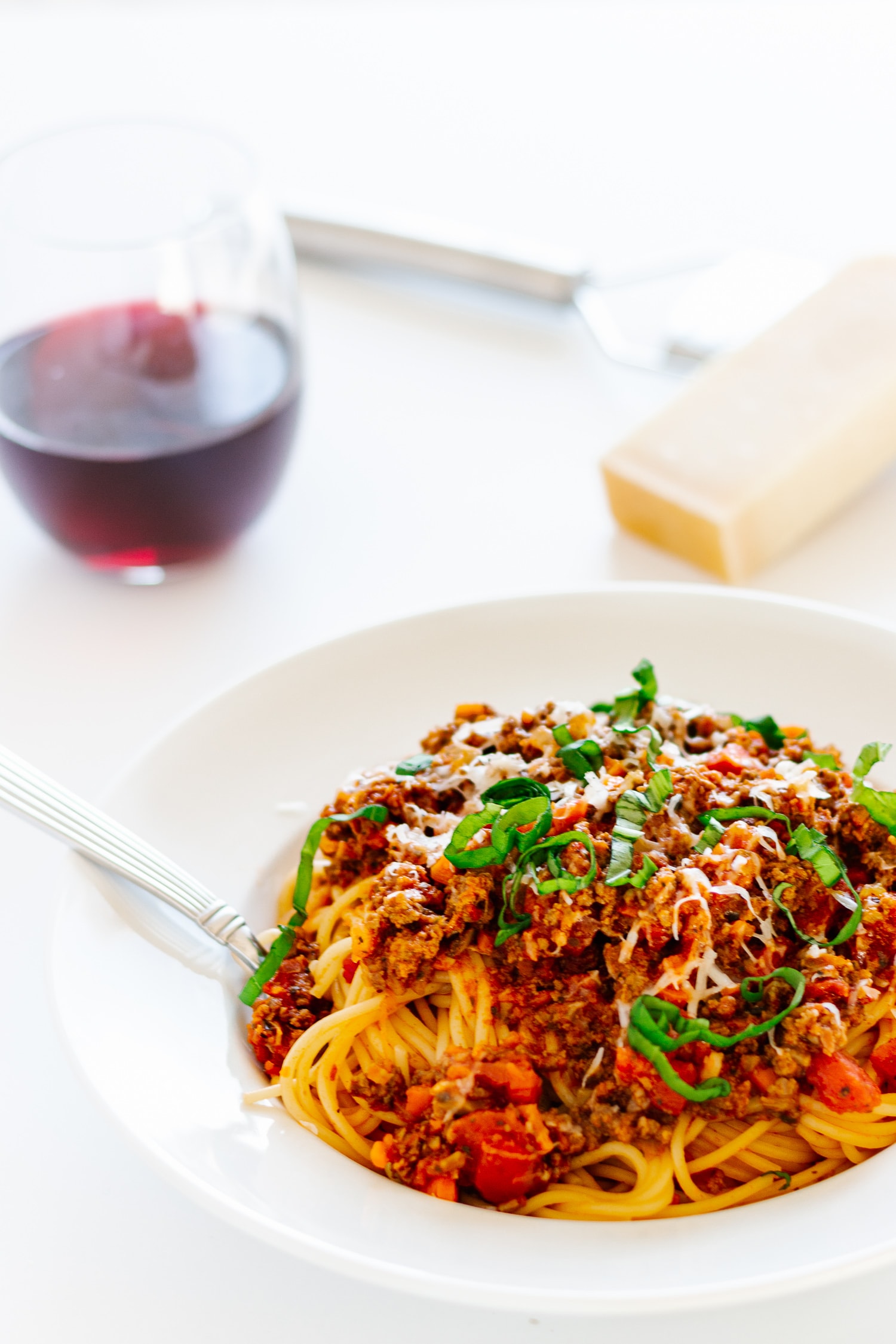 Helpful Tips
Can Bolognese Sauce Be Made Ahead Of Time?
Yes! This is one of those dishes that just seems to get better with time.
Can You Freeze Bolognese Sauce?
Yes – freeze for 4-6 months. This sauce freezes extremely well which makes it perfect for big batch cooking. I like to double or triple the recipe in order to pop some in the freezer for whenever I crave a comforting meal. Tip: If the sauce is too thick when reheating, simply add a little beef broth or some extra tomato passata. If you plan on freezing your sauce in mason jars, make sure to follow these tips to prevent breakage!
Store Parmesan Rinds In Freezer
Parmesan rind is the secret ingredient to this sauce! It provides a kick of flavour and adds delicious depth. So next time you buy a chunk of Parmesan cheese, don't toss the rind! Once you get down to the rind, simply pop it into a freezer bag and store in the freezer.
What is your ultimate comfort food? Let me know in the comments!
Print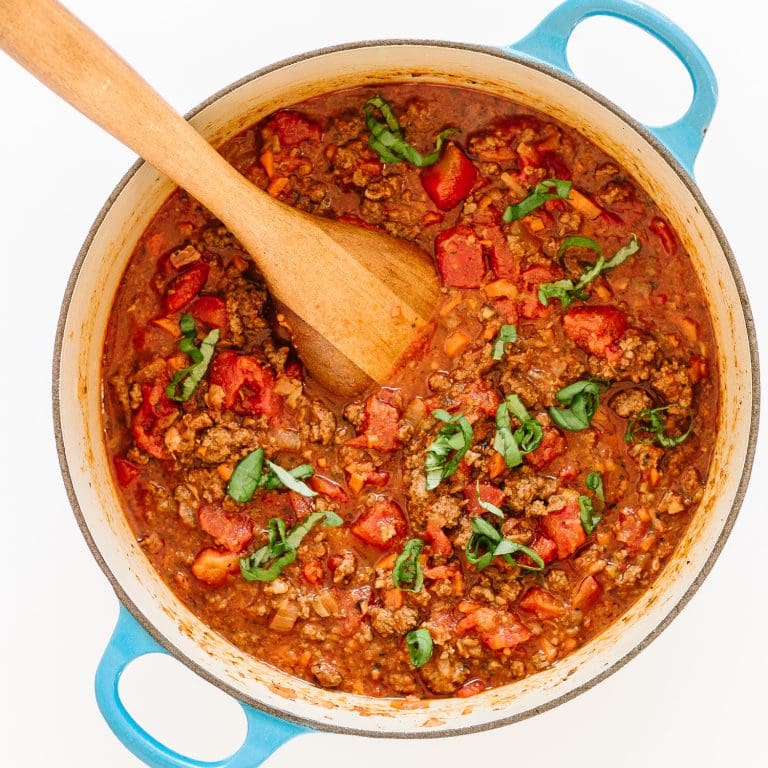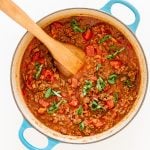 Bolognese Sauce: Ultimate Comfort Food
Author:

Vanessa | Maple + Mango

Prep Time:

20 min

Cook Time:

1 hour

Total Time:

1 hour 20 minutes

Yield:

6

–

8

servings

1

x

Category:

Sauce
---
---
---
---
⬇ PIN it for later! ⬇