Learn how to freeze food in mason jars. These tips will allow you to store those glass mason jars in the freezer with confidence. No more cracks or broken glass!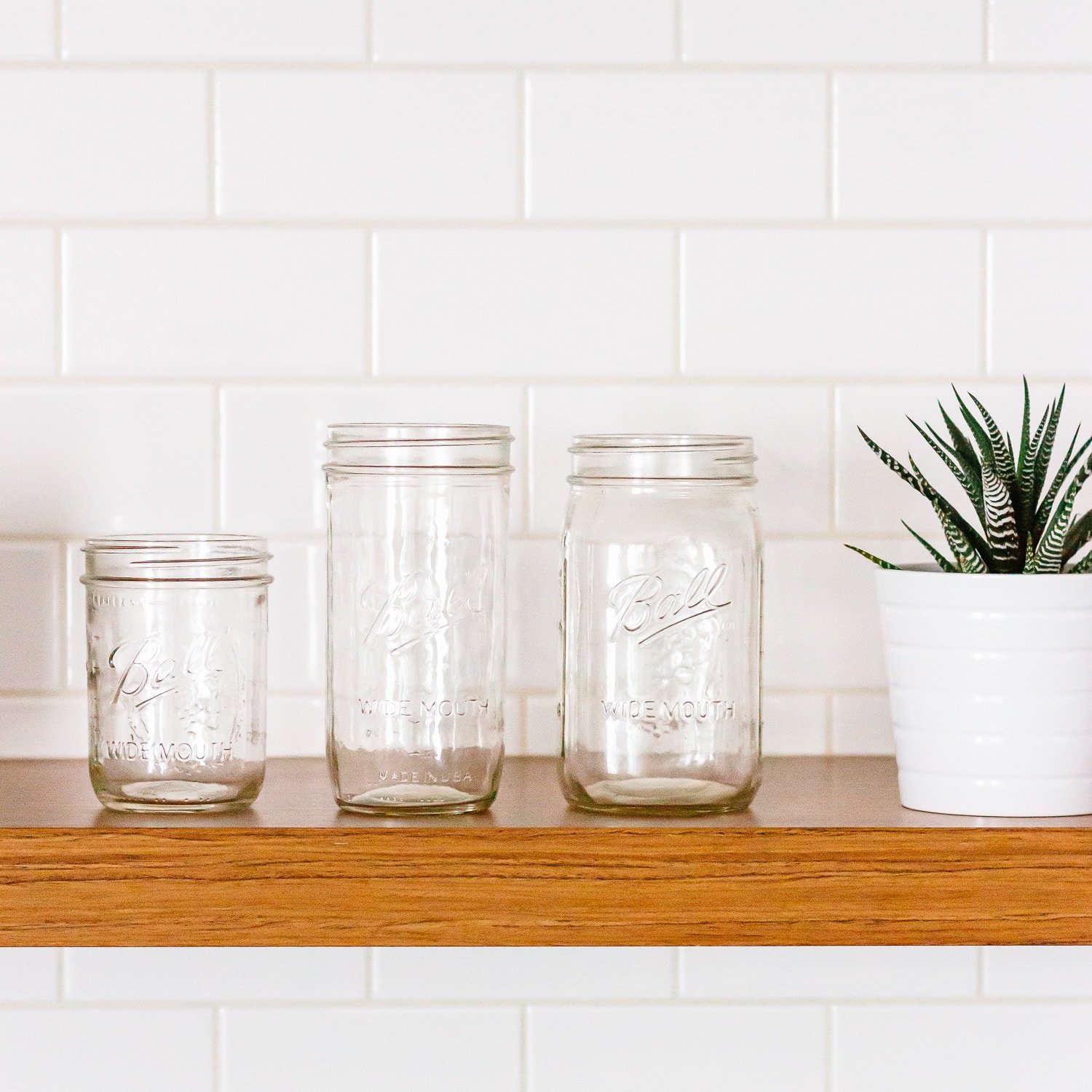 I love mason jars! They are amazing for food storage: reusable, super versatile, relatively inexpensive, non toxic and don't stain or absorb odors. Perfect for storing everything from dried goods in the pantry to storing food in the fridge and even in the freezer!
How To Freeze Food In Mason Jars
Can you really put mason jars in the freezer? You sure can! My freezer is always filled with mason jars containing foods like bone broth, soups, chili, Bolognese sauce, jams and more!
But how do you prevent the glass jars from breaking in the freezer? I love using mason jars but they can crack if you are not careful. Nobody wants cracked jars and wasted food! I make sure to follow the 4 tips below to prevent this from happening.
Tips To Prevent Broken Jars
Make sure to follow these 4 important tips to prevent your mason jars from breaking in the freezer! These are key in order to successfully and safely freeze food in glass jars (a.k.a. no cracks or breakage).
Tip #1: Choose the right jar
Not all glass jars are freezer friendly. You only want to use sturdy, thick glass jars like quality mason jars. Do not freeze recycled jars from the grocery store like old spaghetti sauce jars since these are not meant to go in the freezer.
I like to use wide mouth mason jars with screwtop plastic storage caps. My three favourite sizes are the 16 oz, 24 oz and 32 oz wide mouth jars.
Why use plastic lids? The reason why I like to use these plastic lids in the freezer is because they don't rust. They are also super easy to use – no need to fuss with a two piece canning lid!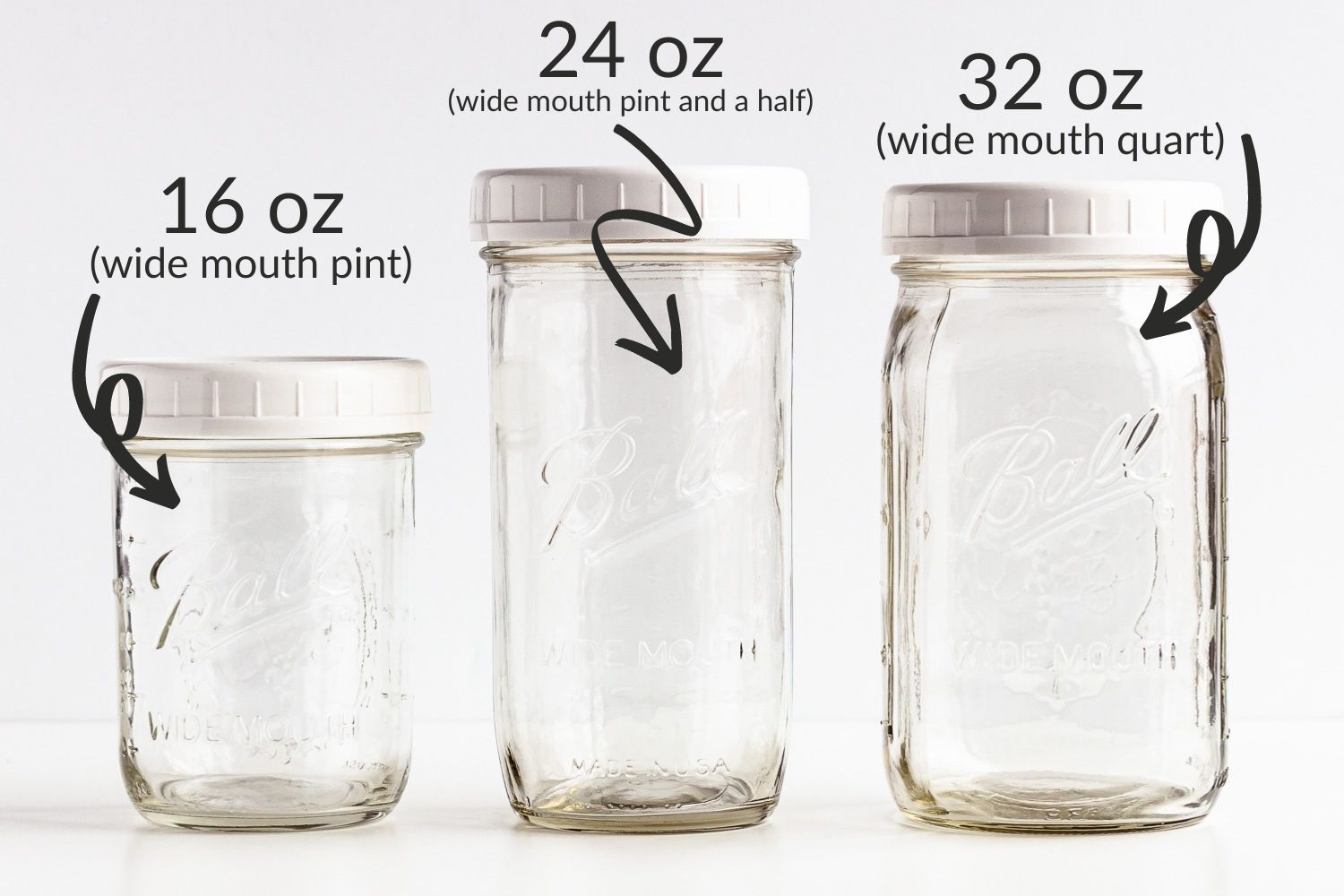 Tip #2: Leave space at the top
It's very important to leave sufficient room at the top of the jar to allow for expansion. Liquids expand when frozen so overfilling will result in a cracked jar.
How much space should you leave?
In a straight sided jar, leave 1-2 inches of space at the top. In a jar with shoulders (curves at the top), leave 1-2 inches of space BELOW the shoulder. Basically treat the shoulder as if it was the top of the jar and fill no more than 1 inch BELOW the shoulders.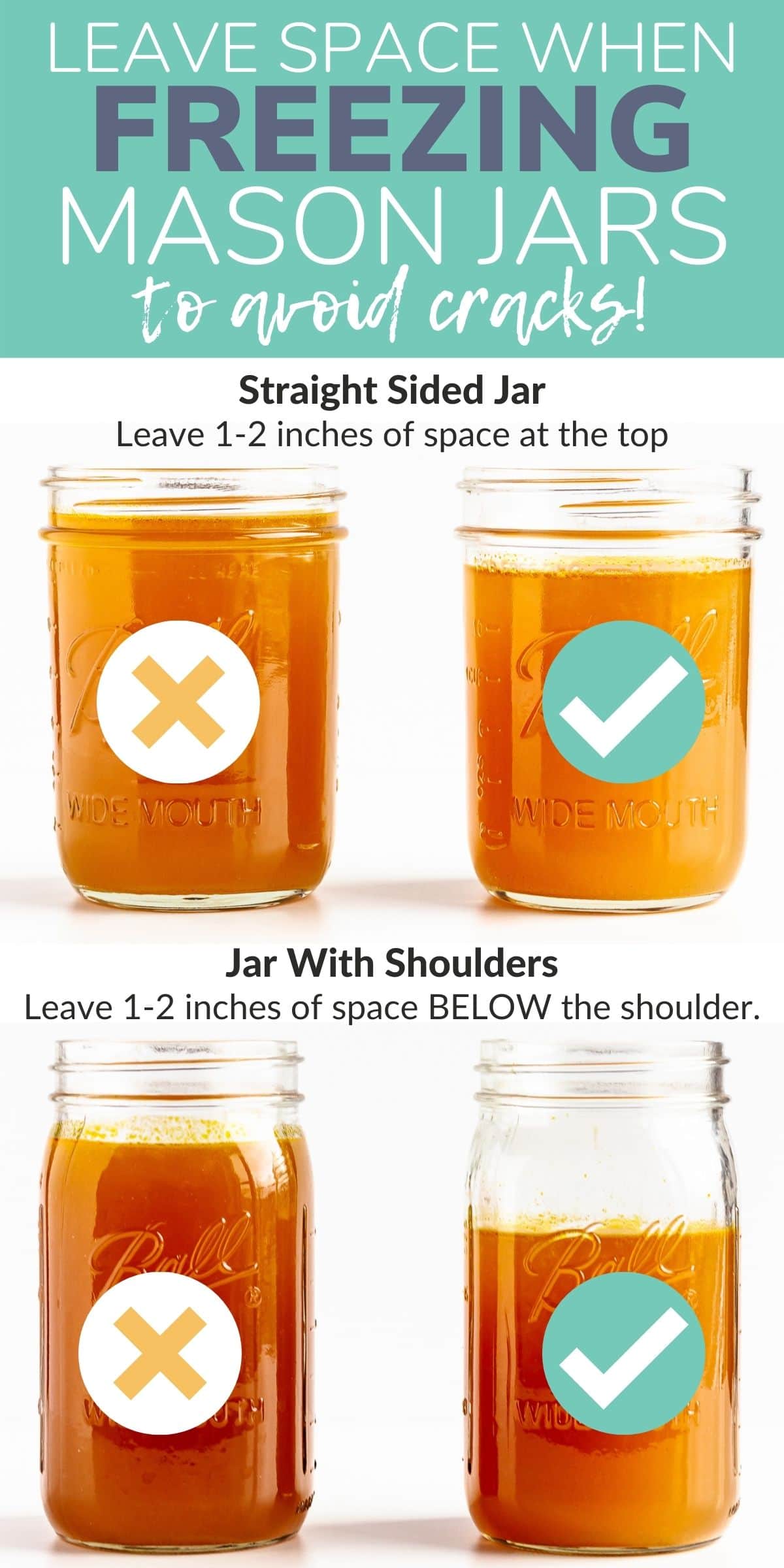 The Freeze Line
Some mason jars provide a visual indicator called the "freeze line" which indicates the maximum amount of liquid you can safely freeze in your jar without risking cracks.
Some jars will have actual words embossed in the glass like these 16-oz Ball mason jars that say "FOR FREEZING – FILL HERE". Sometimes, it is simply a thin line found below the threads (about an inch from the rim). Don't fill past the freeze line.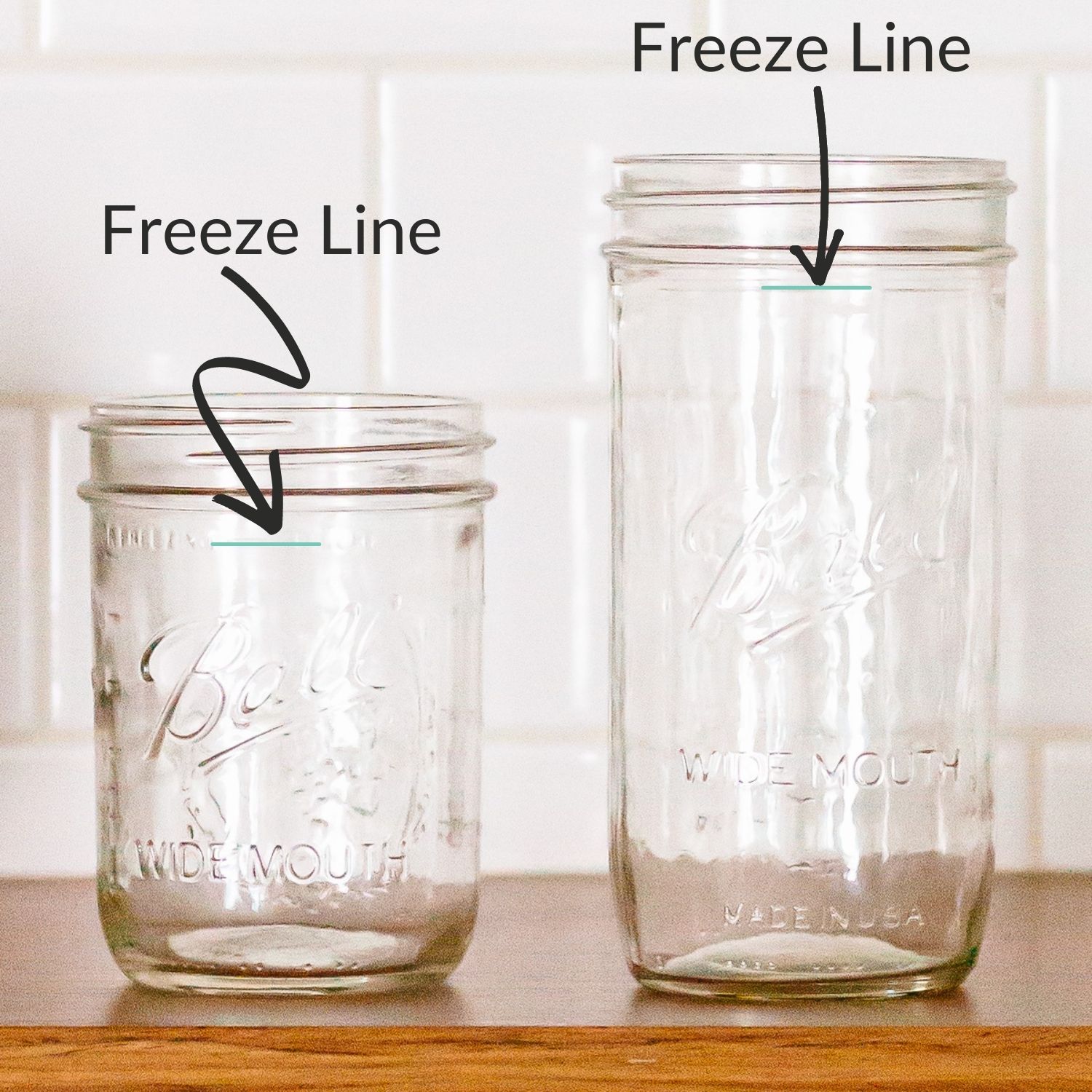 Tip: A wide mouth funnel makes filling jars easy and less messy!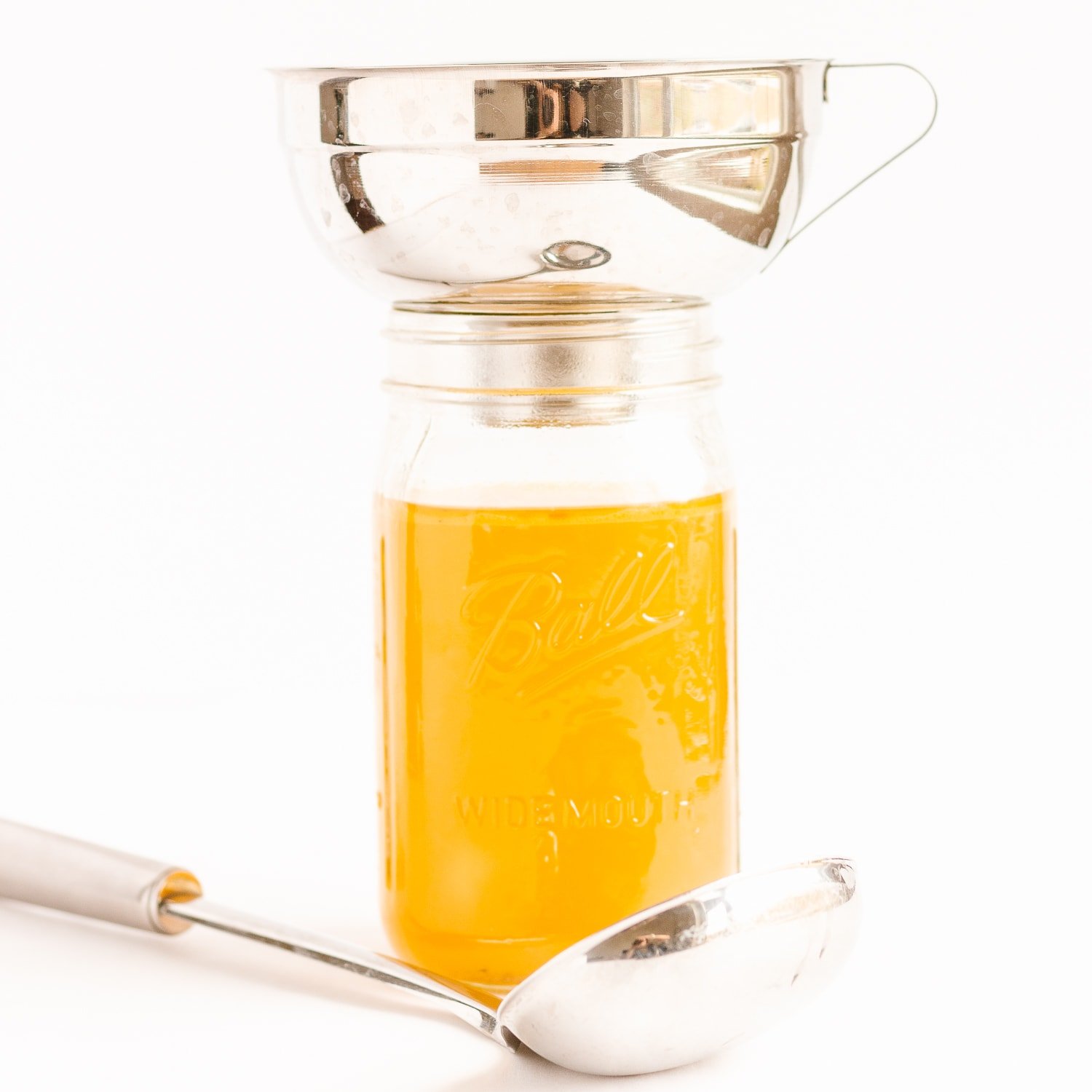 Tip #3: Cool completely
Never place a hot jar in the freezer! This is very important! Make sure to completely cool the filled jars before freezing to avoid cracking. I like to first cool them in the fridge overnight before transferring to the freezer the next day.
Tip #4: Leave Space Between Jars
Leave some space between the jars in the freezer. Cramming them right up next to each other does not leave room for the jars to expand and they can also rattle against each other.
I simply place them in the freezer leaving a bit of space between them. However, I have also heard of people slipping the jars into socks, using special jar jackets or a JarBox to protect and act as a buffer.
A Few Questions Answered
How do you thaw frozen food in glass jars?
It is best to let them slowly thaw in the fridge or on the counter (with a dish towel underneath to absorb the condensation). To defrost more quickly, you can also place the jar in a sink or bowl filled with lukewarm water (not hot!). Do not place in the microwave!
What foods can you freeze in mason jars?
Lots of things! Basically anything that you might store in a jar: bone broth, soup, stew, chili, sauces, jam, apple sauce, etc.
How long can you leave a mason jar in the freezer?
Typically 3-6 months.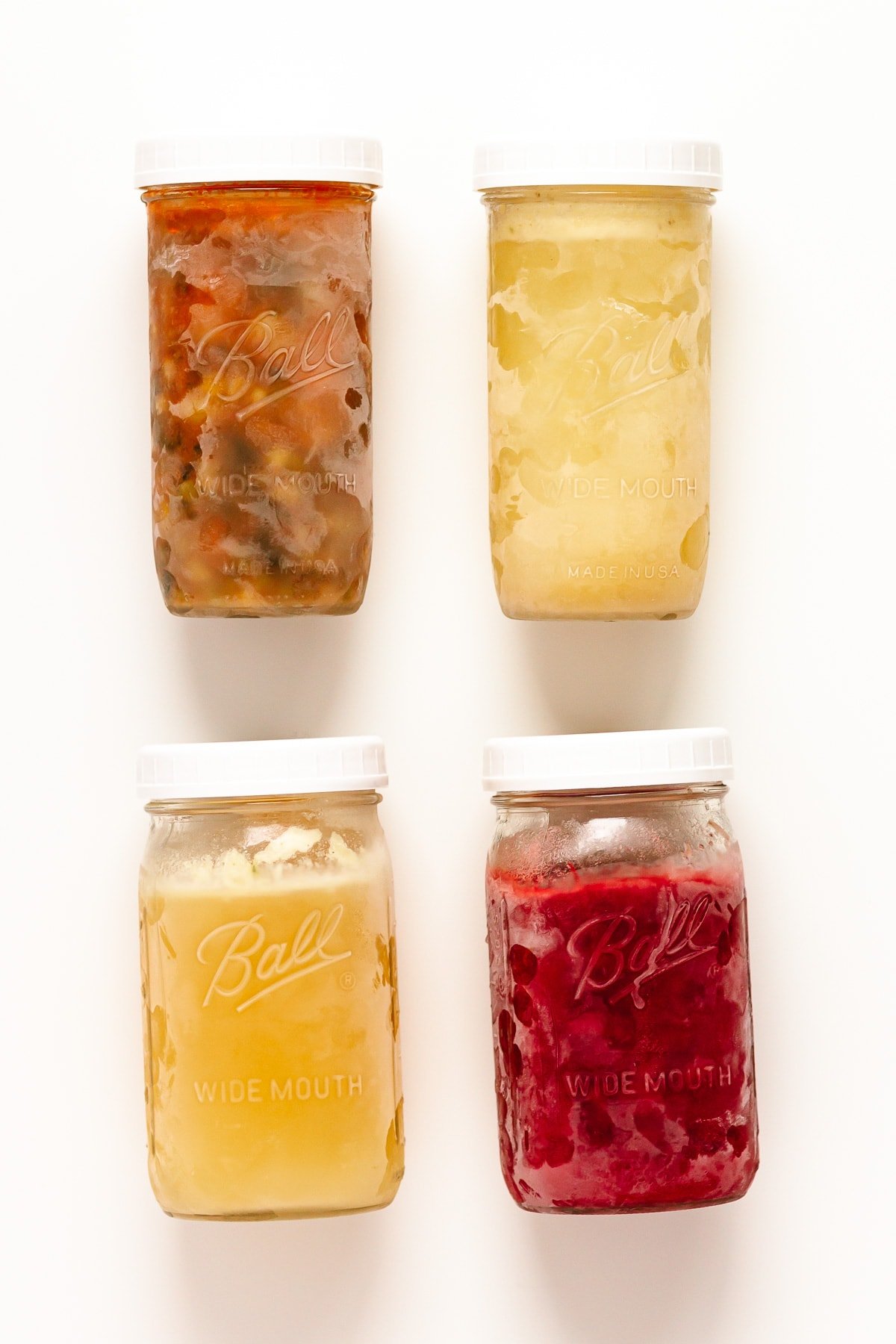 Looking for another alternative? Are you still feeling nervous and uncomfortable? Another fantastic and reusable option for freezing food is Souper Cubes. They are made from thick, high quality silicone, come in a variety of portion sizes, stackable and the frozen food pops out easily. You can check them out on the Souper Cubes website or Amazon: US | CAN.
⬇ PIN it for later! ⬇