Learn more about what real food is, why it is important and where to find it.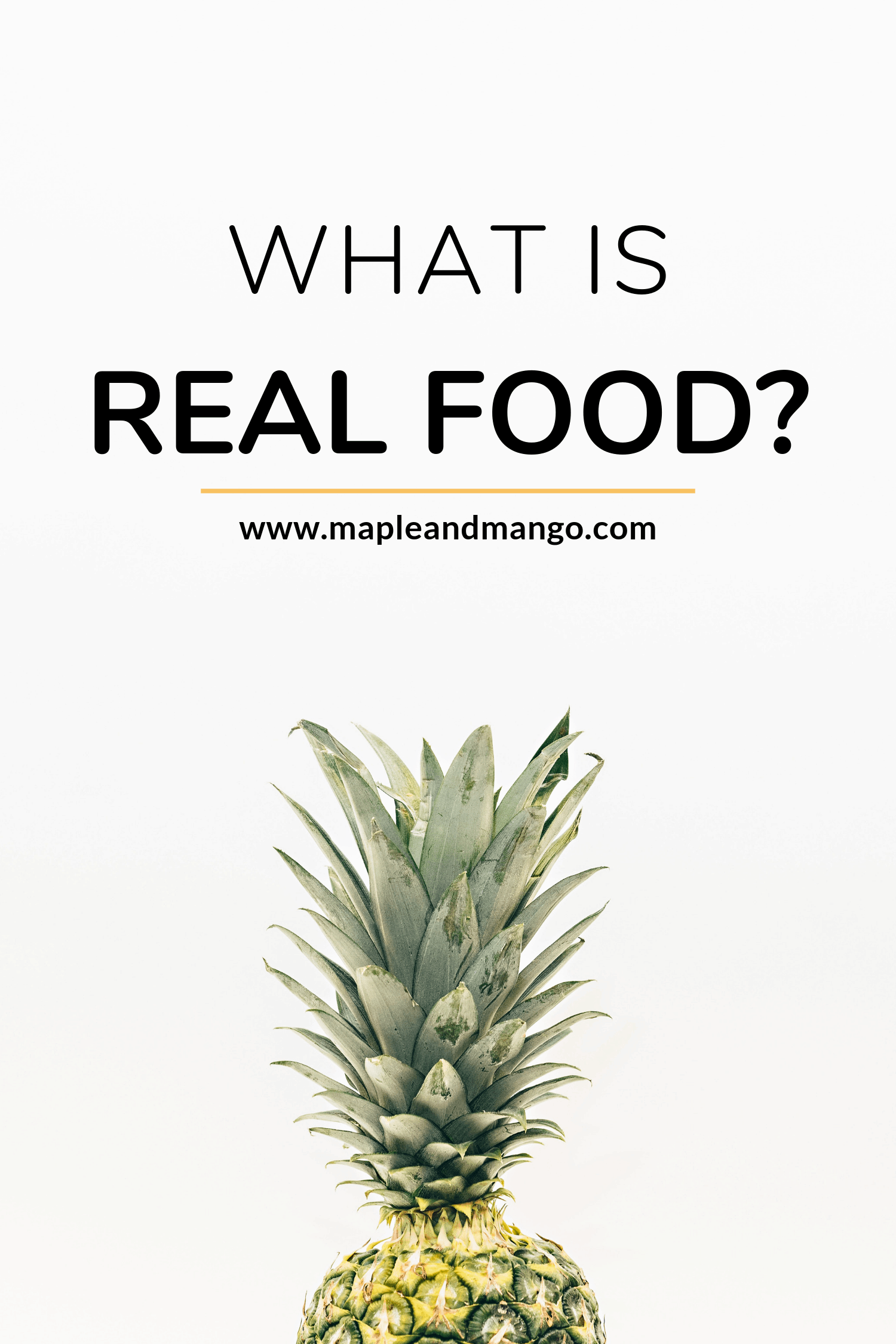 You may have noticed the tagline for this site underneath the logo: Eat Real. Live Well. Feel Amazing. What exactly does "Eat Real" mean though? To put it simply, Real Food = Food! These are the foods that your body recognizes as food and that your great grandparents would understand vs. highly processed, food-like substances.
What Is Real Food?
Real food is whole, minimally processed ingredients but doesn't outlaw entire food groups. It sometimes can also be referred to as whole foods or clean eating.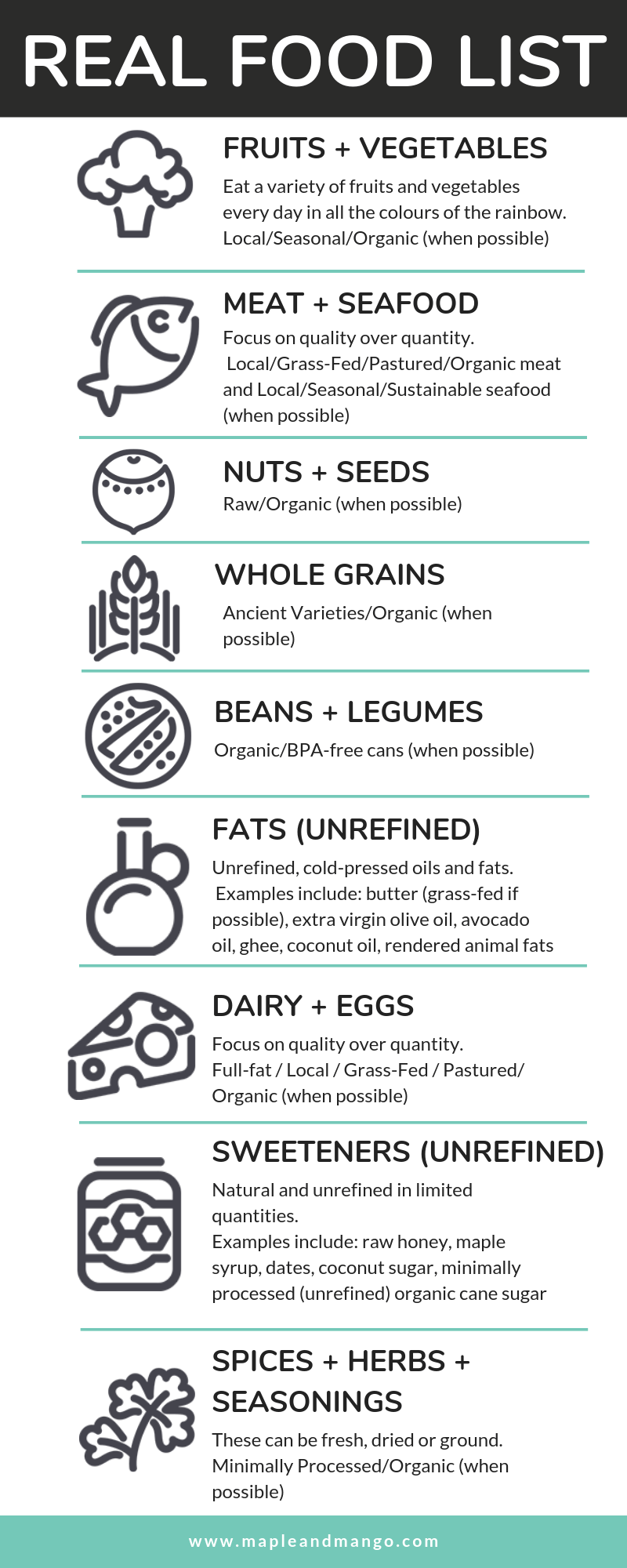 Real Food List
Here's a list of real food with some notes on optimal choices when possible. Like I said at the start, real food is just actual food so there is nothing too shocking on this list.
Fruits + Vegetables: Eat a variety of fruits and vegetables every day in all the colors of the rainbow. Local/Seasonal/Organic (when possible)
Meat + Seafood: Focus on quality over quantity. Local/Grass-Fed/Pastured/Organic meat and Local/Seasonal/Sustainable seafood (when possible)
Nuts + Seeds: Raw/Organic (when possible)
Whole Grains: Ancient varieties/Organic (when possible)
Beans + Legumes: Organic/BPA-free cans (when possible)
Fats: Unrefined, cold-pressed oils and fats. Examples include: butter (grass-fed if possible), extra virgin olive oil, avocado oil, ghee, coconut oil, rendered animal fats like lard
Dairy + Eggs: Focus on quality over quantity. Full-fat/Local/ Grass-Fed/Pastured/Organic (when possible)
Sweeteners: Natural and unrefined in limited quantities. Examples include: raw honey, maple syrup, dates, coconut sugar, minimally processed (unrefined) organic cane sugar
Spices + Herbs + Seasonings: These can be fresh, dried or ground. Minimally processed/Organic (when possible)
Believe it or not, real food can come in packages too. However, don't believe any health claims and marketing on the outside of the package. The important thing is to always look at the ingredient list. Real food will show ingredients that you can understand and pronounce and generally has a short list. Bread is a great example of an item that can have completely different ingredient lists (not all loaves are equal!).
Prioritizing the "Optimal Choices"
In the Real Food List, I included preferable choices (i.e. local, organic, grass-fed, etc). However, this is an added bonus that will depend on availability in your area and financial feasibility. The most important part is just eating real food as much as possible instead of highly processed foods. Let's face it, not everybody has the budget to purchase the "optimal choice" for every single grocery item. However, you may be able to prioritize and pick a few categories to focus on. This is my personal order of priority that I use in my home:
Animal Products (meat, dairy, eggs): I like to focus on quality over quantity here and am lucky enough to live in an area where I can source these items from local farms with great practices. For example, I am super lucky to be able to get milk in glass jugs from a local grass-fed only dairy which produces minimally pasteurized, non-homogenized whole milk.
Fats + Oils: I like to focus on quality, unrefined, cold-pressed oils and fats (e.g. quality butter, extra virgin olive oil, ghee, avocado oil, coconut oil). I avoid purchasing highly processed "vegetable oils" (e.g. rapeseed (canola), soybean, corn, sunflower, safflower, margarine). These "vegetable oils" are extracted from various seeds and cannot be pressed like olive oil. They are highly processed, refined, bleached, deodorized and lead to inflammation.
Fruits + Vegetables: I live in an area with an abundance of local produce but I also live in Canada so this is very seasonal. When possible, I like to purchase my produce from some fantastic local farms, produce stands and markets.
Why is Real Food Important?
So why is real food important? Simply put, eating real food makes you feel amazing and is a component of a healthy lifestyle. These foods are nutrient-rich which is important for good health especially when you consider that many health conditions are the result of a lack of nutrients. Real foods are also good for your skin, teeth and gut and help with your ability to handle stress. My favorite part is that real foods are also absolutely DELICIOUS! Now what could be more important than that? Check out this great article I found on 21 Reasons to Eat Real Food for more info.
Where To Buy Real Food
Grocery Store: You can find real food primarily around the perimeter of the grocery store. When shopping the aisles, make sure to read ingredient labels.
Local Farmers Market: Get to know your local farmers market and local producers.
Local Stores: You may have a local store in your area focused on organic/local/healthy foods.
Fresh Food Delivery Programs: Check out any local programs in your area (produce box delivery, CSA program for produce or meat, etc). There are also some on-line meat box delivery programs that source high quality meat from farms for you – ButcherBox in the US and truLocal in Canada
Online Retailers: There are a number of websites where you can go to find great pantry staples such as: Well.ca, and Amazon US | Canada. As mentioned above, you can even order quality meat online: ButcherBox (US) and truLocal (Canada).
Ask People In Your Area: I have lived in a number of places and the best resource for finding great local food is by asking people. This can be online in a Facebook group or in person. Some of the great local treasures just can't be found through a Google search.
Keep It Balanced
Please remember this: Food is not about being perfect or meant to add more stress to your life. It is meant to be enjoyed in a balanced and sane way. All of this info allows you to arm yourself with knowledge to make conscious, informed decisions. Strive to incorporate as much real food into your life as possible (especially within your home) and don't feel guilty about the odd indulgence. Don't let rules consume you or become obsessive since the stress that creates can be worse than anything else. It is not about being perfect – aim for eating mostly real food vs. only real food. Eat with joy and happiness, try to make conscious choices, eat a variety of whole foods and do not feel guilty over the odd indulgence. Sometimes life is about ice cream cones on a summer day, appys and drinks with friends or ridiculously rich desserts on a date night. Life is too short to miss out on these moments!
Also, not all of these foods may work for you. I don't believe that there is one "diet" that is superior and best for everybody. We are all individuals and must listen to our bodies to figure out which foods work best for us to feel our best. What works for one person may not work for another so listen to your body! There are a lot of "diets" out there all claiming to be the best way to eat which can make things really confusing and stressful when you are just trying to lead a healthier life. I believe that the majority of us just need to keep things simple and get back to real, whole, quality foods. Personally, I don't believe in eliminating entire food groups for no reason – try out the real food version first. Listen to your body, eat foods that feel good to you and most of all….EAT WITH JOY AND HAPPINESS!