These Chocolate Coconut Cream Stuffed Strawberries are deliciously decadent and easy to make. The perfect treat for date nights, parties or special occasions like Valentine's Day!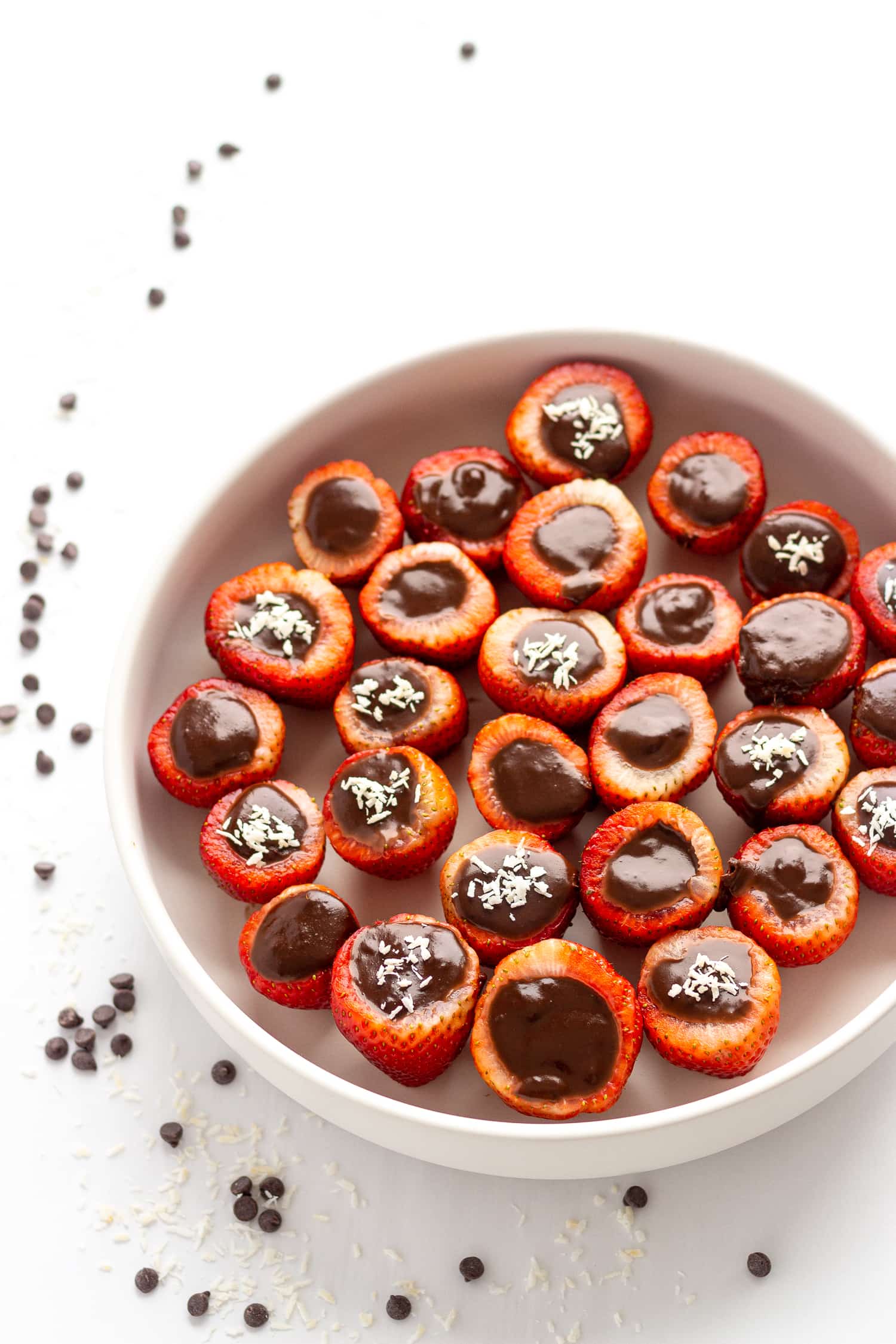 Chocolate + Strawberries are a perfect pairing! Obviously the first thing that comes to mind are chocolate covered strawberries which I love and make often for parties and special occasions. However, I decided to try something a little bit different this time and filled these strawberries with a chocolate coconut cream. And let me tell you….they are SO delicious! My whole family devoured them at record speed.
If being incredibly delicious wasn't enough, these stuffed strawberries are also easy to make, pretty darn healthy for a treat and naturally gluten and dairy free (depending on the chocolate chips used) which makes them a treat that can be enjoyed by lots of people. And did I mention they are decadently delicious!😉 These Chocolate Coconut Cream Stuffed Strawberries would be perfect for Valentine's Day, date nights, parties, special occasions or really any time you are craving a delicious treat.
So enough talk on how amazing these are…let's get started!
What You Will Need
These Chocolate Coconut Cream Stuffed Strawberries are easy to make and only need a few simple ingredients: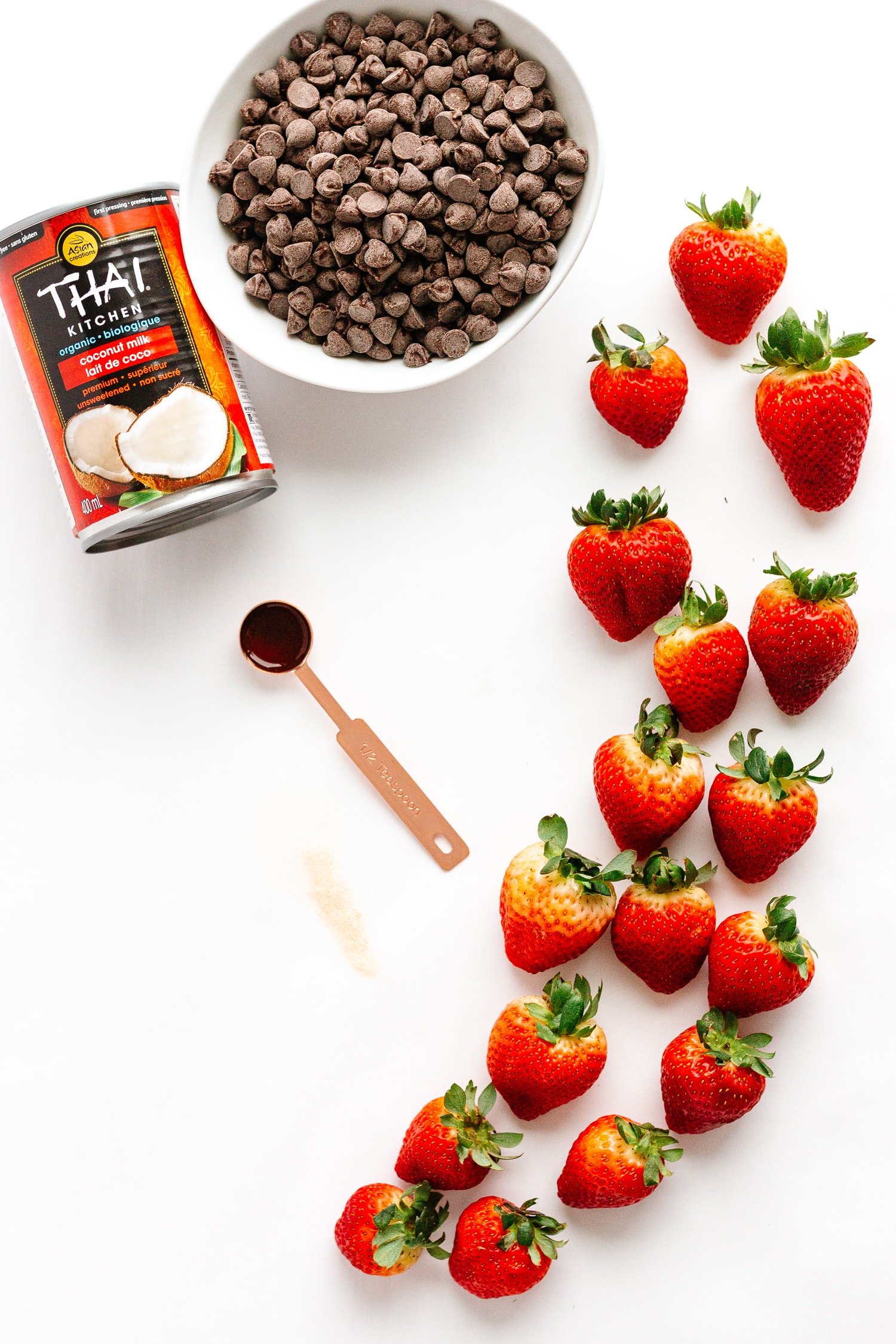 Strawberries: Larger strawberries work best since they are easier to scoop out and there is more space for the chocolate filling.
Coconut Milk: You will need one can of full fat coconut milk that has been refrigerated overnight. It is important to use canned coconut milk since you want to be able to scoop the cream out. I have had a lot of luck with the consistency of the Thai Kitchen organic coconut milk (Amazon | Well.ca). Another brand that works well for people is Native Forest.
Chocolate Chips: I tend to buy organic chocolate chips in the bulk section of a local health store. Just grab your favourite! These ones are a great choice if you need them to be dairy-free.
Vanilla Extract: Just a touch to add some delicious flavour.
Himalayan or Sea Salt: A pinch to make the chocolate flavour pop.
How To Make Chocolate Coconut Cream Stuffed Strawberries
To make these decadent chocolate filled strawberries, simply…
Scoop Out Strawberries: Cut the tops off of the strawberries and a bit of the tip off the bottom so that the strawberry will sit flat. Then scoop out some of the inside to make a little "bowl" for the filling. You can use a melon baller or a small measuring spoon to do this.
Scoop Out Coconut Cream: Open the can of coconut milk that has been refrigerated overnight and scoop out the solid cream. Reserve the coconut water for another use like a smoothie.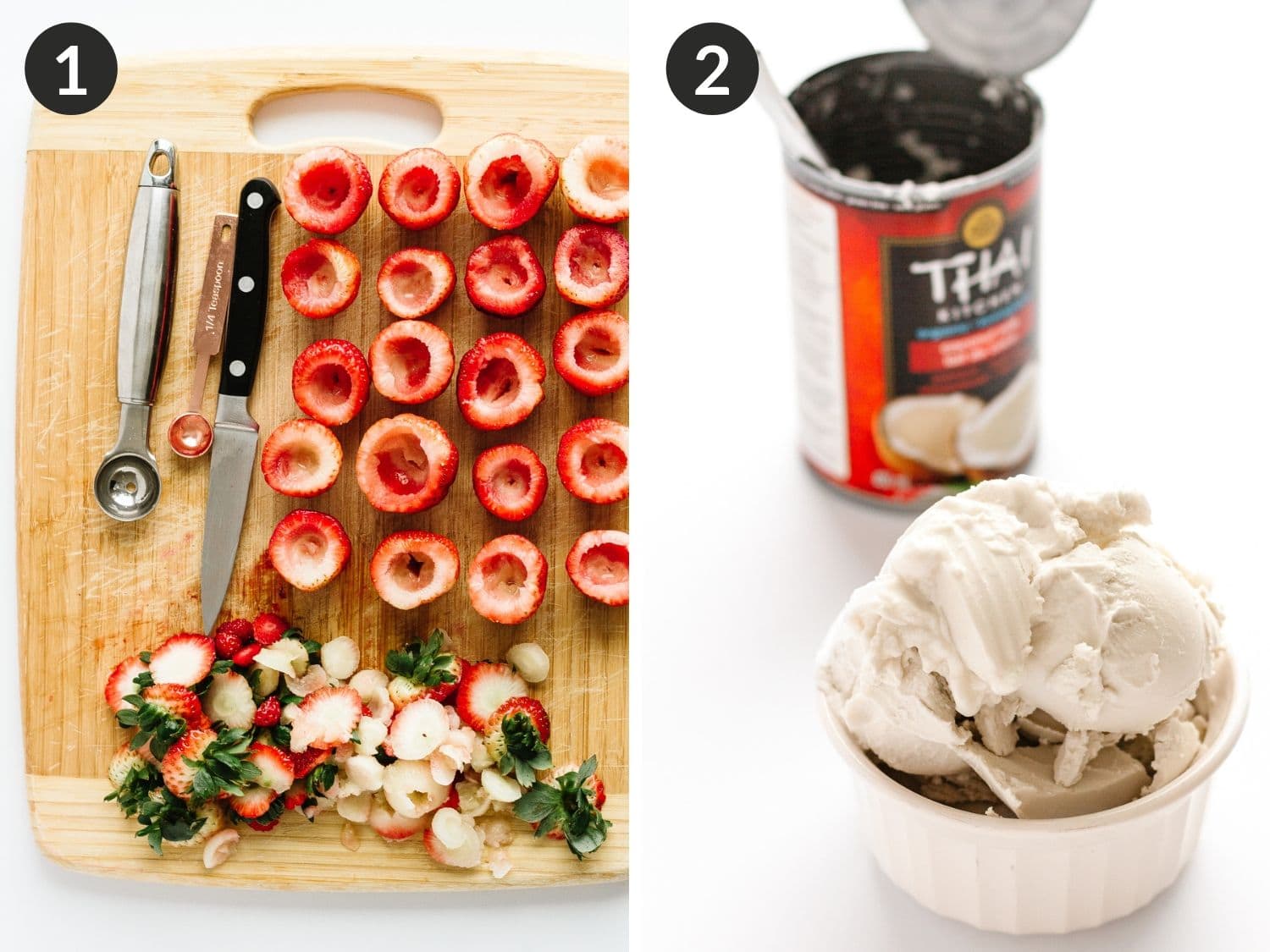 Melt Together Coconut Cream + Chocolate Chips: Place the coconut cream and chocolate chips into a small pot and melt together over low heat.
Finish Chocolate Filling: Stir through the vanilla and pinch of salt to finish the filling.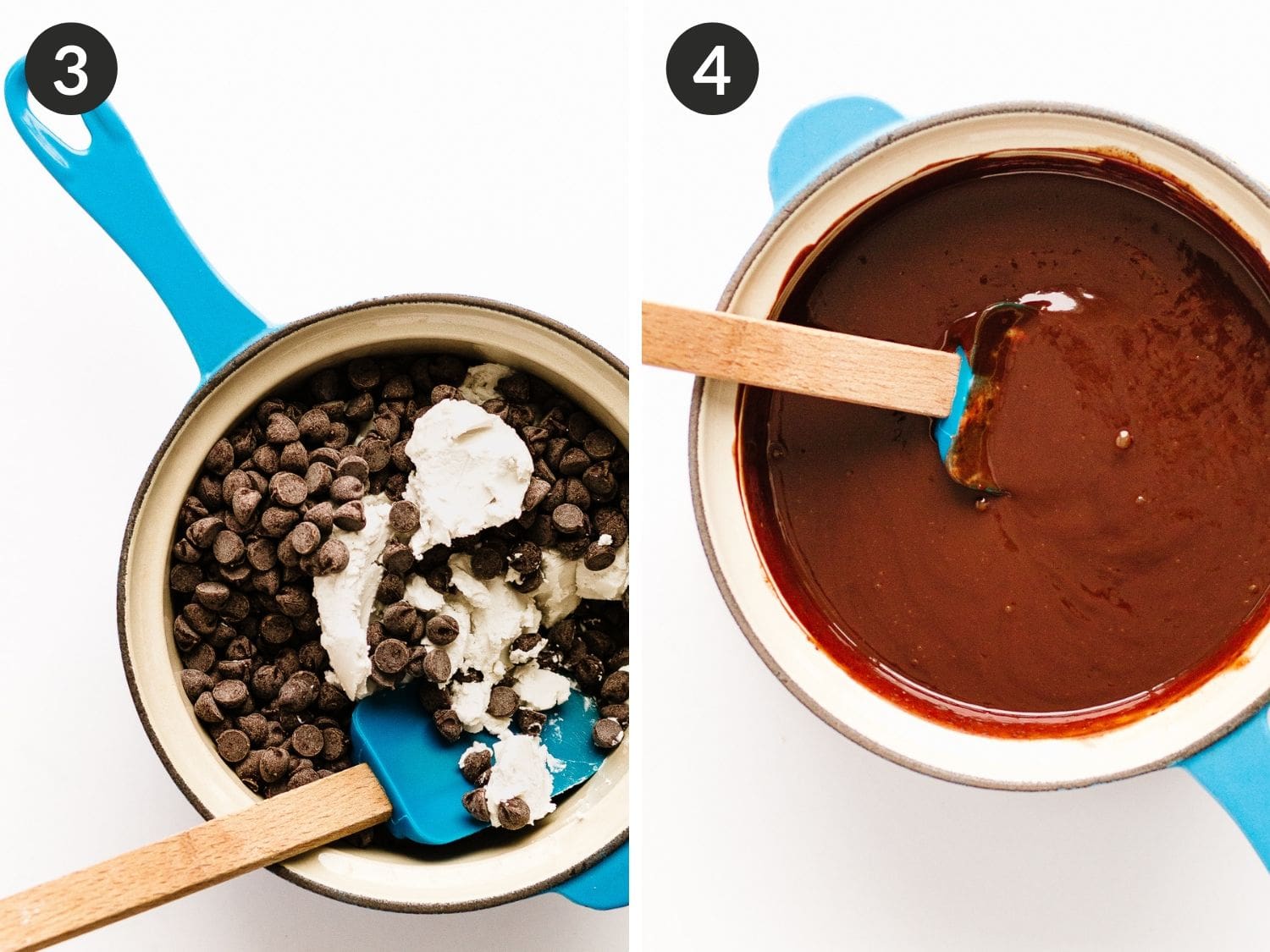 Fill Strawberries: Dry off scooped out section of the strawberries with some paper towel. Fill each of the strawberries with the chocolate mixture. I like to first pour the chocolate filling into a glass measuring cup with a spout for more control. Place in the fridge for about 20-30 min to harden up a bit.
Serve And Enjoy: Now for the best part – time to enjoy these delicious treats!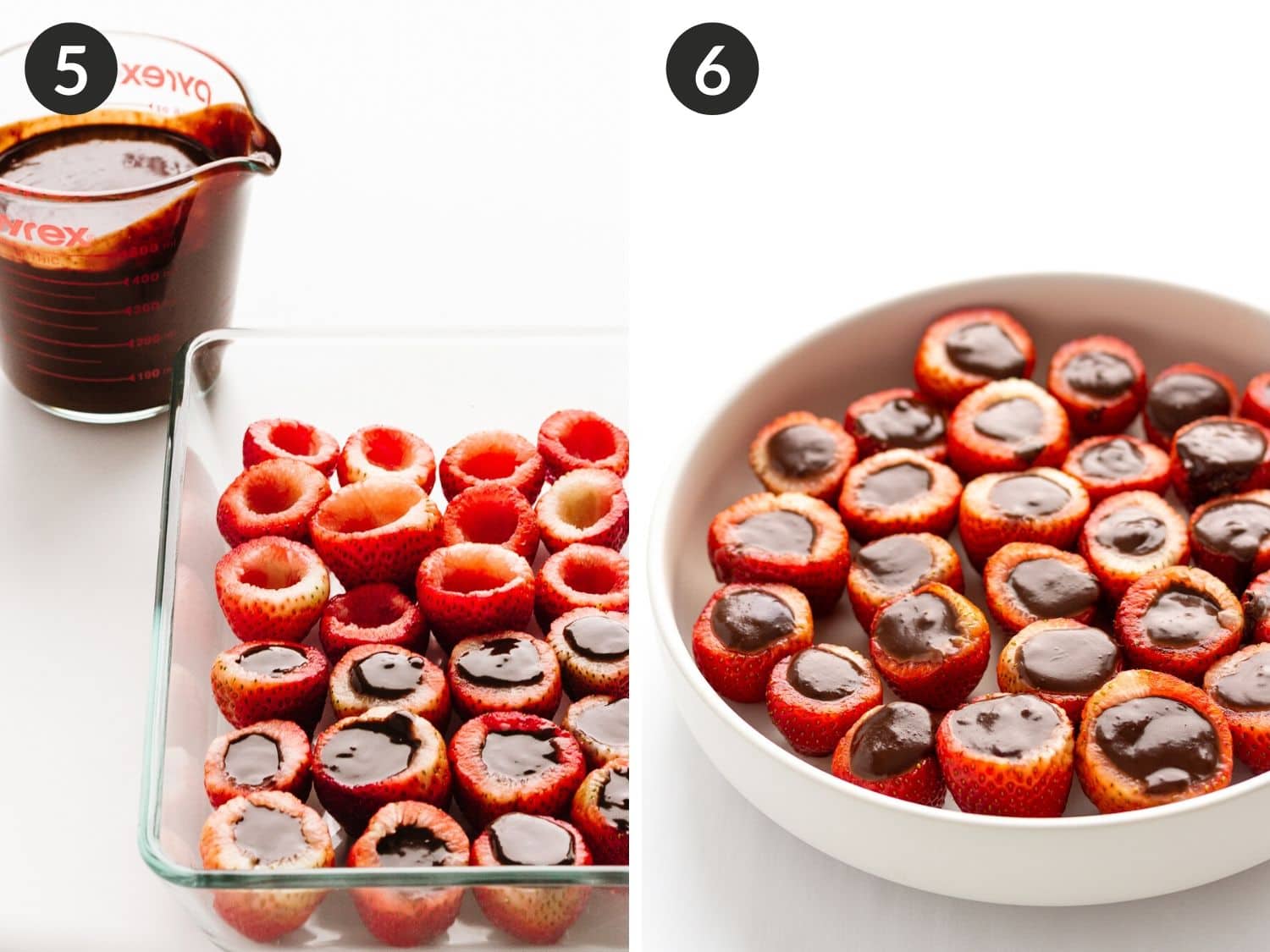 Detailed ingredient list and directions located in the recipe card below.
A Few Helpful Tips
Larger strawberries work best! They are easier to scoop out and more importantly there is more space for the delicious chocolate coconut cream filling.
Eat the same day! These are best eaten the same day since the strawberries will start to get "juicy" if stored for too long.
Use full fat canned coconut milk! Coconut milk beverages typically found in cartons or low fat coconut milk will not separate when refrigerated to provide you with the solid coconut cream layer you need for this recipe. I have had good luck with the consistency of the Thai Kitchen organic coconut milk that I purchase at my local health store and on Well.ca (also available on Amazon). I have also heard people rave about the Native Forest brand.
What To Do With The Leftover Filling
Unless you are making a ton of strawberries, you will have leftover chocolate coconut cream filling. I made a large Costco size container of strawberries and still had leftovers. Simply place the extra filling into a container and pop it into the fridge. It can be used in so many different ways! Take it out of the fridge and whip it up with beaters for a delicious chocolate frosting. You could also reheat it and drizzle over pancakes, french toast, waffles, oatmeal, ice cream or a bowl of berries. Or simply use it as a spread or grab a spoonful as a treat!
Possible Variations
Looking to customize these a little more? Here are a few options:
Sprinkle on some toppings: You could top these with some shredded coconut, sprinkles, white chocolate shavings, chopped nuts, cacao nibs or even a drizzle of caramel sauce.
Make them dairy-free / vegan: This is easily done by just ensuring that you use dairy free chocolate chips.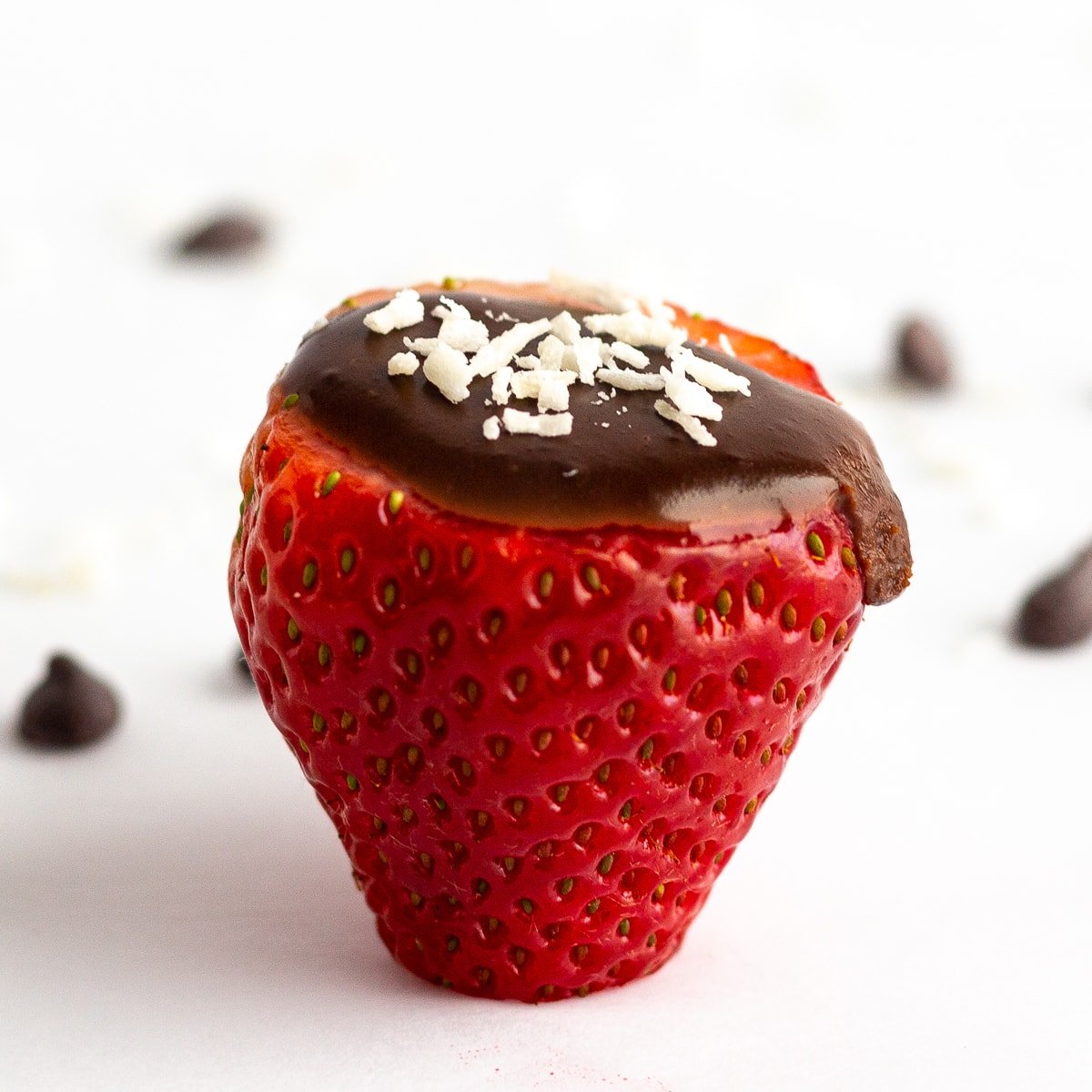 More Strawberry Recipes
If you love strawberries as much as I do, then check out some of these Easy Strawberry Recipes featuring this delicious fruit! Here's a taste of what you will find…
Let me know in the comments if you try these Chocolate Coconut Cream Stuffed Strawberries. Would love to hear from you!
Print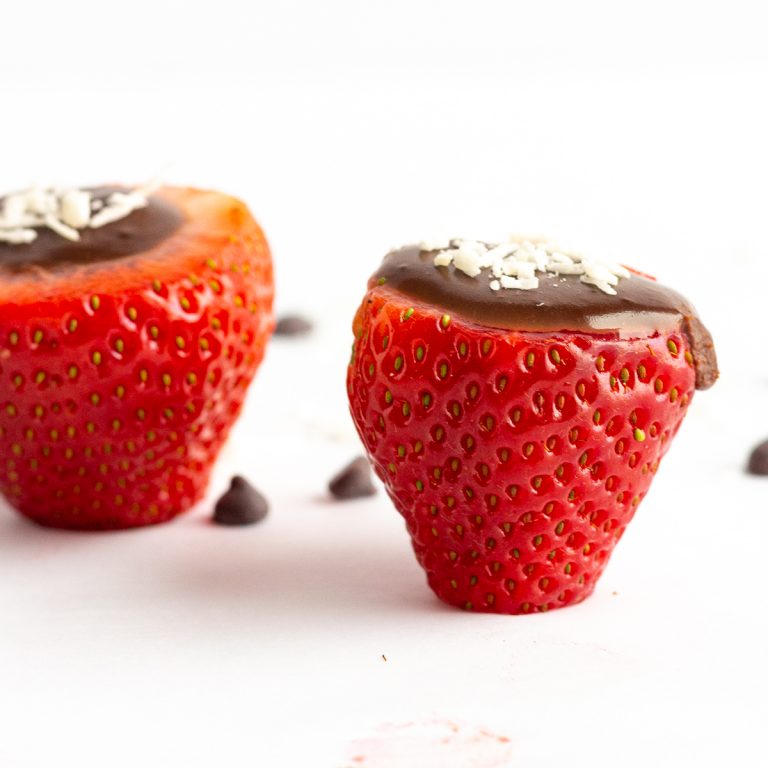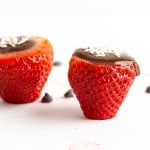 Chocolate Coconut Cream Stuffed Strawberries
Author:

Vanessa | Maple + Mango

Prep Time:

20 min

Cook Time:

0 min

Total Time:

20 min (plus 20-30 min cooling time)

Yield:

varies

Category:

Dessert

Method:

No Bake

Cuisine:

American
---
---
---
---
⬇ PIN it for later! ⬇