These 10 Healthy Eating Tips for Disneyland will help you feel your best so that you can fully enjoy your trip to "The Happiest Place On Earth".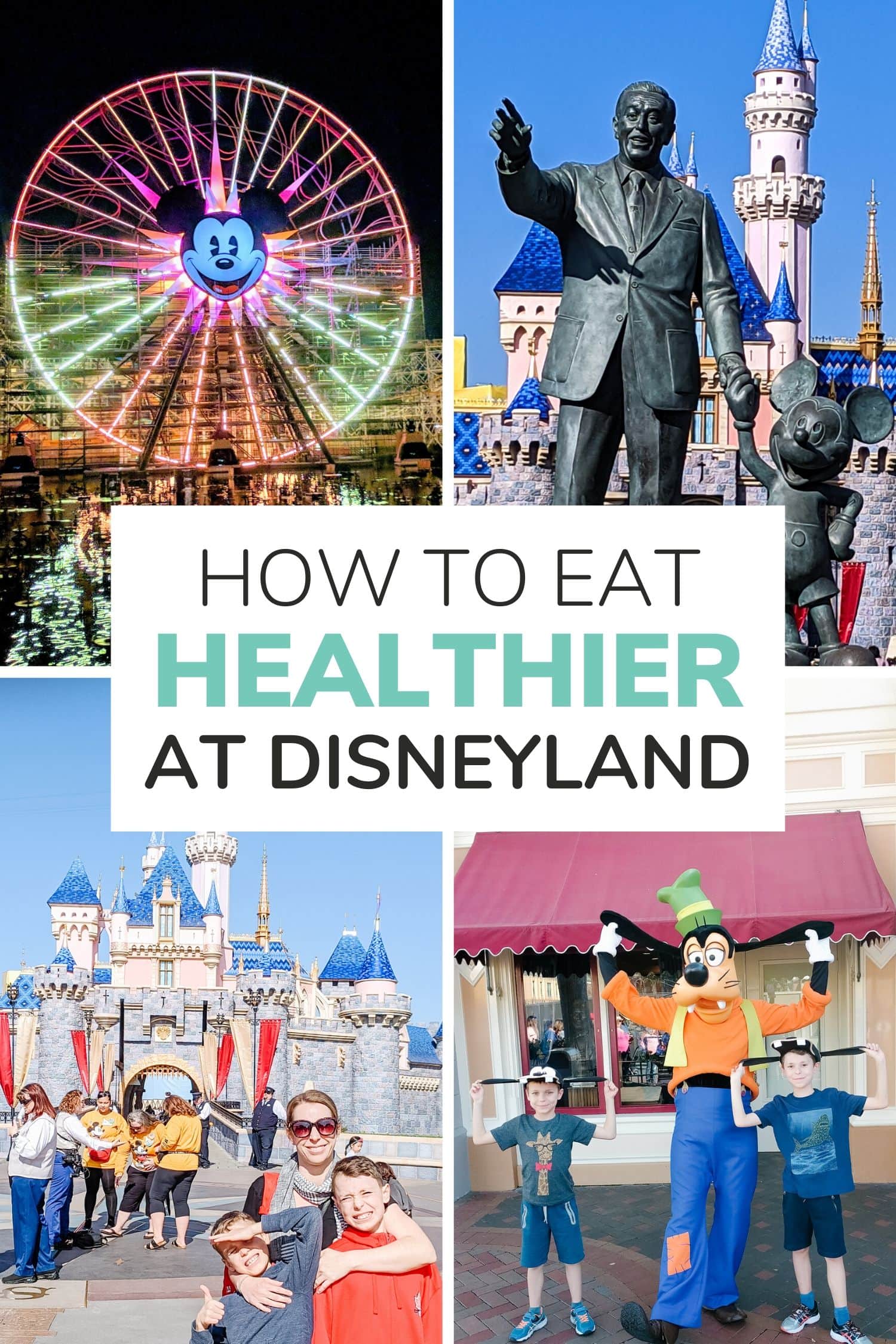 Disneyland truly is a magical, memorable family vacation. My whole family had an amazing time and my kids can't stop talking about all the fun they had. The same kids who complain about walking around the block or going on sightseeing walks didn't seem to have any issue being on their feet for countless hours at Disney (interesting how that works!).
So let's talk about food! I like to enjoy food on vacation and this trip was no exception. It is not the time to stress out or to be super strict (in my humble opinion). You are on a holiday after all! However, I also don't want to miss a moment of fun due to digestive distress or sluggishness that can come from eating too many fried foods and sugary treats. So I try to keep things balanced so that I can feel great and still have fun!
Why To Make Healthier Food Choices At Disneyland
Making healthier food choices during your trip to Disneyland will allow you to feel your best and keep your energy levels up for the long days of walking (and let me tell you…there is LOTS of walking!). As mentioned above, you also don't want to miss out on the fun due to digestive distress or sluggishness that can come from indulging in too many treats. Check out my 10 tips below for eating healthier at Disneyland. Just remember to keep things balanced so that you can feel amazing and still have tons of fun!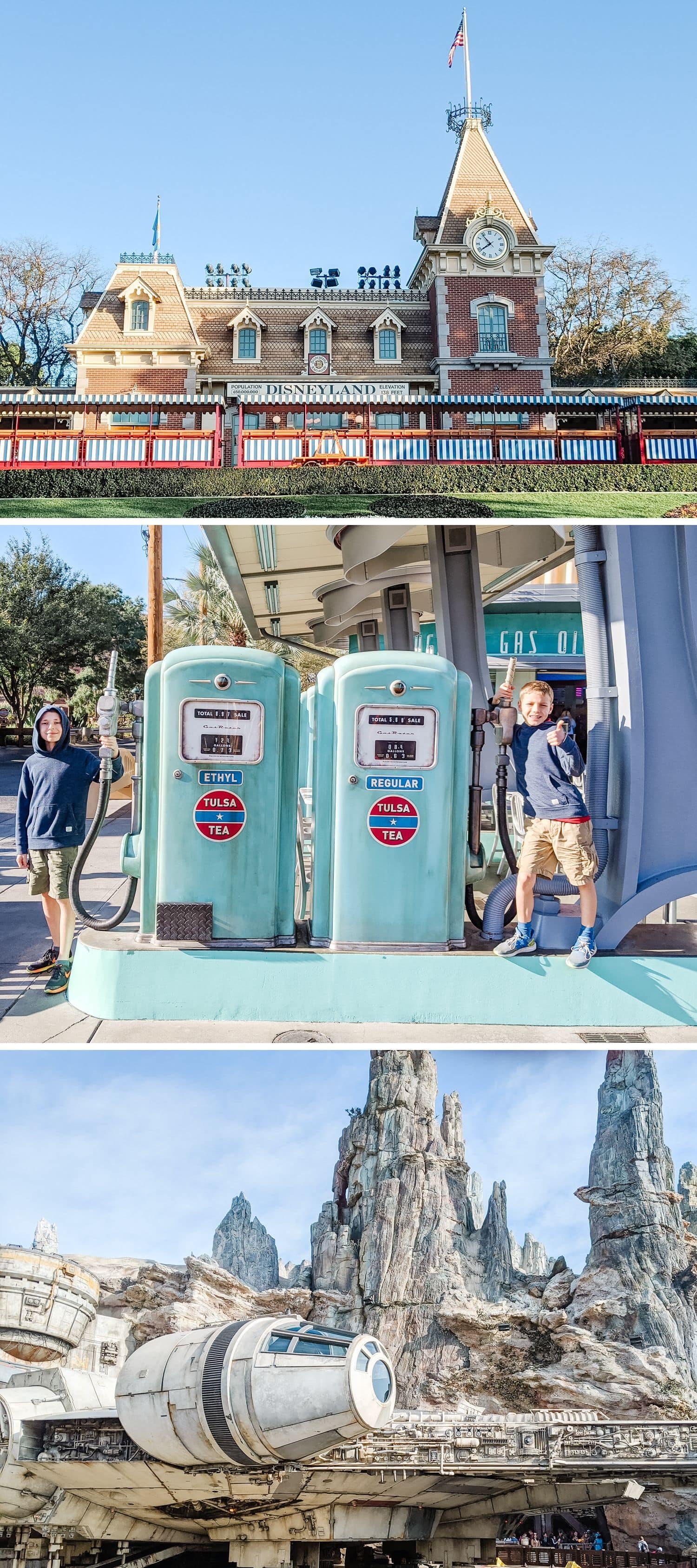 How To Eat Healthier At Disneyland: 10 Healthy Eating Tips!
First off, let's start with a few things you can plan to do before you even enter the park. As an added bonus, these first few tips are also gentler on your wallet since they eliminate the need to buy everything at the park (which can get expensive quickly).
Tip #1: Healthy Breakfast
Eat a healthy breakfast before you go. This allows you to start the day off on the right foot by entering the park already fueled and ready to rock!
Tip #2: Drink Water
Skip the sugary drinks and stick to water for hydration. Just bring a reusable water bottle to refill as needed throughout the day. To keep things light, we brought smaller bottles with us since there are plenty of places to refill them throughout the park.
Tip #3: Bring Snacks
Bring lots of snacks (especially if you have kids)! They are perfect to pull out while waiting in lines or the moment anybody says, "I'm hungry!". You are allowed to bring a backpack in so fill that baby up. Some great snack ideas that are easy to pack include: whole fruits like apples, mandarins or bananas, nuts, bars, trail mix, jerky and roasted chickpeas. I also packed some of these crunchy fruit chips which everybody loved. If you want to take it a step further, you could also pack an insulated lunch bag with items like cut up fruit, veggies, hard boiled eggs, salads, sandwiches, etc.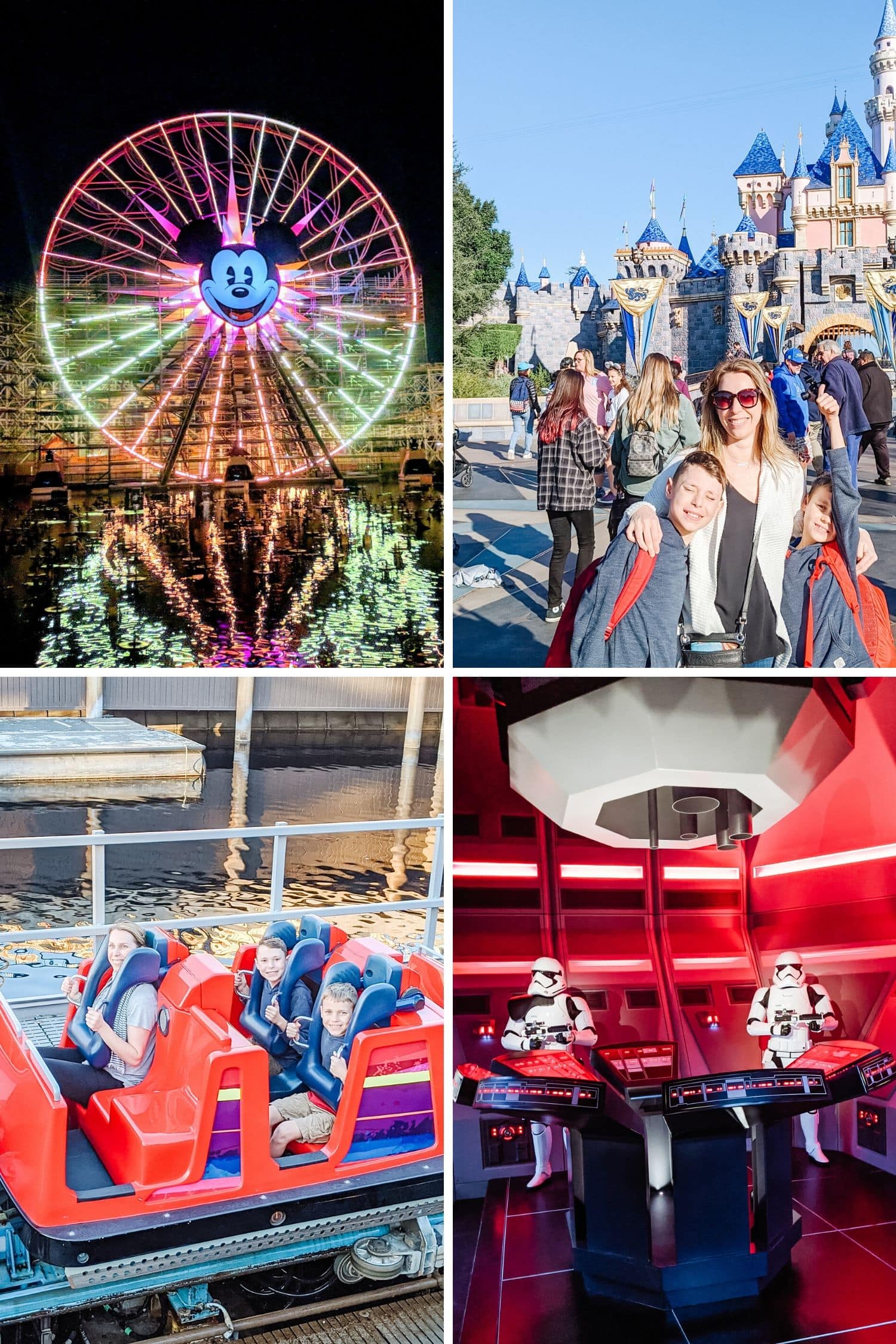 Time for lunch! Skip the fried foods and check out some of the other delicious options available. Here are a few favorites that my whole family enjoyed.
Tip #4: Get the skewers
For a quick and delicious option, try out the skewers at Bengal Barbecue in Adventureland at Disneyland Park. They feature a variety of grilled meat and veggie skewers. We ordered an assortment of skewers and dug in while waiting for our Indiana Jones FastPass to start.
Tip #5: Grab a soup, salad or sandwich
Take a quick lunch break at the Jolly Holiday Bakery Cafe located at the end of Main Street U.S.A. in the Disneyland Park. It is a great place to grab a soup, salad or sandwich to enjoy on the garden patio.
Tip #6: Enjoy the sourdough
If you are spending the day in the California Adventure Park, then I definitely recommend checking out the Pacific Wharf Cafe. They serve soups and salads served in the most delicious hollowed out sourdough loaves. The sourdough bread is from San Francisco's famous Boudin Bakery. These bowls are definitely big enough to share!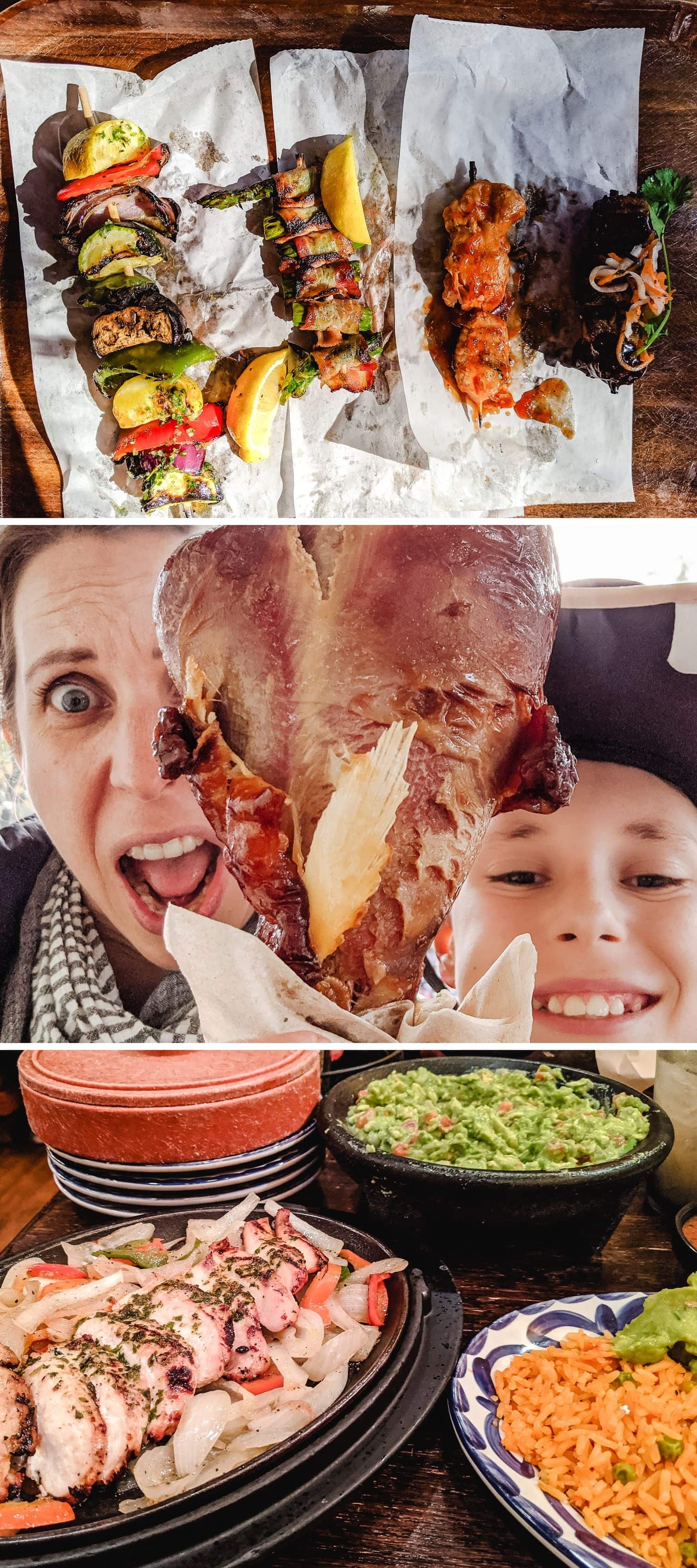 Perhaps you have run out of packed snacks and are looking for a little something to get you through the afternoon…
Tip #7: Snack on fruit
Fruit stands can be found throughout the park for a fresh, healthy snack. You can find a variety of whole fruits as well as sliced fruits like pineapple spears, mango slices and watermelon slices. They also offer other healthy snack options like veggies and dip, hummus, cheese, etc. If you are looking for a frozen treat, check out the frozen bananas available at the ice cream carts.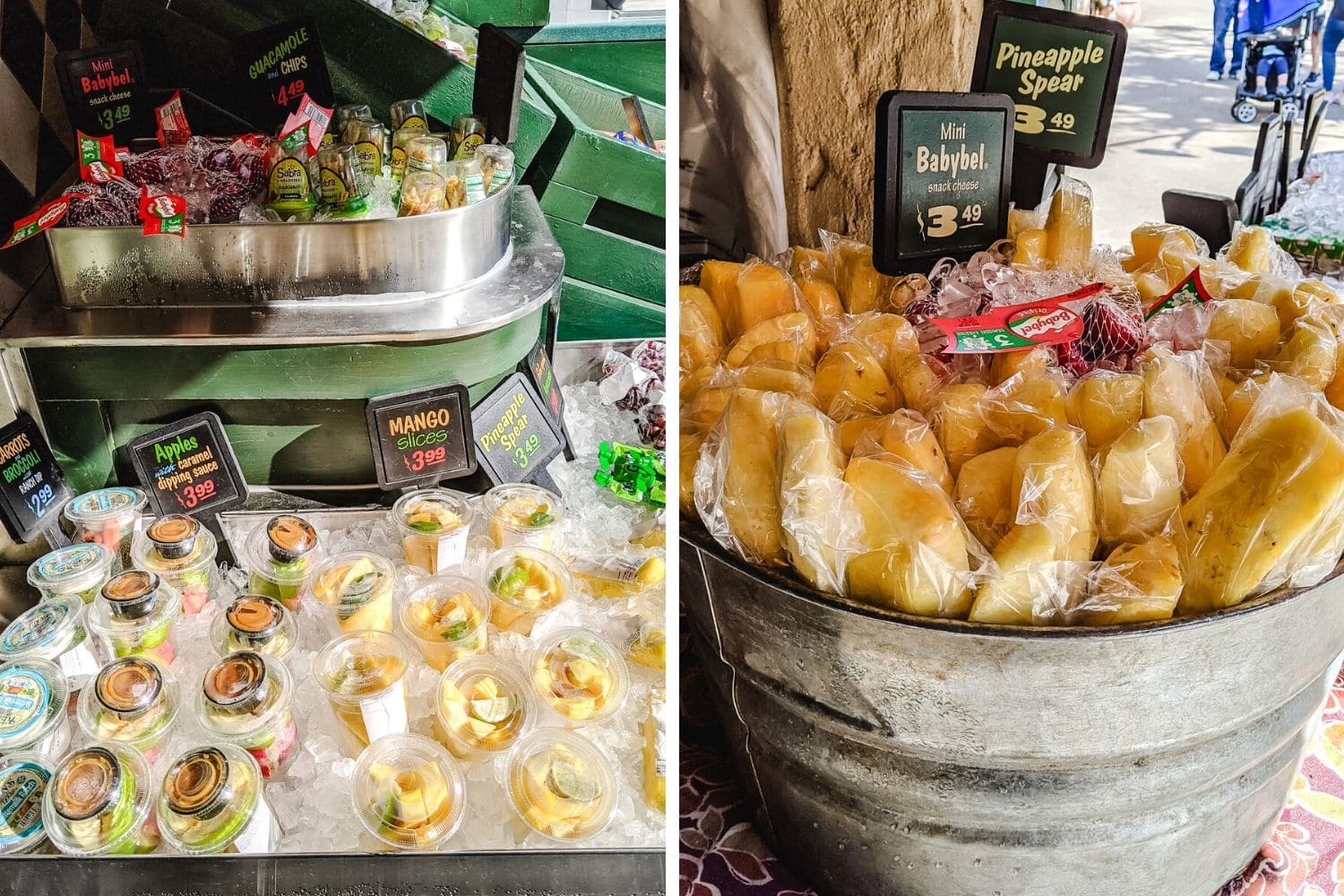 Tip #8: Share a turkey leg
The giant turkey legs are an iconic Disneyland snack. These are huge so I definitely recommend sharing. We purchased one for the family to have as a quick protein snack while waiting in line for a ride and it was enough to satisfy everyone.
Let's move on to dinner time! My biggest piece of advice is to finally sit down and have a relaxed meal.
Tip #9: Take a proper dinner break
By this point, you are getting tired since it has already been a long day. So take a break and have a relaxed sit down dinner before heading back for more rides or to see the nightly show (or perhaps before just calling it quits and heading back to your hotel to collapse for the night). We really enjoyed exiting the park for a bit and heading into the Downtown Disney District for dinner. There are a variety of restaurants in the area and just like any restaurant, the "healthiness" of your meal will depend on what you select off the menu. One of our favorites was Tortilla Jo's, a Mexican restaurant where we ordered freshly made guacamole that was prepared table-side and fajitas.
Now let's not forget the most important tip of all…
Tip #10: Treat Yourself!
What? How is that a healthy eating tip? Ok, now hear me out! You are on a fun trip so you should not be stressing out over "perfect" food choices or feeling deprived. After all, stress is the worst thing for our health! Food choices do not need to be an all or nothing approach. Make great choices most of the day so that you can feel amazing but also pick a special treat. Pick something that you really want and then enjoy EVERY SINGLE BITE!
I chose the Matterhorn Macaroon for my treat (which was absolutely delicious by the way) and my kiddos chose the iconic Dole Whip.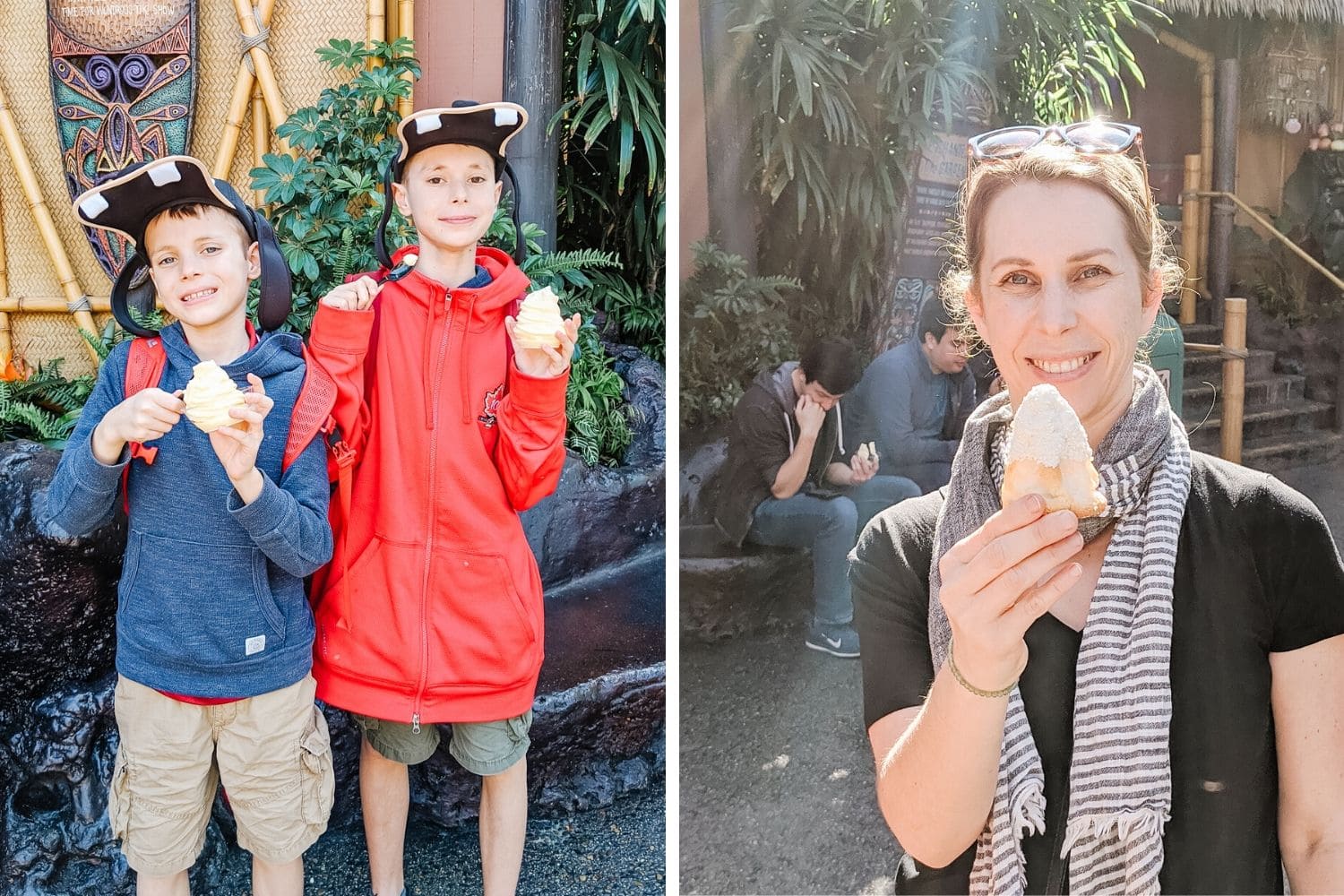 I hope you enjoyed these tips and have an incredible time at Disneyland. Let me know if you have any great tips by leaving a comment below!
Planning A Trip To Disneyland?
Looking for places to stay? There are lots of options available at various price points:
Make a plan ahead of time! It will make your trip go much smoother if you familiarize yourself with all things Disneyland before you go. Check out the website for opening hours, when the shows are, ride descriptions, how the FASTPASS system works, etc. Also make sure to download the app since this will provide you with an interactive map, estimated wait times, the ability to order food for fast pick up, keep track of your FASTPASS return times and more.
Flying? Check out my list of 15 must have carry-on travel essentials to make travelling easier and more enjoyable.
⬇ PIN it for later! ⬇