Make travelling easier and more enjoyable with these 15 must have carry-on travel essentials.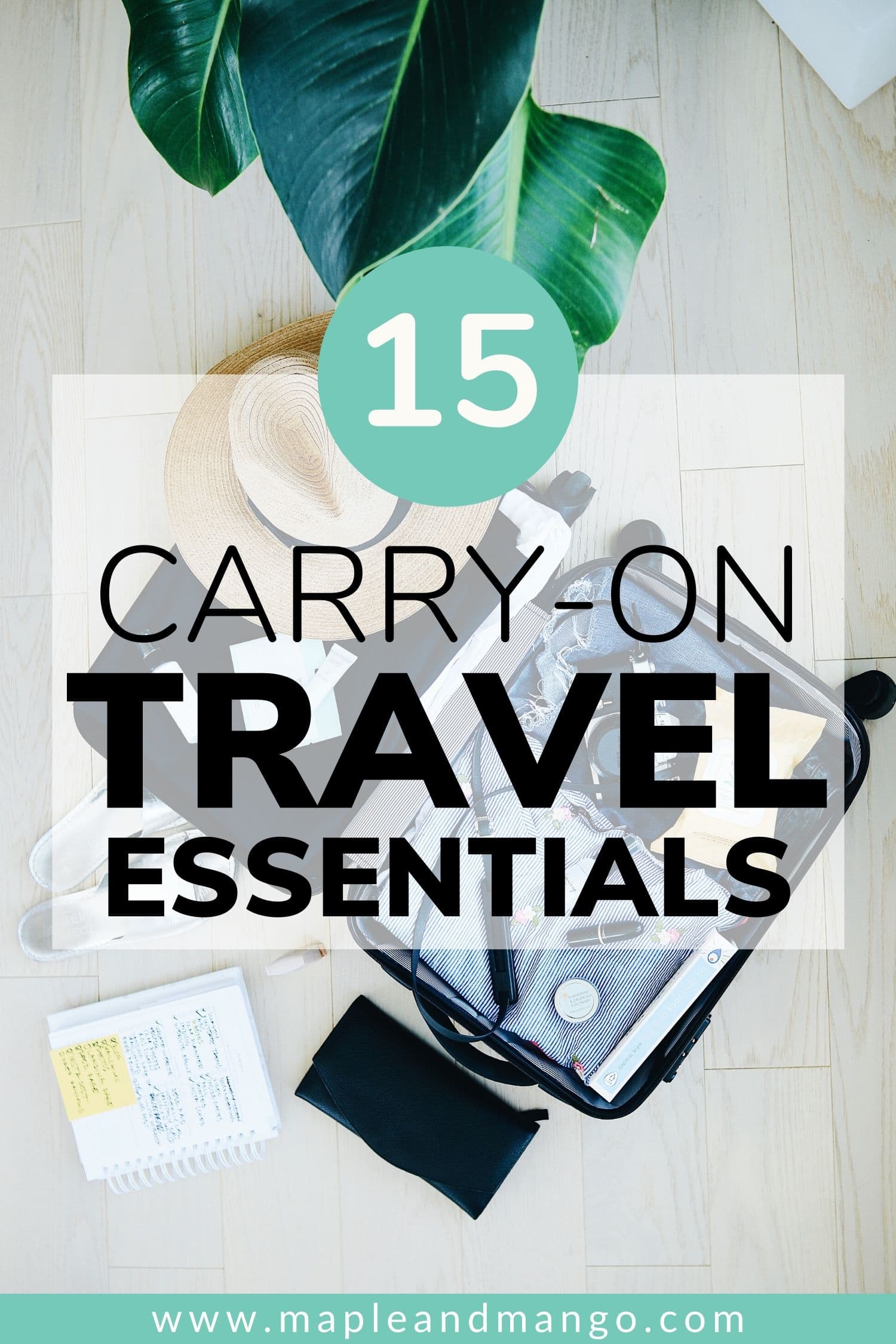 Today I am sharing some of my must-have travel essentials that I always pack in my carry-on when travelling. I am always happy to have these things with me since they make for an easier and more enjoyable flight. Whether flying for business or to visit a fun bucket list destination (because everybody needs a Travel Bucket List!), these are 15 items that I always pack in my carry-on!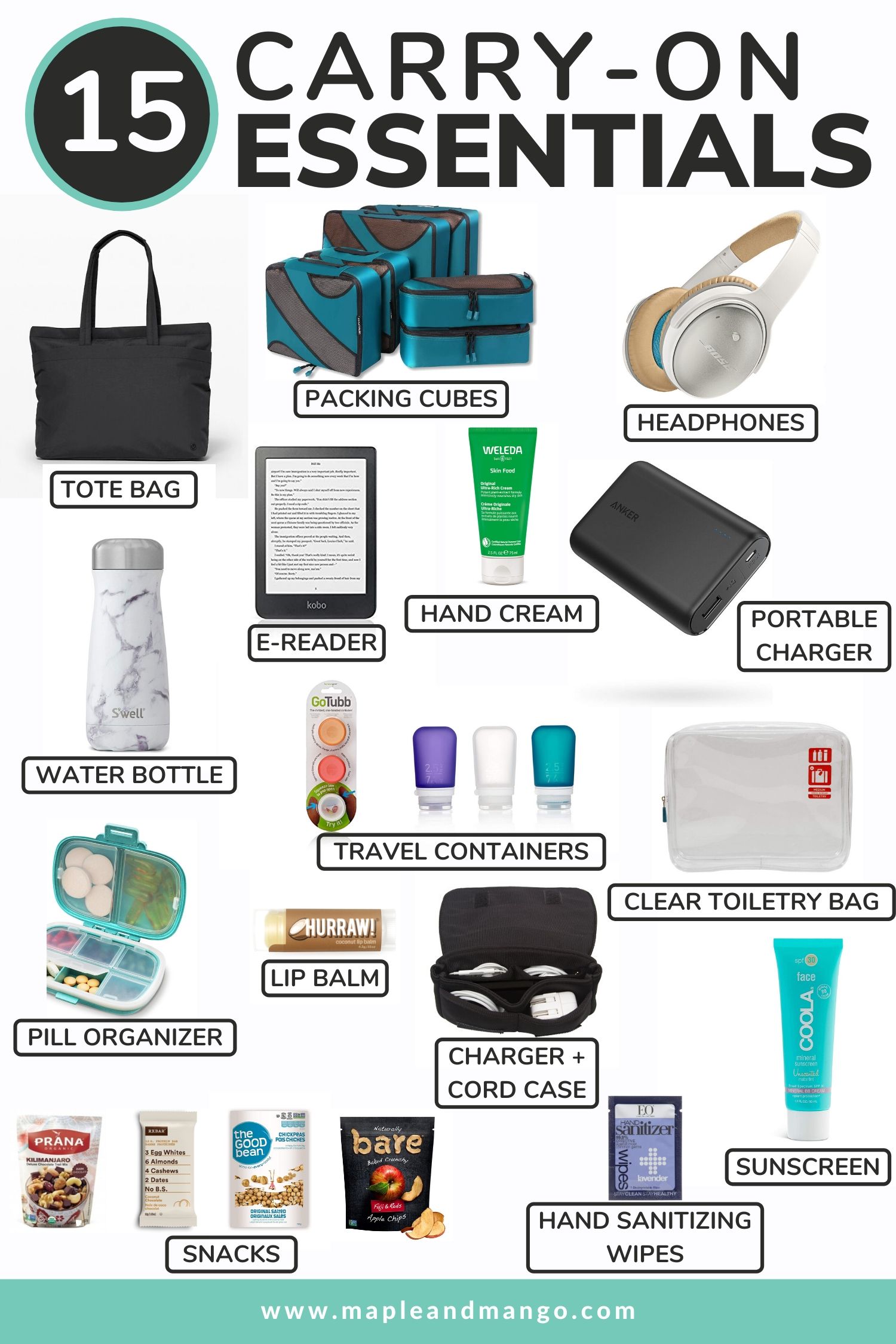 Tote Bag
I like to use a tote bag with zipper closure as my second, smaller carry-on bag. When placed sideways, it can easily slide under the seat in front of you. I place my laptop in this bag and other items that I want easy access to during the flight. Make sure the bag has a zipper closure so that the contents don't fall out once placed sideways.
Packing Cubes
Once you start using packing cubes, you will never go back! Not only do they keep your clothing organized but they also make the process of packing so much easier. Packing cubes are a must-have for me if I am travelling with just a carry-on. Even with checked luggage, I like to throw one packing cube in my carry-on that contains a few clothing essentials just in case my luggage gets misplaced or I spill on myself during the flight. Packing cubes can be easily found these days. Here is a great option on Amazon.
Wired Headphones or Earbuds
I like to bring wired, noise cancelling headphones or earbuds with me. The reason I like the wired version is so I can easily use them with the in-flight entertainment system and don't have to worry about charging them. Check out Amazon for plenty of options: headphones (US|CA) or earbuds (US|CA).
Water Bottle or Travel Mug
Make sure to pack an empty one and then once you get through security go fill it up. This is one of those items that I will also use daily throughout my trip. Lately, I have been loving this S'well Travel Mug since the wide mouth makes it extremely versatile. I can use it as a water bottle, for smoothies or for hot drinks like tea (I always pack some tea bags and just ask for some hot water).
E-Reader
I love to read on flights and on trips in general. However, bringing a few physical books would get heavy and take up a lot of space. This is why I love my E-Reader for travel – light, takes up hardly any space and can fit more books on it than I could possibly read on a trip. I use and love an old version of a Kobo that probably no longer exists. For current e-reader options, check out this Kobo or Kindle (for Canadian Kindle link, click HERE).
Portable Charger
Avoid the dreaded low (or no battery) on your portable devices by carrying a portable charger. Sometimes there is nowhere to plug in your phone or tablet so a portable charger is a lifesaver. I like this ultra-compact Anker PowerCore (click HERE for a Canadian link).
Hand Cream
Fact- Your skin will dry out on an airplane! I already have dry skin to begin with so I make sure to always bring hand cream with me. One brand that I love is this Weleda Skin Food since it is a super moisturizing, multi-use product that can also be used on the face and body.
Travel Toiletry Bottles + Containers
I love these humangear silicone travel toiletry bottles and little containers for liquid and cream toiletries. They are easy to fill, easy to clean and meet size regulations. I use the bottles for toiletries like shampoo, conditioner, body wash, lotion, etc and the little containers for facial cream and other items that I only need a bit of.
Clear Toiletry Bag
I pop all my "liquid" toiletries into a clear, quart-size toiletry bag like THIS ONE. Not only does it keep them organized and contained but also makes the security check much easier (just pull out this bag as you go through).
Travel Pill Organizer
I use a travel pill organizer for vitamins/supplements and any medications that might come in helpful while travelling. It allows me to easily just take what I need instead of hauling a bunch of bottles that take up space. I have been using THIS ONE but also recently discovered THIS ONE on Amazon that looks perfect.
Charger + Cord Case
I like to stay organized and a charger + cord case is an excellent way to store and organize tech accessories in one place. I use THIS ONE when travelling but Amazon also has some great options: THIS ONE is a similar size to the one I have and THIS ONE is a larger option if you have more to store.
Sunscreen
Did you know that you should wear sunscreen while flying due to UVA exposure (especially in the window seat)? I love this Coola Facial Sunscreen because it is unscented, lightly tinted, non-greasy and has a gorgeous matte finish. Buy it on Well.ca or Amazon.
Hand Sanitizing Wipes
Yup, I am "that person"…the one who wipes down the tray and arm rests whiles my husband and kids pretend they don't know me:). These hand sanitizing wipes have a lavender scent and are a great alternative to chemical-laden wipes. Great for wiping down the surfaces around you in the plane or for your hands when you are unable to wash them properly.
Snacks
Don't forget the snacks! The options offered on flights usually aren't great or you need to pay out of pocket for overpriced items. So it is always a good idea to pack your own snacks. Some ideas include: fresh fruit, nuts, bars, popcorn, trail mix, roasted chickpeas, jerky and fruit chips. You can also discover some new finds on Amazon and Well.ca.
What are some of your must have carry-on essentials? Let me know in the comments!
⬇ PIN it for later! ⬇