A quick recap of our five days in Montreal and Quebec City, including details on places we ate, what we did and where we stayed.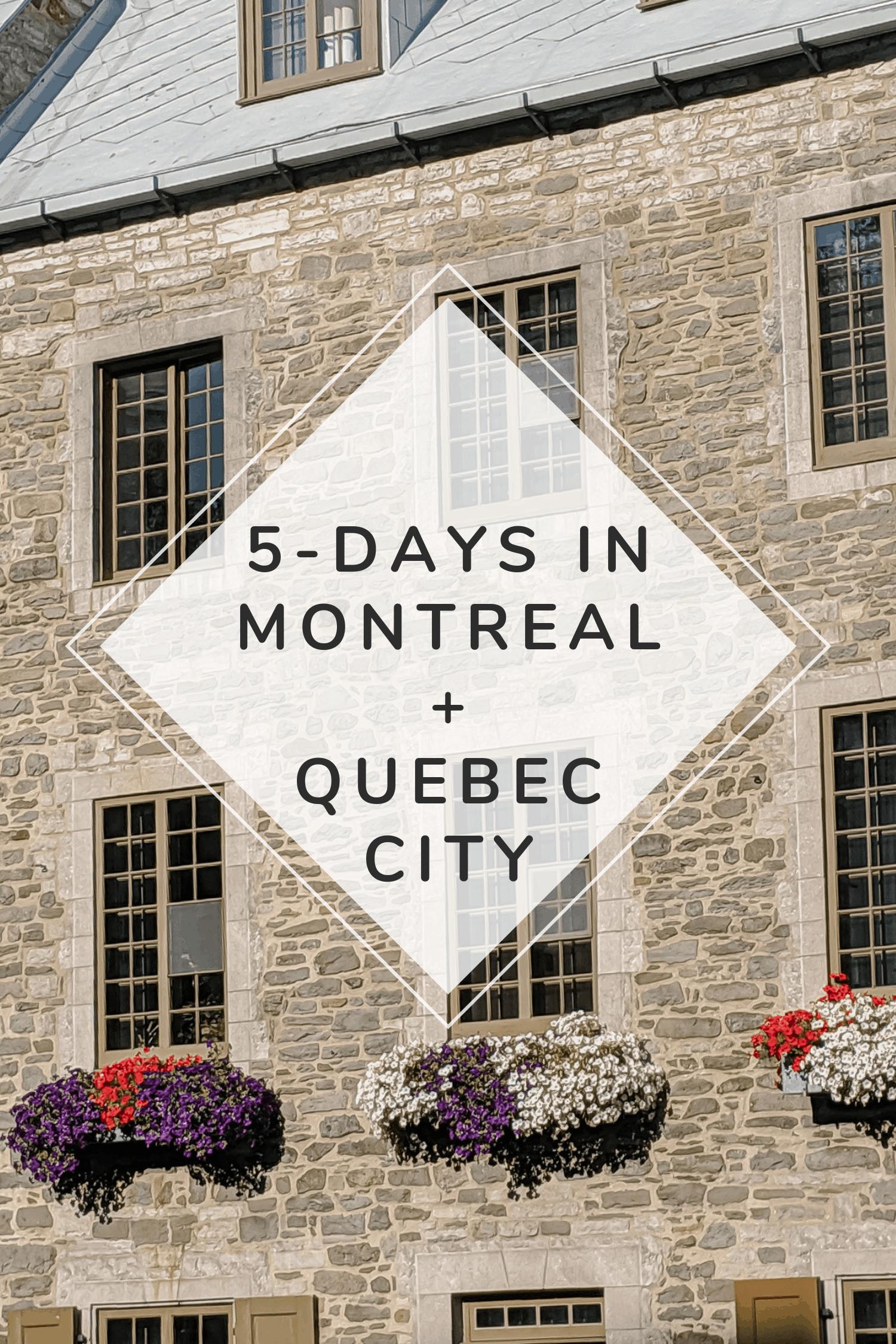 Picturesque historic buildings, cute cobblestone streets, delicious restaurants …. sounds like Europe, right? You might be surprised to hear that you can experience all this in Canada! Our trip to Montreal and Quebec City allowed us to get a taste of Europe without even leaving North America.
I love a good road trip! A few weeks ago, my husband and I had the opportunity to take a little road trip to Montreal and Quebec City. We were already in Ontario visiting family and friends and who are we to say no when the grandparents volunteer to take the kids. Of course, we grabbed the chance to take a fun trip together! We ended up spending 2 nights in Montreal and 3 nights in Quebec City. Highlights including places we ate, what we did and where we stayed are below.
Montreal
This wasn't our first visit to Montreal. Our last visit was probably over 12 years ago though when we didn't have kids and lived in Toronto. Our goal for Montreal was to eat, mindlessly wander and explore.
Places We Ate In Montreal
No fancy eats on this trip. We only had a short amount of time and wanted to enjoy a few things that Montreal is known for: smoked meat, poutine and bagels!
Schwartz's: This is THE place to get Montreal smoked meat. The shop is a true Montreal landmark that was founded in 1928. It maintains a simple appearance with a wall covered with photos of celebrities who have visited over the years. They make their smoked meat the old fashioned way and it contains no preservatives. We grabbed ourselves some smoked meat sandwiches (served on rye bread with mustard) and pickles. Tip: They also make a lean version that you can ask for if you don't like fatty bits in your meat like me. My husband thinks that is a sin though:)
La Banquise: We definitely had to have some poutine and this place came highly recommended. Some of you may be asking yourself what the heck poutine is? Poutine is a Quebec dish consisting of french fries topped with cheese curds and gravy. La Banquise is a 24 hour diner specializing in poutine (over 30 types) and local microbrews. We ordered one classic and one specialty poutine – so satisfying after walking all day!
Olive & Gourmando: We discovered this cute cafe while wandering through Old Montreal. It has such a cozy atmosphere with an impressive counter at the front that is covered with fresh pastries. We grabbed a few pastries and some ice coffees for an afternoon treat. The breakfast and lunch menu also looked delicious.
St-Viateur Bagel: This is a famous Montreal-style bagel bakery. The first thing you see when you walk through the door is a mountain of beautiful bagels. We grabbed some sesame bagels that were still warm. We may or may not have ripped into them immediately while dunking into a tub of cream cheese (because we are classy like that!).
Breakfast: Since my husband travels often for work, we had access to the lounge at the hotel for breakfast. In order to balance out the indulgences later in the day, I typically just had a green tea, eggs, fresh fruit and veggies for breakfast.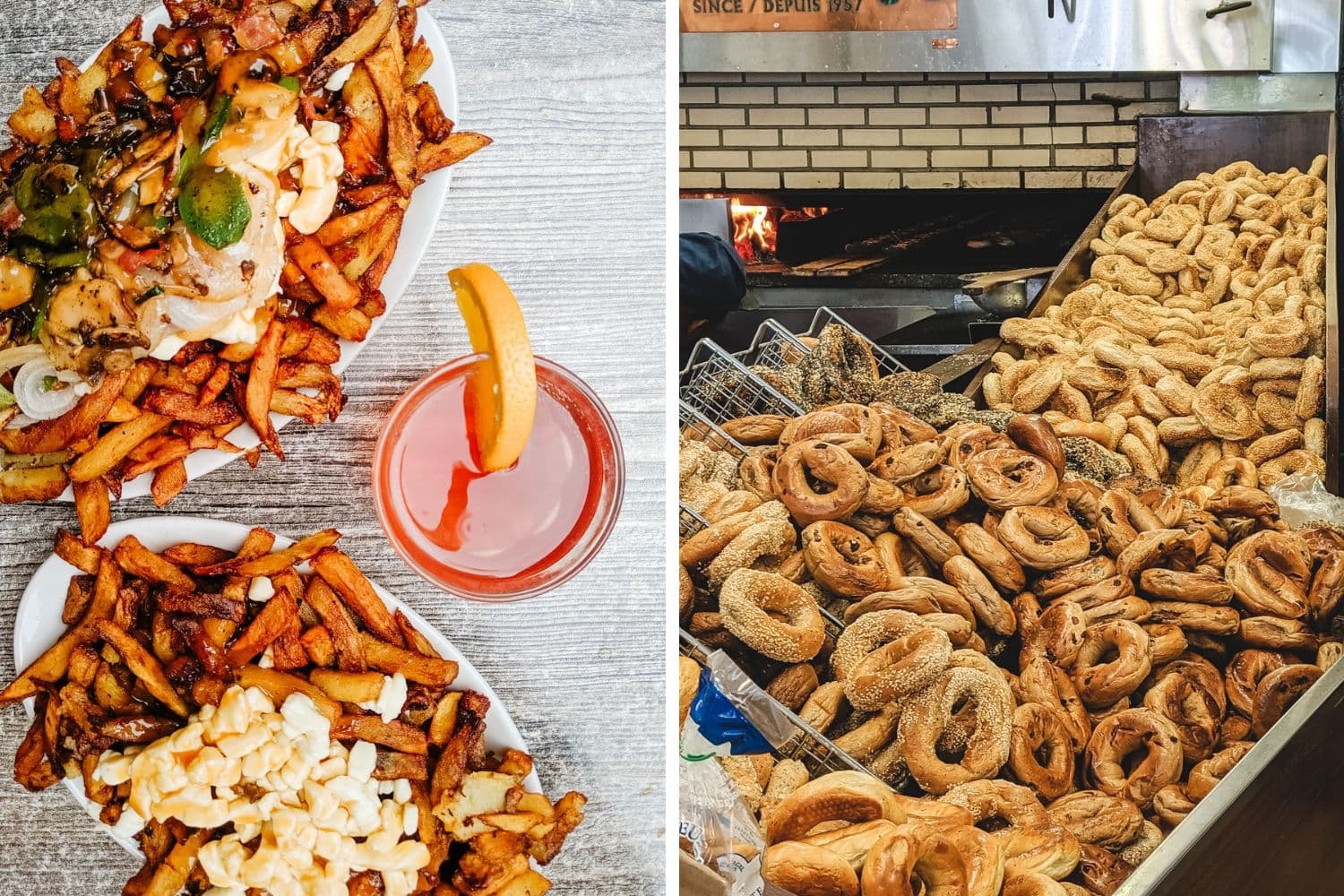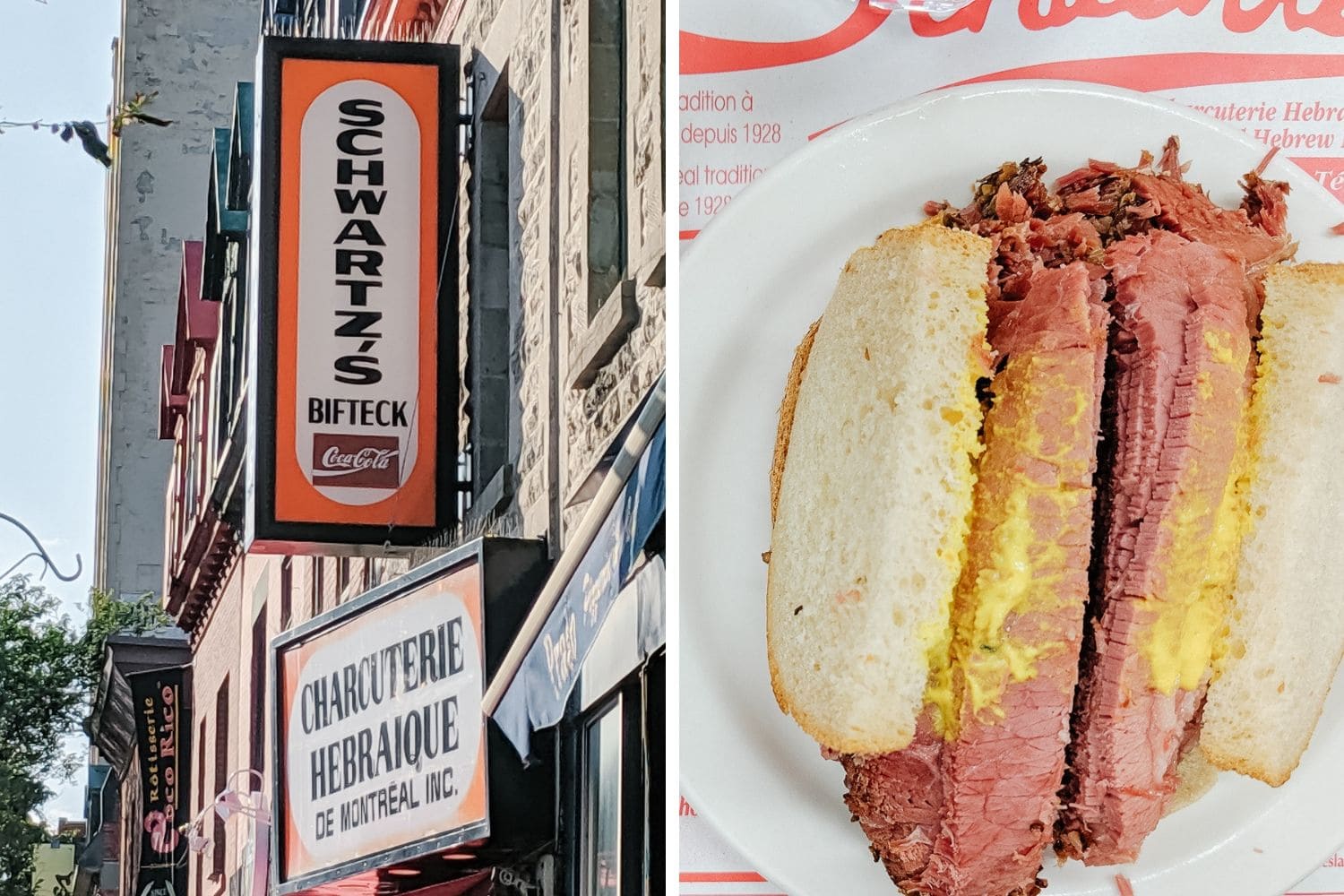 What We Did In Montreal
Other than eating, we walked and wandered a lot during our two days in Montreal. These are the two main areas that we spent our time in:
Old Montreal: This area dates back to the 17th century and is the perfect place to strap on your walking shoes to wander and explore. We wandered through the narrow cobblestone streets, browsed shops and appreciated beautiful architecture like Notre-Dame Basilica. Although a little touristy, Place Jacques Cartier is a great little square in Old Montreal to take a break and have a drink on a patio (great place to people watch and be entertained by buskers).
Quartier des Spectacles: This is Montreal's cultural and entertainment district and features year-round outdoor events and festivals. It was a fun area to walk through since we passed lots of performances and entertainers along the streets.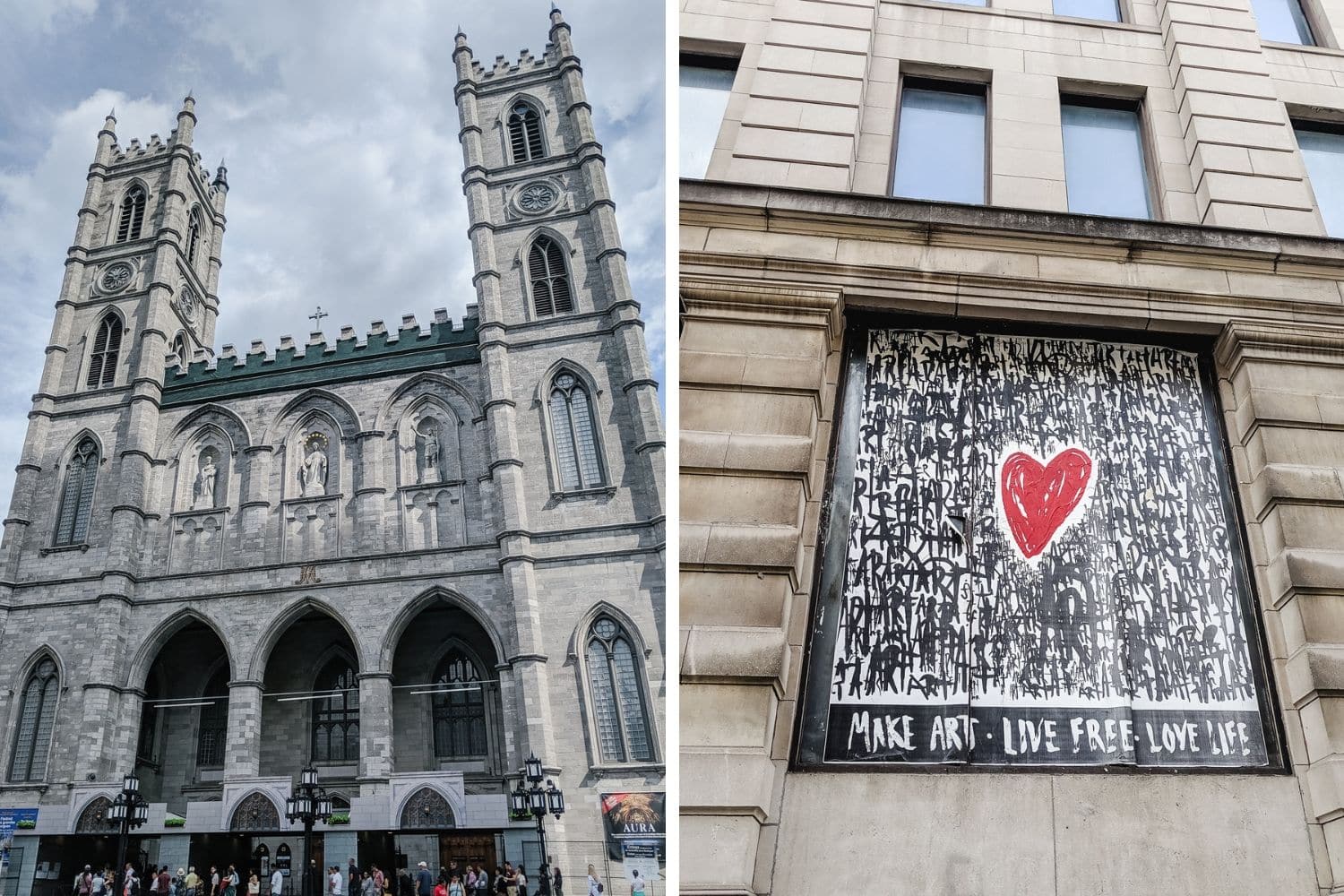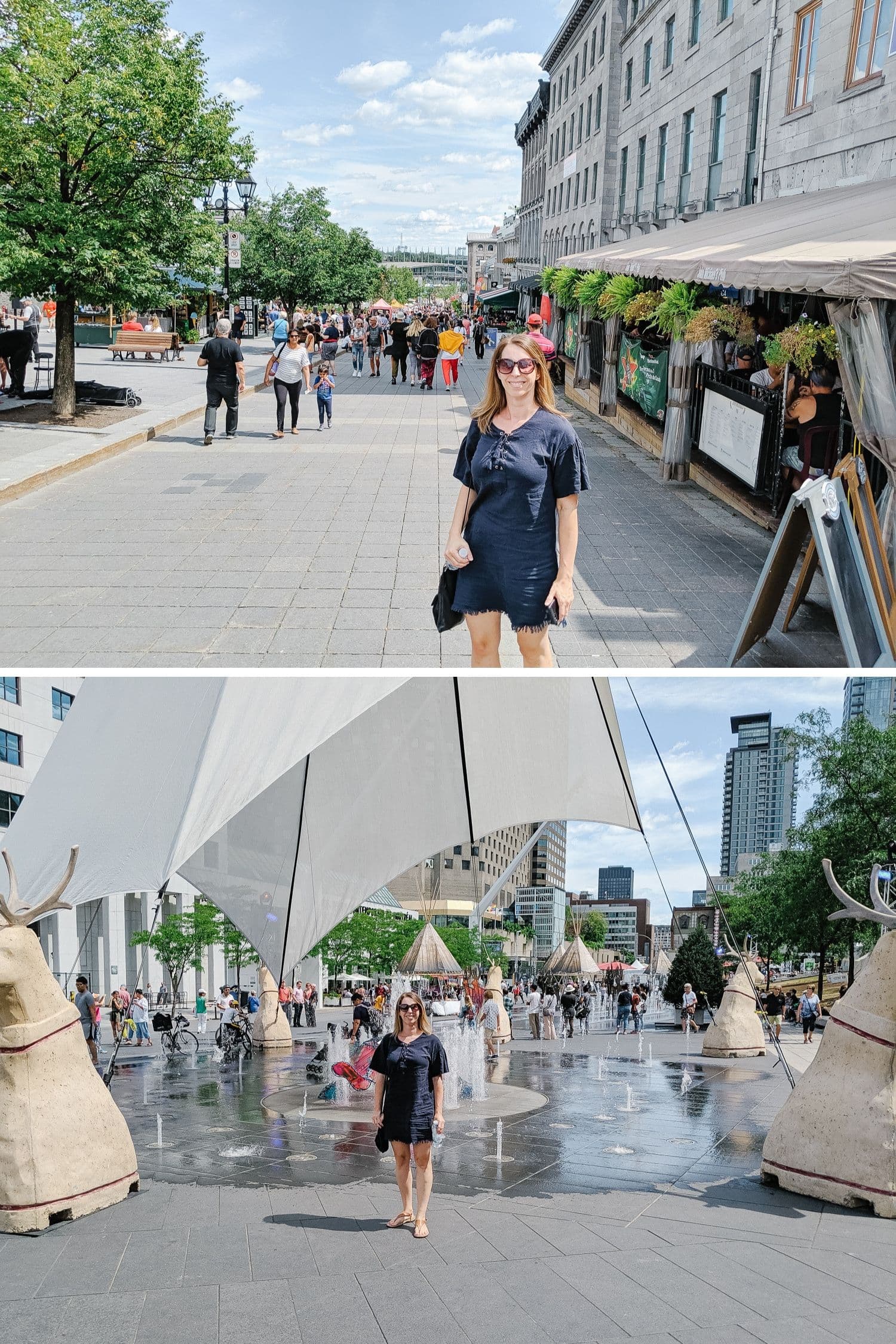 Where We Stayed In Montreal
Delta Marriott Montreal: We were really happy with our stay here. It was a nice, modern hotel with a great central location. The Quartier des Spectacles (entertainment/cultural district) was just steps away and Old Montreal was about a 20 minute walk.
For more hotel options, check out this list from TripAdvisor.
Quebec City
This was our first trip to Quebec City and we LOVED it! It took us just under 3 hours by car from Montreal. However, the blend of French history, architecture, culture and cuisine truly made us feel like we had been transported to Europe for a few days.
Places We Ate In Quebec City
All the food we had in Quebec City was so good! We were able to try so many things since we also took a food tour one day (best thing ever – think I am hooked now!).
Le Billig: I had to start off with this place since my mouth is still watering thinking about our meal here. This is a small neighbourhood restaurant specializing in sweet and savoury crepes. So obviously, I had to try one of each! I started off with a savoury buckwheat crepe with asparagus, ham, poached eggs and hollandaise sauce. Then for dessert, I had a sweet crepe with sauteed apples, salted caramel sauce, ice cream and whipped cream. Super indulgent meal but SO worth it!
La Buche: This place was a unique experience. It is a modern day sugar shack right in the heart of Old Quebec. The decor is rustic/eclectic (look up to see the toboggans on the ceiling) and they serve traditional cuisine with a modern twist. While we were browsing the menus, some maple covered pork rinds and 2 types of pickles were brought to the table. We ended up sharing a few items: meat pie croquettes, scallops in a creamy maple sauce with bacon and flambeed vegetables with almonds. Everything was really good! They also make maple taffy so of course I had to grab one on my way out!
Old Quebec City Food Tour: This was the first time that we have ever gone on a food tour and I am hooked now. It's a great way to try a lot of different things, learn a ton and also a lot of fun! We had a great tour guide named Samuel who took us to five places to eat and a number of historical stops. The food stops were all amazing:
Breakfast: Once again, we had access to the lounge at the hotels we stayed at for breakfast. In order to balance things out, I tended to have a light, healthy breakfast.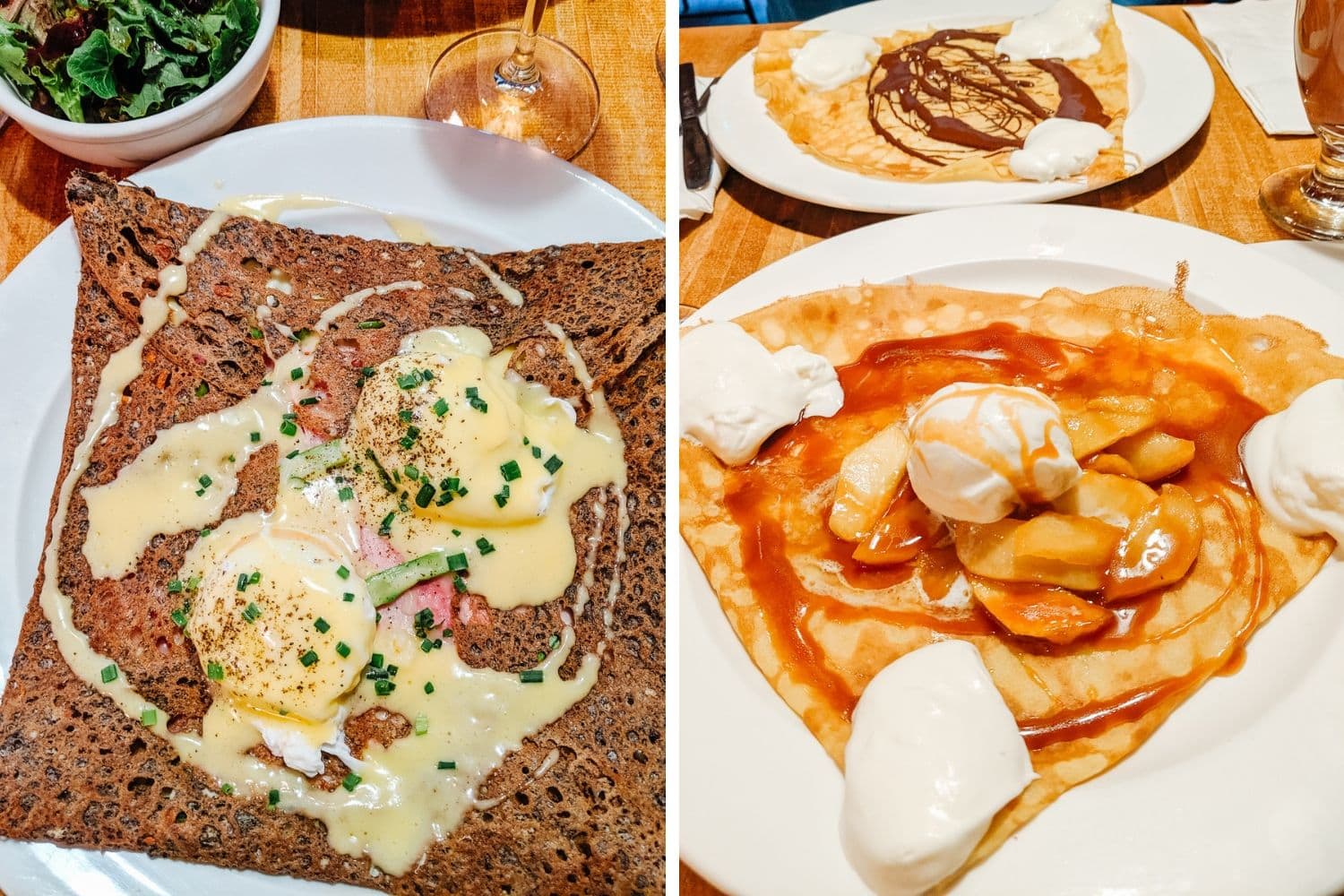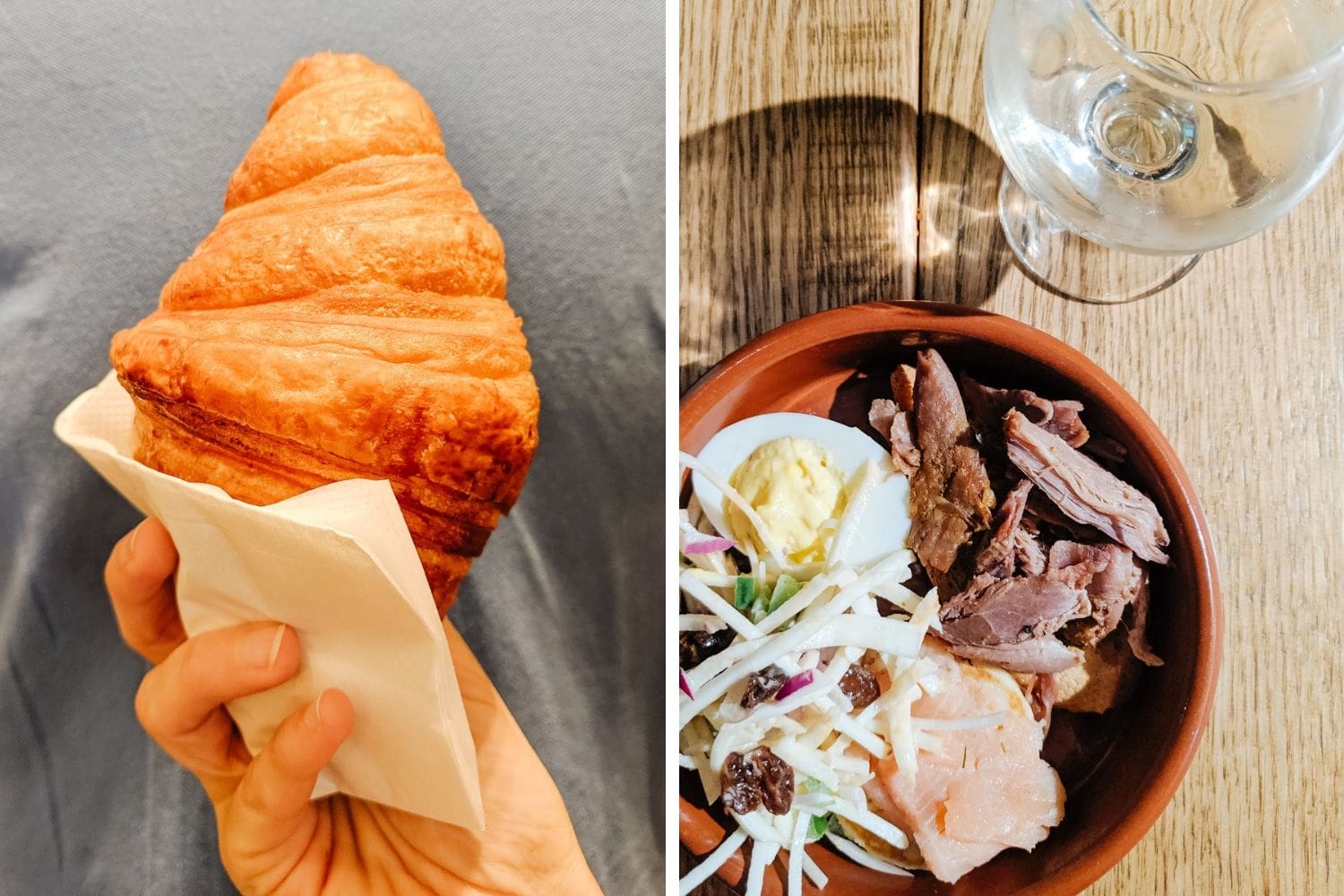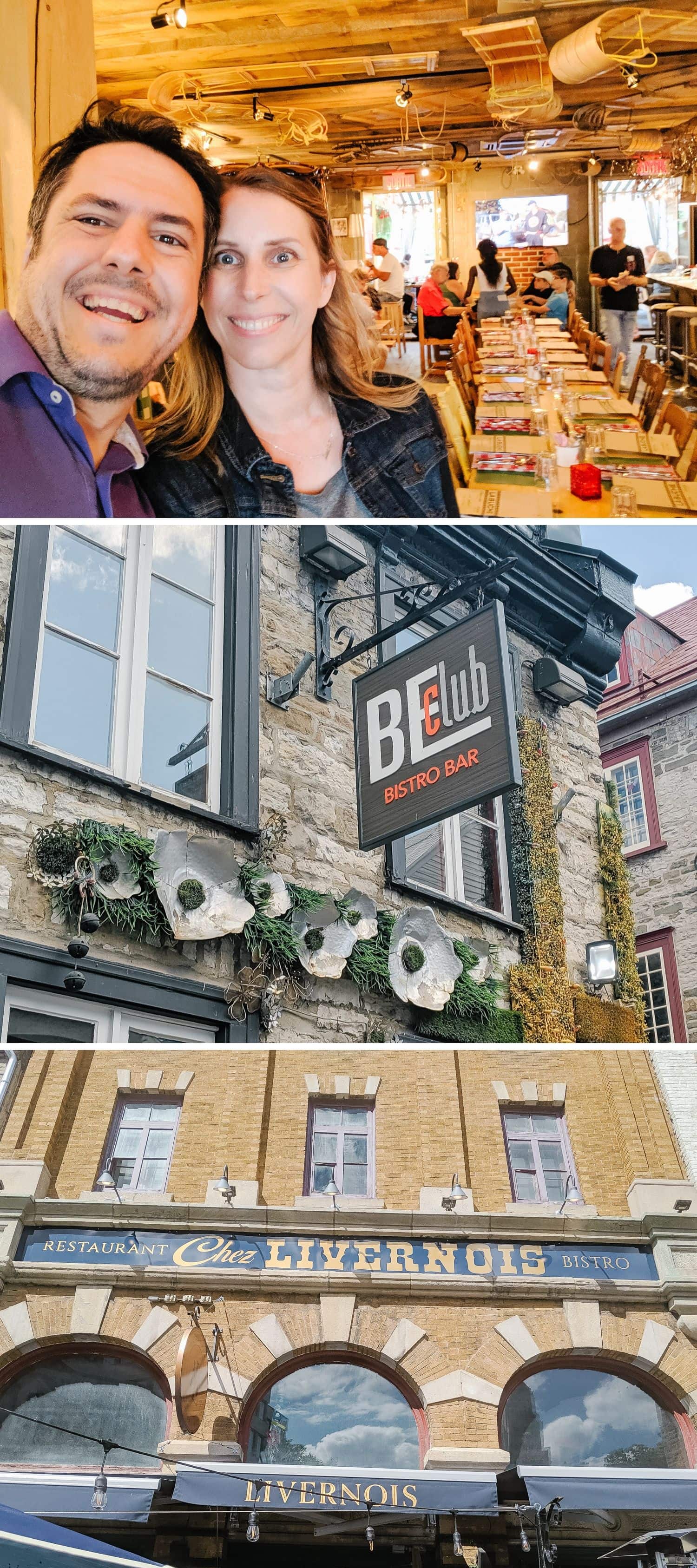 What We Did In Quebec City
Once again we threw on our walking shoes and explored a number of areas. We enjoyed the beautiful historic buildings, wandering along windy cobblestone streets and even took a short drive out to see a waterfall!
Old Quebec City Food Tour: I know that I already mentioned this under "places we ate" but it also counts as an activity. This 3-hour walking tour not only stopped at delicious restaurants but also stopped at a number of historical and architectural landmarks. Our guide Samuel, was full of interesting facts and stories. This tour was a fun way to learn more about Quebec City and also immerse ourselves in the cuisine.
Old Quebec: I think that I walked through almost every street in Old Quebec. I love to wander and this stunning, old-European style area was amazing to explore. There is so much history and beauty here!
Quartier Petit Champlain: This gorgeous, European-like area is located at the bottom of the cliff below the Chateau Frontenac. Beautiful historic buildings are filled with shops and restaurants, making it a wonderful place to spend some time. You can get down here by either taking the funicular or the "Breakneck" stairs. We opted for the stairs because it made me feel like I was working off some of that delicious food! I loved this area since it felt like I stepped back in time as I wandered the cobbled streets and enjoyed the beauty of the stone facades and baskets full of flowers.
Montmorency Falls: This waterfall is only a short drive away from Quebec City (about 15 minutes). This 83 meter tall waterfall is actually taller than Niagara Falls (although considerably narrower). We parked at the top and took a beautiful walk along the paths. There is even a suspension bridge along the top of the waterfall. You can also opt to park at the bottom and take a cable car or climb the stairs up. For those who are truly adventurous or slightly crazy, there is even a zipline across the top of the waterfall.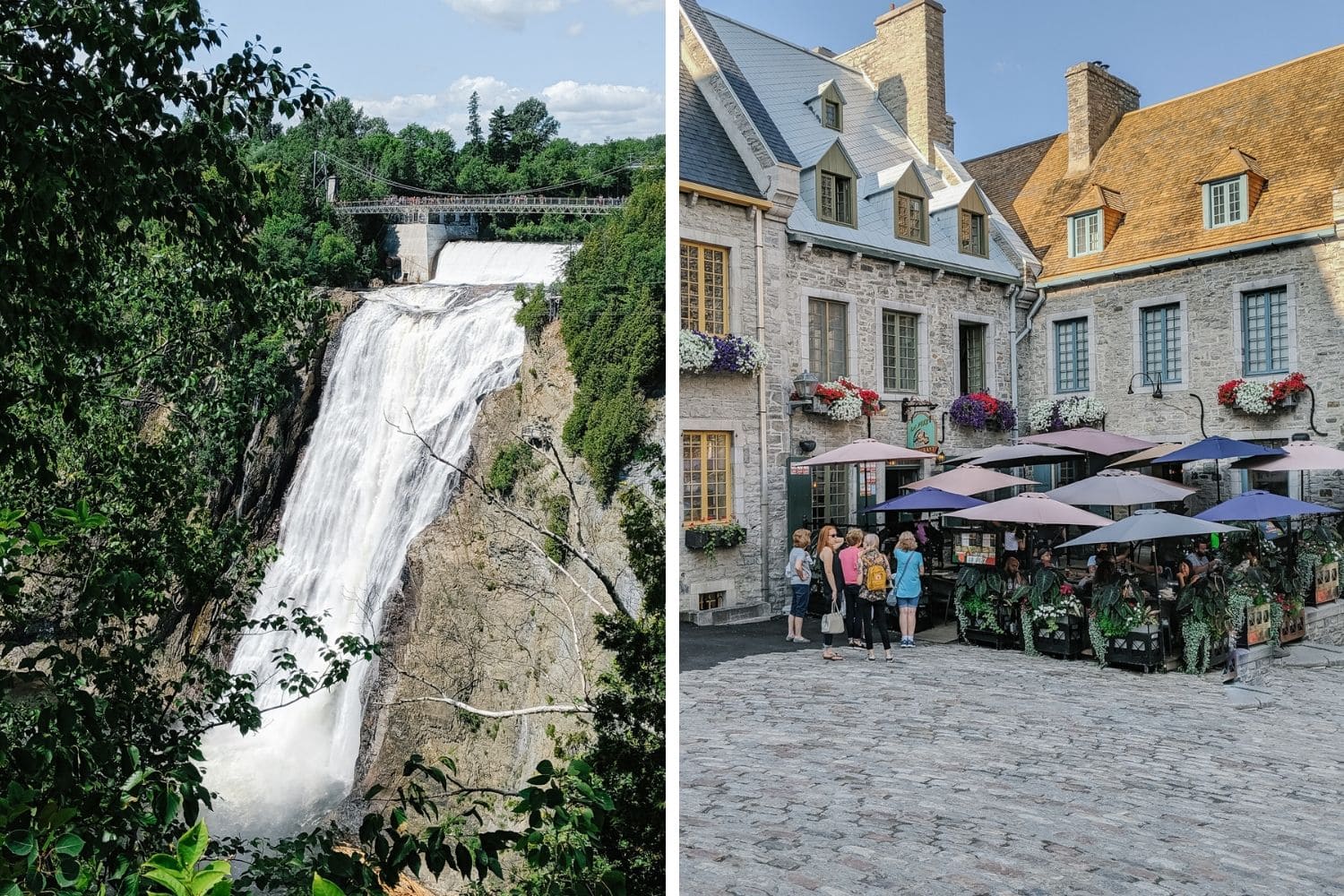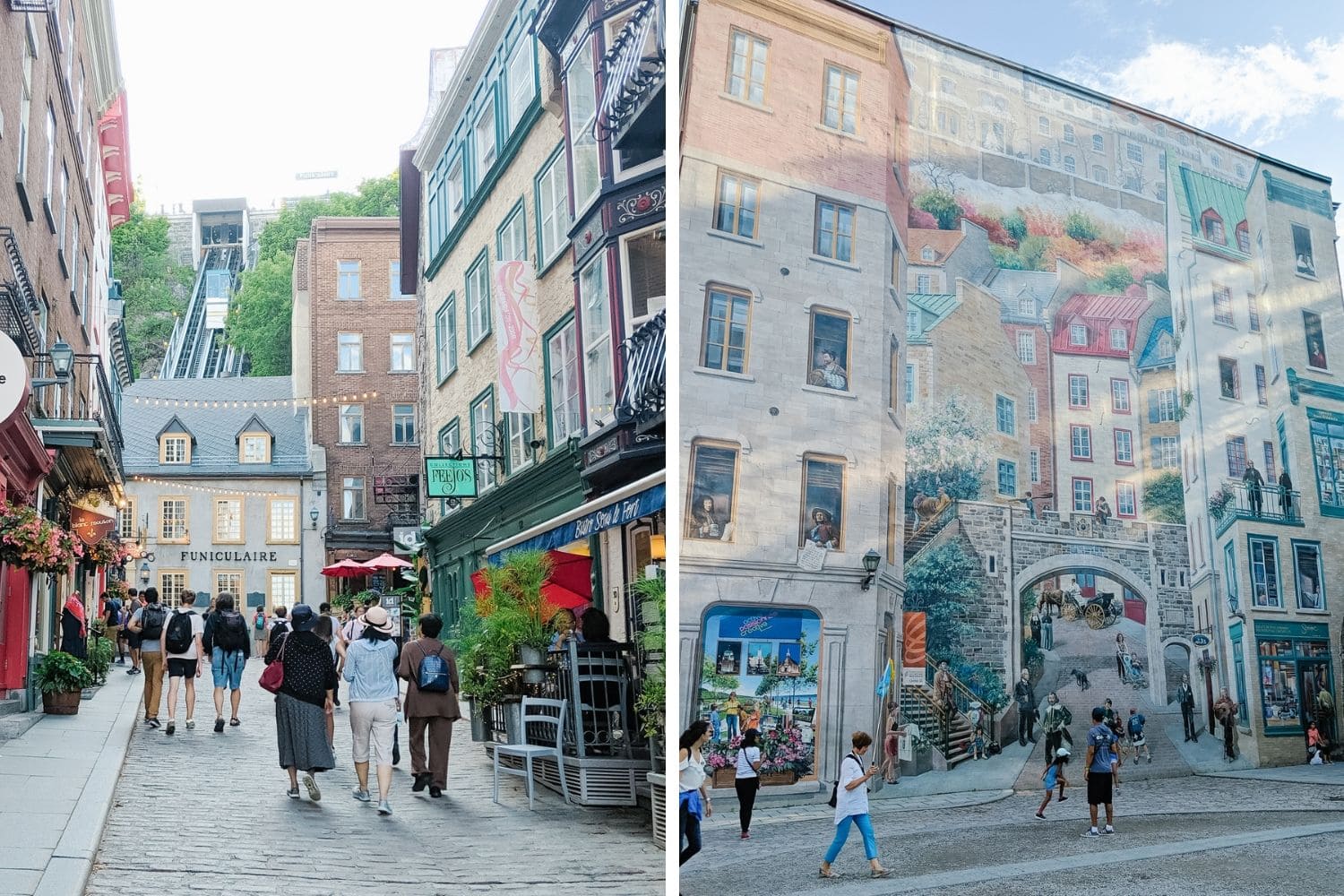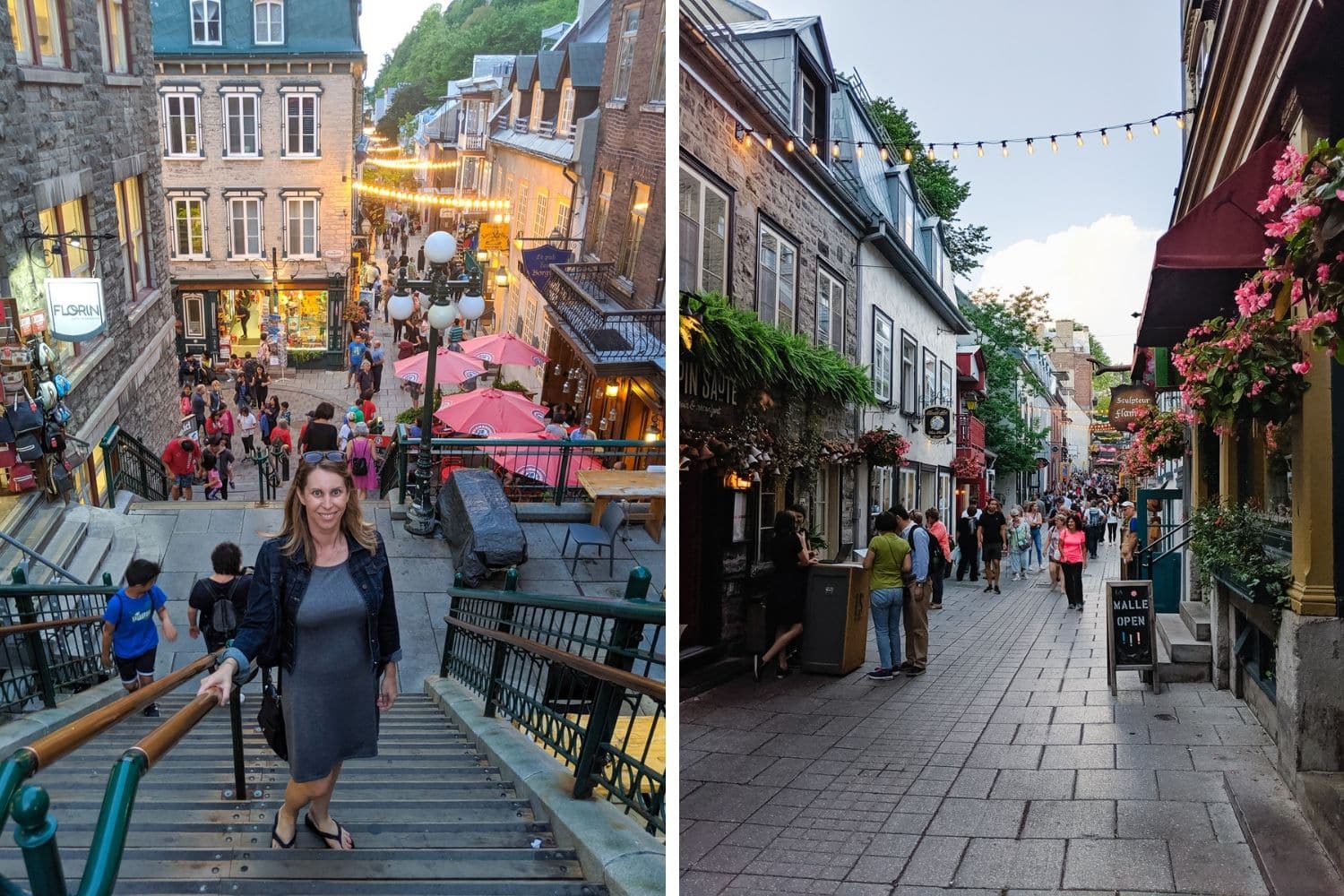 Where We Stayed In Quebec City
We spent 3 nights in Quebec City at two different hotels.
Chateau Frontenac: You can't miss this iconic, castle-like building when you are in Old Quebec. This landmark luxury hotel is a UNESCO World Heritage Site. It is definitely pricey but if it is within your budget then even just a one-night stay is an experience. And if it isn't, you can still enjoy the beautiful architecture and take a walk through the lobby and restaurants. We stayed here for one night since we had a Fairmont gift card from redeeming credit card points. What an experience! Somehow we lucked out and ended up getting upgraded to a gorgeous room with Fairmont Gold Amenities. This allowed us to access the lounge on the 14th floor which had beautiful views and offered a buffet breakfast in the morning and appetizers in the evening. It was tough to leave:)
Delta Marriott Quebec City: We stayed here for two nights. This hotel is located in the downtown area (about a 15 minute walk to Old Quebec). It was a nice, modern hotel (very similar to the one in Montreal).
For more hotel options, check out this list from TripAdvisor.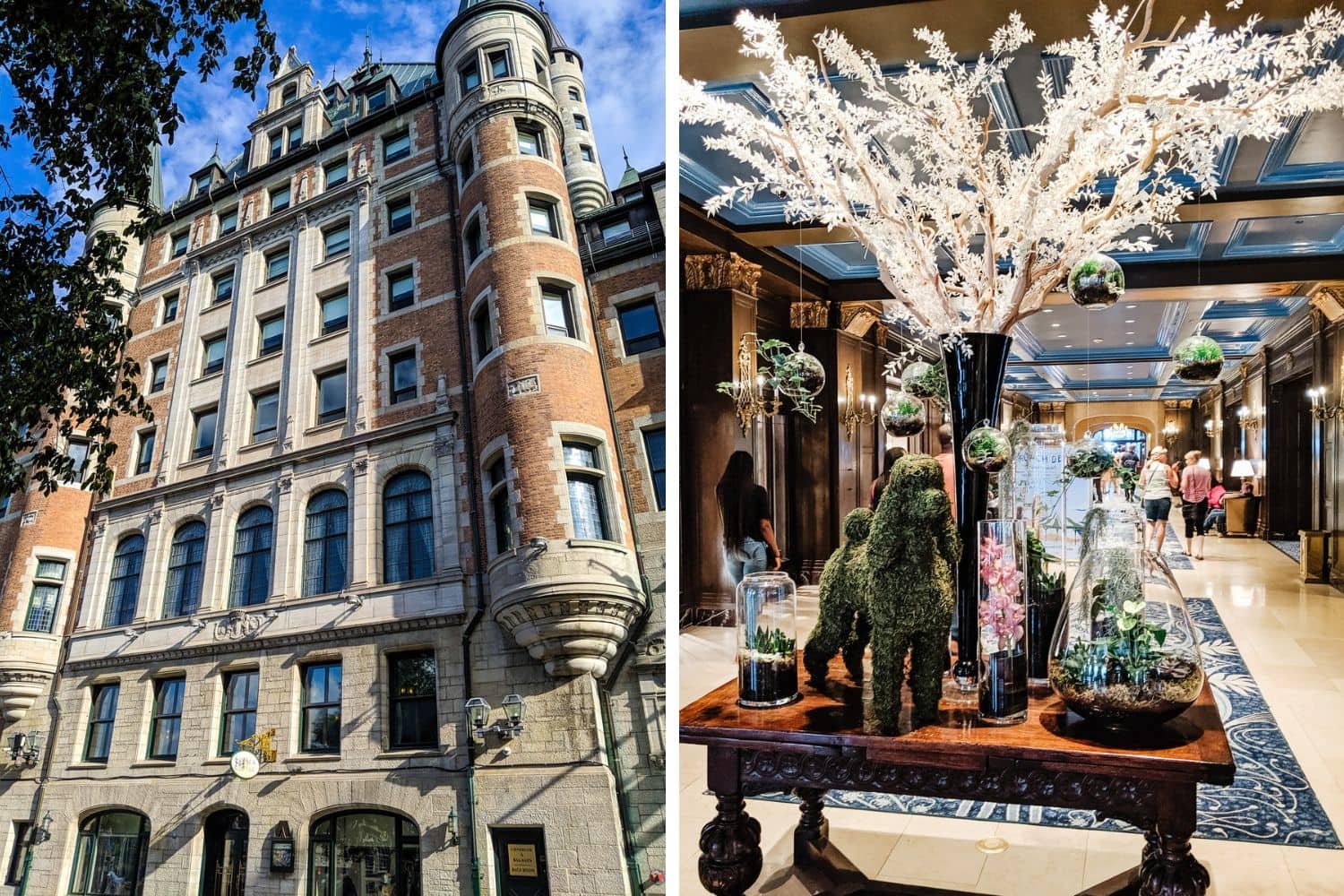 There you have it – 5 beautiful days in Montreal and Quebec City! Have you ever been? If so, let me know in the comments below about your favorite spots in these cities!
More Canadian Travel
Looking for some more Canadian travel inspo? Check out my Kelowna, BC travel guide. It covers everything from recommendations on things to see and do to places to eat and shop in Kelowna.
⬇ PIN it for later! ⬇