Take the struggle out of packing lunch boxes with these easy and healthy lunch box ideas. Includes a simple formula to make packing lunches a breeze!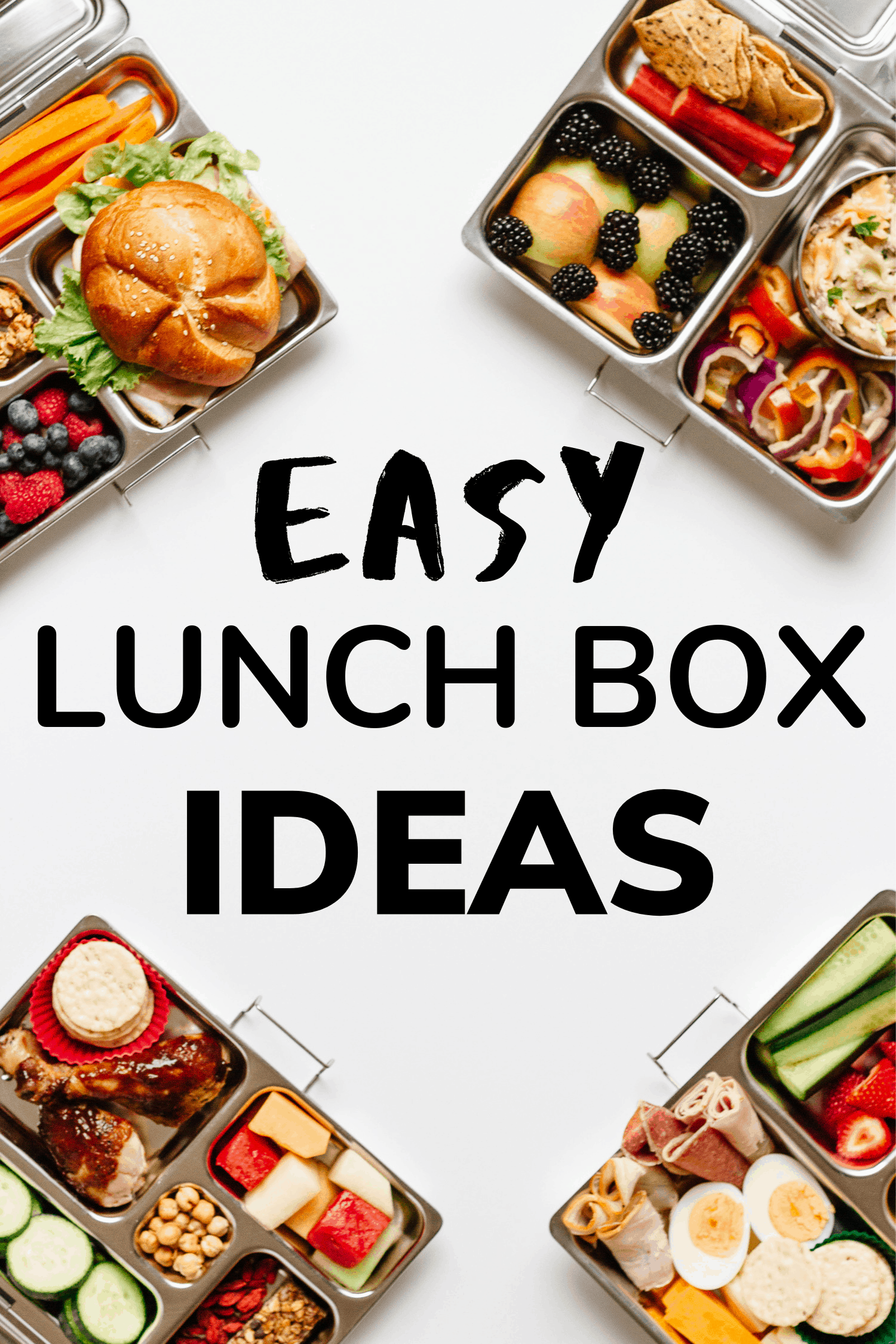 Raise of hands if you love packing lunch boxes…(I have a feeling that very few of you raised your hands 😉). The trick is to keep it simple! Use the easy formula and list of lunch box ideas below to quickly make easy and healthy lunches.
By all means, if you find joy in creating elaborate themed lunch art, then go for it! I will admit that I did this when my first child started school…for about two days. I think I was just excited and inspired until reality quickly hit. This girl does not want to spend all her time making school lunches! So now I follow an easy formula when packing lunch boxes for my kids. This formula can also be applied to packed adult lunches as well.
Lunch Box Packing Formula
Keep it simple with this formula:
MAIN + FRUIT + VEGETABLE + SNACK / TREAT
Simply select 1 or 2 items from each section! Bento lunch boxes make applying this formula a breeze. I just fill each of the compartments in the container with one of the formula components and I am done. Alternatively, I fill a thermos with a hot "main" and then place the remaining components in separate containers. You can check out a list of my favourite lunch containers HERE.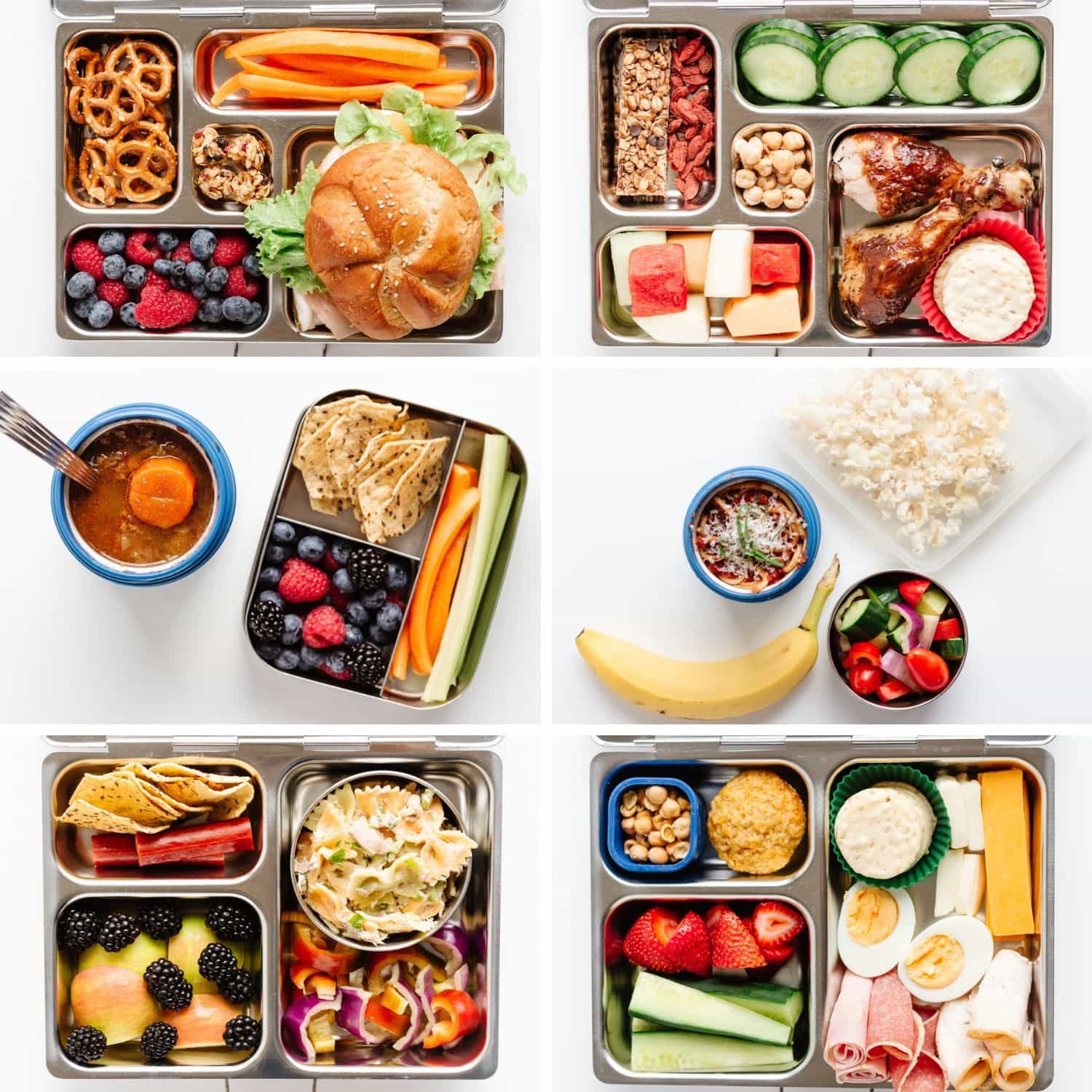 List Of Lunch Box Ideas
So now you have the formula but you might still be wondering what exactly to put in the lunch box. Here is a list of some ideas for each section of the "Lunch Box Packing Formula".
Main Ideas
Leftovers!!!
Hearty salads (pasta salad like this Chicken Macaroni Salad, taco salad, Cobb salad, Nicoise salad, Caesar salad with chicken, etc)
Crackers, meat + cheese
Quesadillas
Sandwich / wrap
Roasted chicken drumsticks
Meatballs (German Frikadellen are also a fun option)
Fish cakes
Pita + hummus
Naan bread pizza
Frittata
Sushi
Hot food option (soup, stew, pasta, chili, curry, fried rice, etc)
Fruit Ideas
Berries (strawberries, blueberries, blackberries, raspberries)
Grapes
Orange / Mandarin
Apple
Pear
Melons (watermelon, cantaloupe, honeydew)
Banana
Pineapple
Stone Fruits (cherries, peach, nectarine, plum, mango, apricot)
Kiwi
Vegetable Ideas
Carrot sticks
Celery sticks
Bell pepper
Cucumber
Snap Peas
Grape/Cherry Tomatoes
Broccoli or cauliflower florets
Kale chips
Side salad
Fermented veggies
Roasted veggies
Snack / Treat Ideas
Popcorn
Granola bars
Mini muffins
Roasted chickpeas
Dried fruit / fruit leather / fruit gummies
Yoghurt
Mini pancakes
Tortilla chips
Pretzels
Jerky
Sunflower / pumpkin seeds
Energy balls
Trail mix
Sign up below to receive the packing formula and lunch ideas all on one handy printable sheet.
When To Pack Lunches
Pick a time that works best for you! Some people prefer to pack lunch boxes in the morning and some in the evening. Personally, I pack lunches while preparing dinner. I haven't cleaned up the kitchen yet and I usually have little pockets of time while things are cooking. Then I just place the lunches in the fridge and it makes mornings a lot smoother.
What Lunch Box Containers To Use
Having some great lunch containers and gear makes packing lunches much easier. Check out my list of must-have lunch gear that is reusable, functional and fun!
⬇ PIN it for later! ⬇