Here are some of my favorite healthy packaged snacks to buy for the kids. Great for adults too! Perfect for those times when you just need something quick and easy to grab.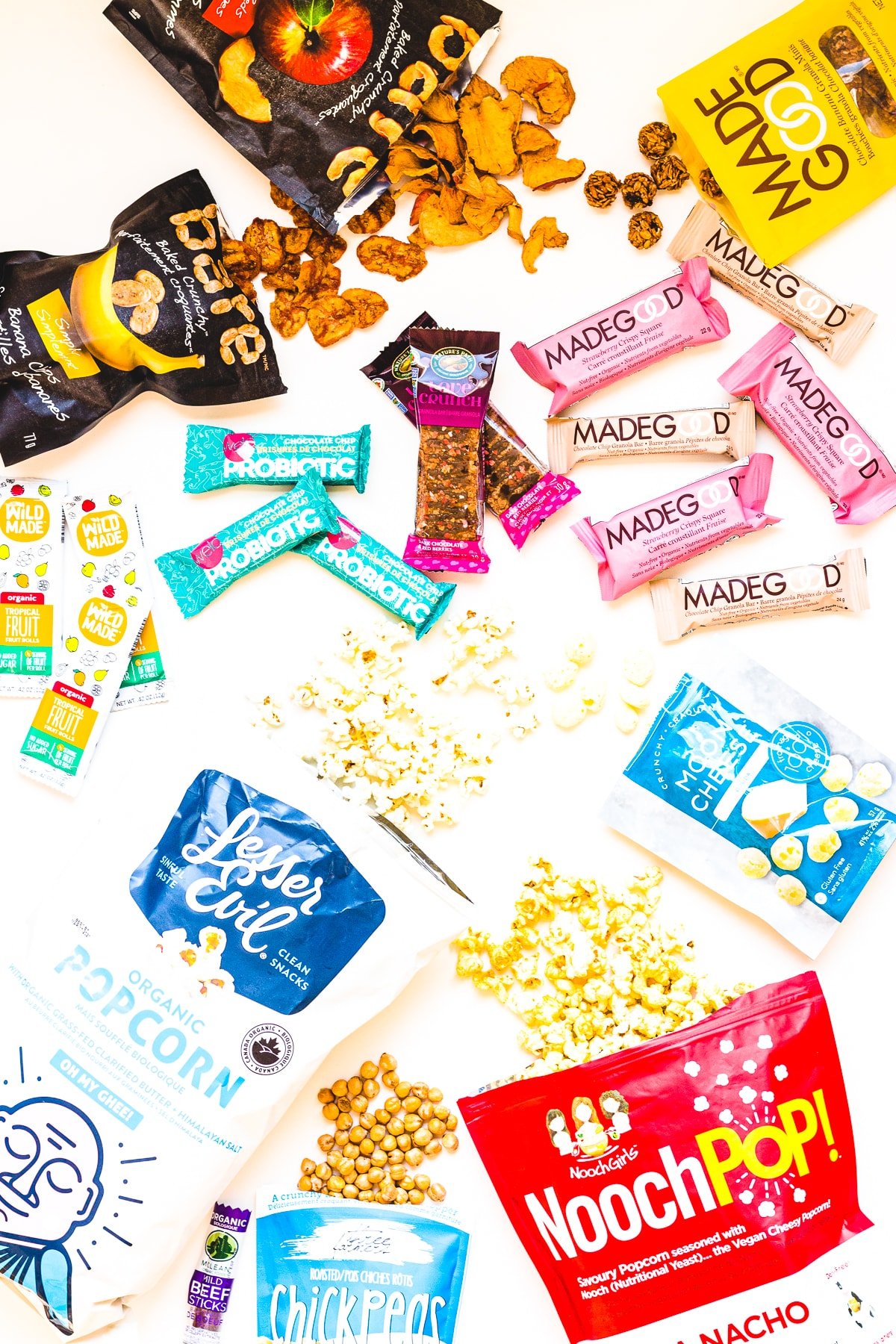 Kids seem to always be hungry and are constantly asking for snacks between meals. Fresh foods and healthy homemade snacks tend to be the best choice and also the most cost effective. But life is busy…am I right?
Our busy lives and crazy schedules sometimes call for throwing some packaged options into the mix. It's great to keep some store bought healthy snacks in the pantry for when you just don't have the time to make homemade snacks or simply want a little variety.
Packaged snacks can still be a healthy option for kids when you need something quick and easy. There are lots of amazing options available these days that are made from quality ingredients.
Healthy Packaged Snacks (Great For Kids And Adults Too!)
Here are a few current favorites that can be found in my pantry. Not only are these snacks great for the kids but I love them too!
These healthy packaged snacks are:
Made from quality ingredients: I always look for real food ingredients that I can understand, generally a short list and no artificial colors, flavors, etc.
School Safe: With the exception of one of the bars listed, all of these snacks are nut free which means that they can also be packed into lunch boxes.
Versatile: None of these snacks require refrigeration which makes them super versatile. Can be used as after school snacks, lunch box snacks or grab and go snacks on the way out the door.
Delicious: After all, it's important that snacks also taste good especially if you want kids to eat them!
Packaged Bars For Kids
Here are a few of the bars that we have been enjoying lately…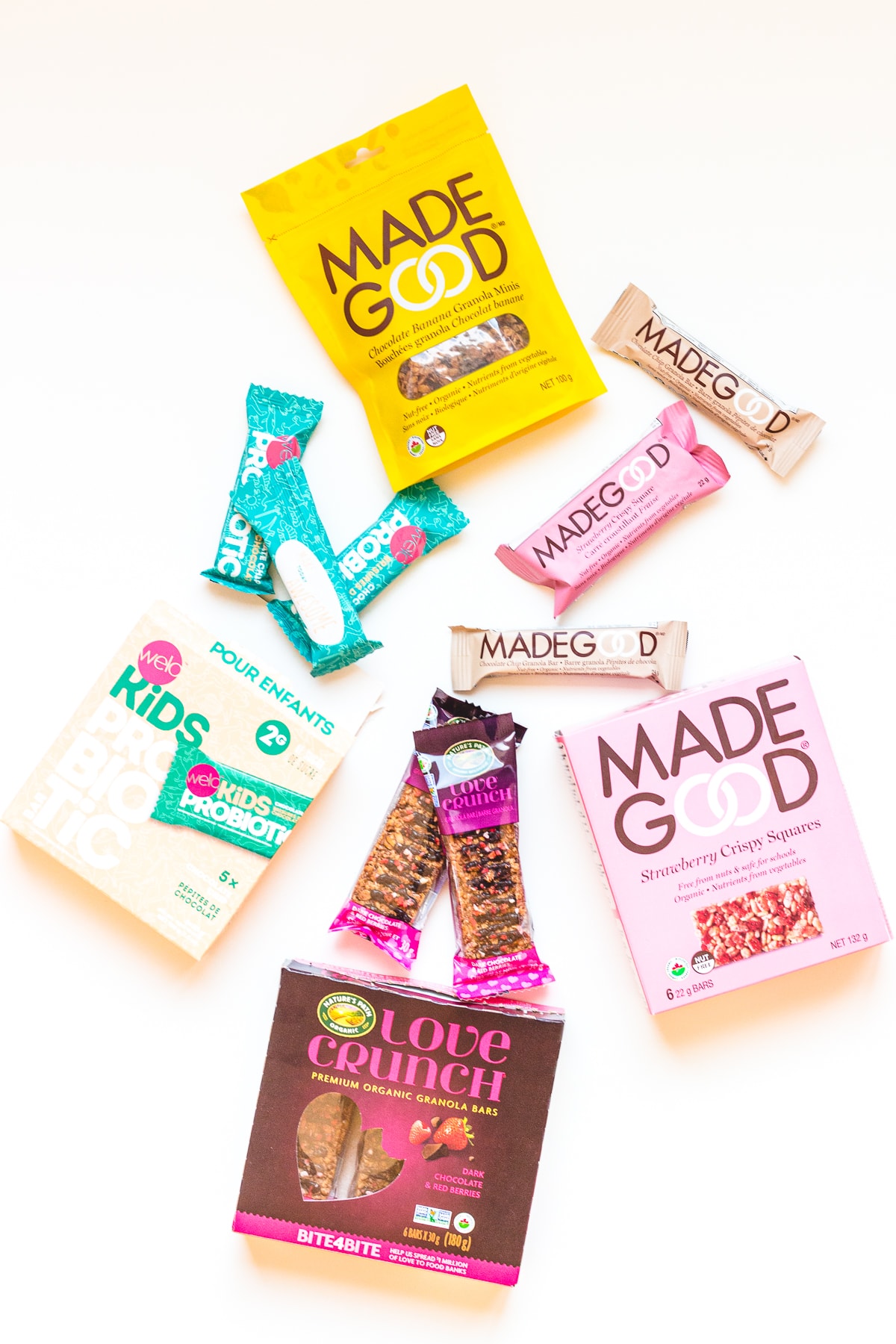 MadeGood Snacks: We love MadeGood products and usually have some in our pantry at any given time. They make a variety of granola bars, minis, crispy squares and more. All their products are safe for school, free from most common allergens, certified organic and as an added bonus contain hidden vegetable extracts (every bit helps with kids!). Most importantly, they have a taste that my kids love!
Find MadeGood at the following online retailers…
Welo Probiotic Bars: These bars contain probiotics and are very low in sugar for a bar. This is the only snack on this list that is not school safe since it does contain nuts. However, some of the other flavors they offer are nut free.
Love Crunch Organic Granola Bar (Dark Chocolate & Red Berries): These are the perfect bar when you are looking for a dessert like treat that is still fairly healthy and made from whole grains. Find them on…
Store Bought Fruit Snacks
Here a few fun fruit snacks that we love. I also tend to keep a variety of dried fruit in the pantry since they are also quick and easy to grab.
Wildmade Fruit Rolls: These fruit rolls are delicious and simply made with organic real fruit and no added sugar. Find them online at:
Bare Fruit Chips: These are the BEST fruit chips that we have ever had because they are so crunchy (which is just oh so satisfying). They are simply made from fruit that is baked until super crunchy and delicious (no added ingredients).
Healthy Savory Packaged Snacks For Kids
Do your kids love savory snacks? I have one kid who is on "Team Sweet" and the other on "Team Savory" (like his Mom). Here are a few packaged savory snacks that we have been enjoying lately.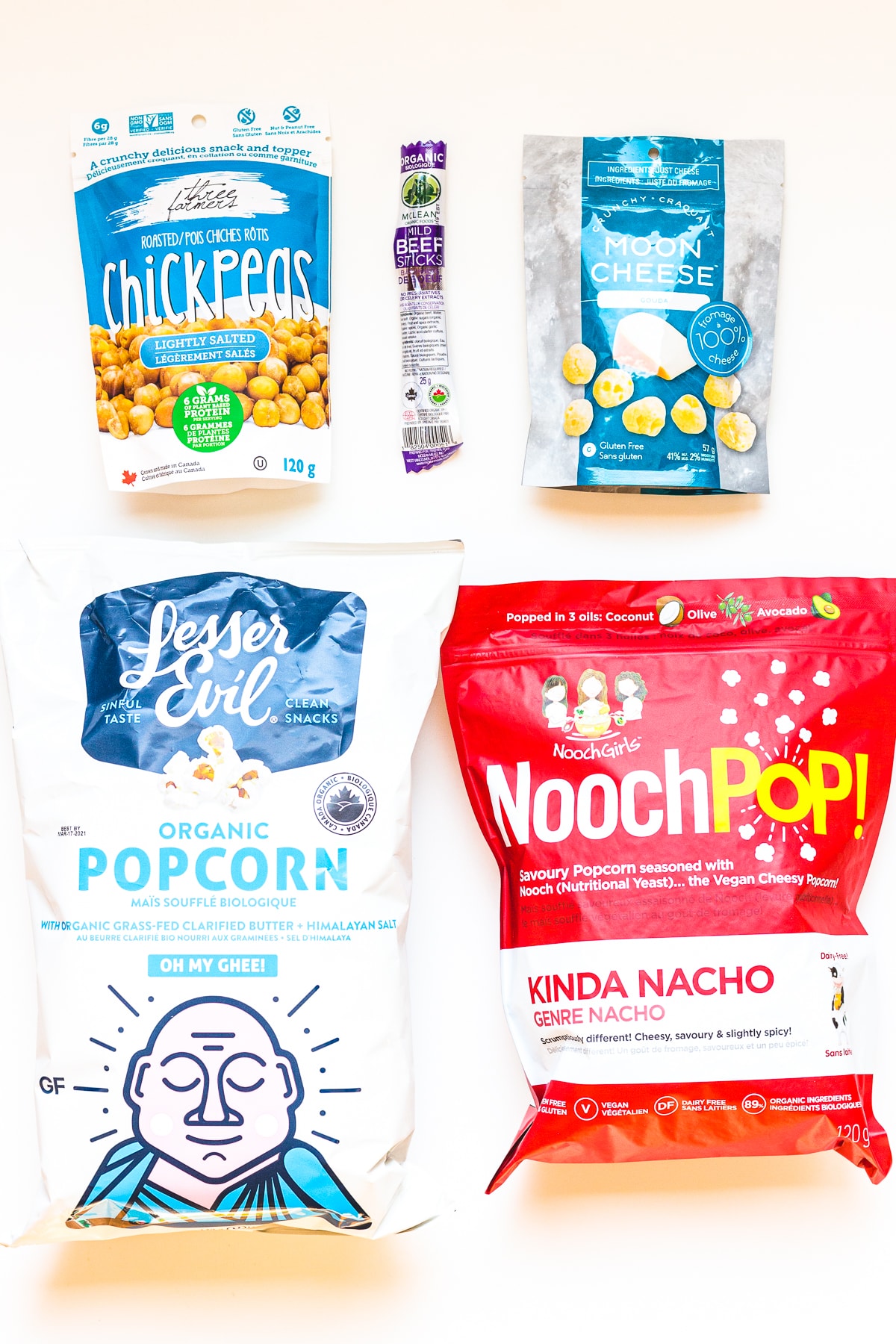 Popcorn: Popcorn is one of my go-to savory snacks. Although, I usually pop it myself, it is nice to also have some easy grab-and-go options for this high fiber snack. I have been purchasing a local brand lately called NoochPop that uses nutritional yeast in the seasonings.
Another brand that I enjoy is Lesser Evil popcorn. It is made with a few simple, quality ingredients. One of my favorite flavours is "Oh My Ghee!" which is simply 3 ingredients: organic non-GMO popcorn, organic ghee and Himalayan salt.
Find Lesser Evil popcorn on…
Roasted Chickpeas: Roasted chickpeas are a crunchy, high-protein snack that also make a great school safe alternative to nuts. Find them online at:
Organic Beef Sticks: Look for ones made from quality meat and clean ingredients. This is a convenient, high protein snack that my boys love.
Moon Cheese: These are simply crunchy little bites of cheese that have had all the moisture removed from them. This makes them perfect for on the go snacking – no refrigeration required! Find them on…
What are your go-to healthy packaged snacks for kids? Let me know in the comment section below. I love discovering new things!
⬇ PIN it for later! ⬇