Make back-to-school lunches easier and eco-friendly with some amazing lunch containers and gear. Check out my 10 fun, functional and reusable school lunch gear picks below!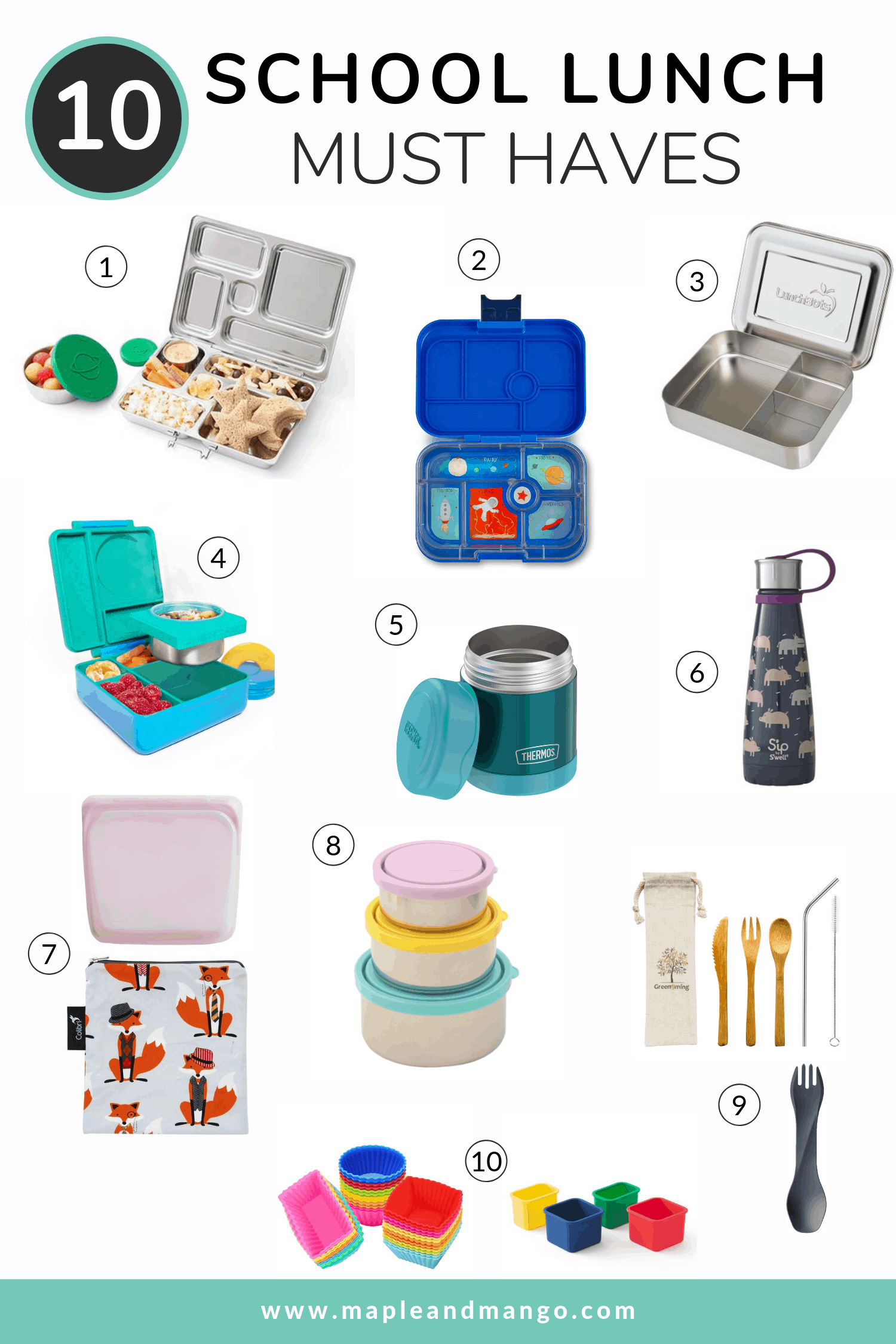 I can't believe that it is back-to-school time already (summer flies by way too fast!). For those of us with younger children, back-to-school = the dreaded task of packing lunches. Having some great reusable lunch containers and gear makes packing school lunches much easier! Keep reading for my must-have items that are also eco-friendly, functional and fun!
What are the best school lunch containers?
This is obviously a personal choice but I love to go one of two routes when packing school lunches. 1) Cold Lunches: I LOVE to use a bento lunch box for these. 2) Hot Lunches: For hot food options (i.e. soup, stew, pasta, etc), I like to use a thermos and some reusable snack bags or containers for all the other bits and pieces.
Therefore, my must-have items for packing school lunches include: bento lunch box, thermos, reusable water bottle, reusable snack bags or containers, reusable cutlery and silicone baking cups/bento divider cups. I dive further into these below so keep on reading…
What is a bento lunch box?
Some of you might be wondering what on earth a bento lunch box is? A bento lunch box is a segmented container with multiple compartments. This allows you to use just one container to pack multiple types of foods.
I love this style of lunch box for a number of reasons:
Easy to pack: You just need to fill up the various compartments, close the lid and you are done.
Visually appealing: It is really nice for kids to see all their food laid out before them in a colourful, organized display.
Easy to store: It is just one container so there is no fumbling around with multiple containers and searching for lids.
Easy for kids: They just need to open one container to access all their food instead of struggling and wasting time opening multiple containers.
School Lunch Gear Must Haves
Here is my list of must-have school lunch gear with some suggestions for each category.
Bento Lunch Box
As I outlined above, I love a good bento lunch box. Not only does it make my organized loving soul happy but the kids also love them. I have been using these types of containers since my boys were toddlers. There are a ton of options out there but here are a few of my recommendations.
PlanetBox
This lunch container is made from stainless steel and comes in 3 sizes: Shuttle (small), Rover (medium) and Launch (large). I absolutely love these! There is no denying that this lunch box is on the pricier side but it is so durable! These containers last! My boys have had the Rover version for 5 years and they still look amazing. They have also had the Launch version for a year to feed their growing boy appetites. Here is a chart comparing the 3 different models. I love the fact that these are made from stainless steel, extremely durable, easy to clean and have a variety of magnets to choose from to make them fun!
>>> Check them out on: Planetbox.com
Yumbox
This container is light, leak-proof and easy to open. They come in a variety of colours, designs and sizes. I had the original version for my boys when they were toddlers/preschoolers. It was a fantastic way to pack their food for outings to the park, beach or preschool.
>>> Check them out on: Amazon.com or Well.ca
LunchBots
These are another stainless steel option that come in a wide variety of sizes and compartment configurations. I have owned some of the snack size sectioned containers for years which have been perfect to pack alongside a thermos or for snacks on the go. They are durable and easy to clean but some really young children may have trouble with the lids.
>>> Check them out on: Amazon.com or Amazon.ca or Well.ca
OmieBox
This lunch box has a thermos insert so you are able to store both hot and cold items together in one box. I have never personally used this container but saw one recently and thought it was a super cute option for a younger child (sizing doesn't look suitable for an older child).
>>> Check them out on: Amazon.com or Well.ca
Thermos
A thermos is a must-have item for packing hot food options like soups, stews, pasta and various leftovers. Make some extra for dinner and then just reheat the next morning and pop in a thermos. Tip: Heat the thermos up beforehand by pouring in some boiling water.
>>> Check out this one or this one. Also lots of variety on Well.ca
Reusable Water Bottle
Have to keep those kids hydrated! My kids only take water to school so a reusable water bottle is a must. There are so many options available. Preferred styles will depend on the child and the age they are at: straw bottles, pop up spout bottles, wide mouth opening, etc. I have been through many phases and currently my kids like the S'well style vacuum insulated bottles.
>>> Check out kids water bottle options on: Amazon.com or Amazon.ca or Well.ca
Reusable Snack Bags + Containers
I use these to pack up all the extra bits when I am sending a thermos lunch. Also great for packing up snacks on the way to after school activities.
Reusable Snack Bags: There are so many options from silicone to cute printed cloth.
>>> Check them out on: Amazon.com or Amazon.ca or Well.ca
Reusable Snack Containers: I either use a small version of a bento lunch box (like the snack size version of the Lunchbots discussed above) or these nesting stainless steel containers (Amazon.com or Well.ca).
Reusable Cutlery
Some reusable cutlery is a must-have when sending food items requiring utensils. You can either pack in some old cutlery you might have kicking around or have special lunchbox cutlery like this cute bamboo set or this functional spork.
Silicone Baking Cups / Bento Divider Cups
This must-have item might sound a little weird but hear me out. Silicone baking cups are great for further dividing out your bento lunch box sections or using in a non-sectioned container to separate out food items. It is an easy way to add more flexibility to your containers.
>>> Check them out on: Amazon.com or Planetbox.com (for ones specifically designed to fit PlanetBox)
For more cute, reusable school lunch gear, check out the Well.ca Kids Litterless Lunch section. Lots of great items here!
Lunch Box Ideas
So now you have the containers and gear but what should you pack into them? Keep it simple and check out this post for inspiration.
⬇ PIN it for later! ⬇