Learn how to make steel cut oats using two different cooking methods: Instant Pot (pressure cooker) and stovetop. Dig into this warm, healthy breakfast option that is perfect for meal prep and can be customized with countless topping options.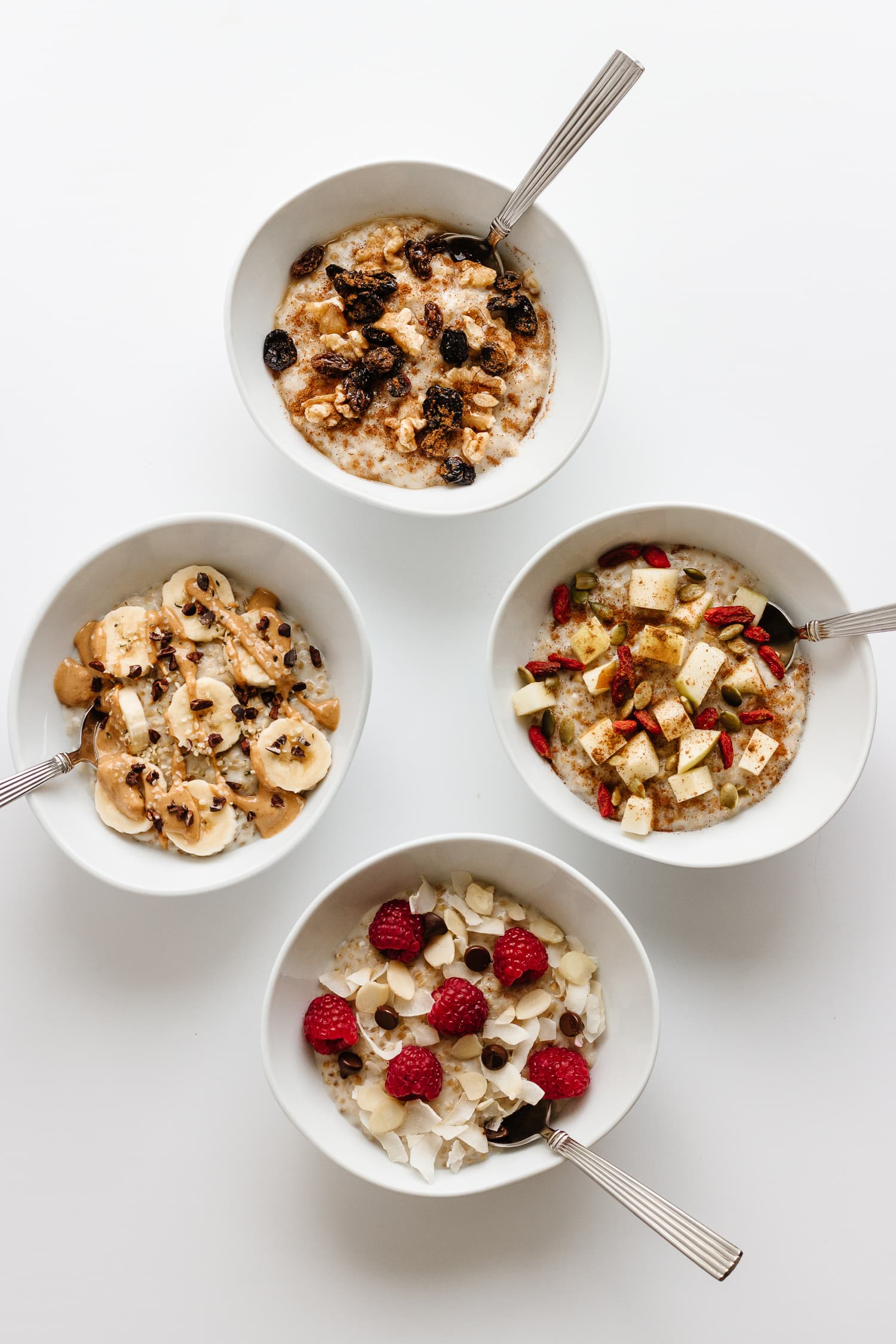 Now that the mornings are cooler, I need a hot breakfast to warm me up. A hot bowl of steel cut oats and a cup of tea is the perfect Fall/Winter breakfast in my opinion. Steel cut oats are my favourite for a bowl of oatmeal since I love the chewy texture. It's delicious, warming, healthy and the flavour can be switched up based on your toppings. After all, the toppings are the fun part and the options are endless! See section on topping ideas below.
Steel cut oats are also perfect for meal prep which makes them an easy weekday breakfast for the whole family. Once cooked, just store in the fridge or freezer and heat up with a splash of water or milk of choice. Add your favourite toppings and TA-DA! you have breakfast.
Let me walk you through two different methods to make the perfect bowl of steel cut oats – the traditional stovetop method and the Instant Pot method. The stovetop method only requires a pot and I find it to be a soothing process. However, I usually tend to use my Instant Pot. It allows me to just stumble down in the morning, set up the oats to cook and then go exercise or get ready while breakfast is being cooked.
Are you ready to make some steel cut oats? Let's get started!
Steel Cut Oats Ingredients + Equipment
Here is what you will need to cook steel cut oats:
Steel Cut Oats: Shocking, I know😲. Make sure to use regular steel cut oats in this recipe. There are also "quick cooking steel cut oats" which would require a different cooking time since they are cut into smaller pieces.
Water + Milk Of Choice: The type of milk is whatever floats your boat: dairy milk or non-dairy like cashew, almond or coconut milk.
Ghee, Butter or Coconut Oil: A tbsp is used to toast the oats.
Himalayan or Sea Salt: Just a pinch to enhance the flavour of the oats.
Toppings: So many possibilities! For a list of ideas, see the topping ideas section below.
Equipment: For the stovetop method, you will simply need a pot and for the Instant Pot method you will need an Instant Pot (or other brand of pressure cooker).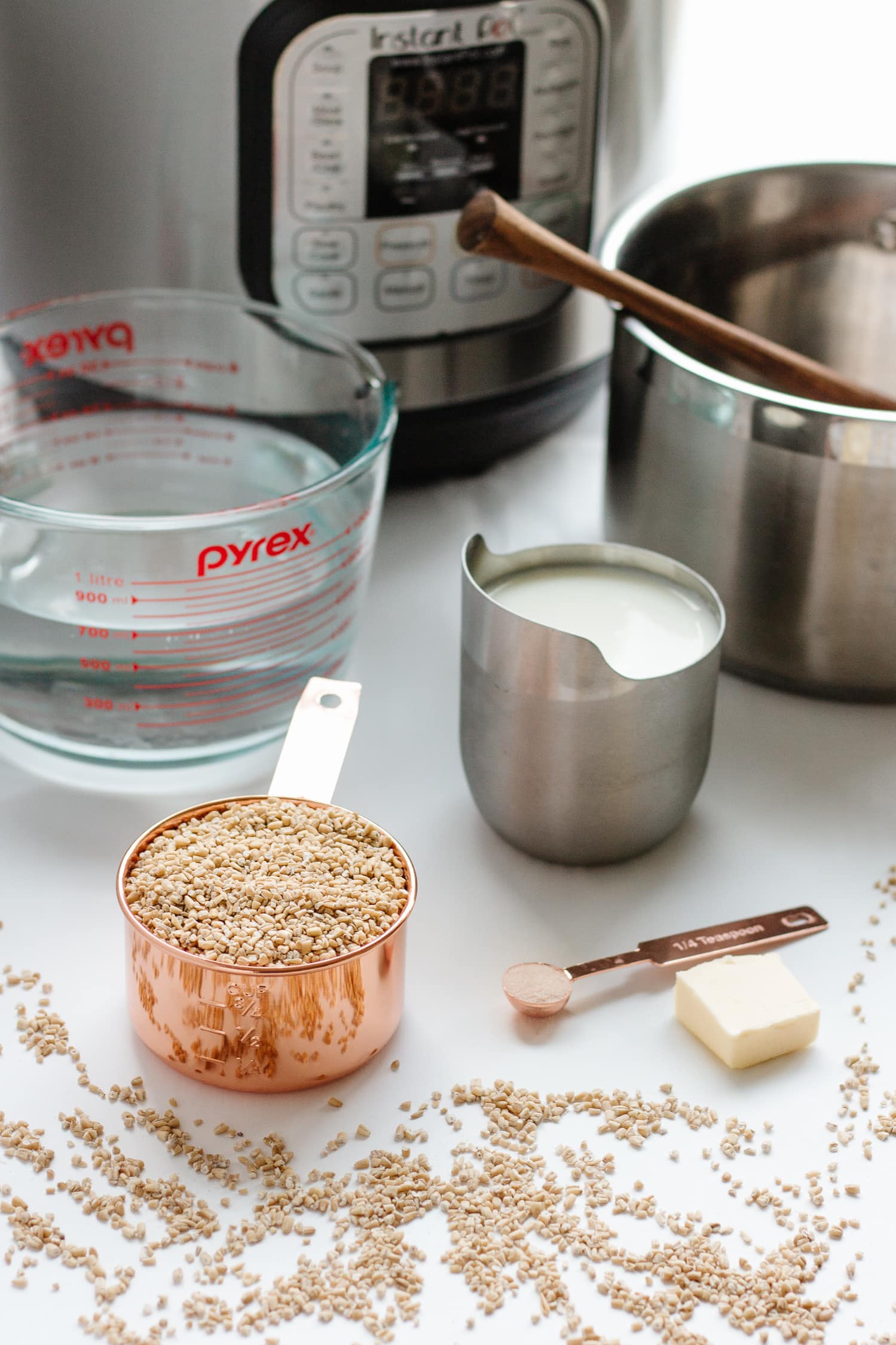 How To Cook Steel Cut Oats
I like to cook steel cut oats using either the stovetop or Instant Pot methods. To be honest, I usually reach for the Instant Pot since it is the easiest way (just set it up and go do something else).
Stovetop Method
Heat Water + Milk: Bring water and milk to a simmer in a pot.
Toast Oats: Toast the steel cut oats in some butter, ghee or coconut oil in a small pan. This step elevates the flavour of the oats by giving them a delicious, nutty flavour. The smell is amazing!
Simmer: Stir the oats into the milk/water mixture with a pinch of salt. Simmer over low heat for about 20-30 minutes while stirring occasionally.
Topping Time: Top with your favourite toppings – so many options and flavour combos to choose from (see section below for some ideas). Dig in and enjoy your warm, delicious breakfast!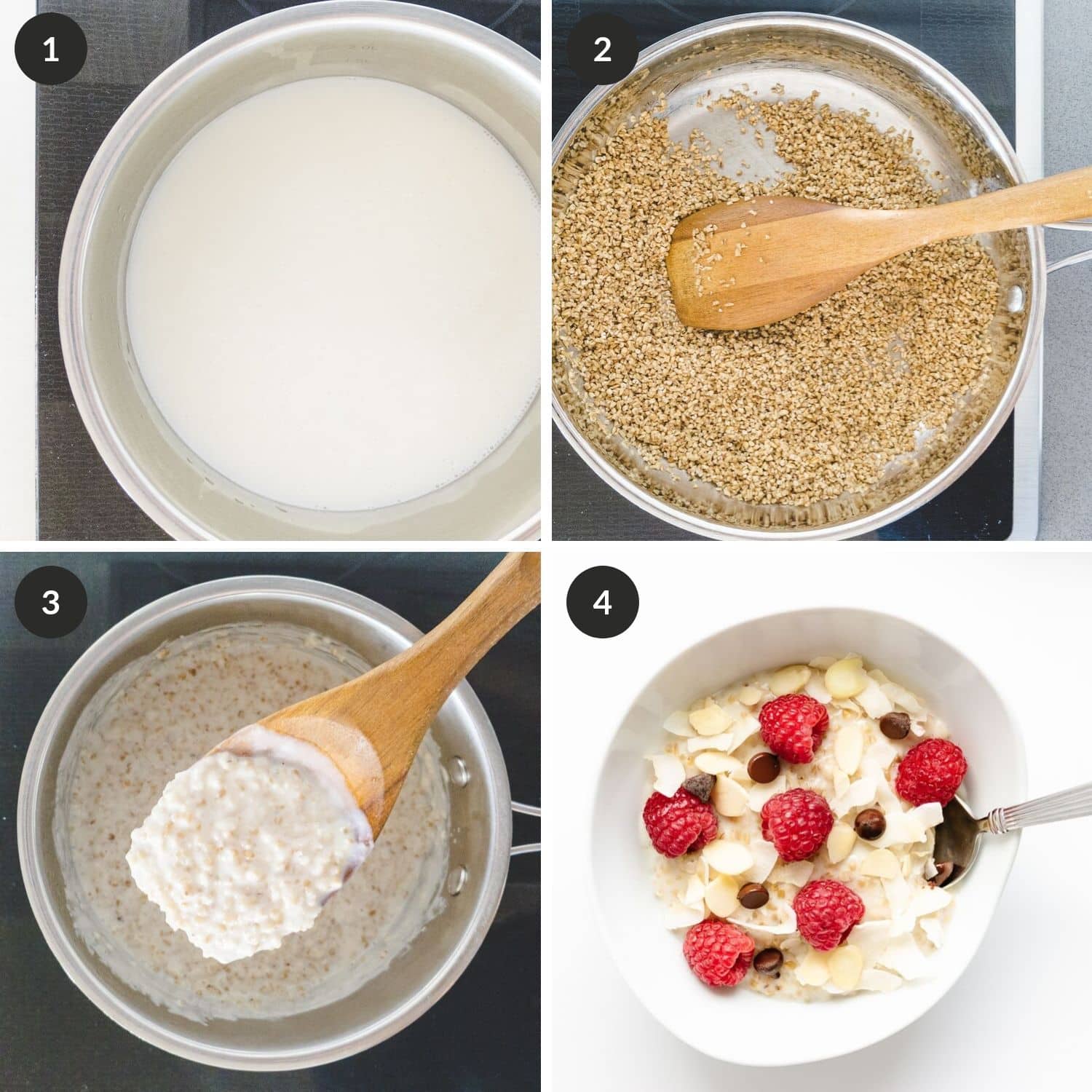 Instant Pot Method
Toast Oats: Select the "Sauté" function and toast the steel cut oats in some butter, ghee or coconut oil. The smell is amazing! This step elevates the flavour of the oats by giving them a delicious, nutty flavour.
Add Water And Pressure Cook: Add water and a pinch of salt. Pressure cook for 10 minutes followed by a natural release. The steel cut oats are fine to sit in "Keep Warm" mode until you get to them. So you can take your time and go work out or take a shower and breakfast will be waiting for you once you are ready.
Stir It Up: There will be liquid sitting on top – this is normal! Just stir it together. Stir in a splash of milk or cream. If you like your oats thicker, just let them sit for a bit to thicken up further.
Topping Time: This is the best part! Time to put on your favourite toppings and enjoy! (see section below for some ideas)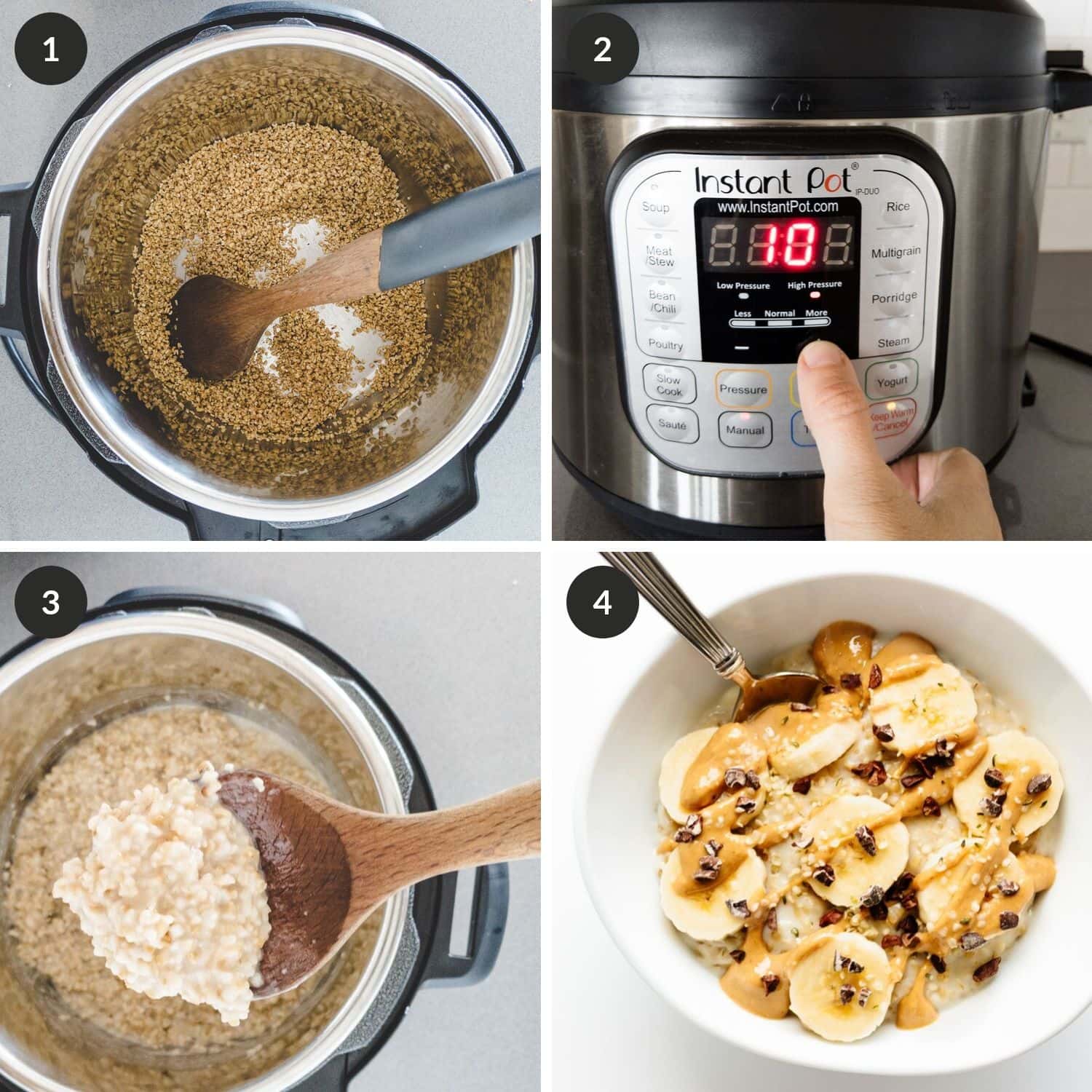 New to the Instant Pot? I recommend checking out "10 Instant Pot Tips For Beginners" to learn how to use and better understand your Instant Pot.
Detailed ingredient list and directions located in the recipe card below.
Steel Cut Oats Topping Ideas
There are so many possible toppings and flavour combos. Here are some ideas:
Fresh Fruit (or frozen): berries, bananas, apples, pears, peaches, mango, pomegranate, etc.
Dried Fruit: raisins, cranberries, dates, coconut flakes, goji berries, etc.
Nuts + Seeds: walnuts, almonds, hemp hearts, pepitas, sunflower seeds, chia seeds, ground flax seed, nut butters, etc.
Spices: cinnamon, vanilla, nutmeg, cardamom, pumpkin spice, etc.
Sweetener: maple syrup, honey, coconut sugar, rapadura sugar
Other: chocolate chips, cacao nibs, jams, compote, stewed fruits, yogurt, etc.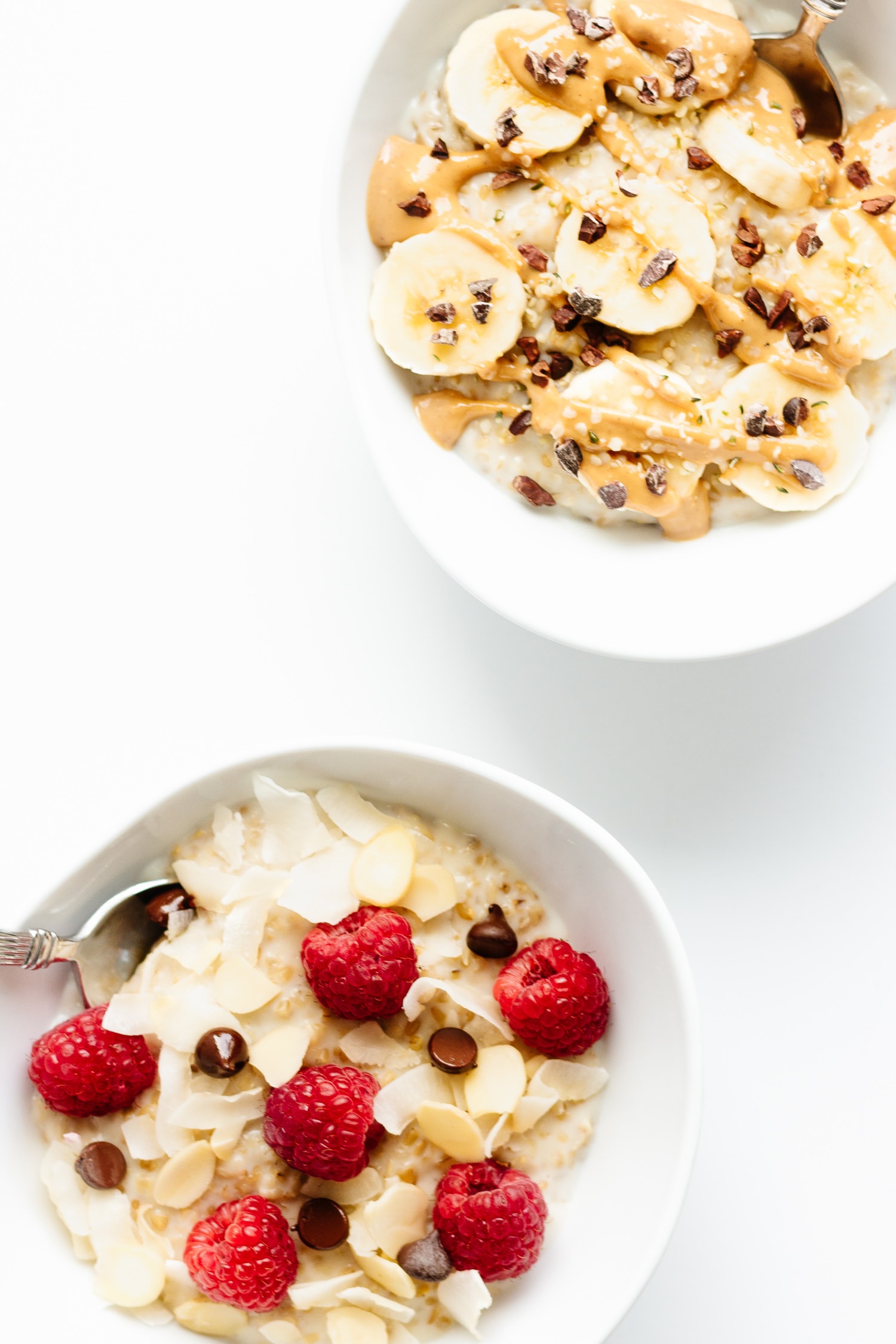 Steel Cut Oats Questions + Tips
What is the difference between steel cut oats vs rolled oats?
The difference is in the processing of the grain. All oats start off as whole oat groats. Different types of oats are based on how the oat groat has then been processed.
Steel Cut Oats: The oat groats are cut into small pieces with a steel blade. This is the least processed form of oats. These are my favourite type of oats to use for a bowl of oatmeal since they retain their delicious chewy texture after cooking.
Rolled Oats (or old-fashioned oats): The oat groats are steamed and pressed flat. These cook faster than steel cut oats and have a mushier texture after cooking. I find rolled oats are best for baking.
How To Store Steel Cut Oats
Steel cut oats are perfect for meal prep since you can cook up a batch and then refrigerate or freeze.
Refrigerate: Store your cooked steel cut oats in the fridge for up to 1 week.
Freeze: Scoop the cooked steel cut oats into a silicone mold like a silicone muffin tray or a baby food storage tray or these cool Souper Cubes and freeze. Once frozen, you can pop them into a freezer bag or container and store in the freezer for up to 3 months. Pop into the fridge to thaw overnight before using.
How To Reheat Steel Cut Oats
Since the oats thicken up when chilled, you will need to add a splash of water or milk of choice when reheating to loosen it back up and achieve your desired consistency. I recommend reheating in a pot over low heat but you could also use a microwave.
Do You Need To Toast The Steel Cut Oats First?
You don't need to but I highly recommend toasting them first. The toasting step elevates the flavour of the oats and gives them a delicious, nutty flavour. And the smell is amazing like a warm, cozy hug. I love it!
What Are The Benefits of Steel Cut Oats?
Steel cut oats are a whole grain with many healthy benefits. They are high in fiber, a good source of iron, B vitamins and protein, help reduce cholesterol and blood sugar and promote healthy gut bacteria and increased feelings of fullness. Check out this article if you are interested in reading more about the health benefits of oats.
Are Steel Cut Oats Gluten Free?
Oats are naturally gluten free but there is the risk of cross contamination with other grains during processing. Therefore, seek out certified gluten free oats if you need to be 100% sure.
Possible Dietary Variations
Steel cut oats can easily be made dairy free, gluten free or nut free:
Dairy Free (or Vegan): Use coconut oil to toast the oats and a dairy-free milk.
Gluten-Free: Oats are a gluten free whole grain but you should use certified gluten free oats to ensure there was no cross contamination during processing.
Nut Free: Don't use a nut milk or add nuts as a topping.
Did you try these steel cut oats? Let me know in the comments! I would love to hear which method you chose and most importantly what your favourite toppings are!
Print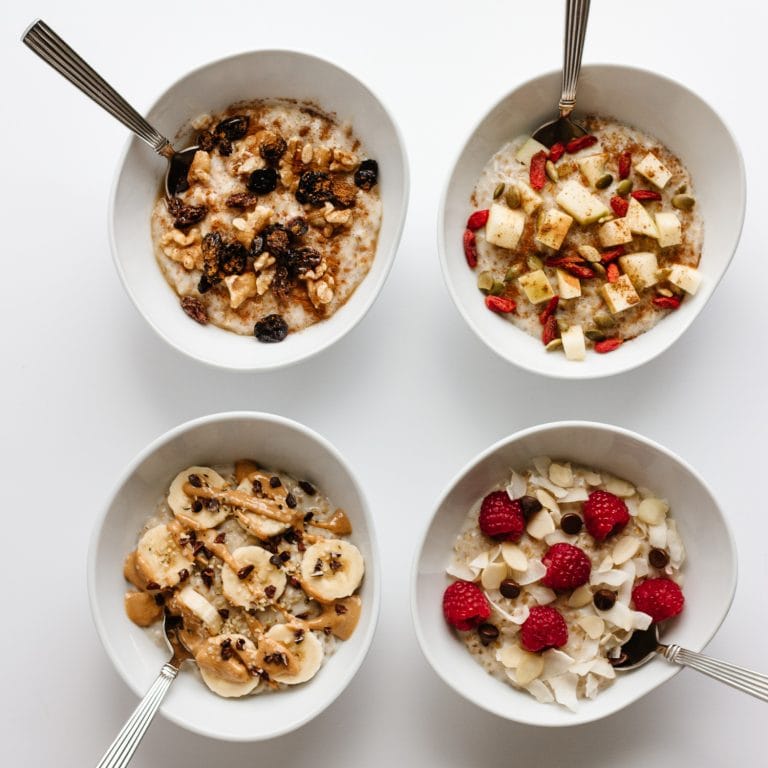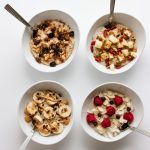 How to Cook Steel Cut Oats: Instant Pot + Stovetop
Author:

Vanessa | Maple + Mango

Prep Time:

5 min

Cook Time:

30 min

Total Time:

35 min

Yield:

4

servings

1

x

Category:

Breakfast
---
---
---
---
⬇ PIN it for later! ⬇