Check out this healthy meal prep I completed using The HealthNut Cookbook for recipe ideas. I love combining meal prep with trying out new recipes. Totally ready for the week ahead now with all these delicious, healthy food options!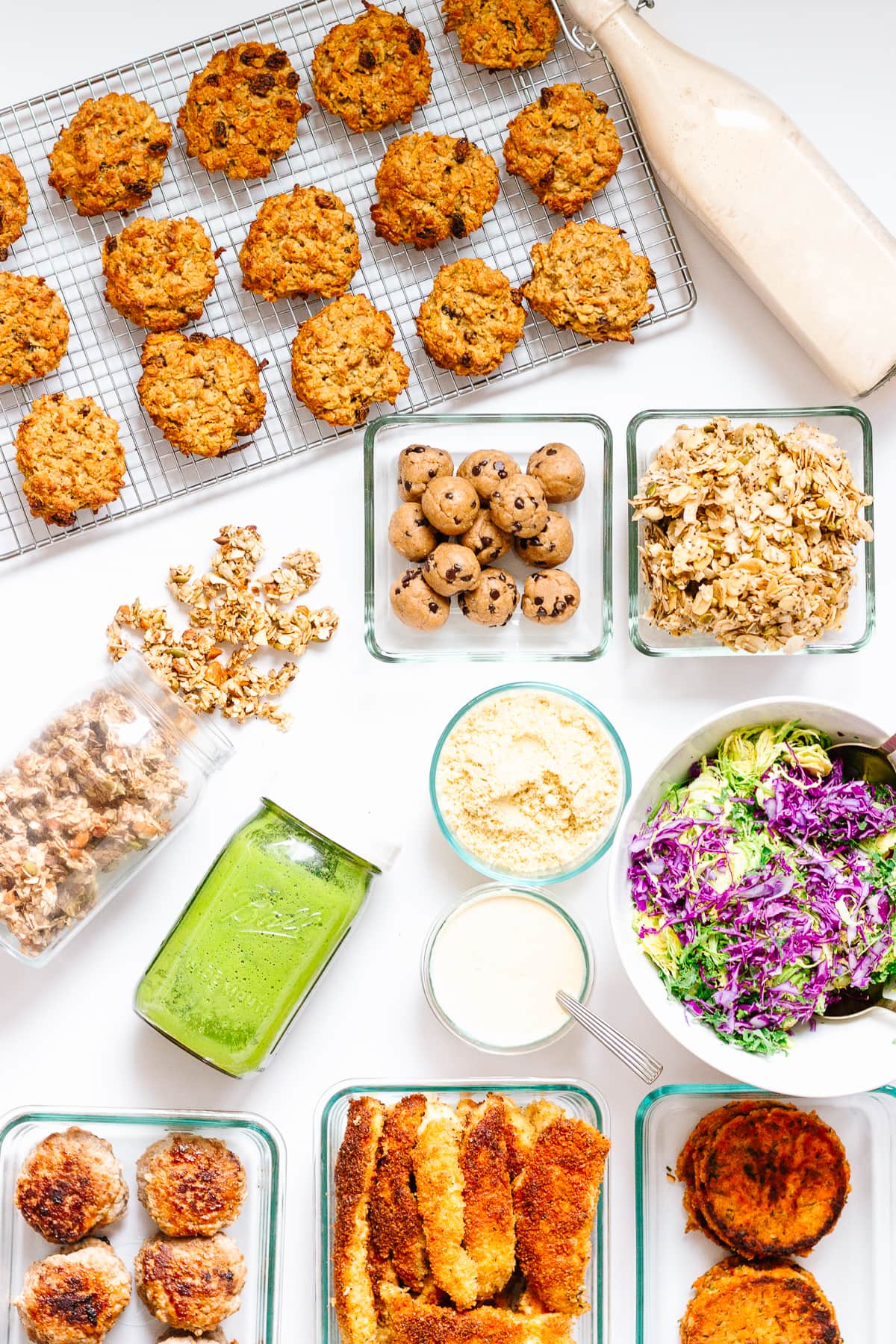 I love to open the fridge to a beautiful assortment of prepped ingredients and meals (don't we all?!?). However, I have totally fallen off my meal prep game lately and vowed to make it a priority again since it is so beneficial. Let's quickly talk about some of these benefits…
Benefits of meal prepping
Reduces stress: You don't have to worry about what to cook or look through the fridge and pantry in a frenzy trying to come up with last minute ideas. Anything that reduces stress is a win in my book!
Helps you eat healthier: Having prepped and planned out meals makes it easy to make healthy choices! There is no need to rummage around for the first thing you can find or hit a drive-thru.
Saves you money: Meal prepping allows you to grocery shop with a purpose and also avoid impulse take-out.
Reduces food waste: All the food you buy has a purpose so you no longer have random ingredients that end up rotting at the back of the fridge.
How cookbooks and blogs can help you meal prep
So now that you have decided to meal prep, you need to figure out what to make. If you are anything like me, you probably have a list of recipes from cookbooks and websites that you intend to try….at some point. This list just tends to grow and grow! Use this list of recipe ideas and inspiration to form your meal prep plan.
Combining meal prep with trying out new recipes is a great way to tackle both. It's the perfect opportunity to get some meal prep accomplished while also trying out some new recipes. Just pick out a few of these recipes for your meal prep session. You can either cook up the entire recipe or just prep the ingredients to make it quick and easy on the day you choose to prepare it.
The HealthNut Cookbook
My brother gifted me The HealthNut Cookbook for Christmas. It had been on my wish list so I was very excited. The author, Nikole Goncalves, is passionate about healthy living and a super talented fellow Canadian. I had been following her popular HealthNut Nutrition YouTube channel for a while so I couldn't wait to dive into her book. I placed little sticky notes on a ton of recipes that I wanted to try….and then life happened and I forgot about it! When I decided to do a big meal prep session, I noticed the book on the table and realized it was the perfect opportunity to tackle some of those sticky notes.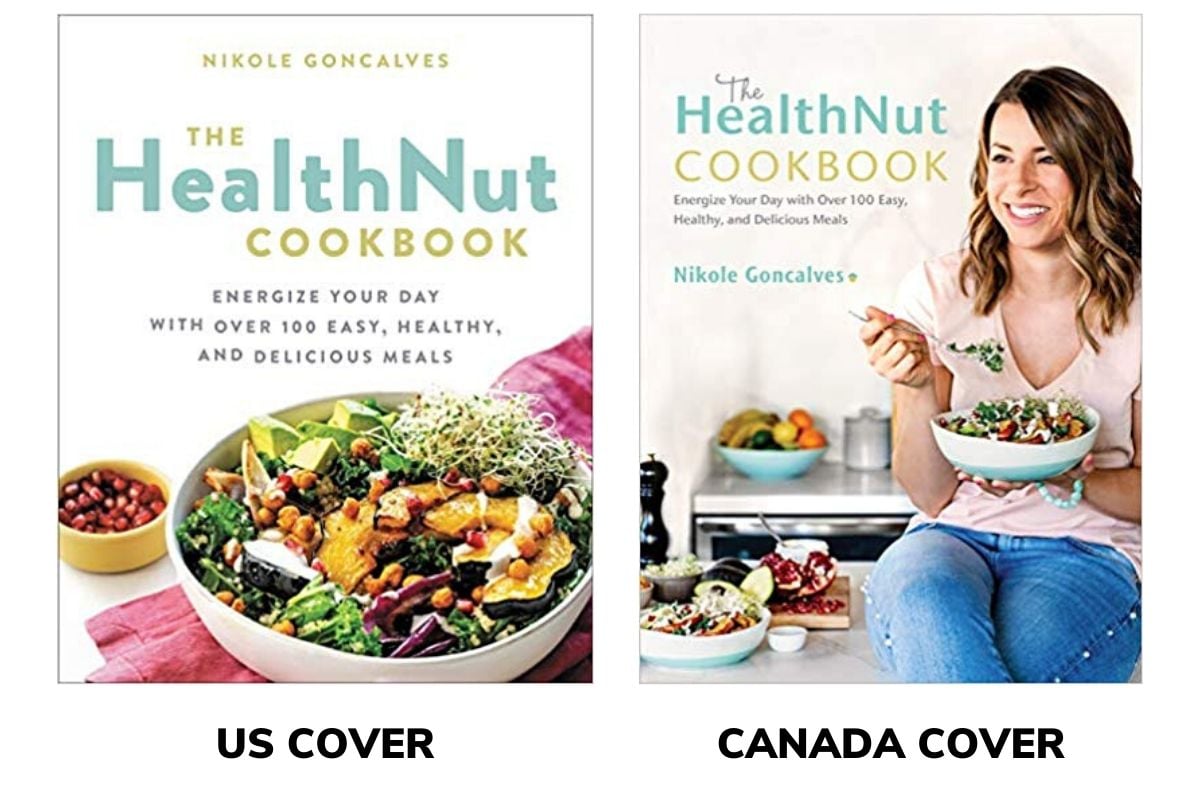 This cookbook focuses on healthy and delicious meals using real, unprocessed foods. That's right up my alley (not to mention that the book itself is absolutely stunning). This book also makes it super easy to figure out which recipes work well for meal prep since there is a little "meal prep friendly" symbol on suitable recipes. So I picked out a number of recipes and got to work!
Recipes made for this meal prep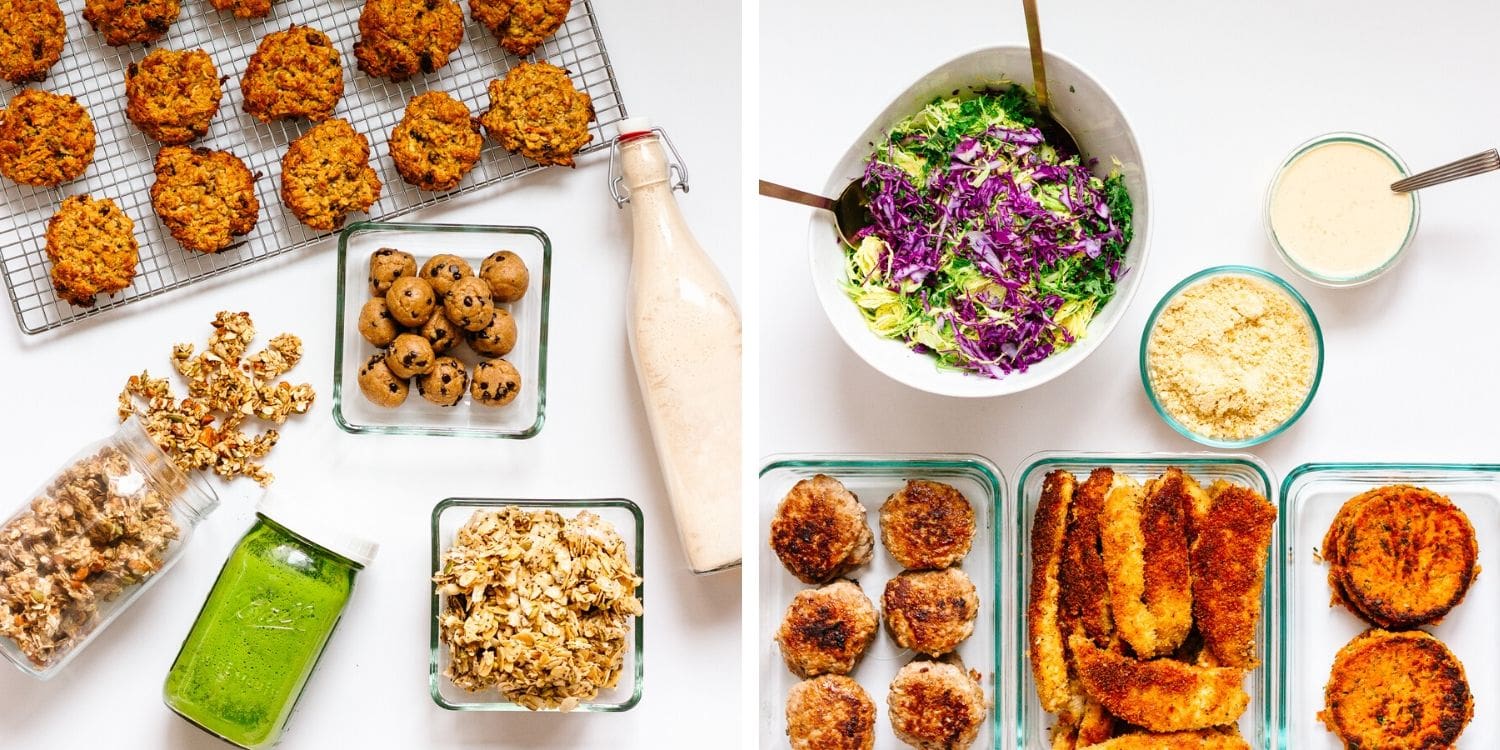 So I went a little overboard but there are just so many things I want to try in this book that I had a hard time narrowing it down. First, I chose a selection of recipes that are perfect for breakfast and snacks. Then I also made a large salad and a variety of proteins that I could serve in a number of ways for lunch and dinner. For example, I served the Baked Crispy Quinoa Chicken Fingers in a wrap for lunch one day and then for dinner another day with some of the salad and some sweet potatoes that I quickly chopped and roasted up.
Obviously, I can't share the recipes here due to copyright laws. However, I have included a list below in case you have the book or plan on purchasing it.
Rise and Shine Breakfast Cookies – pg. 31
Salted Caramel Stovetop Granola – pg. 41
Apple Maple Breakfast Sausage Patties – pg. 59
No-Bake Coconut Almond Clusters – pg. 76
Chai Cashew Milk – pg. 100
Easy Blender Green Juice – pg. 111
Shredded Caesar Salad – pg. 124
Salmon Burgers – pg. 146
Baked Crispy Quinoa Chicken Fingers – pg. 180
Raw Chocolate Chip Cookie Dough Bites – pg. 189
This was a bigger meal prep than I normally would do but LOOK AT THAT FRIDGE! It makes me so happy to have all this delicious, healthy food ready to eat and to quickly make meals from.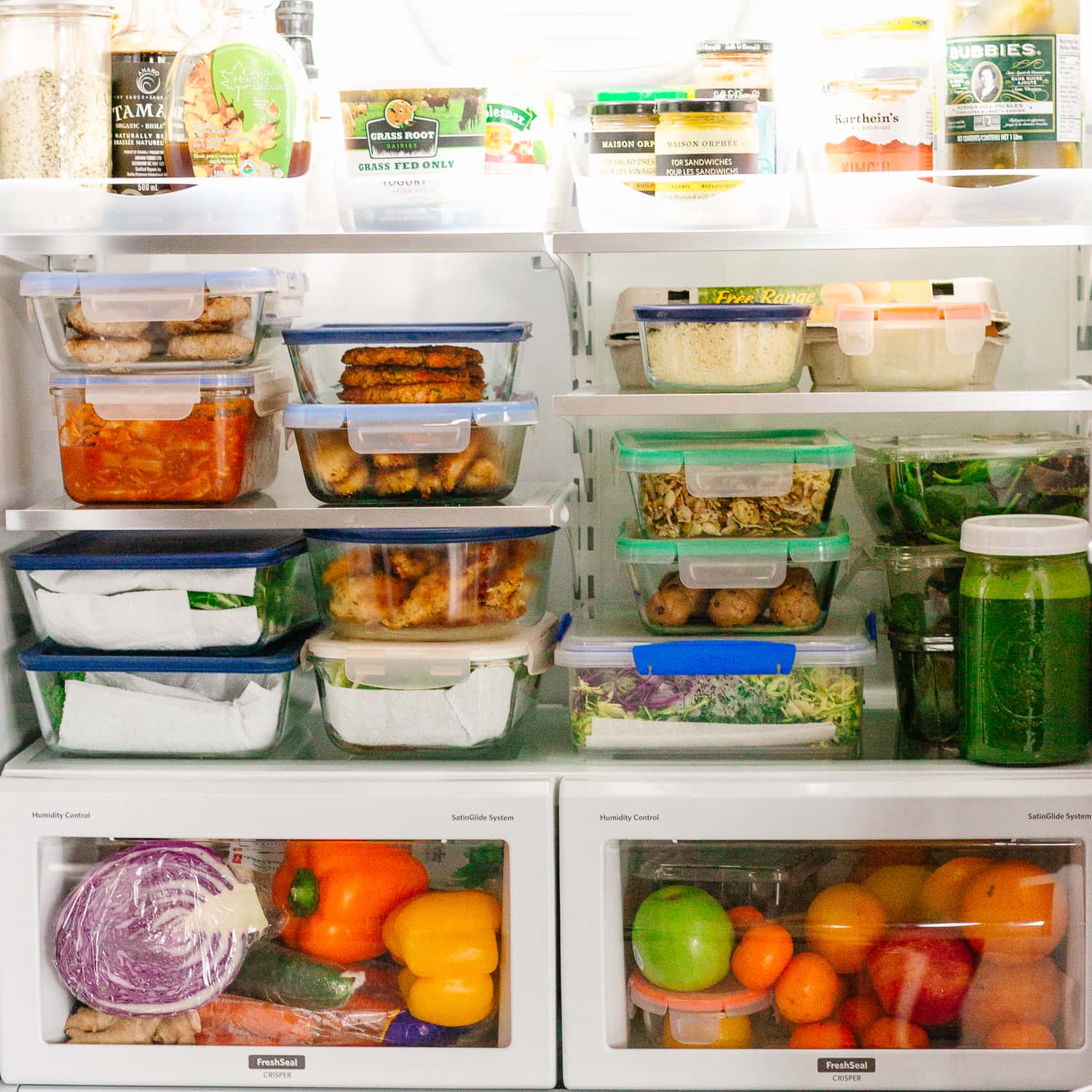 I just had to give a HUGE shout out to the Easy Blender Green Juice recipe. I do not own a juicer since I feel that I wouldn't use it enough or want to clean it. However, this recipe uses a blender and a nut milk bag to strain the juice, both of which I already own! I loved this juice and now can kick my weekly habit of buying an expensive green juice while running errands.
Interested in checking out The HealthNut Cookbook? Get it HERE. Or HERE if you live in Canada.
More Meal Prep Inspiration
Looking for some more meal prep inspo? Then you might like these:
⬇ PIN it for later! ⬇