Check out this comfort food meal prep I completed using the "Fraiche Food Full Hearts" cookbook for recipe ideas. I love combining meal prep with trying out new recipes. My family is stocked up for the week ahead now with all these delicious comfort food and snack options!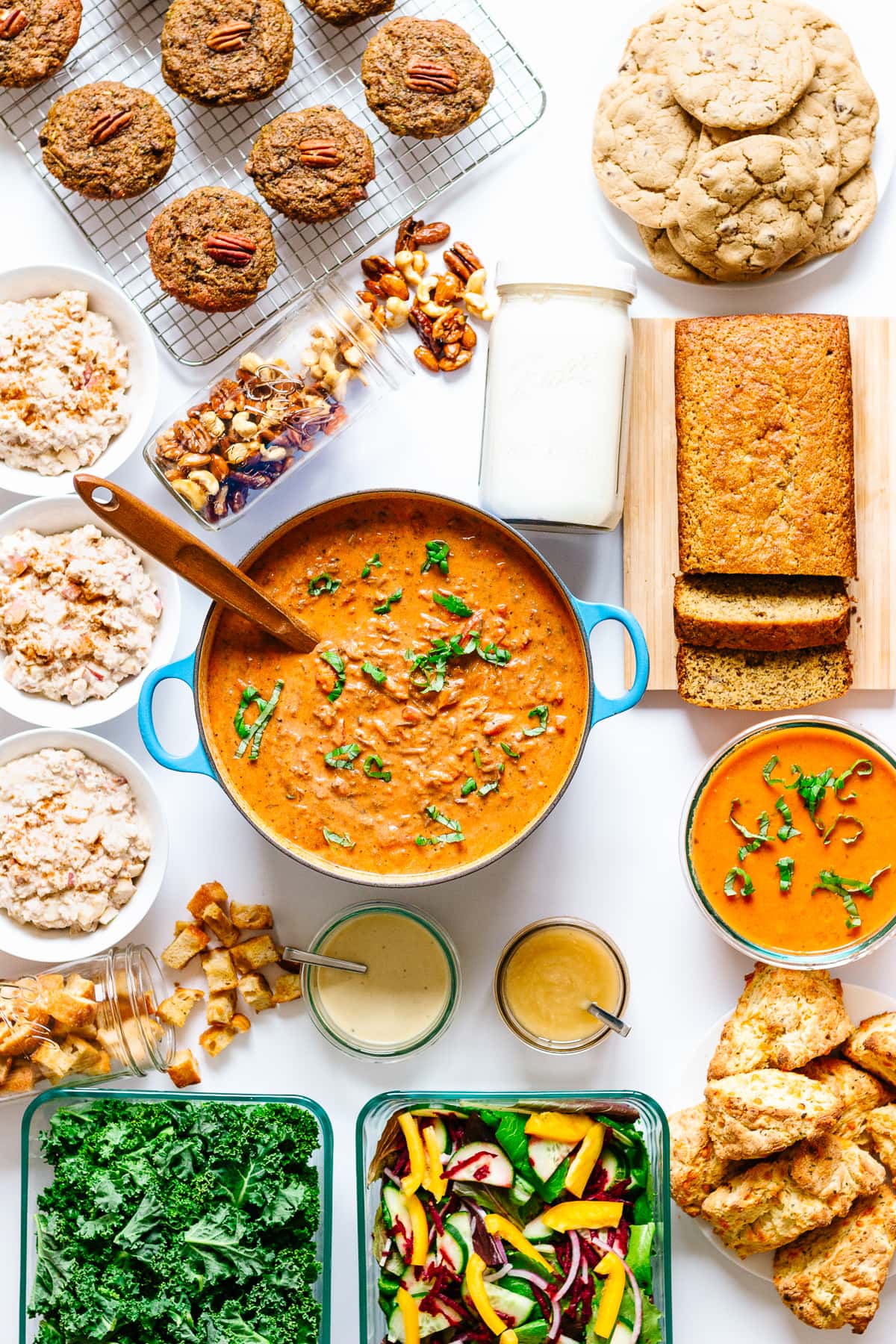 My family has been craving lots of comfort food lately and the kids are constantly asking for snacks. With everybody at home right now, it has started to feel like a blur of non-stop food prep all day long. Instead of spending all week in the kitchen again, I turned up the music and devoted a number of hours on Sunday to complete a big meal prep. The week will be so much easier knowing that there is a variety of options ready to grab and eat! Meal prep definitely has some benefits (including saving my sanity!). Let's quickly chat about some of these benefits…
Benefits Of Meal Prep
Reduces stress: You don't have to worry about what to cook or look through the fridge and pantry in a frenzy trying to come up with last minute ideas. Anything that reduces stress is a win in my book!
Helps you eat healthier: Having prepped and planned out meals makes it easy to make healthy choices! There is no need to rummage around for the first thing you can find or hit a drive-thru. You also have the ability to control the quality of the ingredients used.
Saves you money: Meal prepping allows you to grocery shop with a purpose and also avoid impulse take-out.
Reduces food waste: All the food you buy has a purpose so you no longer have random ingredients that end up rotting at the back of the fridge.
Get Meal Prep Ideas From Cookbooks and Blogs
Sometimes the hardest part of meal prep is coming up with ideas. This is why I love to combine meal prep with trying out new recipes. If you are anything like me, you probably have a list of recipes from cookbooks and websites that you want to try. This list just tends to grow and grow! Use this list of recipe ideas and inspiration to form your meal prep plan.
Combining meal prep with trying out new recipes is a great way to tackle both. It provides the perfect opportunity to get some meal prep accomplished while also trying out some new recipes. Select a few of these recipes for your meal prep session. You can either cook up the entire recipe or just prep the ingredients to make it quick and easy on the day you choose to prepare it.
Fraiche Food Full Hearts Cookbook
My brother gifted me the Fraiche Food Full Hearts cookbook for Christmas (after asking me what I wanted – what a smart guy😉). This is an absolutely gorgeous book written by two inspiring Canadian women who also happen to be cousins – Jillian Harris and Tori Wesszer.
I have a ridiculous number of pages marked in this book since it is filled with so many delicious recipes that I am eager to try. So when I decided to do a big meal prep session, I reached for this book since it was the perfect opportunity to try some recipes out.
This cookbook focuses on celebrations and recipes for casual entertaining. However, I still found a large number of recipes suitable for meal prep. To narrow my choices down even further, I decided to focus on comfort food, snacks and some veggie filled dishes for balance. I picked out a variety of recipes, turned up the tunes, rolled up my sleeves and got to work!
Recipes Made For This Meal Prep
Once again I went a little overboard! I can't help it when there are so many delicious options. It is just way too difficult to narrow it down. And in my defence, none of it goes to waste in my hungry household! I selected a number of comfort food recipes, breakfast options, snack options (for when the kids are hungry…which is always!) and a few veggie options for good measure. Some of the comfort food items also happen to be veggie heavy though (don't tell the kids!).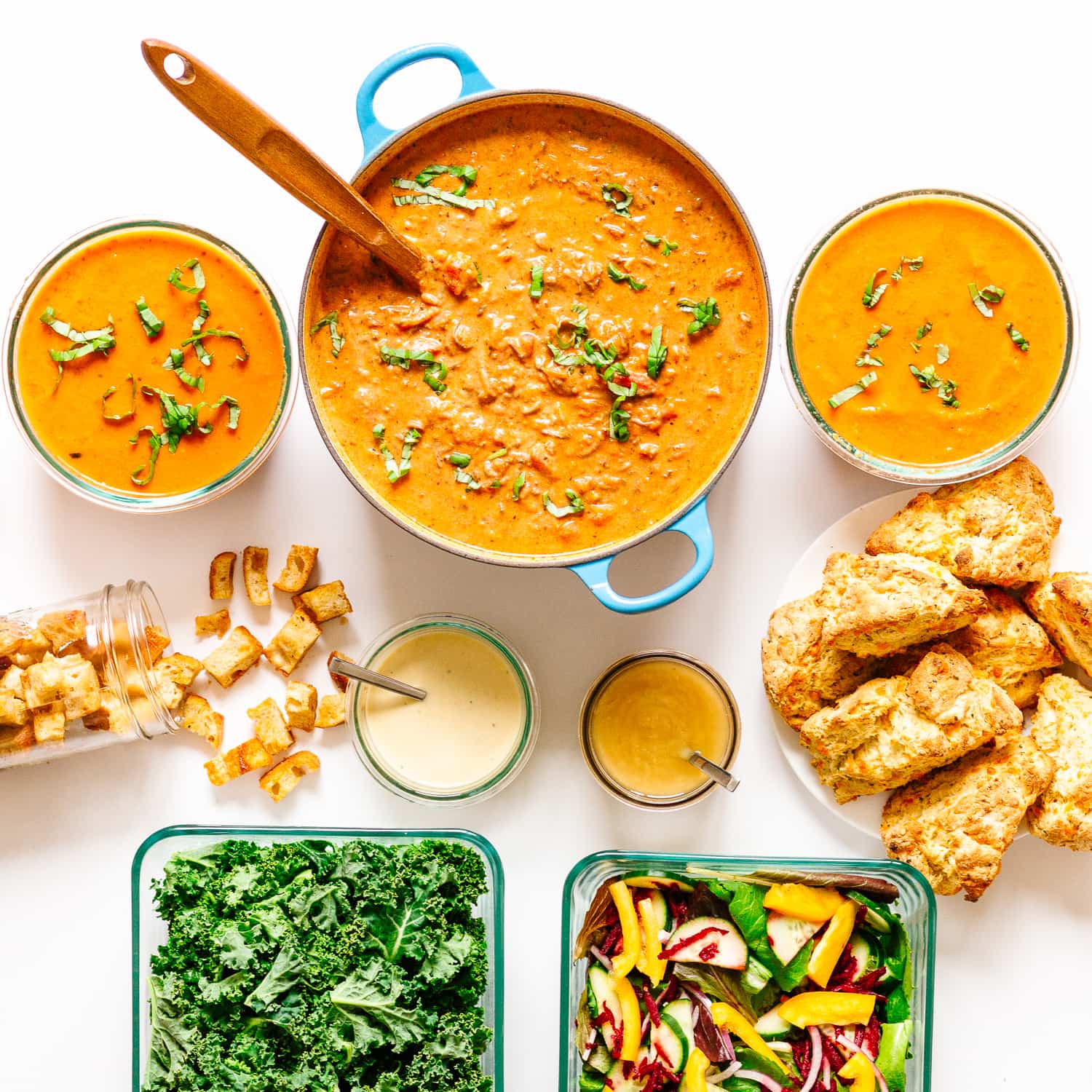 Obviously, I can't share the recipes here due to copyright laws. However, I have included a list of recipes and page numbers below in case you already have the book or plan on purchasing it.
Paul's Bircher Muesli (pg. 78) – I love a good bircher muesli and this one does not disappoint. This is the perfect breakfast to prep for myself since my silly family doesn't share this love (just means there is more for me!).
Sunshine Muffins (pg. 86) – These are packed full of veggies but you would never know by tasting them. I also added in some chocolate chips to replace half the raisins and my kids loved them. This recipe makes a huge batch so my freezer is stocked as well. Perfect for breakfast and snacks!
Sweet and Spicy Nuts (pg. 93) – These addictive nuts have my name written all over them. I have been grabbing a handful to snack on with my afternoon tea. The best part is how easy and quick they were to make.
Captain's Kale Caesar Salad (pg. 131) – This salad is delicious. I served it up with the Garden Bolognese for dinner and also had a salad for lunch the next day. Mysteriously, half the croutons disappeared before making it into the salad though😉.
Great Green Salad (pg. 135) – I prepped the salad and dressing separately in order to have an easy veggie side dish on hand for dinner this week.
Creamy Roasted Tomato Basil Soup (pg. 148) – This is so good! I can't wait to make it again in the summer with our own tomatoes.
Garden Bolognese (pg. 158) – This is so hearty, comforting and packed full of veg! I ended up making an extra large batch so that I could also freeze half. The other half was enjoyed the same day it was made over spaghetti with the Kale Caesar Salad (and a glass of wine for the adults).
Cheddar Chive Biscuits (pg. 236) – These pair perfectly with the Creamy Roasted Tomato Basil Soup. I intended to make the Perfect White Buns (pg. 239) but couldn't find any yeast so these biscuits were a delicious substitute.
Chewy Chocolate Chip Cookies (pg. 283) – Talk about comfort food! These were so delicious and disappeared super fast once the kids discovered them. This smart Mama may have hid a few for herself though!
Aunty Mary's Banana Bread (pg. 289) – This recipe was the perfect way to use up the super ripe bananas in my pantry. I popped it in the freezer to enjoy later in the week.
Cashew Cream (pg. 313) – A couple of the recipes called for some cashew cream so I made a large batch. We will use the rest in smoothies and other drinks.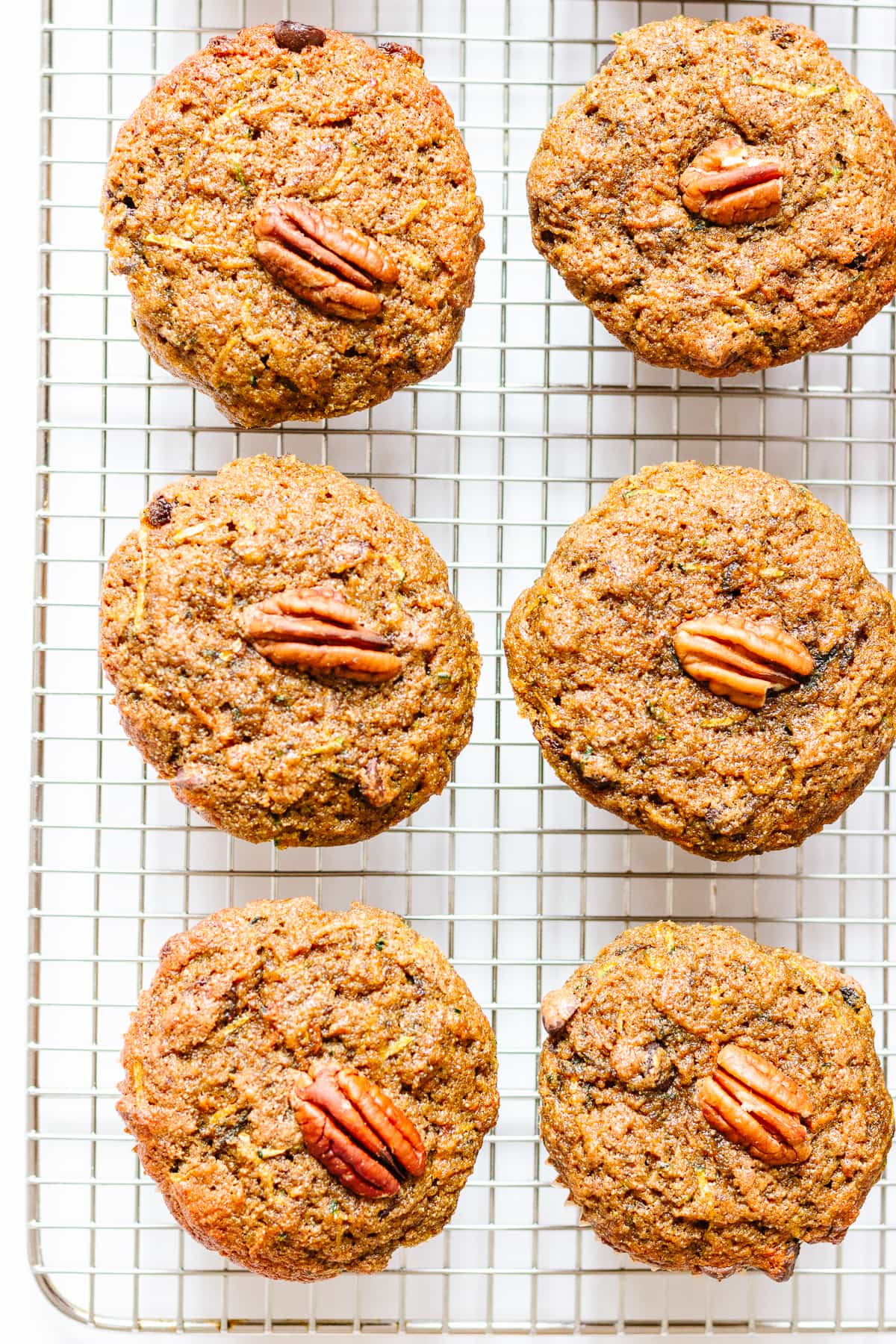 The completion of a large meal prep session calls for a celebration. And what better way to celebrate than with a delicious snack and adult beverage! So it was time to pull out the chips and try out the Nacho Average Queso recipe (pg. 117). This delicious queso style dip happens to be vegan and uses cashews to achieve a creamy texture. It was fantastic! You know that I love a good cheese dip! I love them so much that I also happen to have two recipes up on this website: one for a more traditional Homemade Nacho Cheese Sauce and one for a Vegan Nutfree Nacho Cheese Sauce.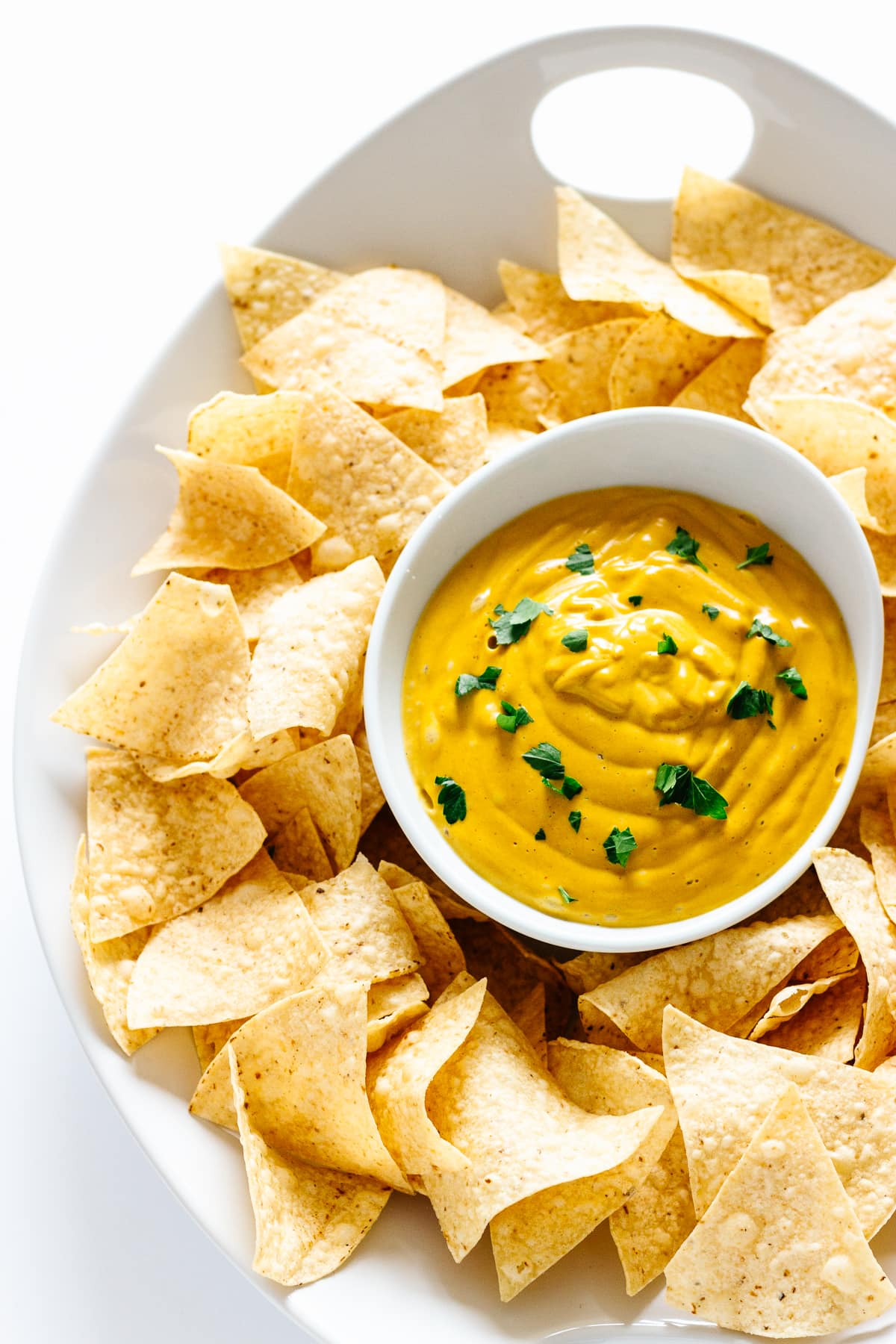 Interested in checking out the Fraiche Food Full Hearts cookbook? You can find it on Amazon.
More Meal Prep Inspiration
Looking for some more meal prep inspo? Then you might like these:
⬇ PIN it for later! ⬇