This Rosti Eggs Benny recipe is absolutely mouthwatering and perfect for a special brunch. It is a delicious alternative to a classic eggs Benedict.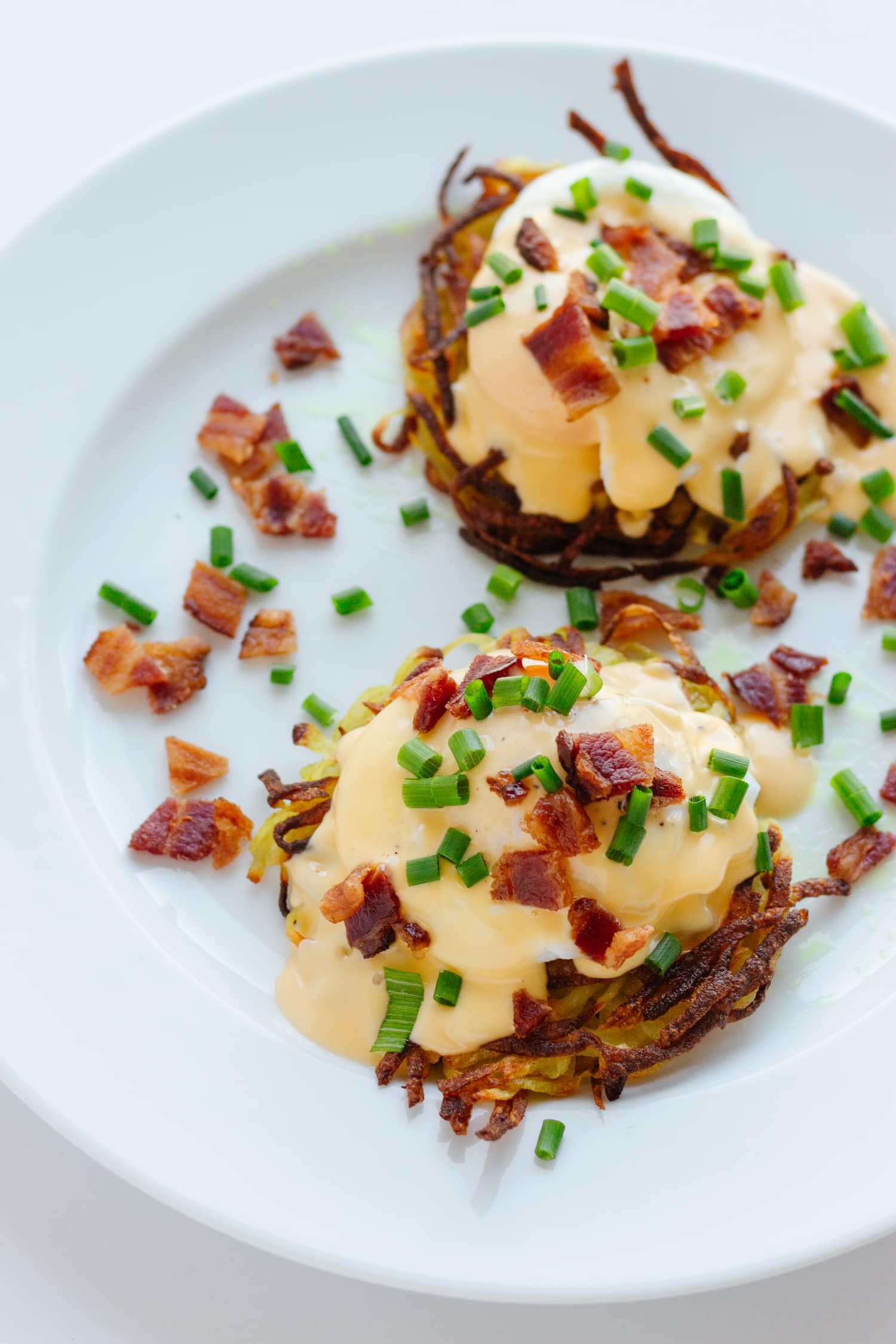 This Rosti Eggs Benny recipe is my idea of absolute brunch perfection. The combo of crispy potato rosti, perfectly cooked poached eggs, creamy hollandaise sauce, bacon and a scattering of chives makes my mouth water just thinking about it.🤤
Mother's Day is coming up and this certainly would make a special brunch. Pair it with some mimosas, simple green salad or fruit salad/platter and I think you will have one happy Mama on your hands. Or if you are a Mom, then perhaps accidentally forward this to your husband or kids if they are old enough. Wouldn't this be amazing on Sunday? (hint hint)
Not just for Mother's Day though – perfect for anytime you want something special (Valentine's Day, Holiday Season, Easter, Anniversary, Birthday or any damn time you just want a delicious breakfast!). I have also listed a number of variations further down – the possibilities are unlimited.
Is your mouth watering yet? Let's get started!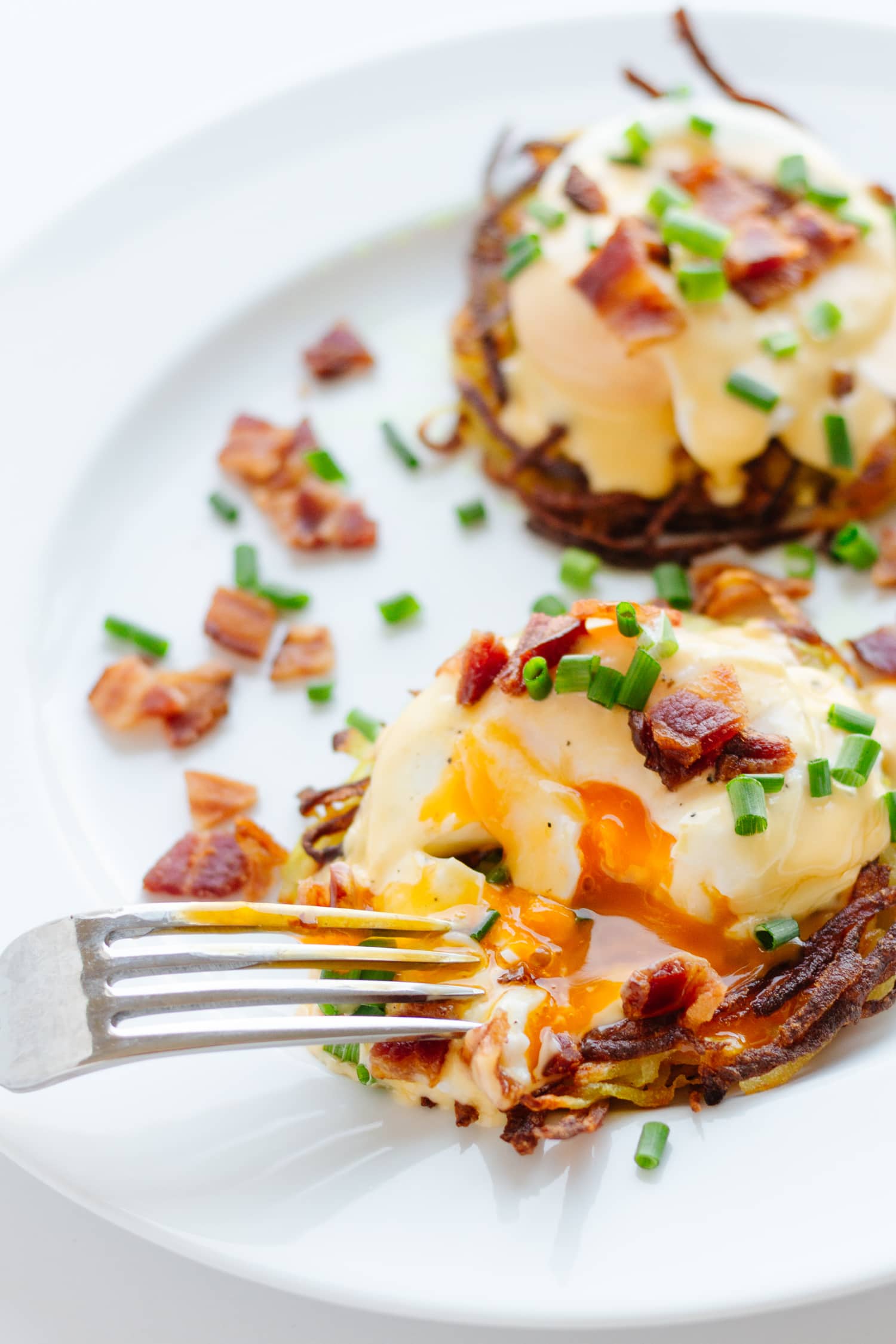 Rosti Eggs Benny Ingredients
There are a few components required in order to build these:
Rosti: As the name would suggest, these eggs Benedict have a delicious potato rosti base. Rosti is basically a mixture of grated potatoes and a few other ingredients that get cooked off until golden brown. The recipe can be found in the recipe card below.
Poached Eggs: Next up is a perfectly cooked poached egg. Get the recipe and tips HERE.
Hollandaise Sauce: Then it all gets covered in a delicious, creamy Hollandaise Sauce. Get the recipe and three ways to make this sauce HERE.
Bacon: Everything is better with bacon right!
Chives: A scattering of chopped chives to add some colour and complete the dish.
How To Make Rosti Eggs Benny
In order to make this delicious dish, you will need to make a few components:
Make the rosti: Either pan fry or bake your potato rosti until golden brown and crispy. Details in the recipe card below. I prefer the texture of the pan fry method but baking in the oven is easier and less messy. You can either make rustic, freehand shapes or for more circular shapes, use a 3.5 inch food ring. This is my preference to take the guess work out of sizing. You may have more rosti than you require for the eggs Benedict but they make great leftovers that can be reheated and served as a side to another meal.
Poach your eggs: Make the number of poached eggs that you will require. To learn how to make poached eggs and some great tips, check out this post.
Make Hollandaise Sauce: The hollandaise sauce truly brings this dish all together. Here is a great hollandaise recipe that includes three different methods to make this delicious sauce.
Plate it up: To plate this baby up, place a poached egg on top of a rosti. Follow this up with a generous amount of hollandaise sauce. Finally, scatter over some chopped up crispy bacon and chives. Now comes the best part – time to dig in and enjoy!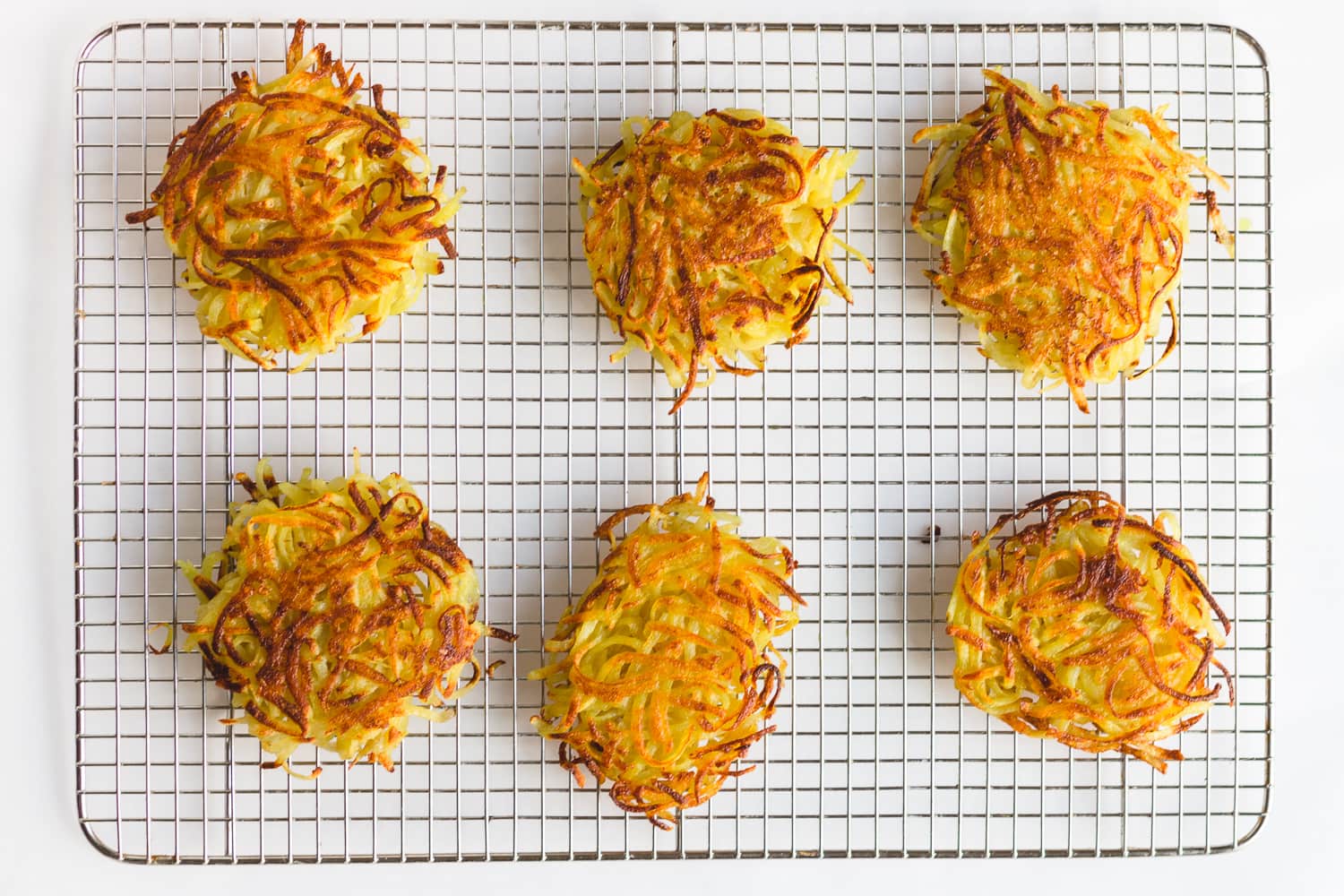 Make Life Easy – Make Parts Ahead
Unless you enjoy frantic chaos and a pile of dishes in the morning, I would highly recommend making parts of this dish ahead of time!
Make the rosti ahead of time!!! This is the messiest part especially if pan frying. Just get them done ahead of time and store them in the fridge. To reheat, place them on a rack set over a baking sheet in a 375F oven for about 7-10 minutes or until heated through and crisped up. I like to use the convection setting on my oven to circulate the air around.
If you are serving a lot of poached eggs then these can also be made ahead of time. See tips on how to do this and how to reheat HERE.
The bacon can also be cooked up ahead of time. Cook until crispy and once cooled down, chop up into pieces. These can then be scattered on as is or you can heat them up a little again before using.
The only thing that I don't recommend making ahead of time is the hollandaise sauce. This sauce is best made fresh!
My ideal plan of attack is to make the rosti and bacon ahead of time. While the rosti is reheating, I poach the number of eggs I need and make the hollandaise sauce.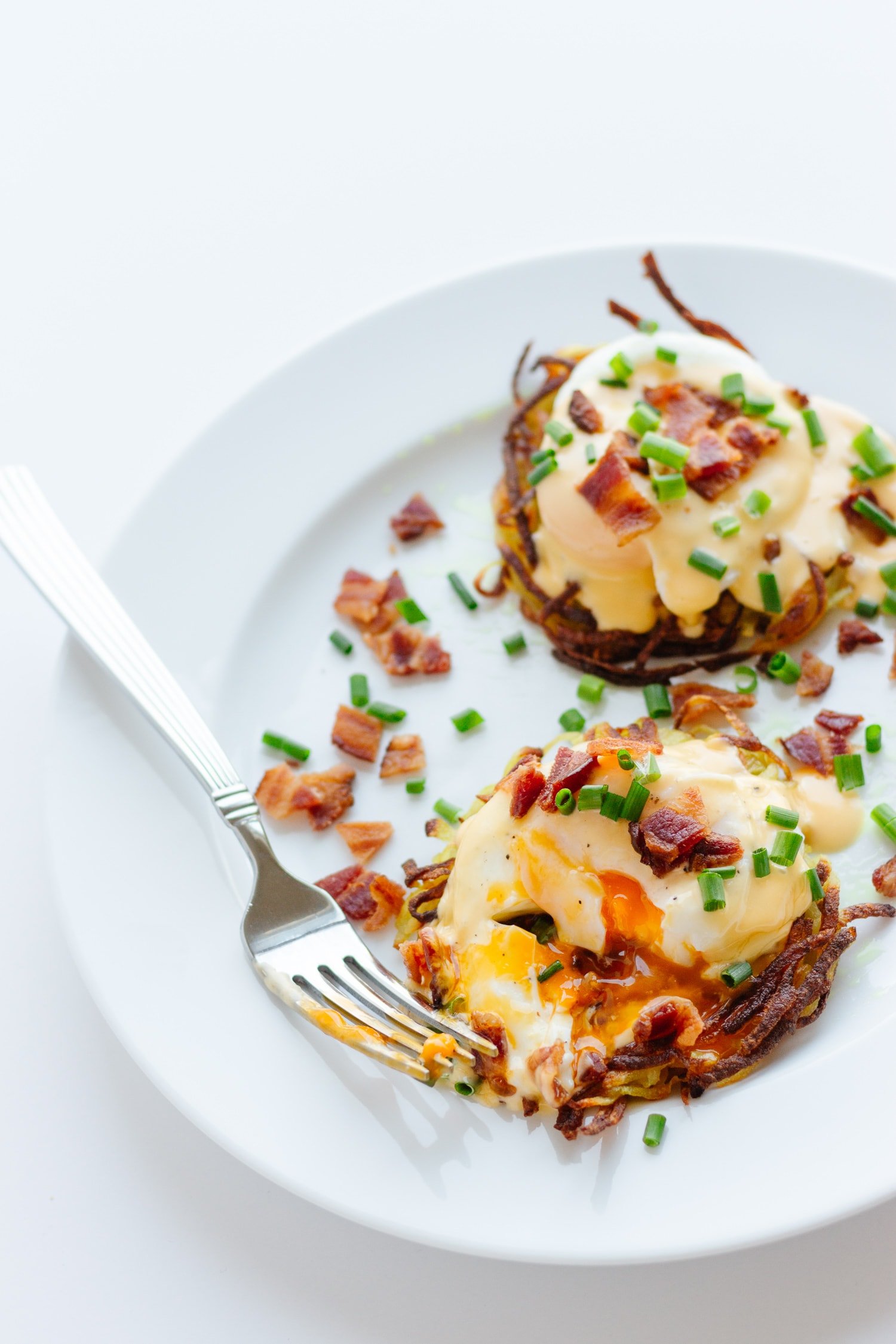 Variations
There are soooo many possible variations to this dish. Just think of it as "Rosti with Poached Eggs + Toppings". Here are a few possibilities:
Keeping with the eggs Benedict style, you could also use shaved ham or cooked back bacon under the poached egg instead of the chopped bacon on top. Top it off with the hollandaise sauce and chopped chives.
Smoked salmon with the hollandaise sauce and chopped dill
Cooked greens like spinach with the hollandaise sauce
Or skip the hollandaise sauce and try these variations on top of the rosti and poached egg:
Feta or goat cheese, toasted pine nuts, fresh herbs
Arugula (rocket), feta, toasted pine nuts, roasted red peppers or diced tomatoes
Bacon, cheddar and baby spinach
Roasted or steamed asparagus, parmesan shavings, toasted pine nuts
Sauteed mushrooms, bacon and cheddar
More Special Brunch Ideas
Print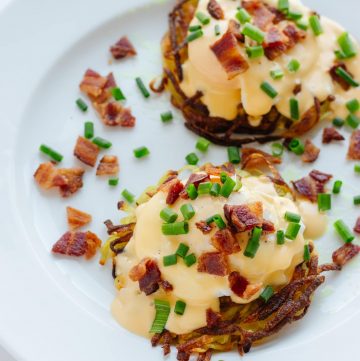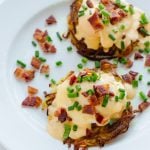 Rosti Eggs Benny
Author:

Vanessa | Maple + Mango

Prep Time:

15 min

Cook Time:

30 min

Total Time:

45 min

Yield:

12

rosti

1

x

Category:

Breakfast
---
---
---
---