This gift guide features 10 eco-friendly gifts for a more sustainable kitchen. These sustainable gift ideas are perfect for Christmas, birthdays or any other special occasion.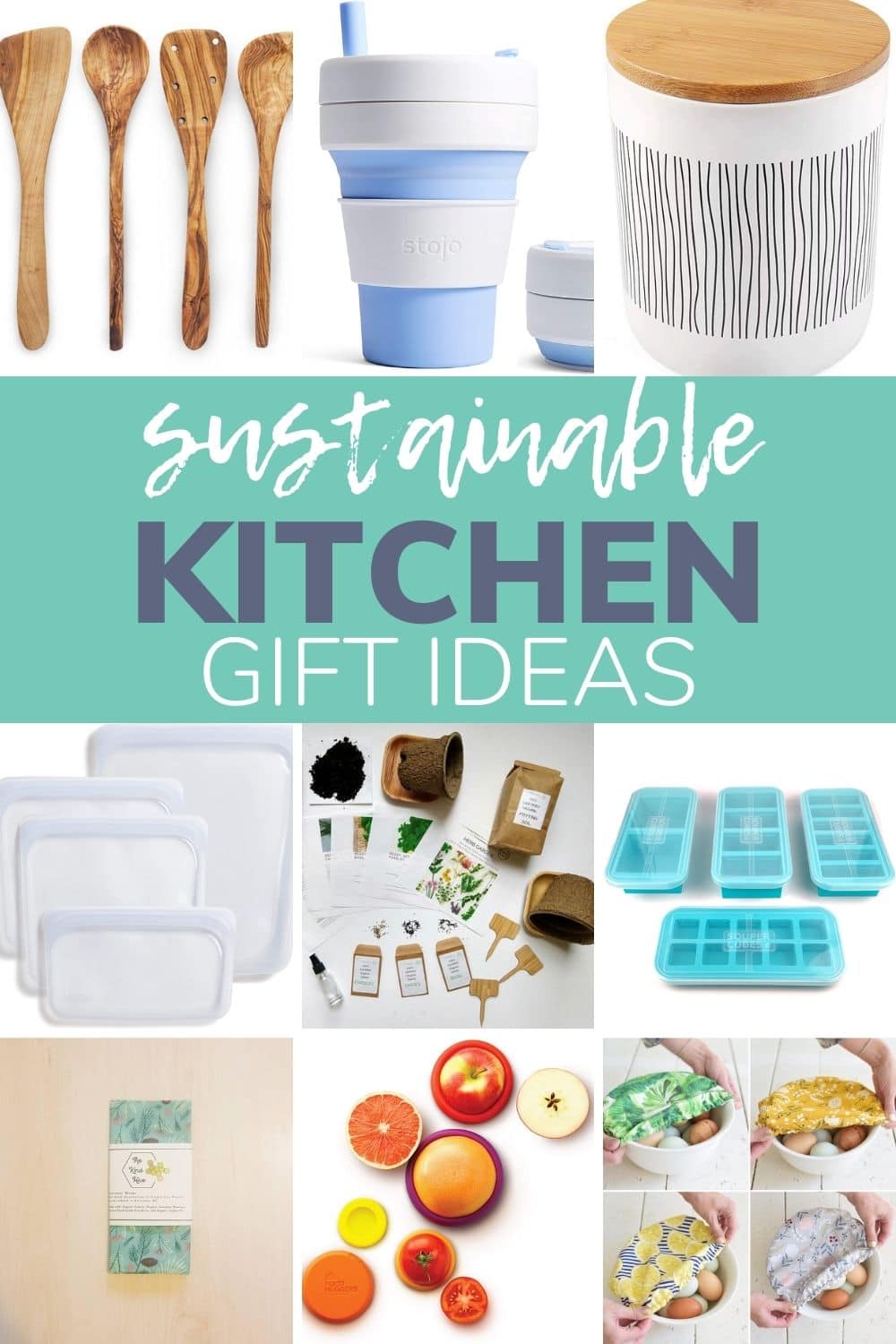 Looking for a practical gift that is useful and eco-friendly? These sustainable kitchen gifts are a great choice and suitable for just about any occasion: Christmas gifts, birthdays, Mother's Day, Father's Day, etc. Many of these products would also make great stocking stuffers. Or you could combine a few of the items to create a themed gift box.
What are sustainable gifts?
Sustainable gifts can be items that replace single use items with a reusable alternative (eg. reusable straws) or an item that is produced sustainably (e.g. products from companies that focus on environmentally friendly practices). Some other examples of sustainable gifts include food gifts (consumable so there is low waste) and experience gifts (e.g. memberships, event tickets, spa or dinner certificates, etc.)
This gift guide focuses mostly on items designed to replace single-use plastics in the kitchen with sustainable, reusable alternatives.
Sustainable Kitchen Gifts
Here are 10 sustainable gift ideas for the kitchen. These make great gifts for the foodie or anyone looking to make their kitchen a little more eco-friendly.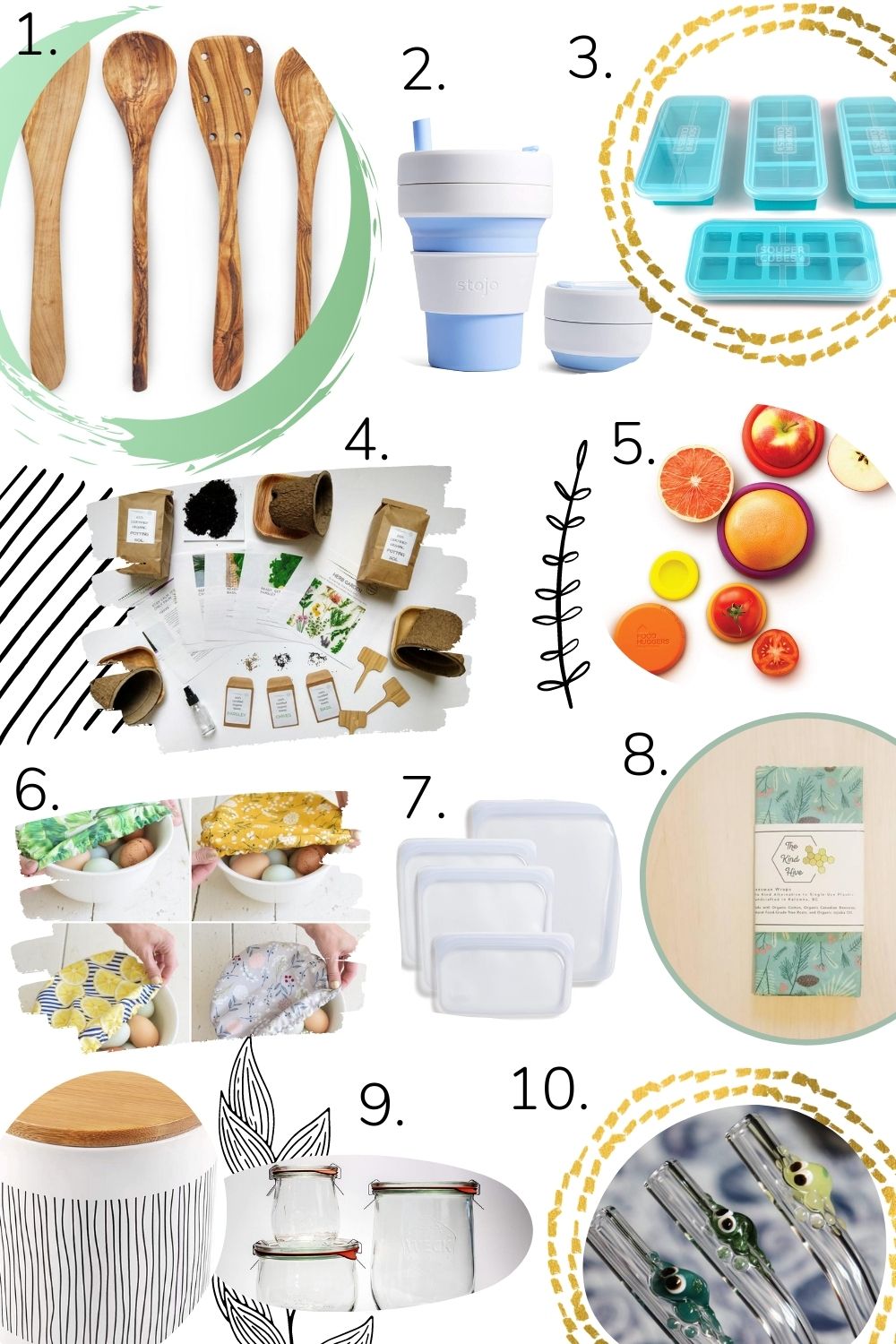 Wooden Cooking Utensils: Beautiful, elegant and functional. This handcrafted olive wood set would definitely be cherished by anybody who loves to cook.
Stojo Collapsible Cup: This reusable coffee cup is perfect for hot and cold drinks, smoothies, etc. The best part is that it collapses and folds up which makes it easy to take with you on the go. Available on Amazon and Well.ca in a variety of colours.
Souper Cubes: Perfect for freezing and storing all types of freezer friendly foods. Available in a variety of sizes for perfect portions that easily pop out! Buy them directly from the Souper Cubes website or Amazon.
Organic Kitchen Herb Gardening Kit: Everything you need to start growing a kitchen herb garden in one box. Fresh herbs add so much flavour!
Food Huggers: These fun reusable covers help protect and preserve your leftover fruit and veggies.
Fabric Bowl Covers: A simple, sustainable and super cute swap for single-use plastic wrap.
Stasher Bags: These high quality silicone storage bags are amazing and make an excellent swap for single-use plastic storage bags. They make an excellent gift especially when packed full of some goodies! Available on Amazon and Well.ca in a variety of colours and sizes.
Beeswax Wrap: These are another great alternative to plastic wrap. I love The Kind Hive beeswax wraps – they work really well. OLSEN + OLSEN also has a ton of cute designs to choose from.
Glass Jars: These decorative ceramic canisters would be great for dry food storage and these beautiful Weck jars are super versatile (suitable for canning, dry and wet food storage). High quality jars and decorative canisters are a great alternative to plastic containers but they can be a little pricey so they make a great gift. Make it super fun by also filling them with something yummy!
Reusable Straws: No need for single use plastic straws when there are so many wonderful reusable straw options out there! Make it a super special gift by purchasing one of these cute handcrafted glass straws.
There you have it – 10 amazing eco-friendly gift ideas for a more sustainable kitchen!
Looking for more kitchen gifts for the foodie? Then check out these 20+ Gift Ideas That Foodies Will Love (includes useful kitchen items at all price points and some fun edible food gift ideas) or these 12 Foodie Gifts For Men (for the guy who loves to cook or grill).
⬇ PIN it for later! ⬇