This gift guide features 27 amazing gift ideas for the foodie in your life. Everything ranging from kitchen gadgets under $50 to kitchen splurges to some great edible food gift ideas. Something for everyone and any occasion!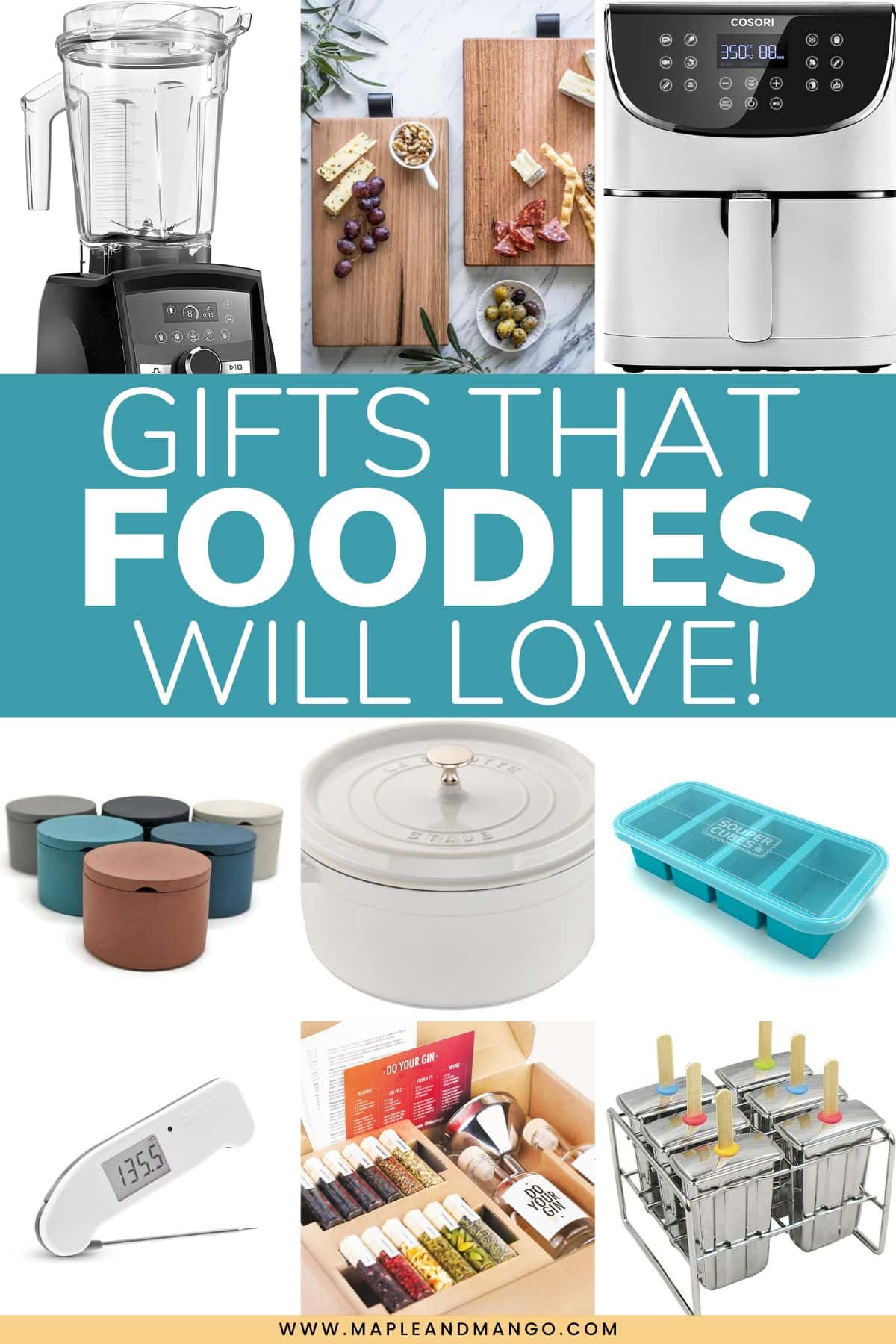 Looking for some gift ideas for the foodie in your life? Then you are in the right place!
You are sure to find something they will love in the lists below! These ideas span all price ranges. Everything from inexpensive gadgets to kitchen splurges. And let's not forget some fun edible food gift ideas as well!
These foodie gift ideas are perfect for any occasion. Christmas, birthdays, Mother's Day, Father's Day … you name it!
27 Gift Ideas For The Foodie
So… what is a good gift for a foodie or someone who loves to cook? Make them smile by treating them to something they can play with in the kitchen or a fun edible food gift. The ideas below are all great options to make the foodie in your life feel special.
Gifts For Foodies: Kitchen Gadgets Under $50
These kitchen gadgets are super useful and all under $50 (well except one). These are inexpensive gift ideas that any foodie would love. Many of these items would also make great stocking stuffers or you could also combine a few to create a fun gift box.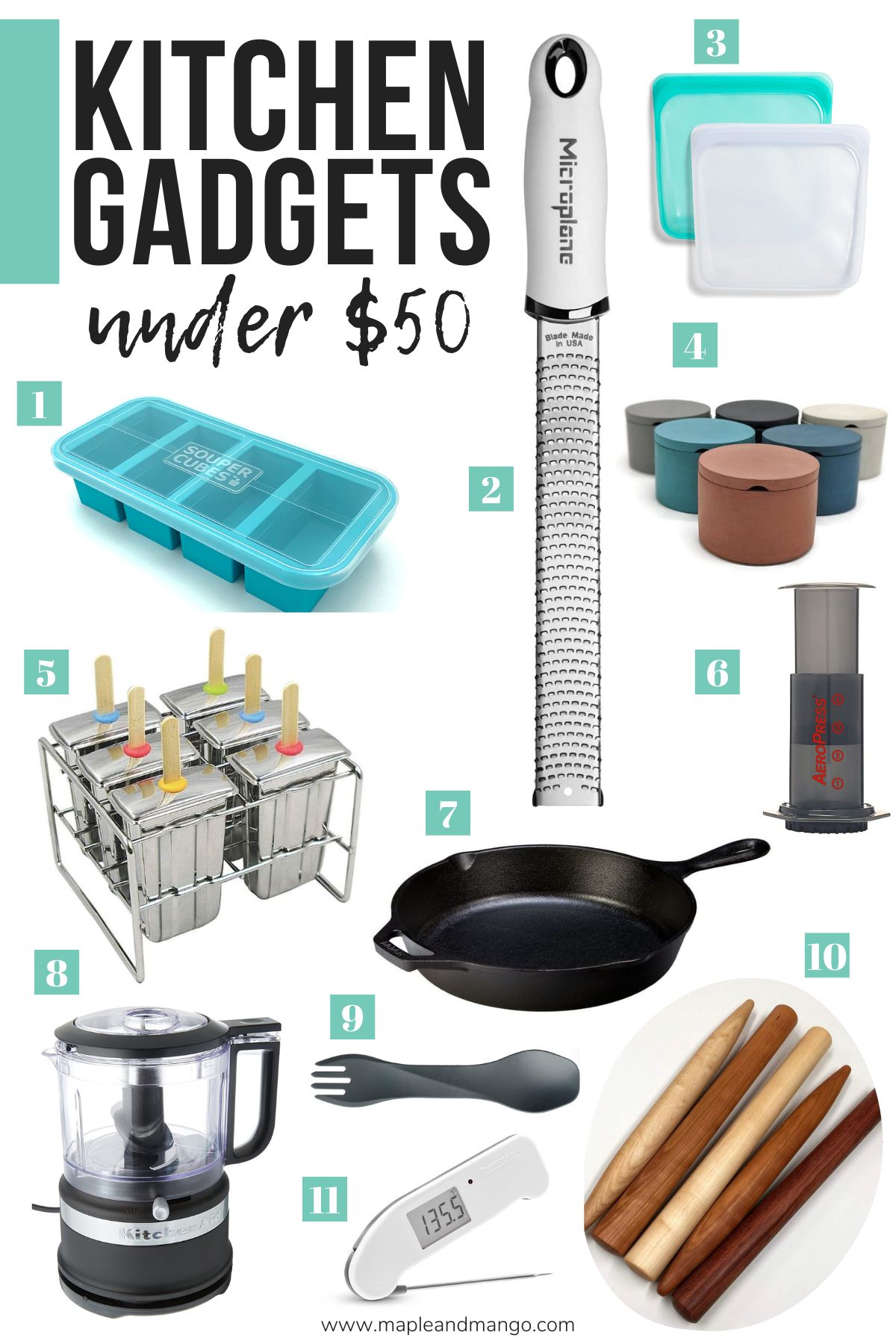 Souper Cubes: Perfect for freezing and storing all kinds of food. They come in a variety of sizes and frozen food pops out easily. Find them on the Souper Cubes website or Amazon.
Microplane Zester Grater:

Such an amazing tool to have in the kitchen. Perfect for zesting citrus or quickly grating some parmesan, ginger or garlic.

Stasher Bags: These silicone reusable storage bags are the best. Fill them with some treats for a fun gift idea. Find them in a variety of sizes and colors on Amazon and Well.ca.
Salt Cellar: These concrete salt cellars are so modern and sleek looking with their minimalist design. Perfect for storing fancy salts, sugar or other spices.
Stainless Steel Popsicle Mold: This is my absolute favorite popsicle mold! Find out why in this post on the best popsicle molds. This is a fun gift idea for anybody who loves making homemade popsicles.
Aeropress: A fantastic portable coffee and espresso maker. My husband uses this daily! Pair it with a bag of coffee beans from a local coffee roaster for a great gift for the coffee lover!
Lodge Cast Iron Skillet: Such a powerhouse in the kitchen and must-have kitchen essential for any foodie.
Mini Food Chopper: The perfect size for everyday prep in the kitchen.
humangear GoBites Uno: A great little stocking stuffer. I love this thing! It is basically the ultimate spork and a must have piece of lunch gear.
French Rolling Pin: This would make a beautiful gift for someone who loves to bake.
Thermapen One: So this one is not under $50 but it is a must-have gadget for anybody who loves to cook or grill. Fast and accurate – this instant read thermometer is the best!
Gifts For Foodies: Kitchen Splurges
These kitchen splurges are high quality items that will be enjoyed for years to come. All of the ideas on this list would make very special gifts for foodies who love to cook.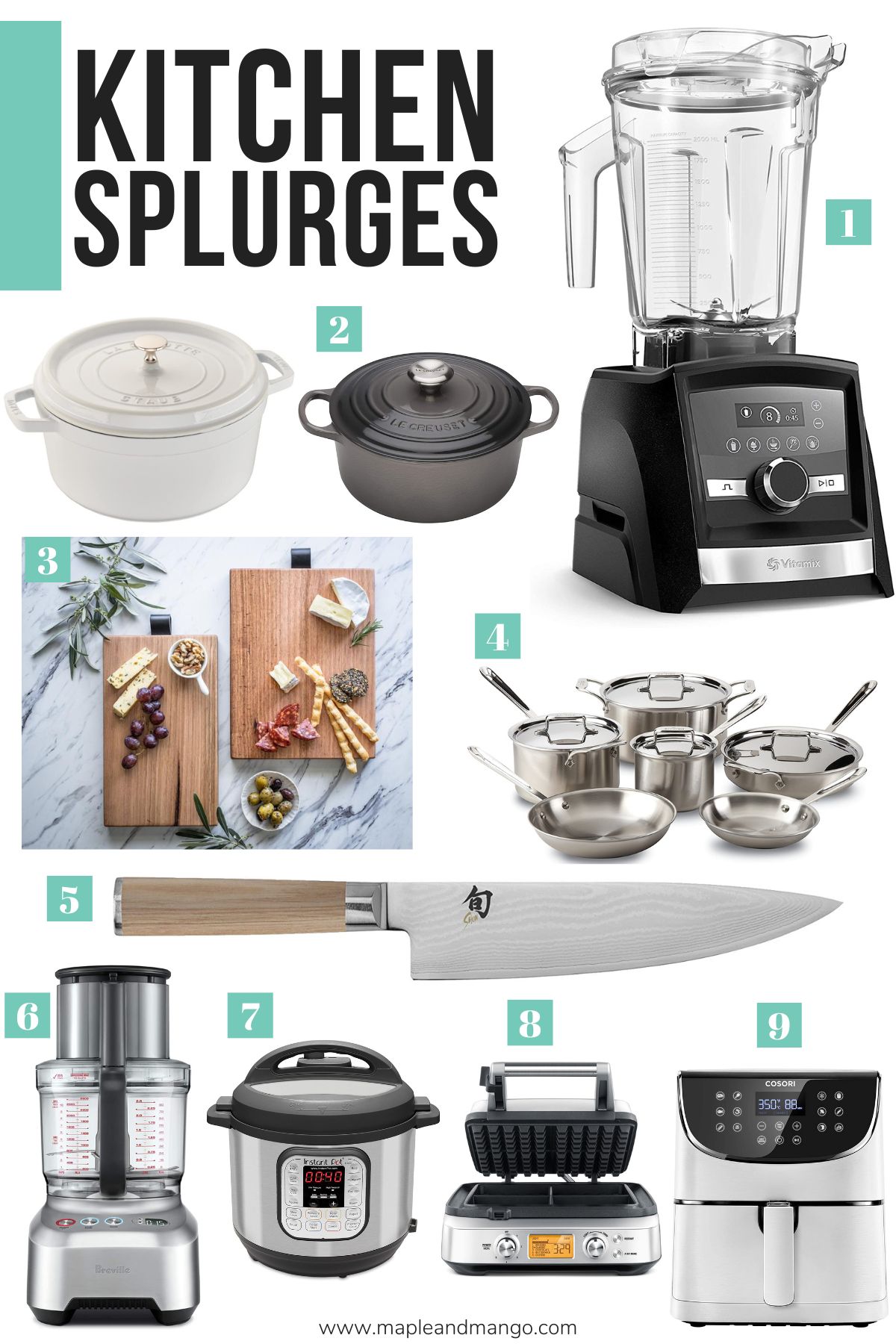 Vitamix A3500 Blender: An incredible dream blender – so powerful and versatile. Any foodie would love to have one of these displayed on their kitchen counter.
Enamelled Cast Iron Dutch Oven: Both the Staub Cocotte and Le Creuset Dutch Oven are beautiful timeless pieces. This high quality cookware can last for generations and will be cherished by those who love to cook.
Handcrafted Charcuterie Board: The perfect gift for those who love to create beautiful charcuterie, cheese or canape boards.
All Clad Cookware Set: This high quality, stainless steel set of cookware is built to last a lifetime. Versatile for all your cooking needs, compatible with all cooktops and oven/broiler safe. A true powerhouse set!
Shun Chef's Knife: Good knives are essential in the kitchen and one this beautiful and special would truly make an incredible gift for any foodie.
Breville Sous Chef: I have tried a few different food processors in my life and the Breville Sous Chef is my absolute favorite. It truly is a sous chef in the kitchen!
Instant Pot: These have become quite popular for good reason! Just in case the foodie on your list doesn't already have one, they are an incredibly versatile kitchen appliance.
Breville Waffle Maker: Make brunch dreams come true with this great gift for anybody who loves their waffles! I received one last Christmas and I couldn't be more in love with it. Makes 4 waffles at a time and has a bunch of great setting options and timers.
Cosori Air Fryer: This model is stylish with large capacity. A fun addition for the kitchen appliance lover!
Gifts For Foodies: Food Gifts
Edible food gifts are a great idea for everyone. After all, who doesn't love food? There are so many options! You could gift some homemade treats like this Pomegranate + Pistachio Dark Chocolate Bark or some delicious cookies like these Crescent Cookies or these German Coconut Macaroons. Or check out some of the fun food gifts I found below…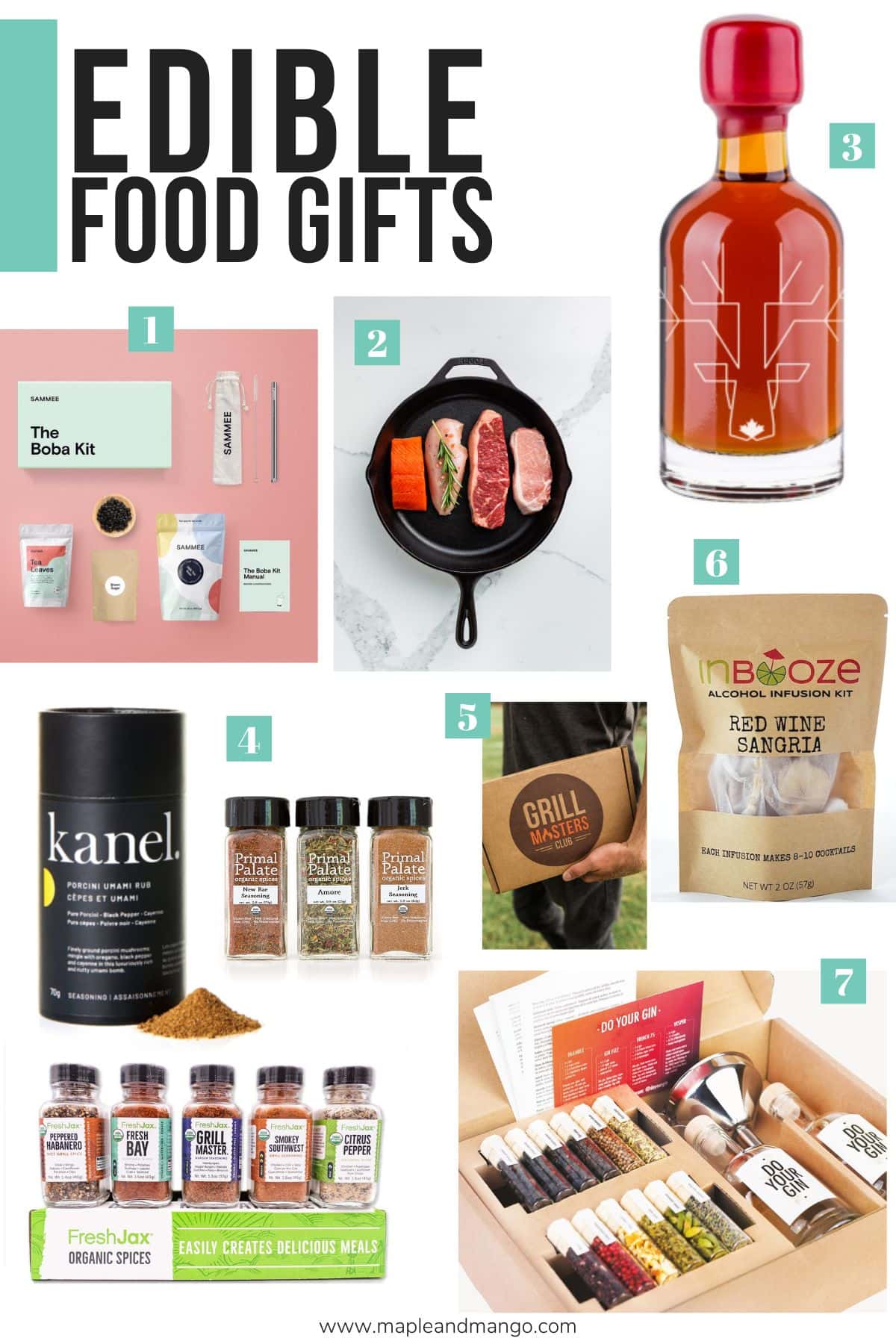 Milk Tea Leaves Boba Kit: This beautifully packaged boba kit includes everything you need for an authentic boba experience.
High Quality Meat Box: A box filled with quality meat and seafood from ButcherBox or truLOCAL would make a great gift for the meat lover or grill master in your life.
Escuminac Maple Syrup: This pure organic Canadian maple syrup is absolutely delicious and the branding is on point! Just look at that gorgeous bottle! Pair it with some other breakfast items or perhaps a homemade pancake mix for a fun breakfast themed gift box. Find it on Amazon and Well.ca.
Spice Blends: Quality spice blends are always appreciated by those who love to cook. Here are a few great options I found online: 1) FreshJax Organic Spice Gift Sets (available in a few different varieties), 2) Primal Palate Organic Spices – Food Lovers Pack, 3) Kanel Spice Blends (lots of unique blends like Porcini Umami Rub and Summer Black Truffle Salt to name a few)
Grill Masters Club Subscription Box: The perfect gift for the person who loves to grill! Each monthly box contains 4-5 grilling and BBQ products from award-winning suppliers, including: barbecue sauces, dry rubs, marinades & hot sauces and other grilling surprises.
Cocktail Infusion Kit: This is a fun gift idea for the cocktail lover. Each handmade packet contains a pouch filled with dehydrated fruits, veggies, spices and herbs to infuse your alcohol. Each kit infuses enough for 8-10 cocktails. Lots of fun flavors to choose from!
Gin Making Kit: Such a fun and unique gift idea that is beautifully packaged and ready for gifting! Check out the other options in the Craftly's etsy shop as well! They have DIY whiskey, vodka and tequila making kits too. Also a hot chili sauce making kit.
I hope this gift guide gave you some great ideas for all the foodies on your list!
Looking for more gift ideas? Then check out some of these other gift guides…
⬇ PIN it for later! ⬇