These healthy summer mocktail recipes are a fun way to stay hydrated this summer. Refreshing, delicious and made with real food ingredients – these are non-alcoholic summer drinks that everybody can enjoy!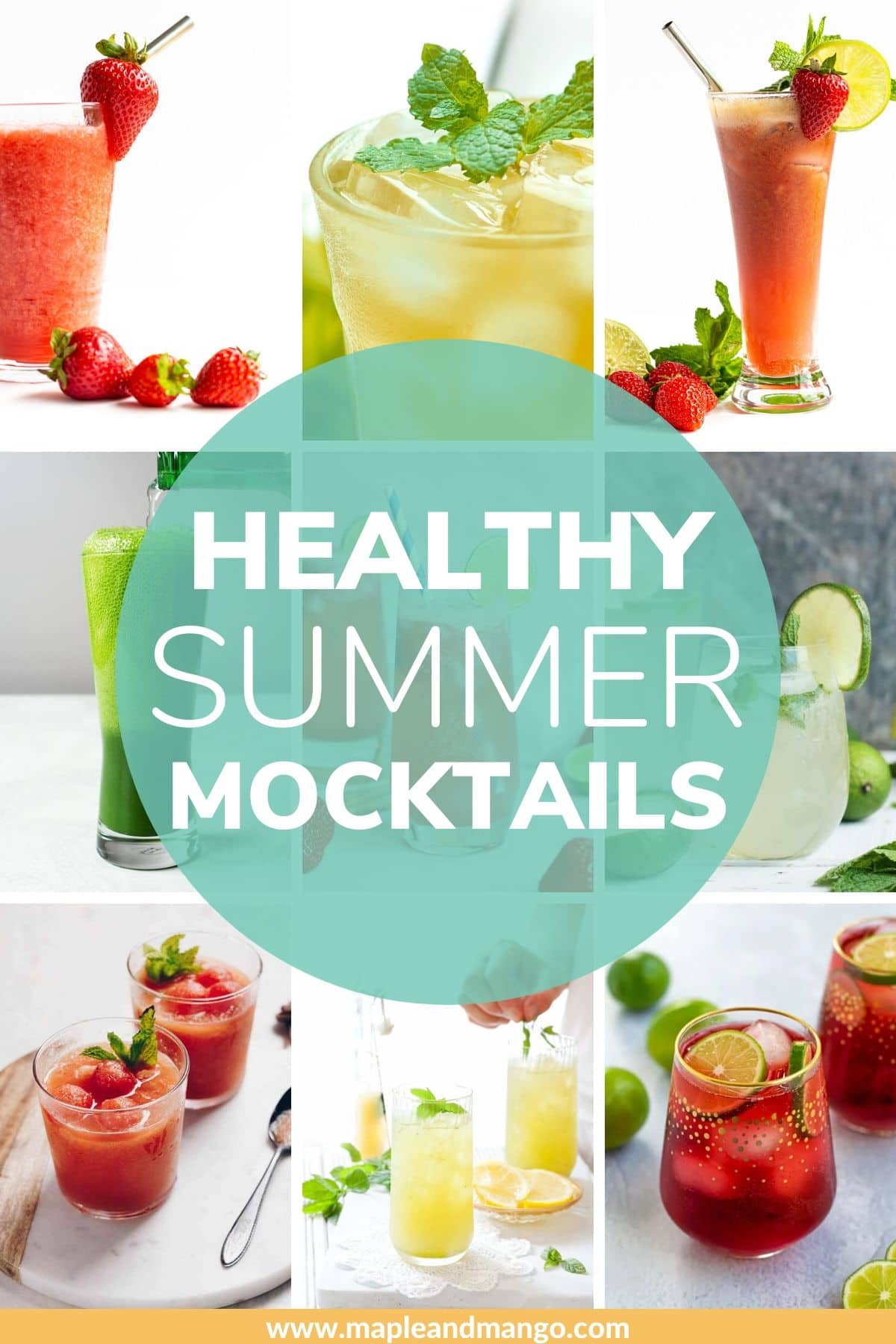 Nothing says summer like a cold refreshing drink! Beat the heat with these fun mocktails featuring healthy, real food ingredients.
Most of the fun summer drinks out there tend to be cocktails. I love a great summer cocktail from time to time but why should cocktails have all the fun? These 12 healthy summer mocktails are alcohol-free drinks so they can be enjoyed by everybody! They are delicious, refreshing and perfect for hot summer days…or in the middle of winter when you want to pretend that you are on a hot tropical island.
What Is A Mocktail?
A mocktail is a non-alcoholic mixed drink. It is basically a cocktail without the alcohol. Also known as a virgin drinks, virgin cocktails or non-alcoholic cocktails.
Are Mocktails Healthy?
It depends! Although mocktails are alcohol-free, they still might include mixes loaded with artificial flavours, colours and tons of refined sugar. However, there are plenty of healthy options out there as well like the 12 healthy summer mocktails that you need to check out below! Not only are they delicious but these recipes also feature healthy ingredients like fruits, herbs, spices, teas and natural sweeteners.
Make It Fun – Dress Up Your Drink!
Have some fun with your summer mocktails – dress them up a little to make them feel special! Garnish them with some fruit, serve in a nice cocktail glass or trendy mason jar and accessorize with a fun straw or cocktail umbrella. Check out some of the fun summer drink accessories that I found on Etsy.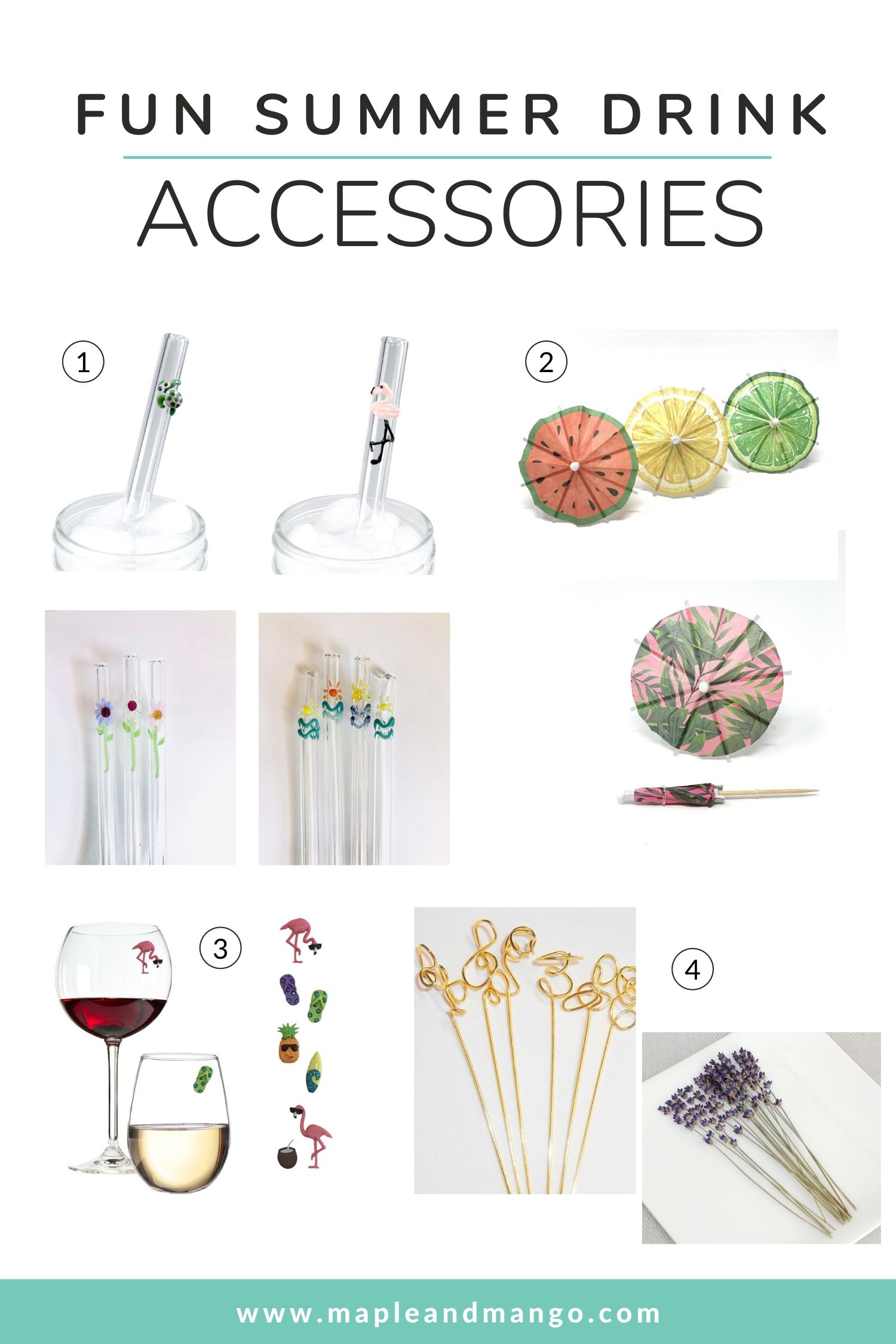 12 Summer Mocktail Recipes You Have To Try
Let's move on to the mocktails! Here are 12 non alcoholic summer drinks that you need to try! Super refreshing, delicious and made with healthy ingredients. Perfect for those hot summer days! Or when you want to pretend that it is a hot summer day.😉 Which one will you try first?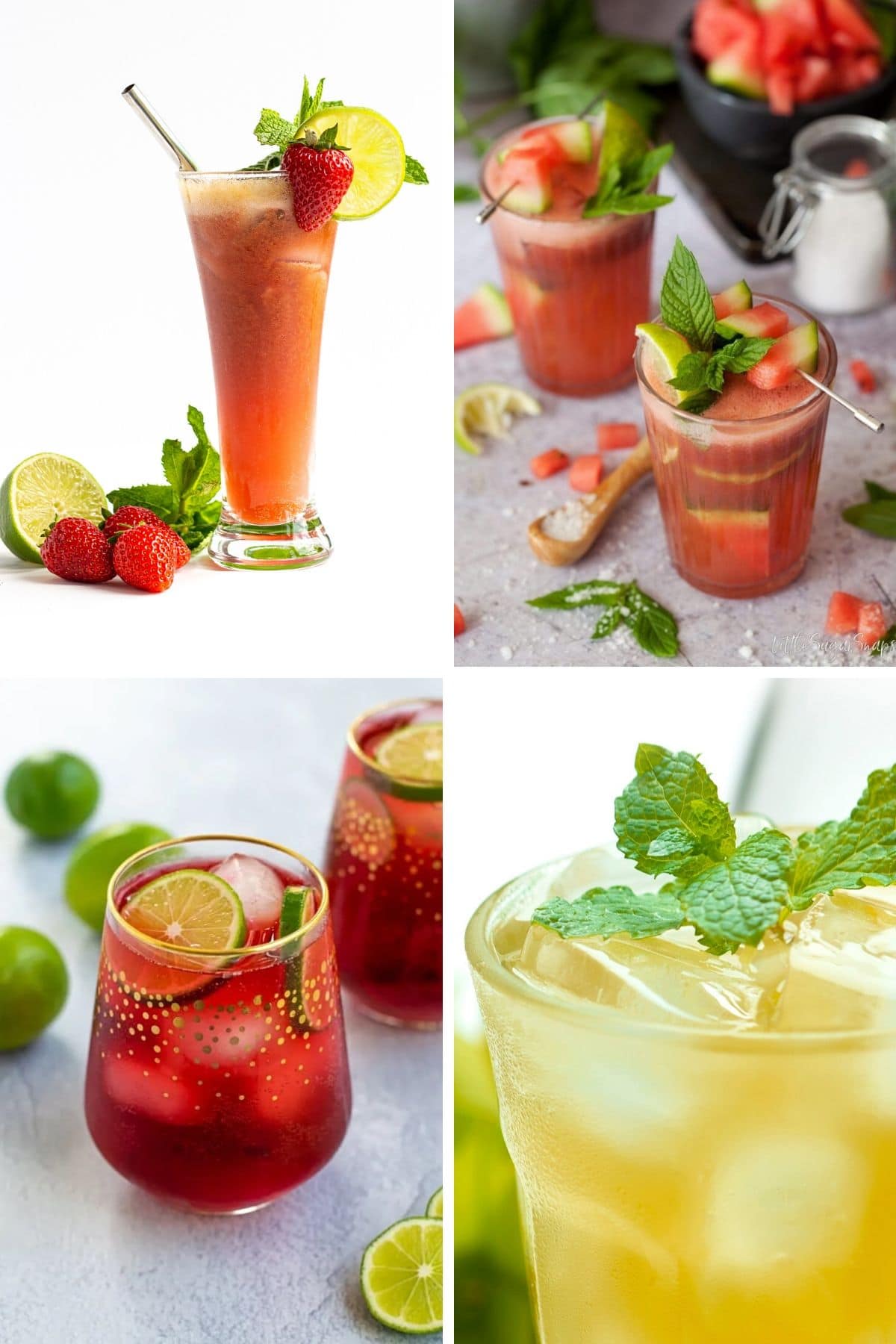 Strawberry Mojito Mocktail by Maple + Mango: This Strawberry Mojito Mocktail is a delicious, light and refreshing drink recipe made with a few healthy, fresh ingredients. Perfect for hot summer days!
Refreshing Salted Watermelon Mint Cooler by LittleSugarSnaps: Fruity yet floral, this Salted Watermelon Mint Cooler is a wonderfully refreshing, adventurous and healthy drink to sip on throughout summer.
Refreshing Hibiscus Iced Tea Sparkler by The Schmidty Wife: Super refreshing and made with just 3 simple ingredients – this non-alcoholic summer drink will be your new go-to!
Honey Ginger Limeade by Babaganosh: Enjoy this delicious and refreshing Honey Ginger Limeade on a hot day! Perfect for summer cookouts and picnics.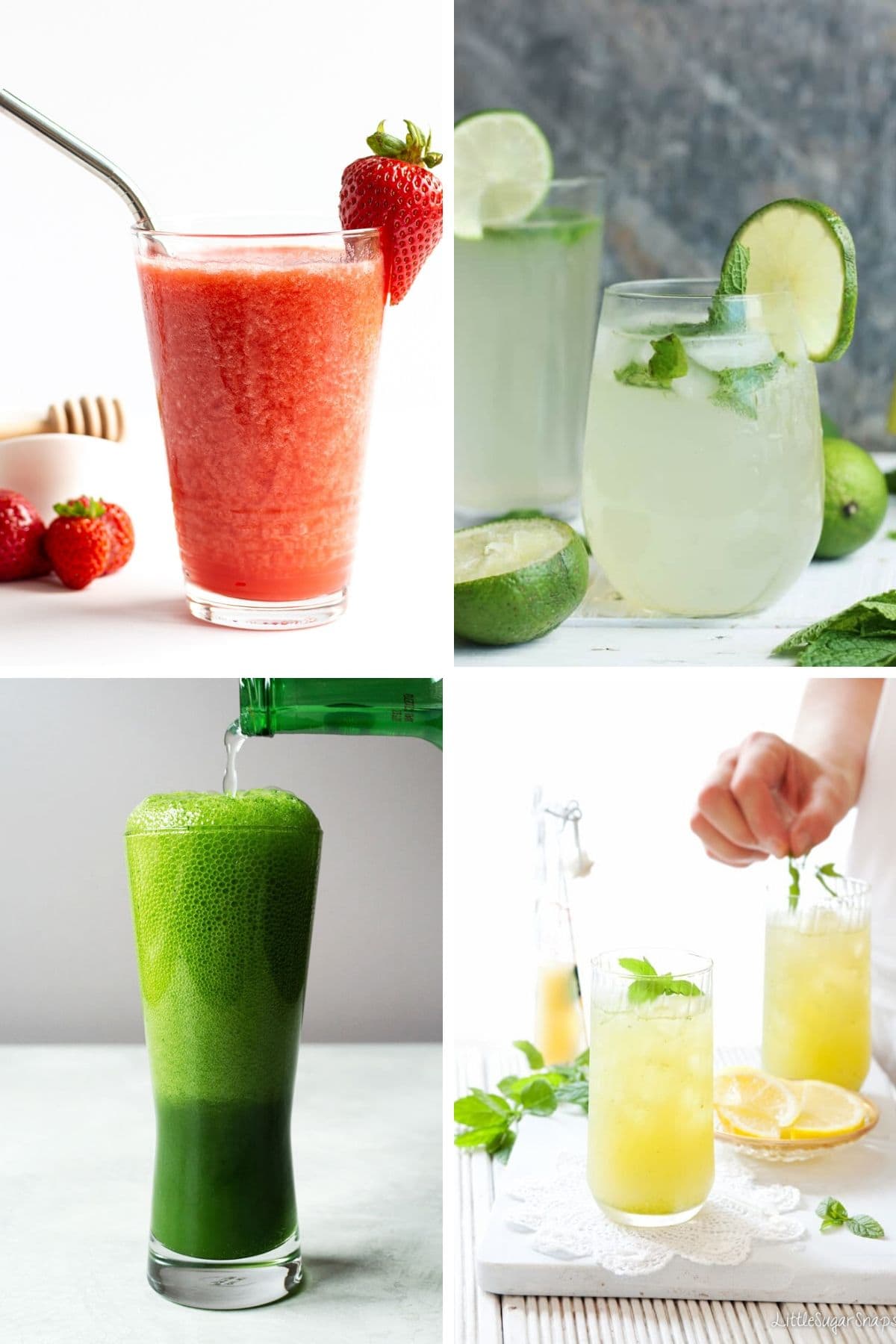 Strawberry Slushie by Maple + Mango: This refreshing Strawberry Slushie recipe is super easy to make with just 4 simple ingredients and a blender. Perfect for hot summer days, kid friendly and made with healthy real food ingredients that you can feel good about!
Virgin Mojito Recipe by Sustainable Cooks: A refreshing mix of lime and mint, this Virgin Mojito Recipe will be your new favorite drink! This non-alcoholic mojito recipe will be a hit with kids and adults alike.
Matcha Green Tea Ginger Beer by Oh, How Civilized: A non-alcoholic version of matcha beer using fermented ginger beer. It's surprisingly delicious and quite refreshing!
Apple Lemon Mint Fruit Cooler by LittleSugarSnaps: This Fruit Cooler is a simple blend of apple juice, lemon juice and fresh mint. It is fresh, fruity, tangy and amazingly thirst quenching.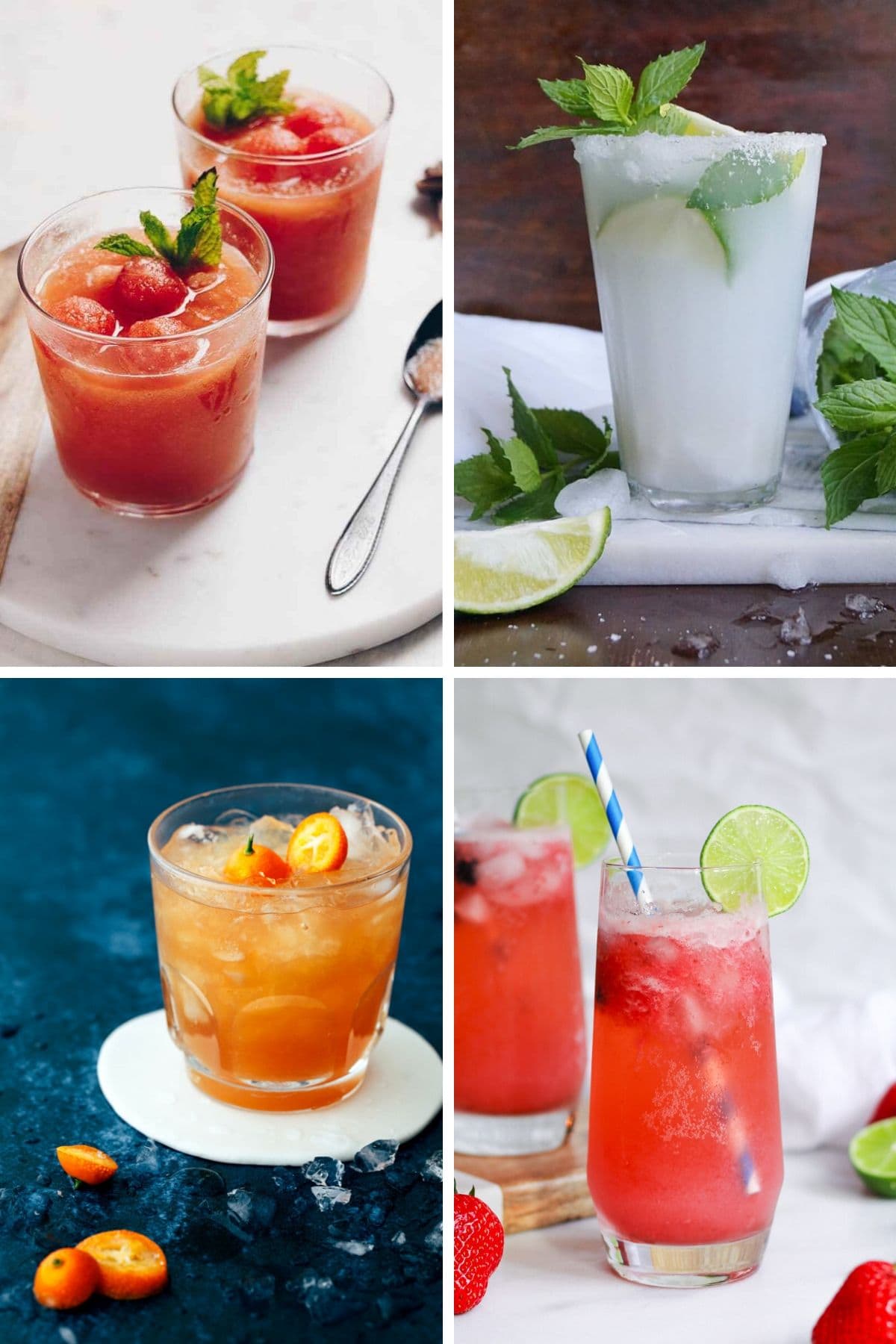 Watermelon Peach Mocktail by I Heart Umami: Three ingredients and no added sugar. This watermelon peach slush drink is the perfect way to stay hydrated all summer long.
Coconut Mojito Mocktail by Cook At Home Mom: This Coconut Mojito Mocktail recipe is lightly sweet, rich, bubbly, and oh so refreshing!
Earl Grey Mocktail With Grapefruit And Honey by Kelly Neil: This Earl Grey mocktail is a perfect sipper when you don't feel like drinking alcohol, yet want something a bit fancier than water or iced tea.
Easy Virgin Strawberry Margarita by The Banana Diaries: These healthy virgin strawberry margaritas are the perfect drink for summertime! Easy to make and low in sugar.
Looking for healthy summer cocktail recipes? These mocktails can all be easily transformed into a cocktail by simply adding in some alcohol. Super versatile! Or you can go check out these 30+ Refreshing Healthy-ish Summer Cocktails.
I hope you enjoy these healthy summer mocktails! Which one will you try first?
⬇ PIN it for later! ⬇