Beat the heat with these refreshing summer cocktails featuring healthy-ish ingredients. Choose from over 30 delicious options – something for everyone!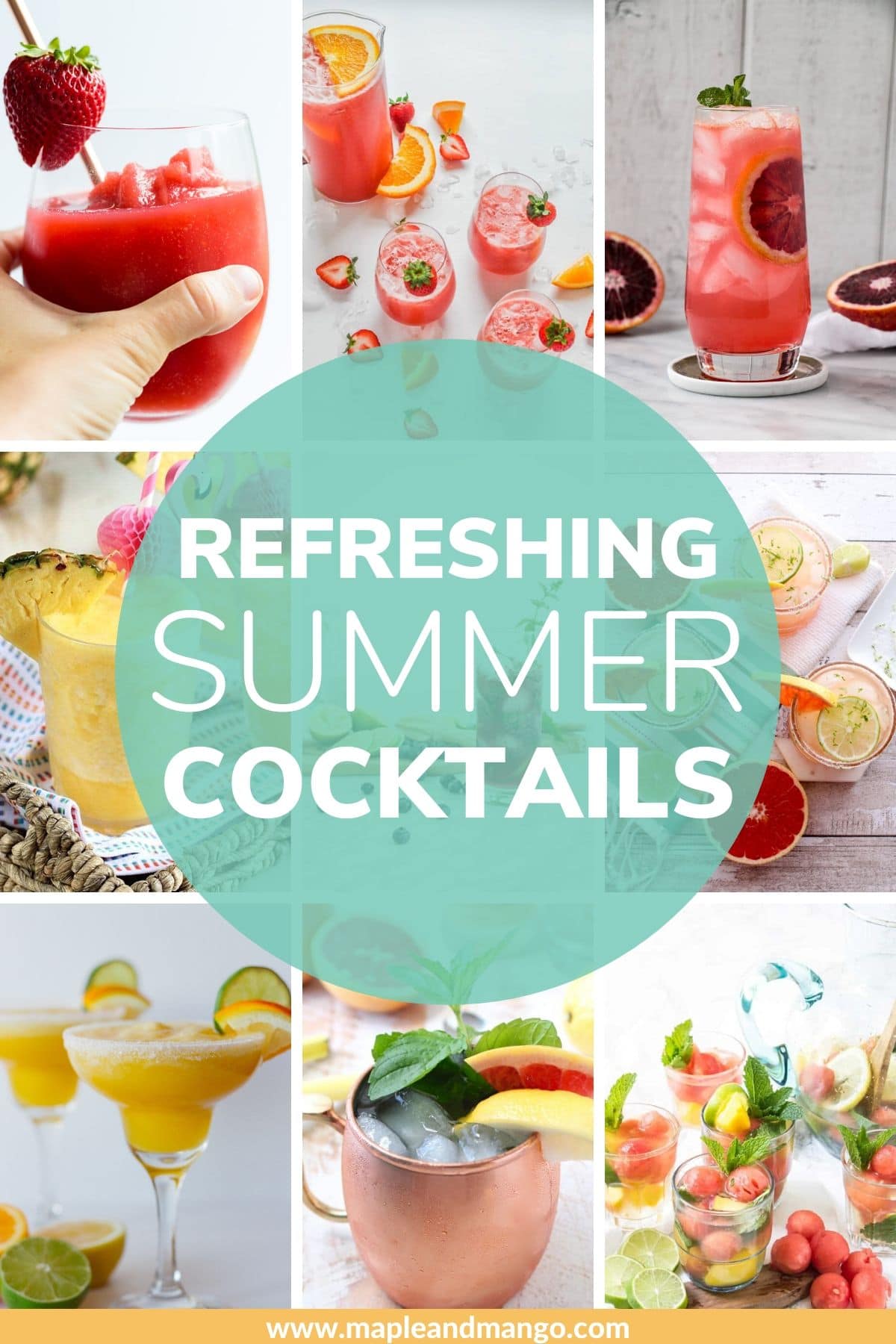 Summer and cold, refreshing cocktails go hand in hand. These cocktail recipes are:
Perfect for lazy summer afternoons, backyard BBQ's or entertaining.
Easy to make at home.
Made with real, fresh ingredients!
Looking for healthy-ish cocktail recipes to sip on all summer long? Look no further! Choose from over 30 refreshing options ranging from: wine slushies, summer sangrias, brunch drinks and plenty of refreshing summer cocktails featuring vodka, gin, rum or tequila. With so many amazing options, which one will you choose to make first?
Are These Cocktails Healthy?
These cocktail recipes contain simple, fresh ingredients and real flavours instead of mixes loaded with additives and way too much refined sugar. As far as cocktails go, these are healthy options to enjoy all summer long! However, these still are alcoholic beverages which should be consumed in moderation. So let's just call them "healthy-ish" or "healthier versions of cocktails". If you prefer something non-alcoholic then check out these 12 Healthy Summer Mocktails.
Helpful Bar Tools
Here is a list of helpful bar tools for making cocktails at home. The specific equipment that you will need depends on the type of cocktail you are making.
Blender: A blender allows you to make all kinds of drinks including frozen ones. For the best results, you want a quality, high powered blender. These can easily achieve the slushy or smooth consistency you are after. This is the Vitamix model that I use and love.
Cocktail Shaker: Essential for cocktails that need to be "shaken not stirred". Added bonus – you look super cool using them and get an arm workout in as well!.
Muddler: Used in cocktails such as mojitos where you want to bash up ingredients like fruits and herbs in the bottom of the glass first. This releases their flavours into the drink.
Corkscrew and Bottle Opener: Essential for opening bottles that are not screwtop.
Pitcher: Comes in handy for sangria or cocktails that you want to make in larger batches.
Reusable Straws: Perfect for sipping on those cold summer drinks!
Drinkware: You can honestly use anything you have but it's fun to serve up your drinks in a variety of cocktail glasses, wine glasses and trendy mason jars.
Time for the good part now – let's make some summer cocktails!!
Wine Slushies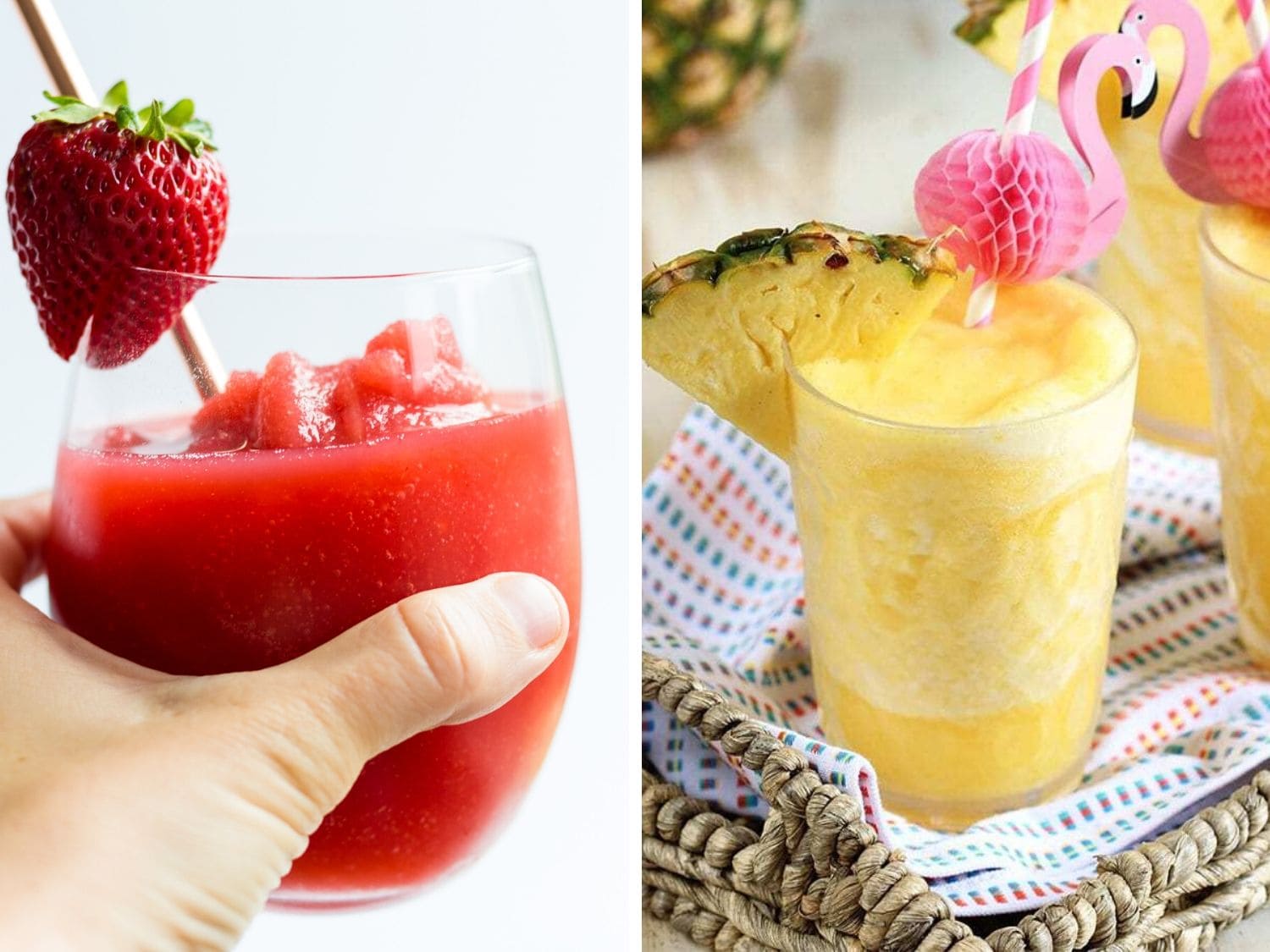 Strawberry Frosé by Maple + Mango: This Strawberry Frosé recipe is the perfect summer frozen cocktail. It is basically a cold, refreshing and delicious grown up slushie. The secret to the perfect slush texture here is to use an ice cream maker!
Pineapple Prosecco Wine Slushie by The Suburban Soapbox: Two ingredient wine slushies like these are MADE for summer!!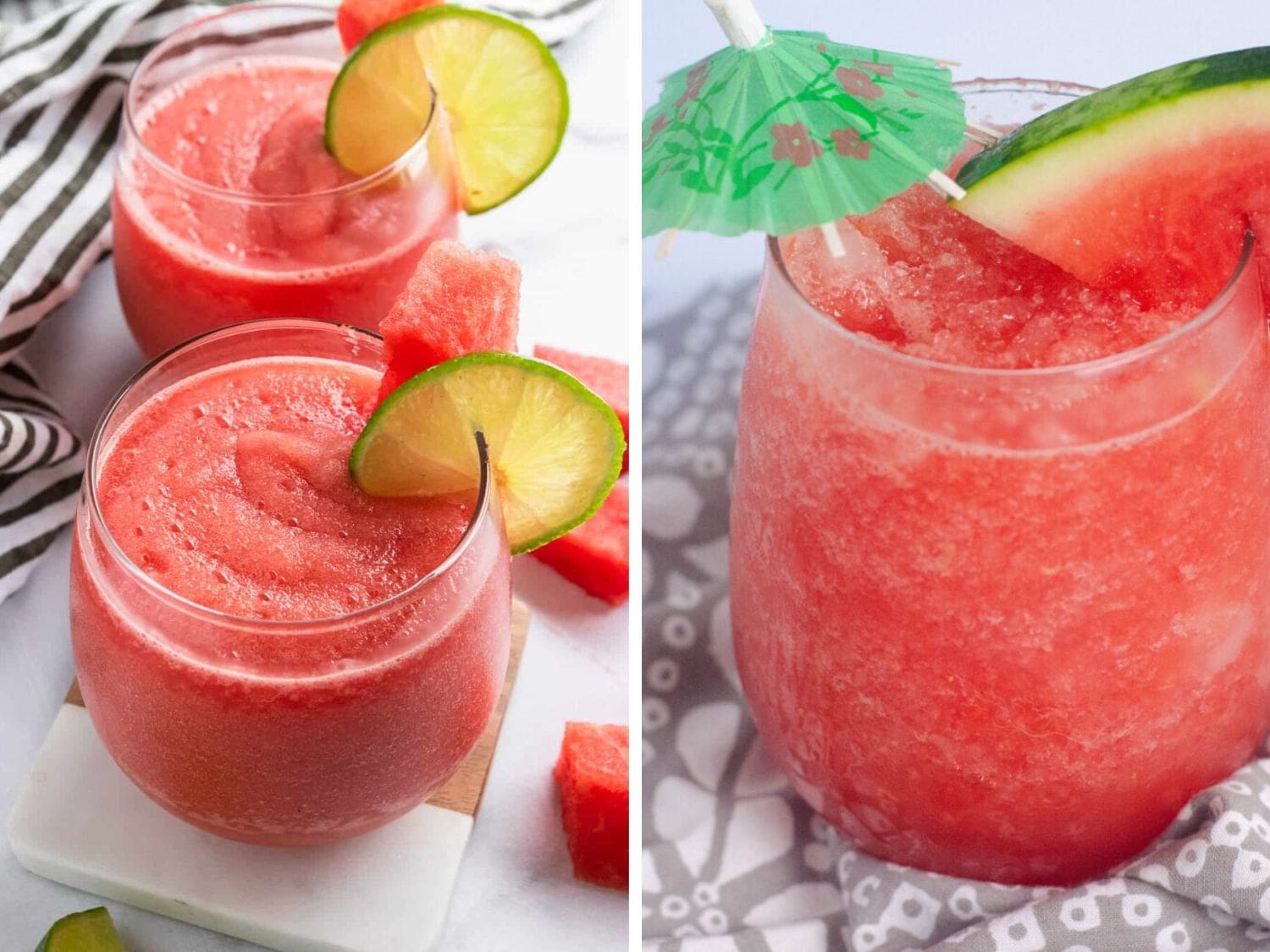 Watermelon Frosé by Lemons + Zest: Made almost entirely of fresh watermelon, this wine slushie is so refreshing and simple to whip together!
Watermelon Moscato Slushie by The Momma Diaries: Three ingredients and a blender is all you need for this yummy, frozen summer cocktail.
Summer Rum Cocktails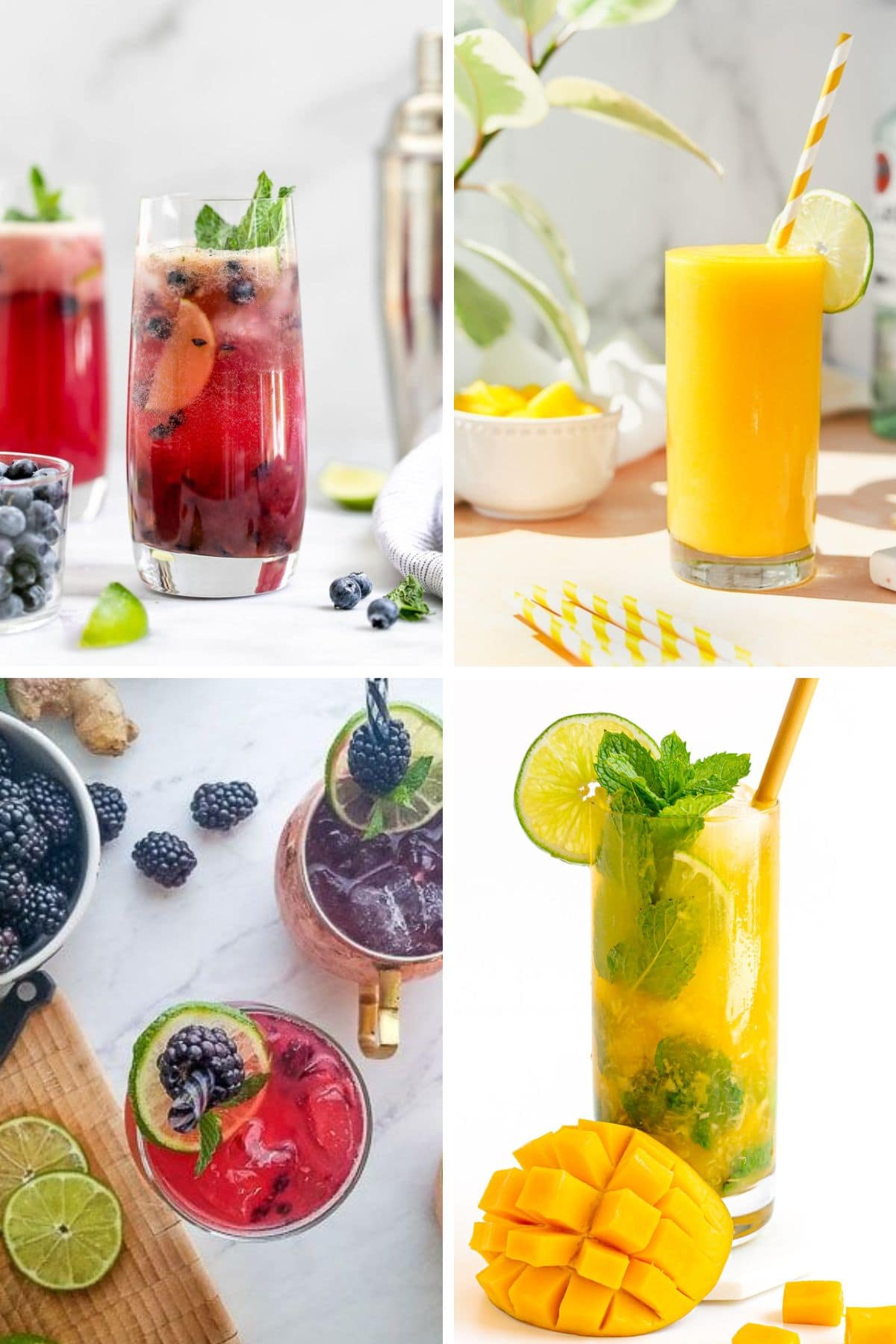 Fresh Blueberry Mojito by Eat With Clarity: This easy blueberry mojito is the perfect summer refreshment. It's easy to make, perfectly sweet, and made with a few simple ingredients.
Tropical Rum Slushie by Cooking in my Genes: Escape to the tropics with this Tropical Rum Slushie! This easy alcoholic drink has just 5 ingredients and is blended up for the perfect summer sip.
Ginger-Blackberry Twisted Mule Cocktail by Savoring Today: This delicious cocktail features a ginger honey shrub and sweet blackberries. A beautiful drink perfect for summer sipping.
Mango Mojito by Maple + Mango: A classic mojito with a fun tropical twist – this mango infused version is super refreshing and perfect for summer sipping!
Summer Gin Cocktails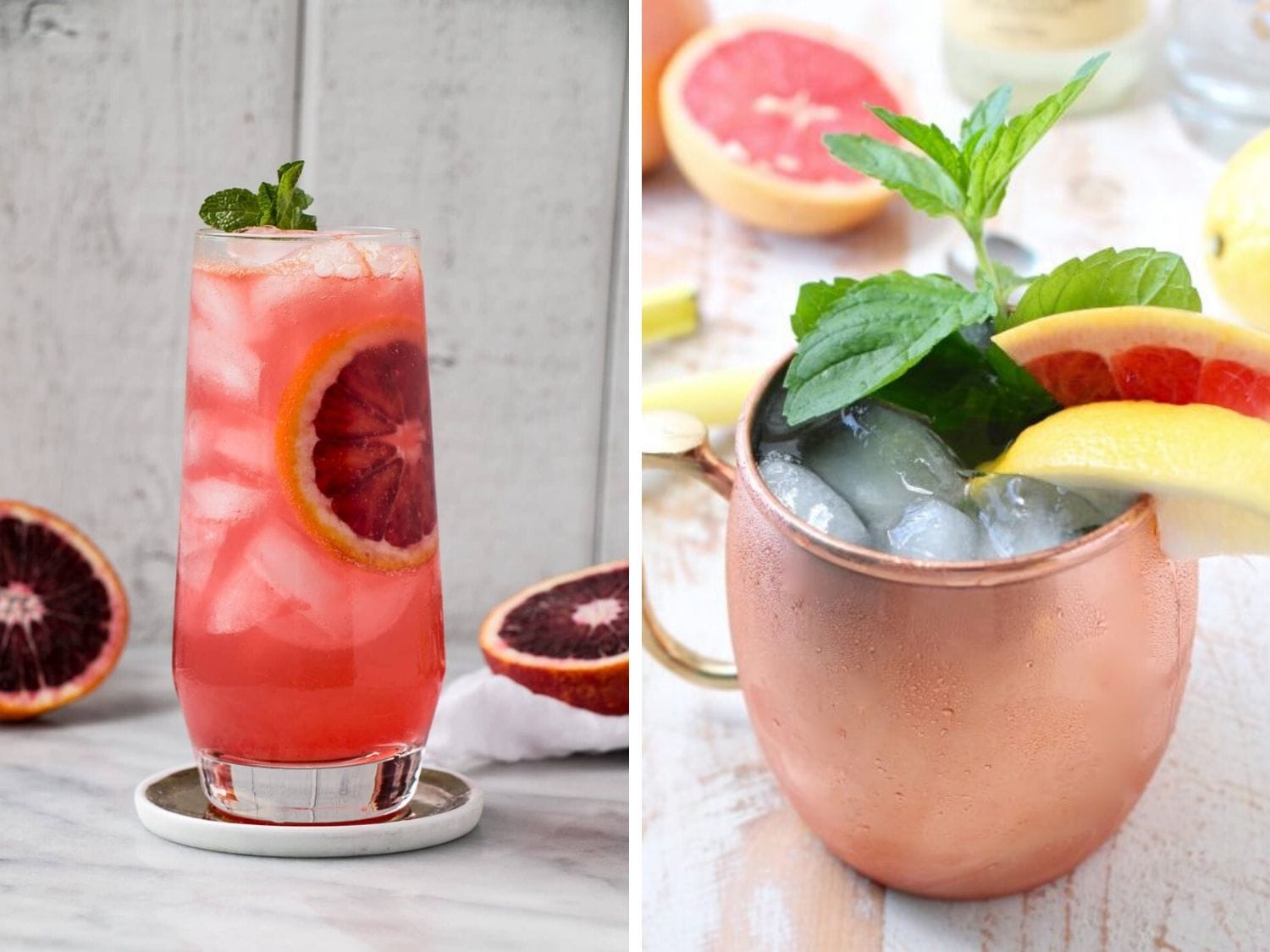 Blood Orange Gin and Tonic by My Kitchen Love: This Blood Orange Gin & Tonic puts a fun spin on a classic G&T! This gin and tonic recipe is bright and naturally pretty thanks to blood orange juice.
Sparkling Grapefruit Gin Mule by Whitney Bond: This delicious twist on a gin mule combines tart grapefruit juice with sweet sparkling wine for a refreshing cocktail that's also so easy to make!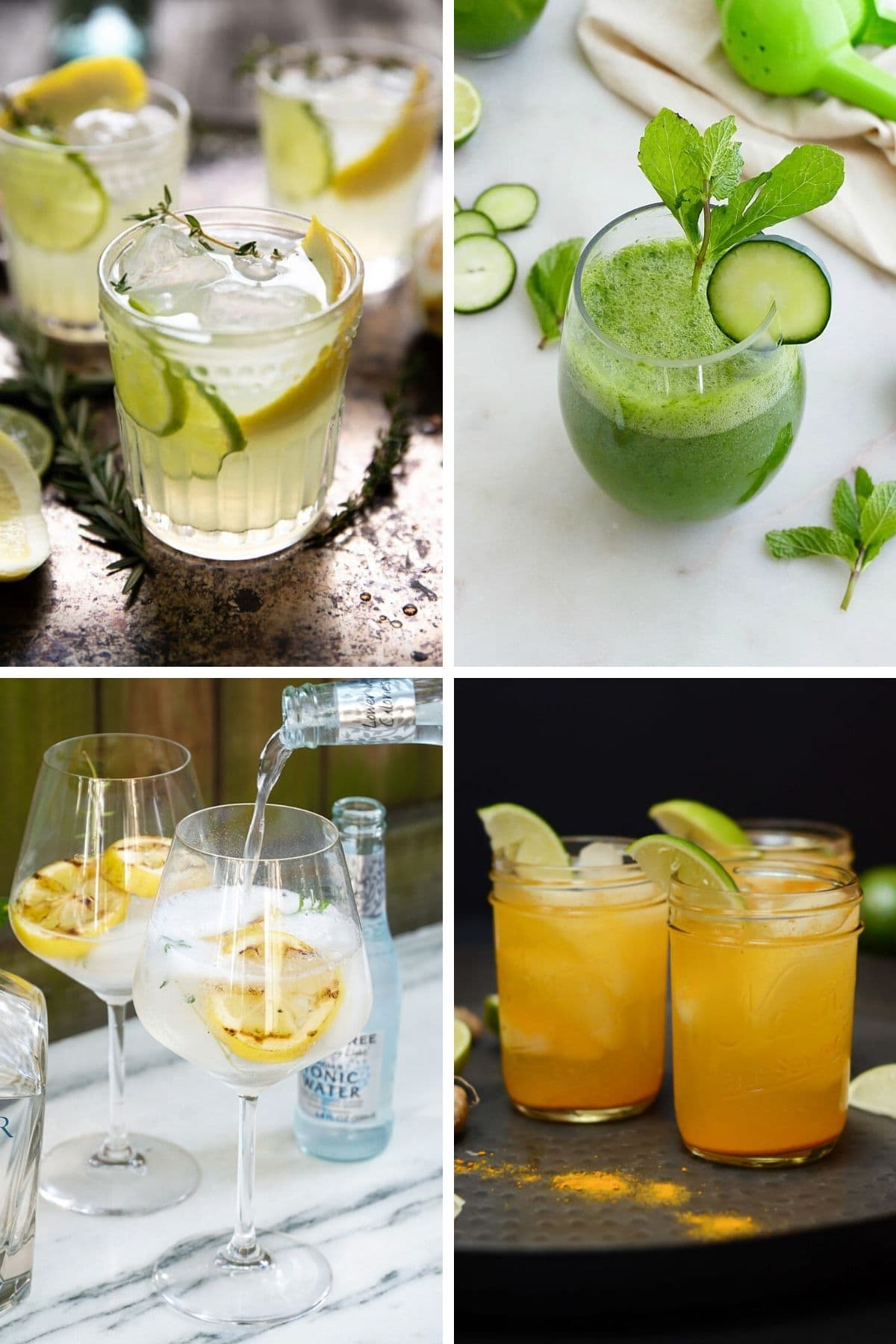 Limoncello Gin Cocktail with Fresh Thyme by The Forked Spoon: Refreshing and delicious, this easy four-ingredient cocktail is made with gin, sweet Limoncello, lime juice, and fresh thyme.
Blended Cucumber Gin Cocktail by It's a Veg World After All: A great choice for hot summer days! These Blended Cucumber Gin Cocktails are light, flavorful, and easy to make.
Grilled Lemon Gin and Tonic by Couple in the Kitchen: Adding some slices of lemon to your grill creates an unforgettable summer cocktail: the charred lemon gin and tonic!
Turmeric Gin and Ginger Cocktail by CaliGirl Cooking: This refreshing cocktail features turmeric, ginger beer and gin, delivering loads of health benefits in a tasty libation.
Summer Tequila Cocktails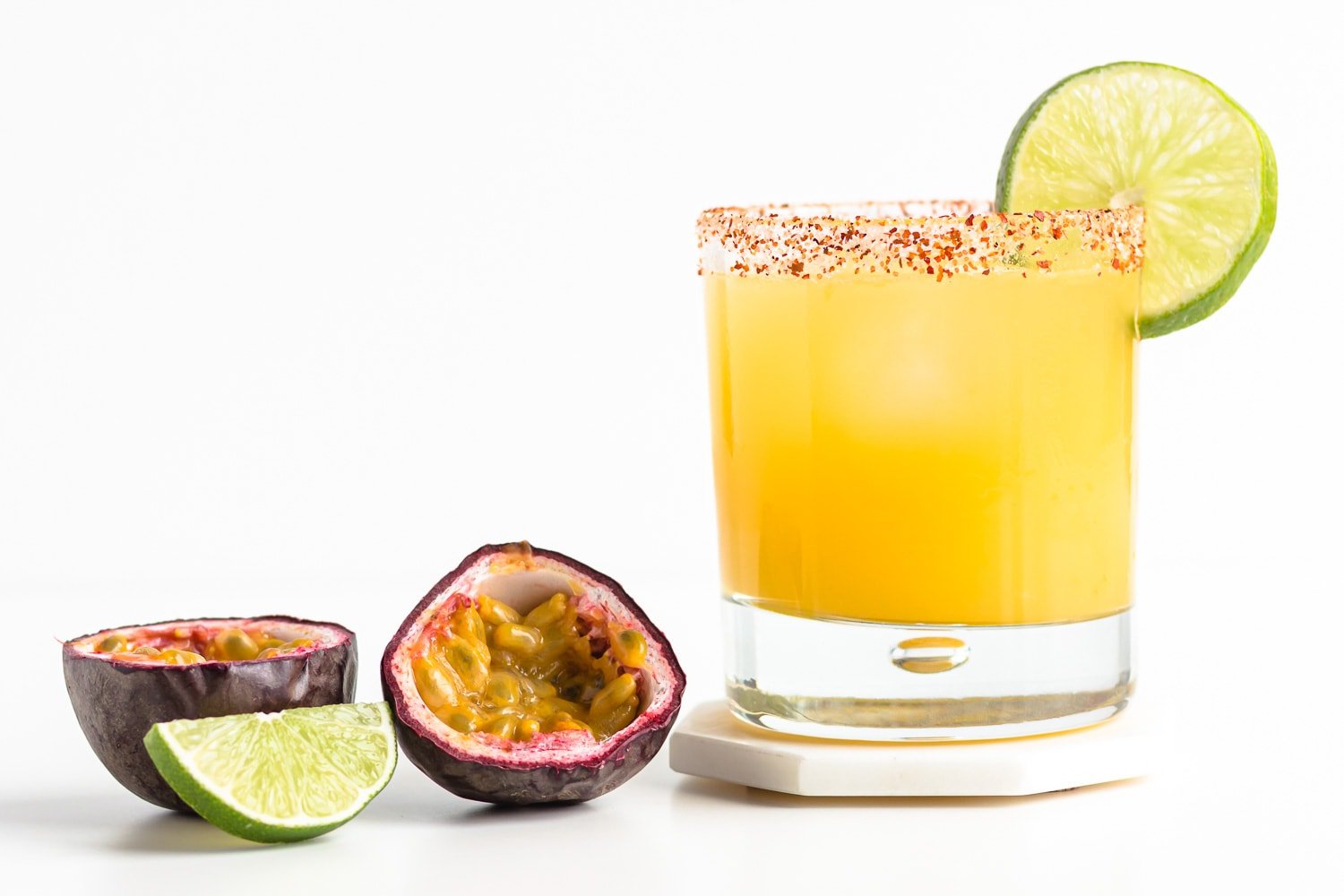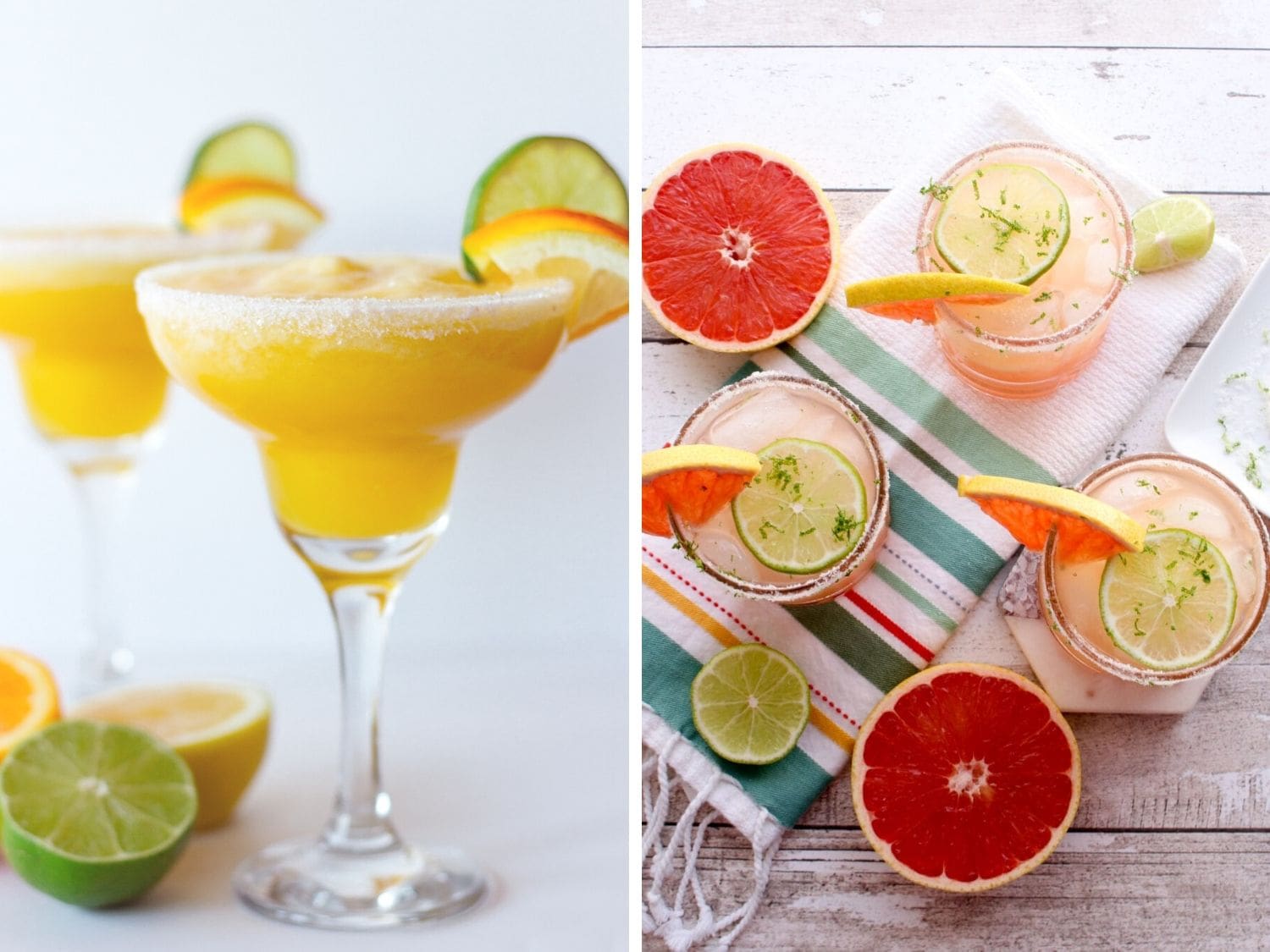 Passion Fruit Margarita by Maple + Mango: A classic margarita on the rocks with a tropical passion fruit twist!
Fresh Citrus Margarita by Maple + Mango: This citrus blender margarita recipe combines three types of fresh citrus into a delicious, refreshing, frozen drink. Perfect for Taco Tuesday or a fun patio sipper!
Pink Grapefruit Margarita by Krazy Kitchen Mom: This beautiful margarita is the perfect way to use fresh grapefruit juice. Delicious twist on a classic drink!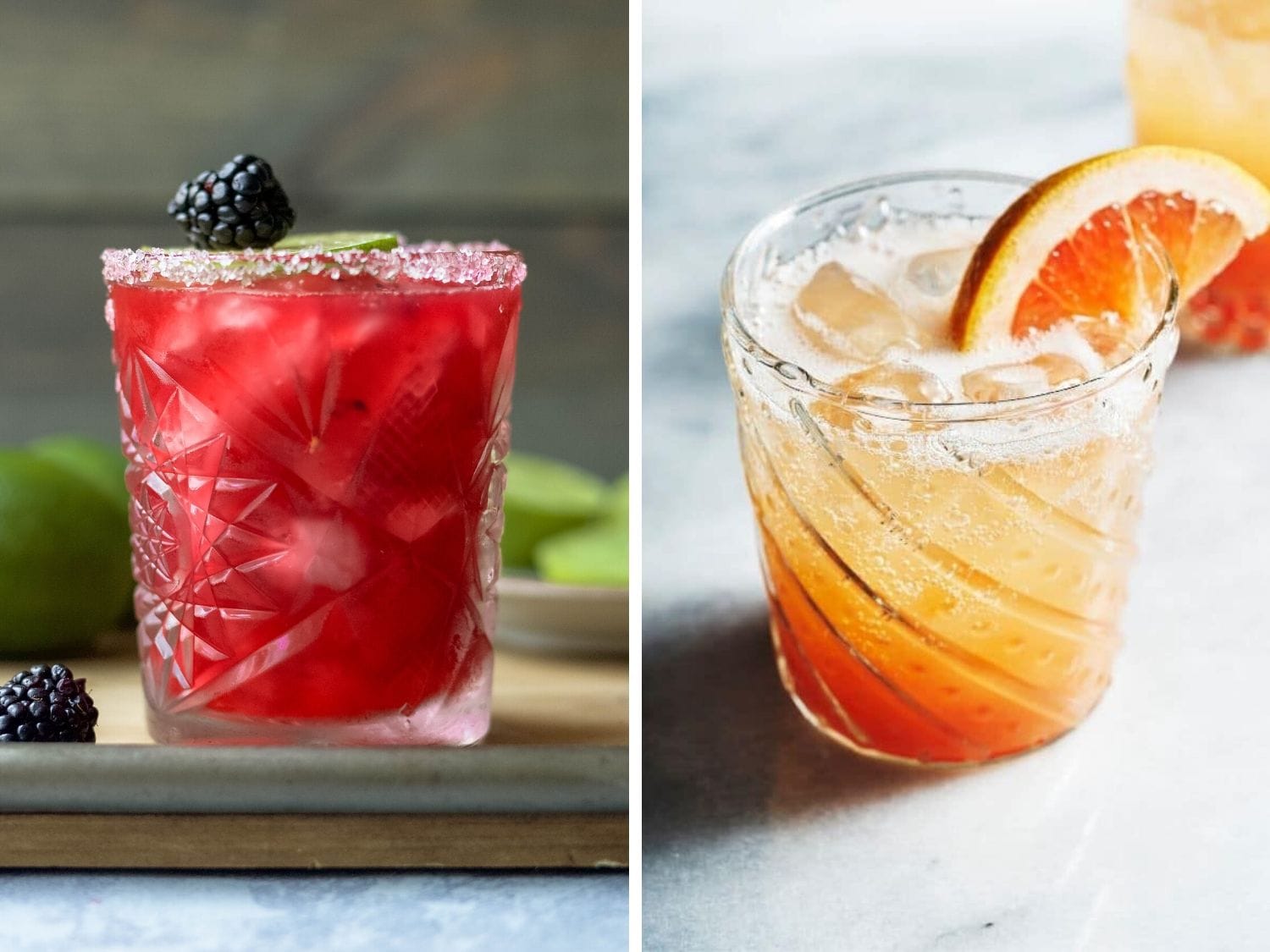 Skinny Blackberry Margarita by A Flavor Journal: These drinks are made with fresh blackberries, fresh citrus juice, agave syrup and tequila! A super simple, fresh and fruity margarita!
Fresh Paloma Cocktail by Boulder Locavore: A fresh Paloma Cocktail is a refreshing delicious drink full of grapefruit juice and tequila! A great thirst quenching alternative to a margarita in any season.
Summer Vodka Cocktails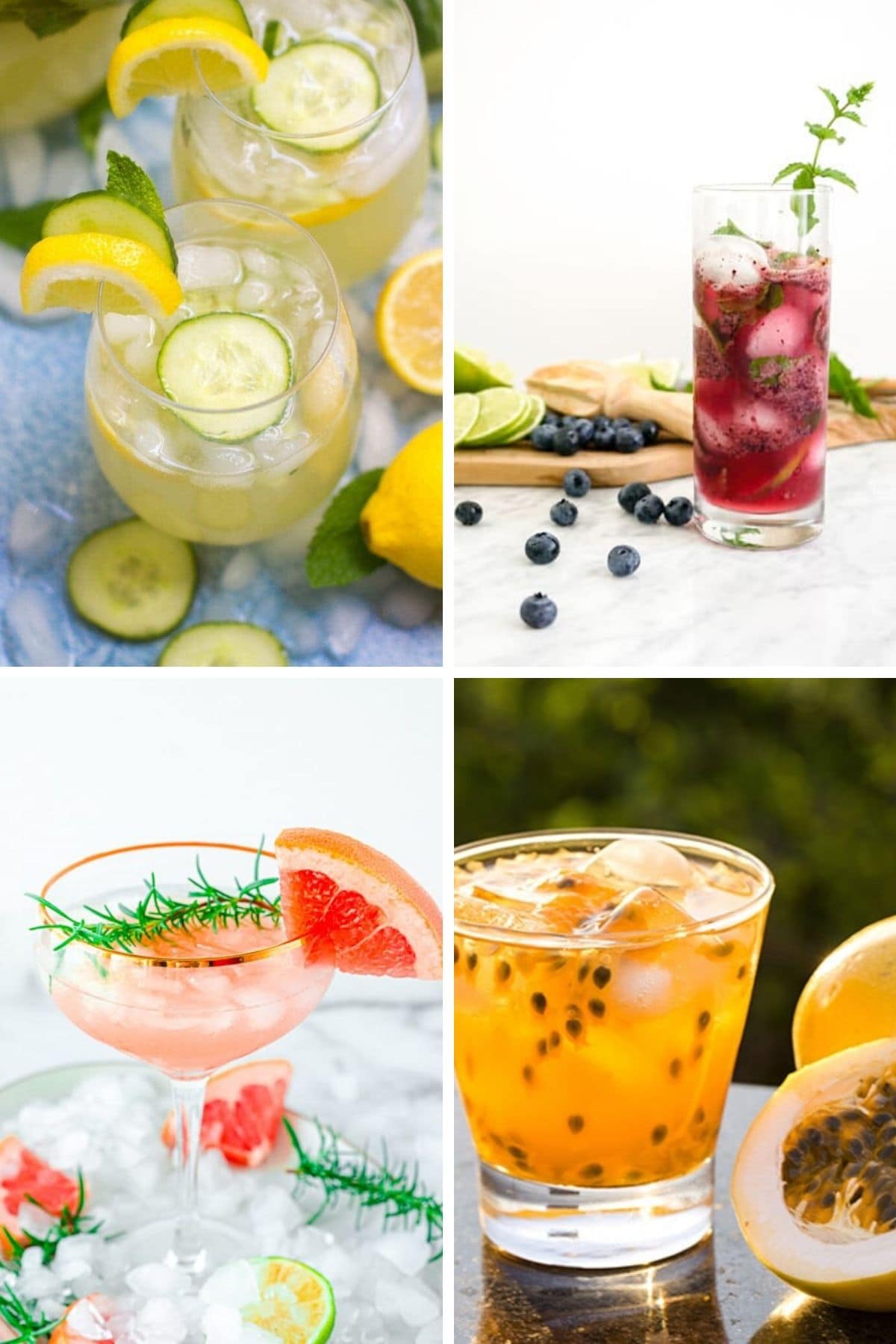 Cucumber Lemonade Vodka Cocktail by The Clean Eating Couple: This cocktail is the perfect drink to cool off + relax with! Low in sugar, super tasty and the perfect cucumber cocktail!
Blueberry Kombucha Mojito by Flexitarian Nutrition: Say goodbye to unhealthy drink mixes full of additives and sugars, and hello to real fruit flavours and gut-healthy kombucha in this cocktail!
Pink Grapefruit Cocktail with Rosemary by Wow, It's Veggie?!: This pink grapefruit cocktail is delicious and healthy! It is the perfect blend between tart, sweet, and refreshing!
Easy Passion Fruit Caipiroska by I Heart Brazil: The tart, sweet, and fresh taste of this passion fruit caipiroska will be a treat for your taste buds! It's a fun recipe to make on a hot summer day!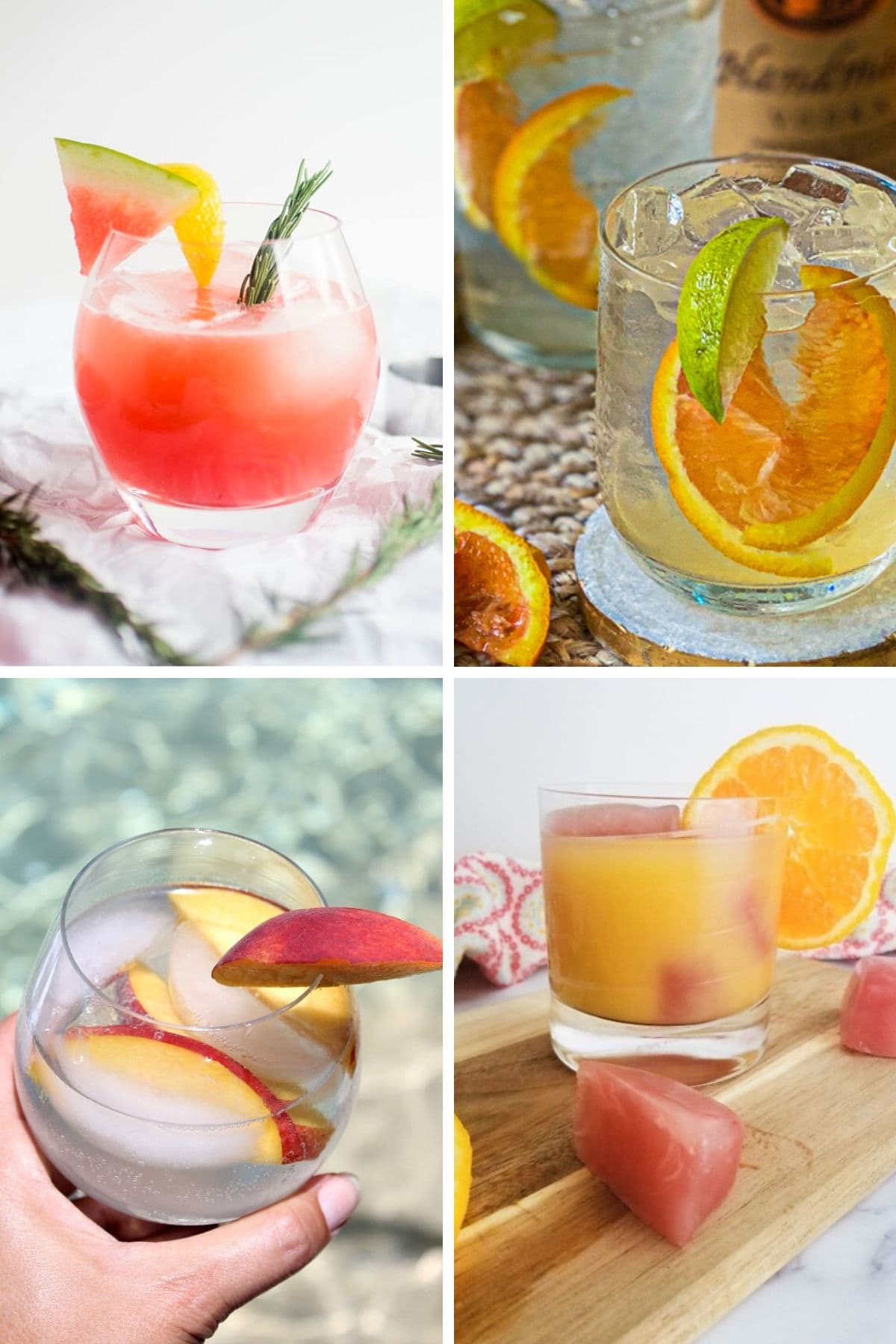 Rosemary Watermelon Cocktails by Life As A Strawberry: These easy, refreshing watermelon cocktails get an earthy note from fresh rosemary and a hint of brightness from tart lemon juice. Made with vodka and homemade watermelon juice!
Vodka Tonic with Orange by Fresh Simple Home: Vodka Tonic is the perfect summertime cocktail. This one kicks things up a notch with the addition of juicy, sweet orange – Yum!
Sparkling Peachade Vodka Cocktail by Food Wine Sunshine: Sit back, relax and sip on this perfect mix of lemon and peach with a splash of vodka and a bit of sparkle. This Sparkling Peachade Cocktail will have you saying CHEERS in no time!
Orange Cranberry Smoked Cocktail by Stef's Eats and Sweets: This fun cocktail is made by smoking liquid in the grill or smoker.
Summer Brunch Cocktails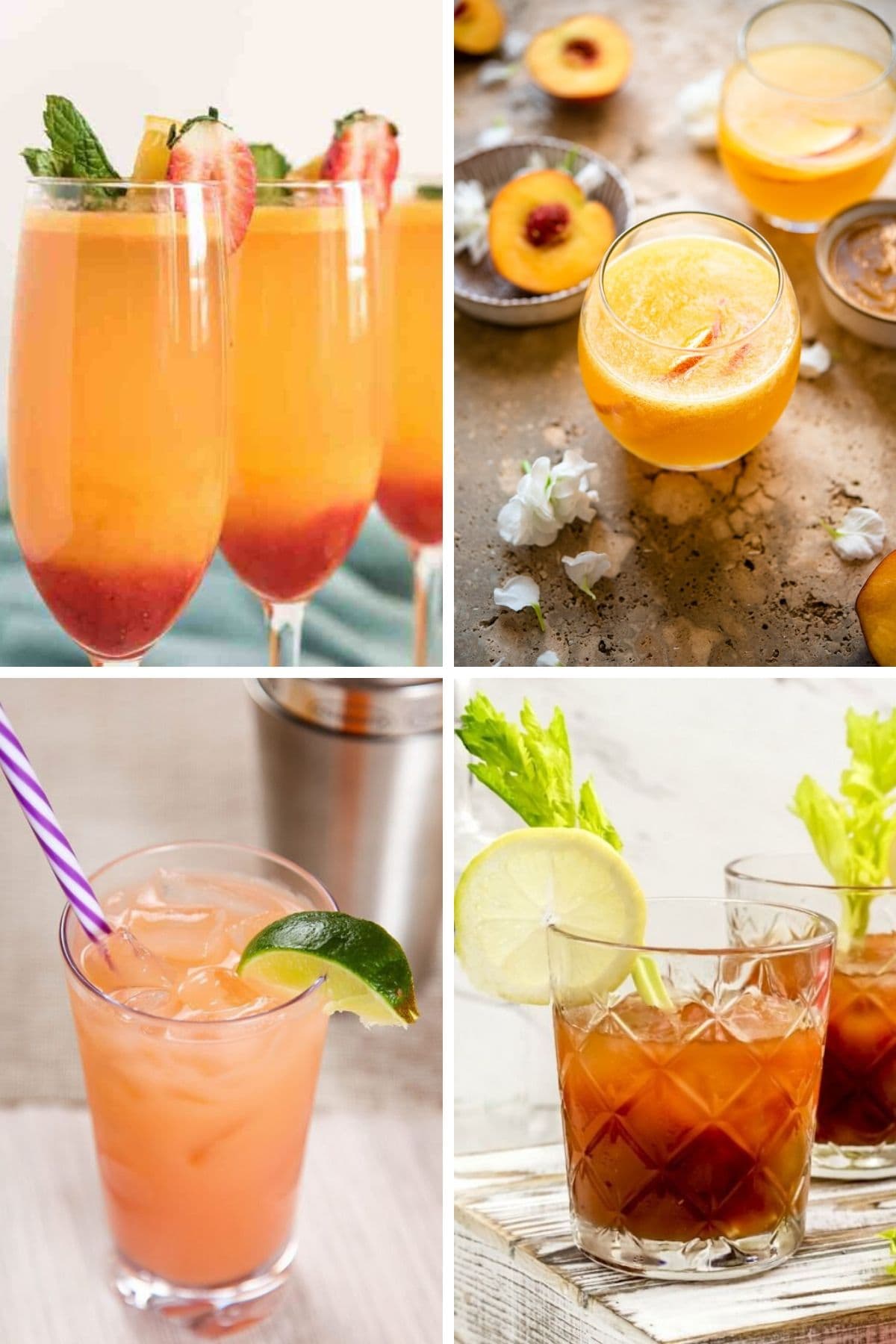 Strawberry Mimosa Recipe by Marathons & Motivation: Made with fresh squeezed orange juice and pureed strawberries – perfect for Sunday brunch!
Classic Peach Bellini Cocktail by Inside The Rustic Kitchen: Made with fresh peach puree and bubbly Italian Prosecco – ready in under 10 minutes. This cocktail is super easy, fruity, delicious and perfect for kicking off a relaxing weekend brunch!
Greyhound Drink by Baking Beauty: Super refreshing with just the right amount of tartness. Perfect for brunch!
Bloody Mary Recipe by Ann's Entitled Life: This classic Bloody Mary recipe is made with vodka, tomato and lemon juice and just a splash of zest and spice. Perfect for brunch or any time of day!
Summer Sangrias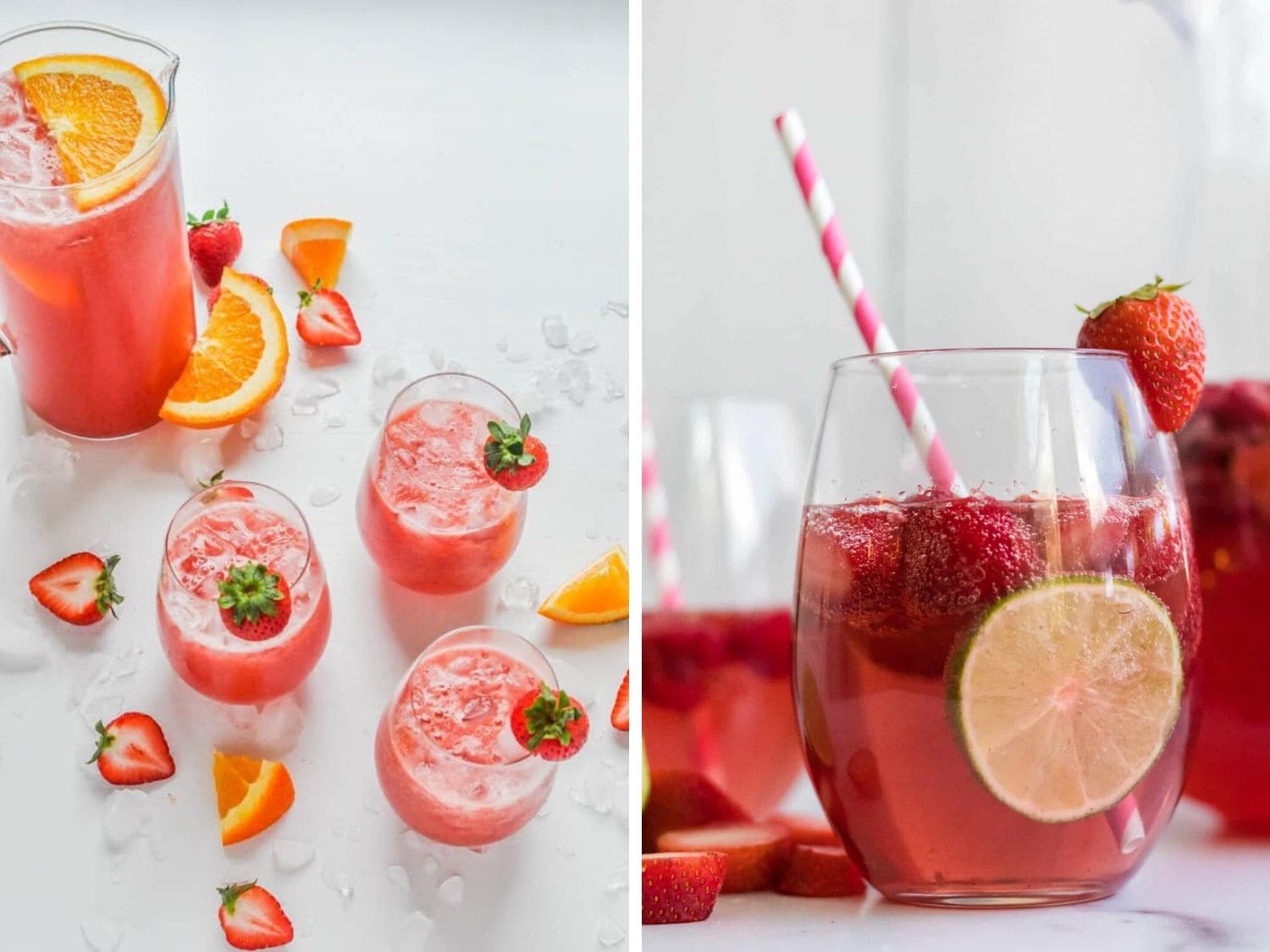 Watermelon Strawberry Sangria by This Healthy Table: This watermelon strawberry sangria recipe is refreshing and delicious!
Pink Moscato Sangria by One Wholesome Life: This pink moscato sangria is so easy to make and is the perfect summer cocktail. You will only need 4 ingredients to enjoy this light and fresh sangria recipe.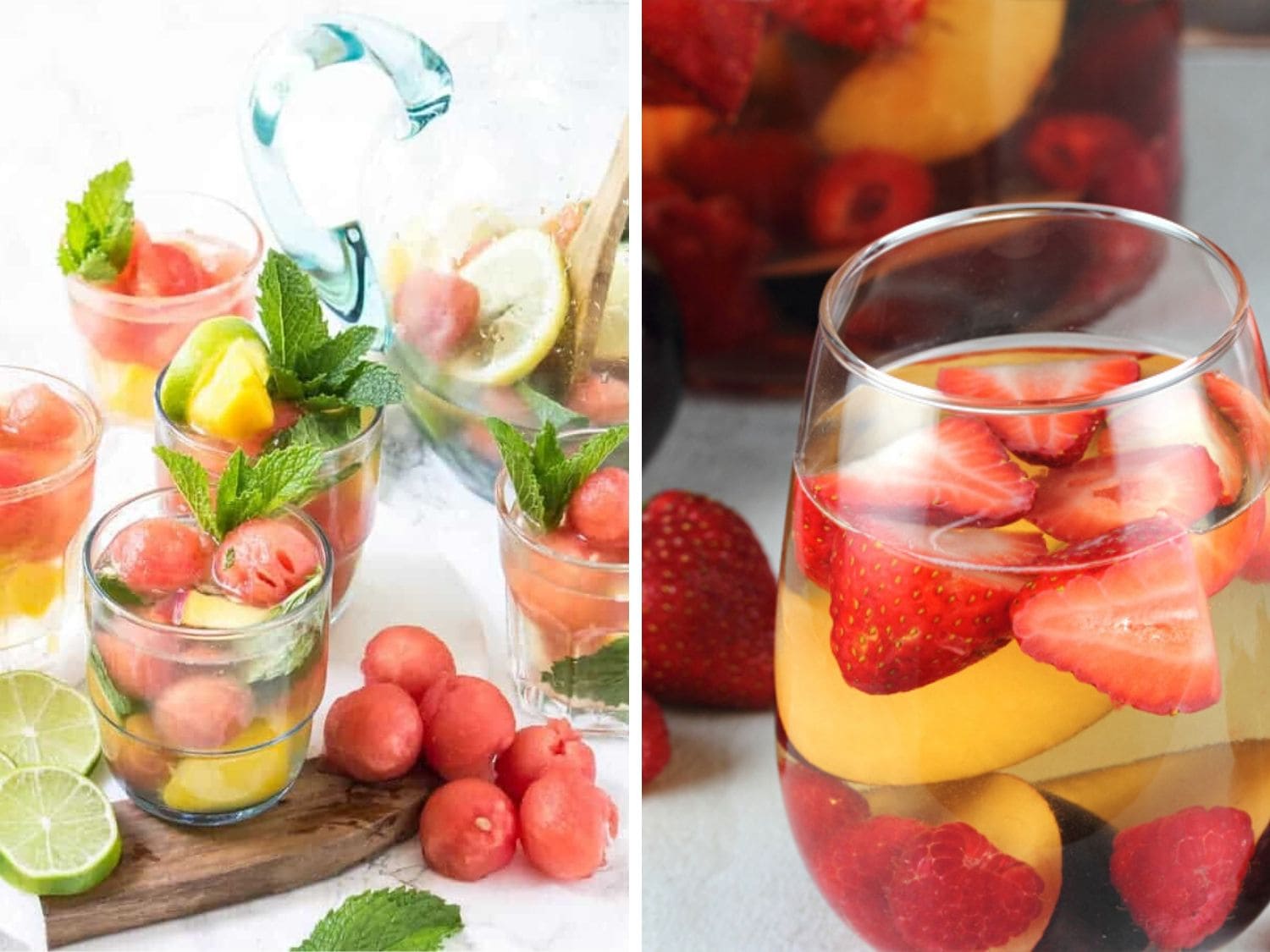 Watermelon Peach White Wine Summer Sangria by Wicked Spatula: This white wine sangria is packed full of fresh summer fruit. Easy to make and perfect for summer!
Sun-Kissed White Tea Sangria by Regain Your Sparkle: The relaxing effects of the sun and wine + the energy, caffeine, and antioxidants of white tea = the perfect summer match!
Summer Limoncello Cocktails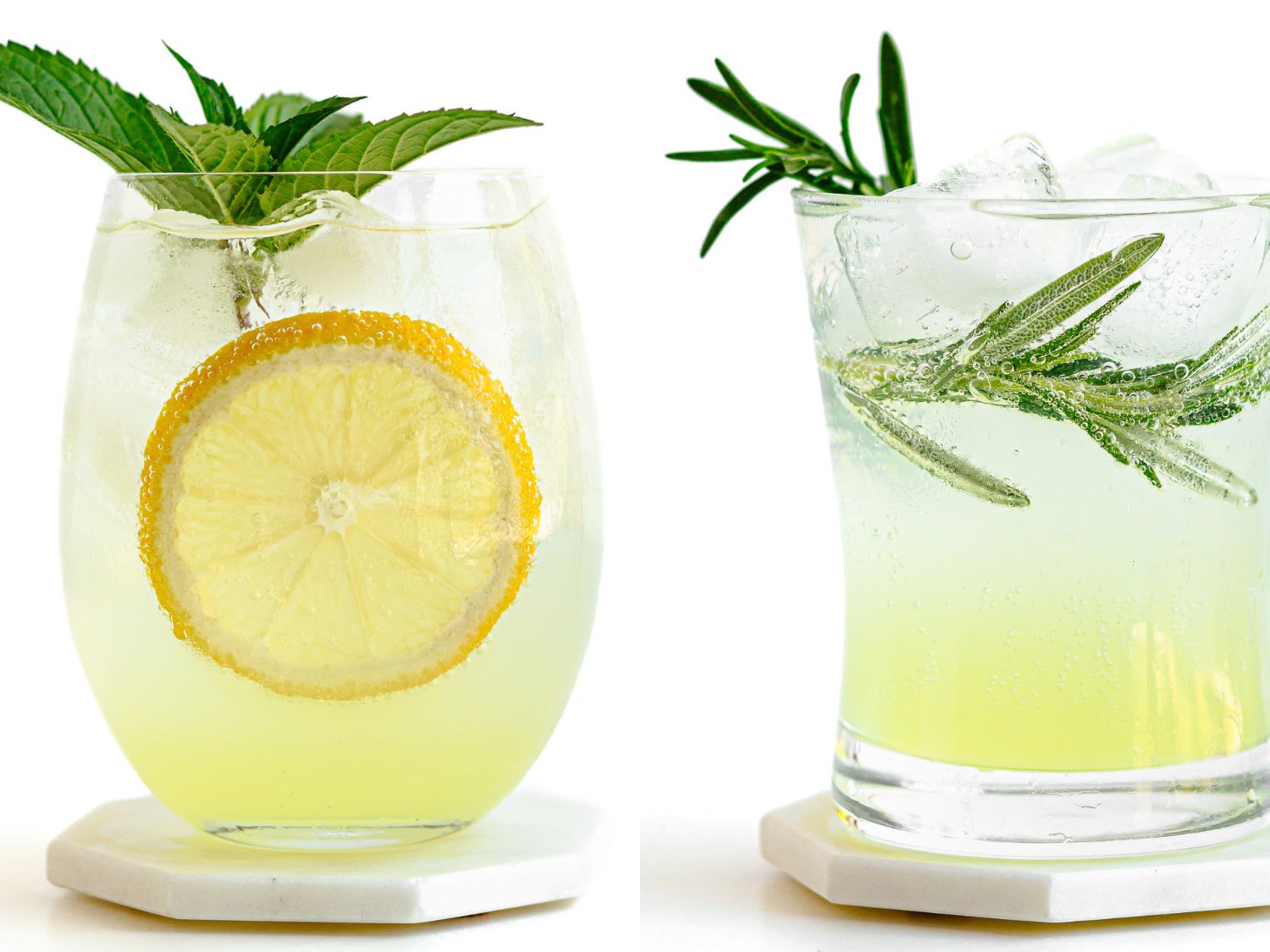 Limoncello Spritz by Maple + Mango: This easy 3-ingredient Italian limoncello cocktail is super refreshing and perfect for summer.
Limoncello Tonic by Maple + Mango: Move over gin! Tonic water has a new partner this summer!
Hope you enjoyed this collection of summer cocktail recipes! The only question now is…which one will you try first?
⬇ PIN it for later! ⬇