Are you new to yoga and not sure what to wear to yoga class? Here are some helpful tips and suggestions for choosing a comfortable and functional yoga outfit!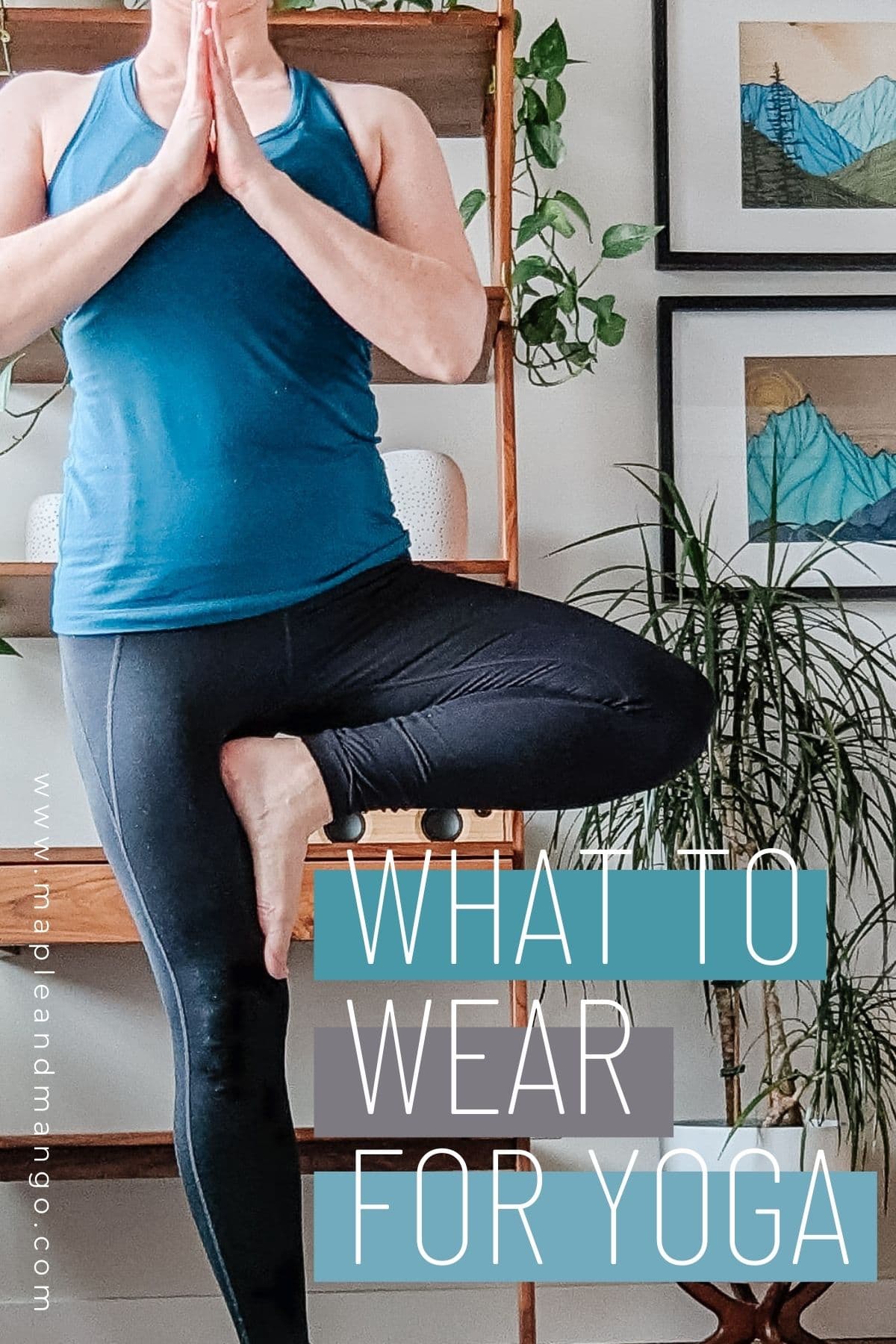 What To Wear For Yoga
Ultimately, you can wear anything you like as long as you can comfortably move and stretch in it!
The yoga community is made up of people of all ages, shapes and sizes. Therefore, there is no one and only outfit option. When it comes to yoga clothing, the most important thing is to wear something comfortable that stays in place while you move. It's no fun if you're constantly fiddling with and adjusting your clothing during class!
Keep reading for some dos and don'ts when choosing yoga clothes as well as yoga outfit suggestions that are both comfortable and functional.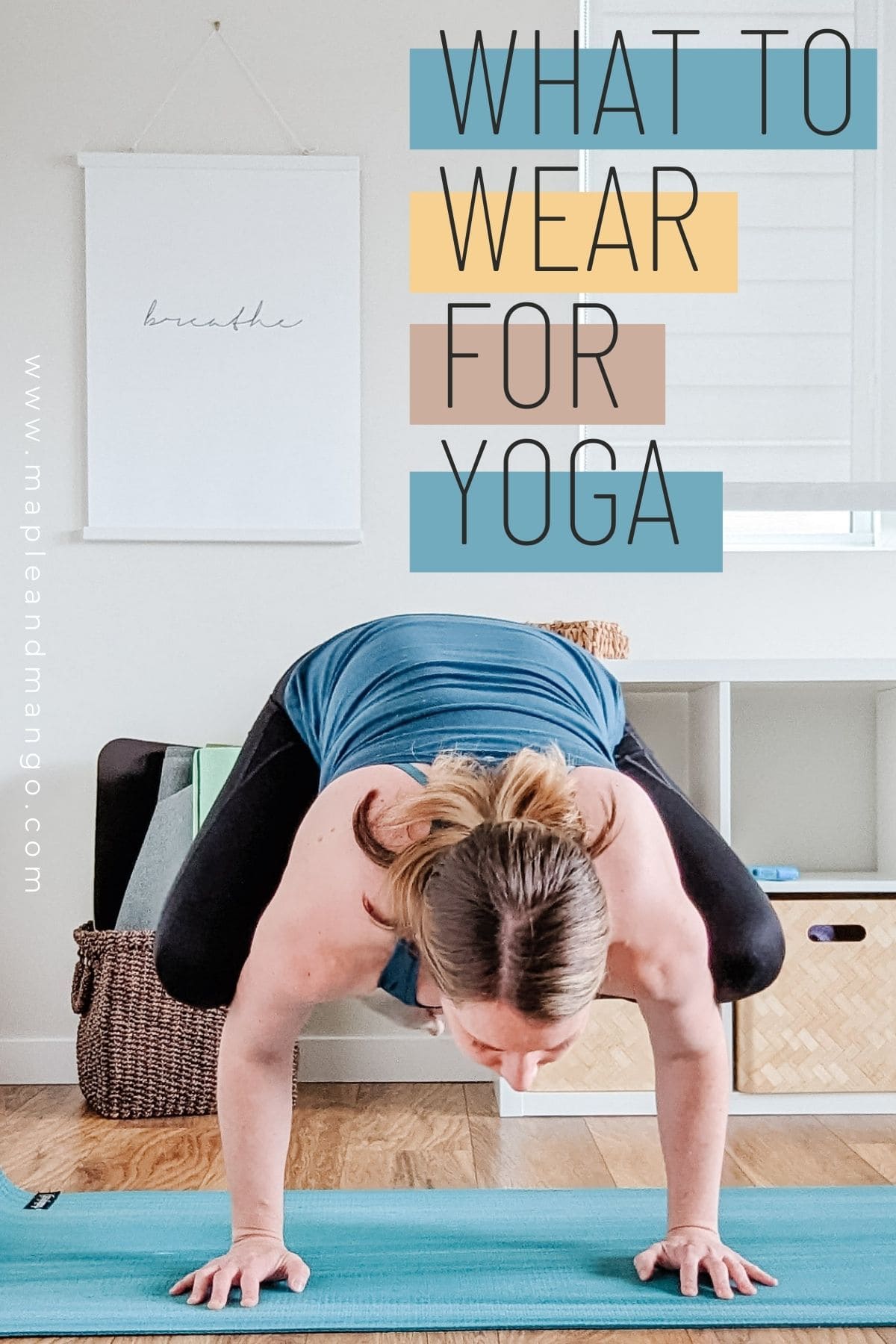 Choosing Yoga Clothes
When choosing a yoga outfit, make sure to pick something that is:
Made from breathable and sweat-wicking fabric
Comfortable, flexible and non-restrictive
Stays in place (try a variety of poses to see if everything stays put)
Basic Clothes For Yoga
The basic clothing items you'll need for yoga are:
Yoga pants, leggings or shorts
A tank top or t-shirt
A sports bra (women)
Optional: A warm top layer to put on at the end when cooling down
Yoga Outfit Tips & Ideas
Let's dive into each of the basic items in more detail with some tips and suggestions for each category.
Yoga Pants & Shorts
What to look for
Lots of poses involve bending or stretching so choosing yoga pants/leggings will allow you to stretch and move without restriction. They come in full-length, cropped or short lengths. They also come in different rises. If you feel most comfortable having your belly held in and covered (like me!) then look for the high waisted versions. High-rise yoga leggings are my absolute favorite for practicing yoga in.
What to avoid
Don't wear anything that restricts movement. Also avoid thick sweatpants since you may overheat. If you want to wear sweatpants, opt for some made from a lightweight and breathable fabric.
If you are wearing shorts, avoid super short or loose shorts. Your body is in lots of positions during yoga and you don't want someone seeing up your shorts. When choosing shorts, opt for yoga shorts, bike shorts or shorts with a built-in liner to avoid any unwanted wardrobe malfunctions.
Yoga Tops
What to look for
The best tops to wear for yoga are fitted tops that stay in place when inverted in poses like downward dog. My preference is long, fitted yoga tanks since they stay put and keep you covered. A cropped, fitted tank top is another option.
Prefer sleeves? You can still wear short sleeve and long sleeve tops. Just choose something more fitted so it stays in place.
What to avoid
Avoid loose and baggy t-shirts. Although very comfortable while standing, it quickly becomes awkward when that t-shirt rides up and flops over your head in inverted positions. Even tucked in, your head often ends up looking down the neck hole.
Sports Bra
What to look for
Choose a good sports bra that is comfortable with decent coverage. It doesn't need to be as supportive as a running bra but you want something that holds you in place no matter the pose.
The sports bra can be worn by itself as a top or underneath a tank or t-shirt. You can also purchase yoga tops with built-in bras.
What to avoid
Avoid wearing a regular bra (especially one with underwire which might dig in). A sports bra is far more comfortable and tends to provide more coverage.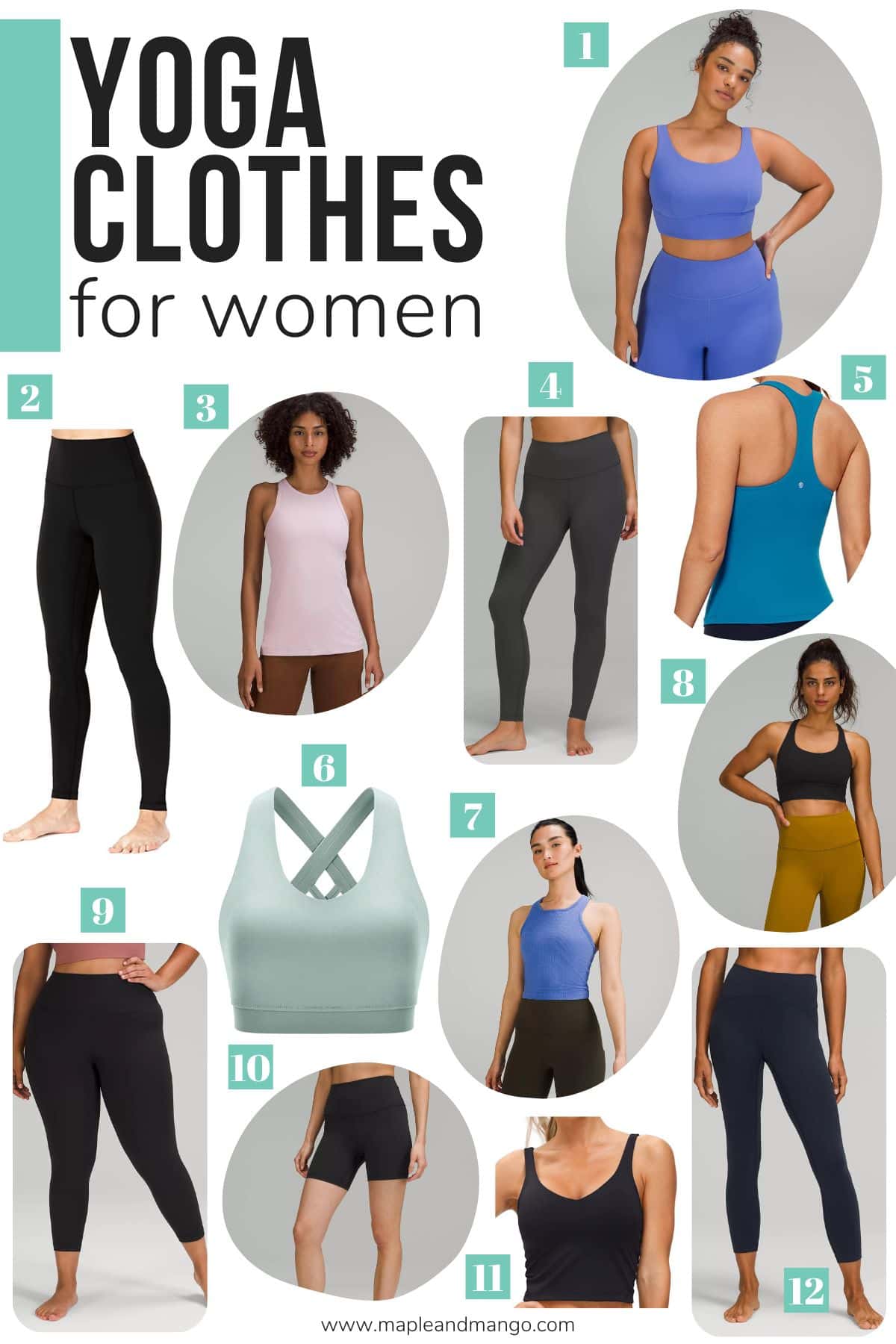 Test Run Your Yoga Outfit
Give your yoga outfit a test run at home with an online class if you're feeling a little unsure on how comfortable it will be in action. Make sure to pay attention when you bend over in a forward fold or downward dog to see if your outfit stays in place.
What Do Men Wear For Yoga?
More men are attending yoga classes these days than in the past which is fantastic! Men should wear clothing that is comfortable, breathable, moisture-wicking and non-restrictive to yoga class.
A common yoga outfit for guys includes yoga pants or shorts and a workout tank or t-shirt. Steer clear of loose shorts unless they have a built in liner to avoid any embarrassing accidental flashes.
A few options
Here are a few shorts and pants that guys could wear to yoga:
And here are a few yoga top options for men: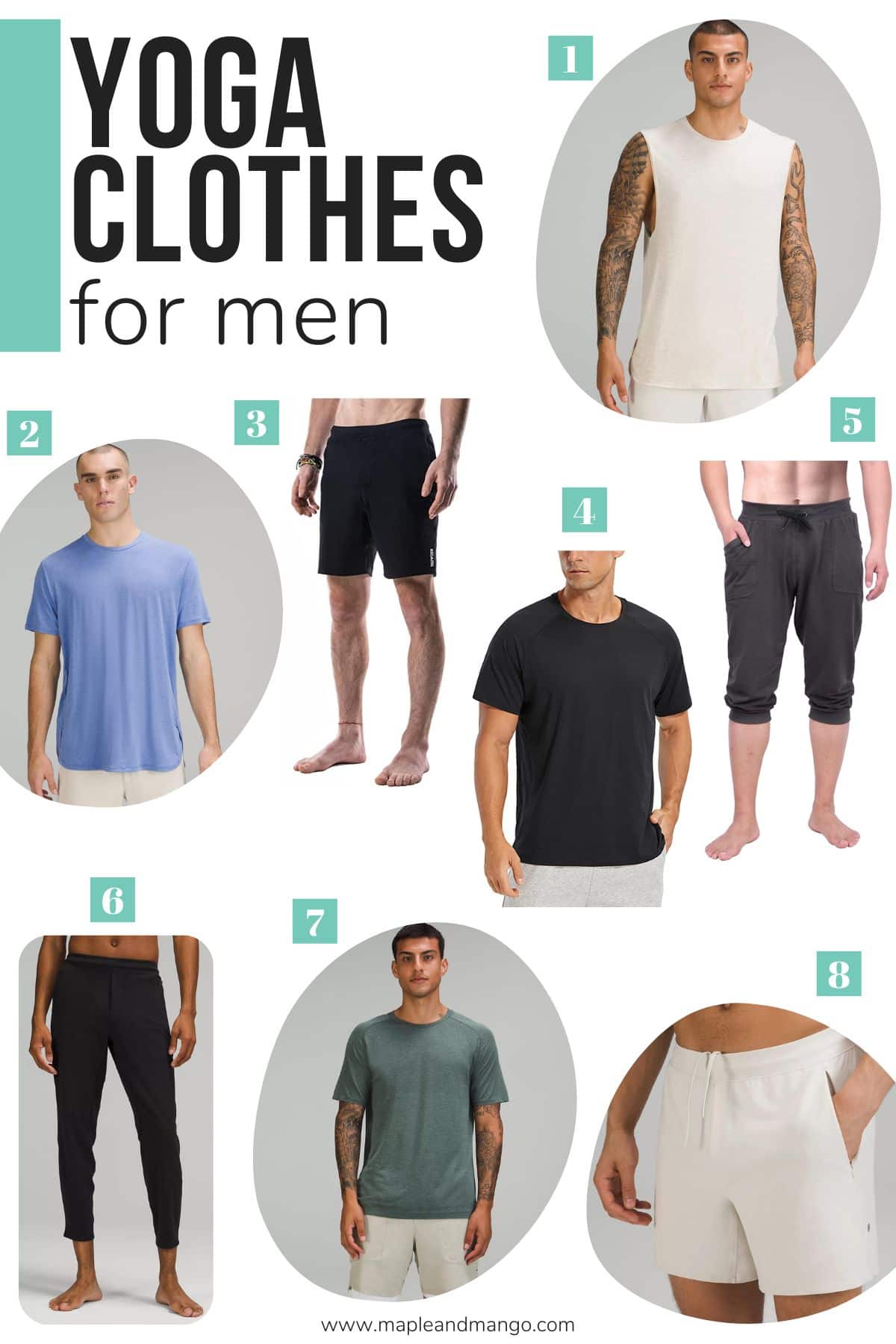 More Yoga Clothes FAQ
Do you wear shoes to yoga?
No shoes! Yoga is practiced bare foot for better stability, balance, flexibility and grip. You can buy yoga socks with grips if you prefer to have something covering your feet.
What to wear to hot yoga class?
You're going to get very sweaty so it's best to wear breathable and sweat-wicking fabrics. Yoga shorts and a yoga tank are a great yoga outfit for hot yoga in order to stay as cool as possible.
Not clothing related but a yoga mat towel is a must-have item for me when attending a hot yoga class. It's absorbent and helps to prevent slipping. I've used a Manduka Yogitoes one for many many years!
What clothes are best for yoga?
Wear clothing that is comfortable, breathable, flexible and stays in place during inverted poses like downward dog. More details and lots of yoga outfit tips and suggestions can be found in the post above.
What should you not wear to yoga?
Don't wear clothing that restricts movement! You may also want to avoid loose shirts that will flop over your head in inverted yoga poses and super short or loose shorts that may result in some accidental over exposure.
I hope you found these tips for choosing yoga clothes helpful. Enjoy your yoga class!
⬇ PIN it for later! ⬇