This city travel guide to Kelowna, BC Canada is a great resource for those visiting or locals who love to explore. Covers everything from recommendations on things to see and do to places to eat and shop in Kelowna.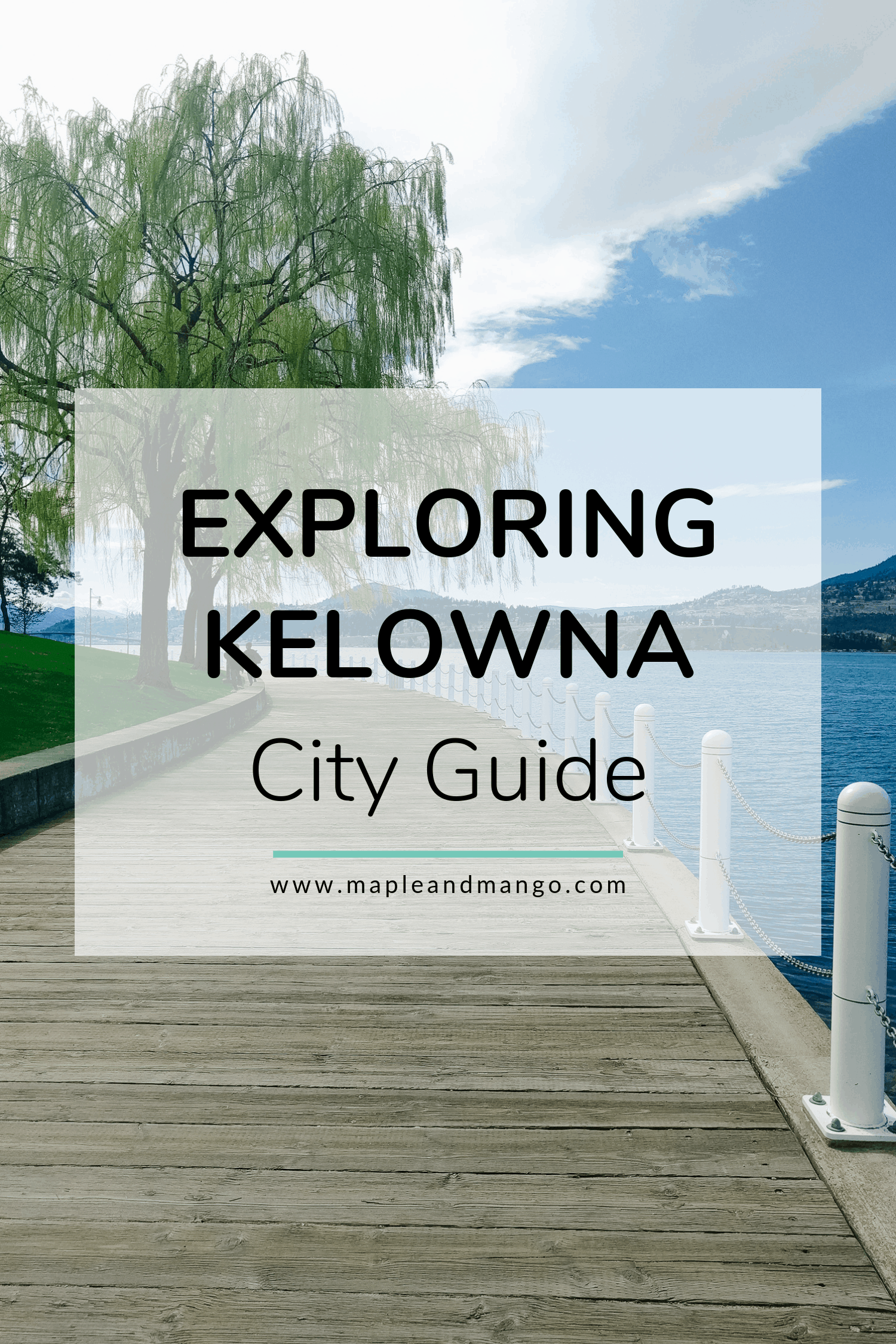 Nestled in the stunning Okanagan Valley, Kelowna is a beautiful city surrounded by beaches, mountains, orchards and vineyards. This laid-back city in British Columbia's wine country offers something for everybody. Let me walk you through some of my favourite things that Kelowna has to offer in this guide.
How We Ended Up Here – Wasn't Planned!!
I moved to Kelowna with my family at the beginning of 2016. We basically ended up here by chance since it was never part of the plan. Most of our lives had been spent in various parts of Ontario (for those not familiar with Canada, it is basically on the other side of the country).
When my boys were tiny little guys, my husband was offered an opportunity to work in Brisbane, Australia. We jumped on it since we were looking for a change. We fell in love with the city and lifestyle, spent 4 years there and planned to spend our lives there…but then we had to leave (that's a whole other story!). Neither of us wanted to return to our previous lifestyle so I started asking EVERYBODY for suggestions on places in Canada that met my list of criteria. That list included things like: laid-back vibe, surrounded by natural beauty, close to water, hot summers/mild winters (in Canadian terms) and a local food scene. It also needed to be large enough to have an airport and all the amenities of a city.
An online friend at the time (real life friend now!) suggested Kelowna. "Huh – Kelowna? Where's that?" We had only ever heard of the larger places on the west coast. However, all of our Canadian expat friends in Brisbane who were from Alberta were very familiar with Kelowna and told us all about it. So in November 2015, my husband and I flew over for a few days to check it out. By the way, November is probably one of the worst months to travel anywhere in Canada but we saw the potential and ended up buying a lot. A few months later, we moved into a rental apartment and started to build our home. Although I still miss Brisbane, I have no regrets and have loved the lifestyle here. I have enjoyed exploring the area over the past few years and am still constantly discovering new things.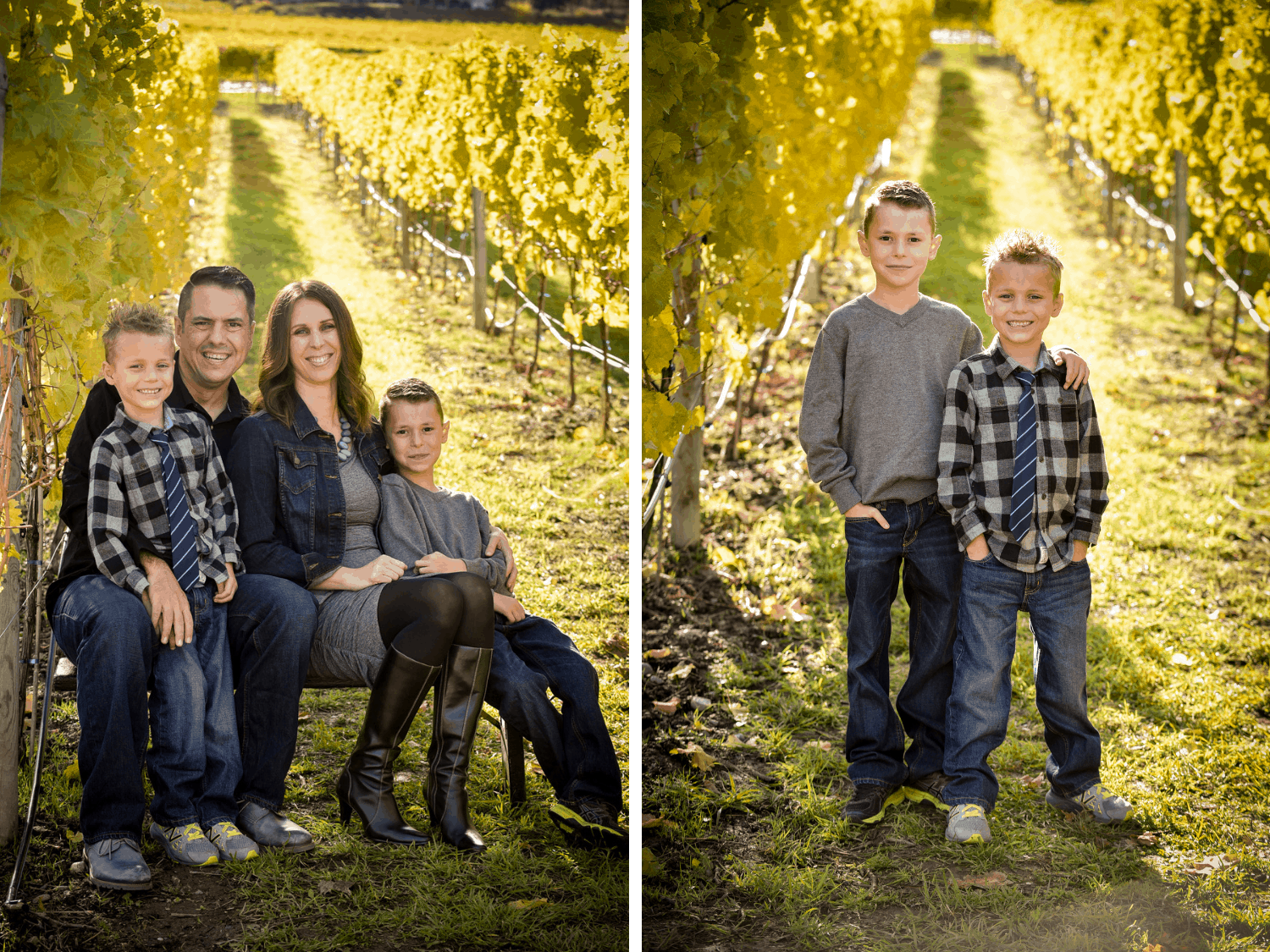 Kelowna Fun Facts
Kelowna is the largest city in the Okanagan Valley and one of Canada's fastest growing cities.
Nearly 2 million people visit Kelowna annually.
Kelowna is the Okanagan First Nation word for "grizzly bear".
There are over 40 wineries (and close to 200 in the Okanagan region).
Kelowna receives over 2000 hours of sunshine annually.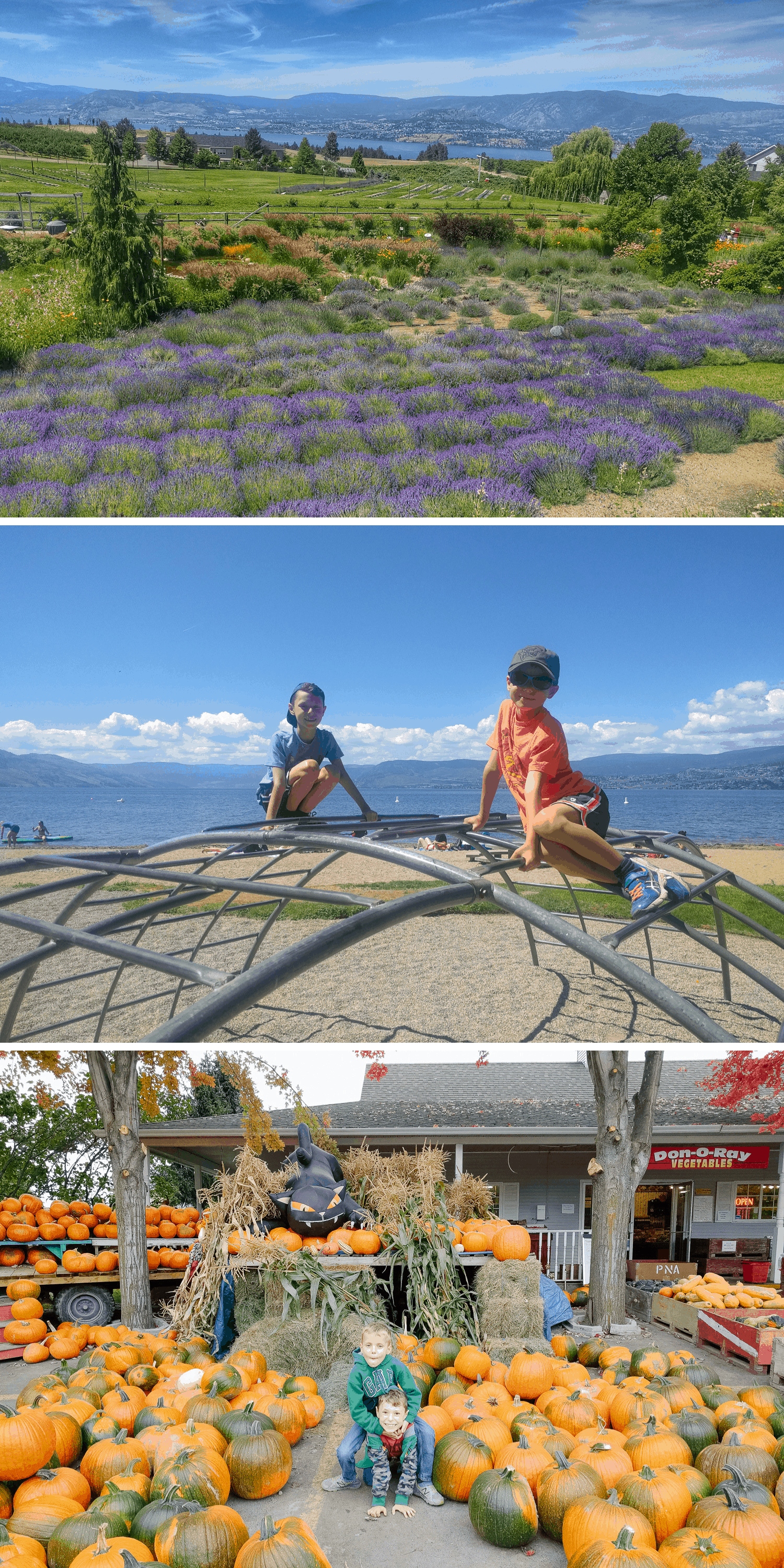 Things To See And Do In Kelowna
Outdoor Activities
Kelowna offers an abundance of outdoor activities – everything from hiking, biking, golfing and watersports in the summer to skiing, snowshoeing and skating in the winter. Here are some of my favourites:
Beaches + Watersports
Since Kelowna is located along Okanagan Lake, there are plenty of spots to get out on the water. You can find a full list of Kelowna beaches HERE. Many of the larger beaches also offer kayak and paddleboard rentals. If you want something a little faster, rent yourself a jet ski or boat. We had a ton of fun renting a boat from Sunwave Boat Rentals – was reasonably priced and you can also rent toys like tubes for added fun. Tip: Some of the items in this "10 Amazon Finds For Summer Fun" post would be perfect for a day at the beach. Some of our favourite beaches in Kelowna are:
Boyce-Gyro Beach (3400 Lakeshore Rd): One of Kelowna's most well known beaches. It has a large playground, kayak/SUP rentals, volleyball courts, washrooms, picnic areas and plenty of shade.
Rotary Beach Park (3726 Lakeshore Rd): This beach is just up the road a bit from Boyce-Gyro beach. It has a little bit more of a relaxed feel and features a playground, kayak/SUP rentals, washrooms, picnic areas and plenty of shade. Also a popular spot for kite surfers on a windy day.
Bertram Creek Regional Park (5680 Lakeshore Rd): This is one of my favourites when I want to get away from the craziness. This beach is a beautiful drive past a few of the Lakeshore wineries and features two different pebble beaches, playground, washrooms, picnic areas, shaded areas and a pavilion that can be used for events.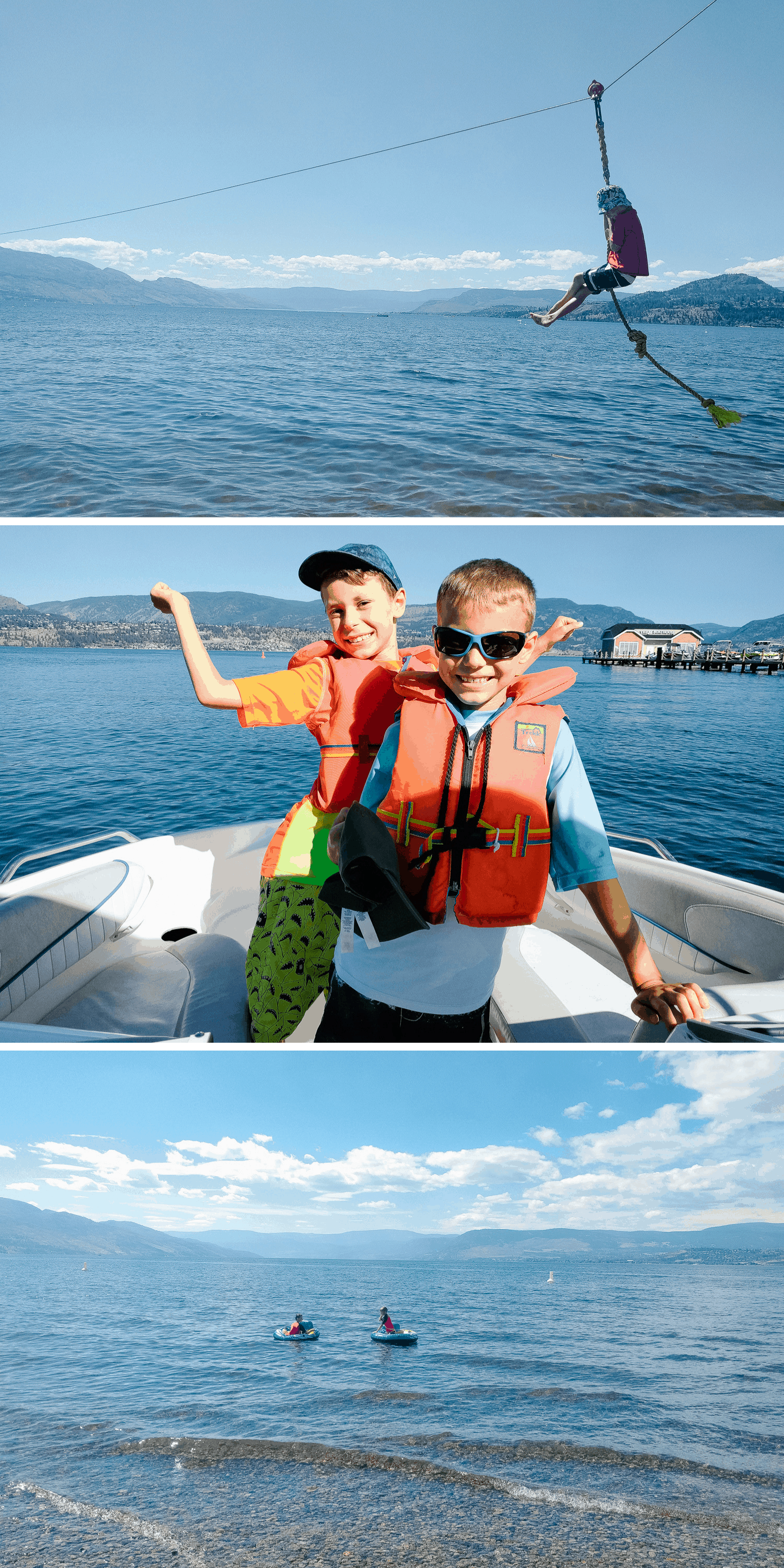 Hiking
There are lots of trails to explore in a variety of difficulty levels. You can check out a full list HERE. A few of my favourites include:
Knox Mountain – Paul's Tomb Trail: Knox Mountain is located near downtown Kelowna and has a number of trails. The Paul's Tomb Trail is a 5km (round trip) family friendly hike with gorgeous views over Okanagan Lake. It ends at a beautiful, small beach that is the perfect spot for the kids to play, cool off in the water or have a mid-hike picnic.
Mission Creek Greenway: This is a 16.5km trail that runs along Mission Creek. There are two phases to this trail and most people just do a section of it. I like the first phase that can be accessed from Lakeshore Road. This phase has a flat, wide pathway perfect for walking or cycling. This is a beautiful hike in the Fall when all the trees along the pathway turn shades of yellow and orange.
Bear Creek Provincial Park – Canyon Rim Trail: This 2.5km loop features beautiful views of Okanagan Lake, staircases, bridges and a waterfall!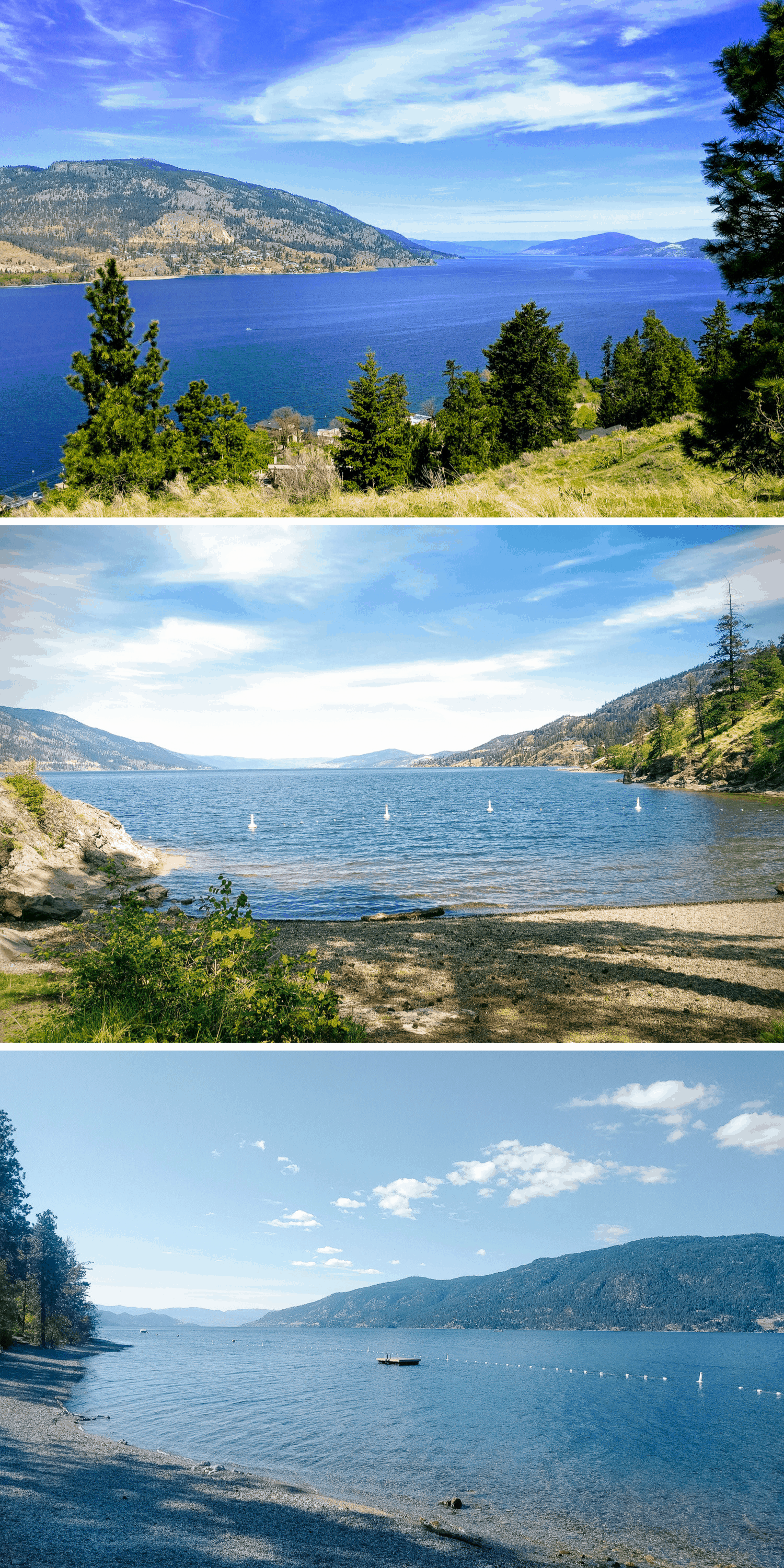 Biking
Tons of biking options in Kelowna! With nearly 300km of bike lanes, Kelowna has the most extensive bicycle network in Canada for a city its size. Click HERE for a Kelowna Cycling Map. There is also the Okanagan Rail Trail – 50 km trail from Kelowna to Vernon with many scenic views along the way.
Playgrounds
There are some great playgrounds in Kelowna. Two of our favourites are Quilchena Park and Mission Creek Playground.
Winter Fun
Big White Ski Resort is a short drive from Kelowna and truly is a winter playground. It is also known as "Canada's Favourite Family Ski Resort" and one of the best powder destinations in Canada. Outdoor activities include skiing, boarding, snowshoeing, skating and tubing. You can also enjoy special events like weekly fireworks and take a break or enjoy your "apres ski" at one of the many restaurants/bars in the village.

Yoga
There are lots of great yoga studios if you want to embrace your inner yogi. My reality as a Mom tends to be solo early morning sessions in my basement but here are some great places in Kelowna to get out for a practice:
Modo Yoga Kelowna: This beautiful studio is known for hot yoga but also has a room where they offer other types of yoga.
The Hot Box Yoga: This modern studio has locations both downtown Kelowna and across the bridge in West Kelowna.
Yoga In The Vineyards: Many of the wineries offer yoga classes throughout the summer. Some wineries may just offer a few classes during the season while others like Off The Grid Organic Winery offer weekly classes. Combination of beautiful surroundings + wine = Perfection!
Wineries
You can't go far without spotting a winery. This is wine country after all! There are over 40 wineries to explore and if that is not enough for you, the entire Okanagan region has close to 200 wineries. We are still trying to work our way through them all! 🍷
Check out this list of Kelowna Wineries or this online guide to explore your options. The area has 5 unique wine trails to discover: Kelowna's Fab Five, Lakeshore Wine Route, Lake Country's Scenic Sip, Westside Wine Trail and Downtown Grapes & Grains. Pick some that you want to check out on your own or book a tour with one of the many wine tour companies in the area like Beach Bum Tours.
Here are a few of my favourites: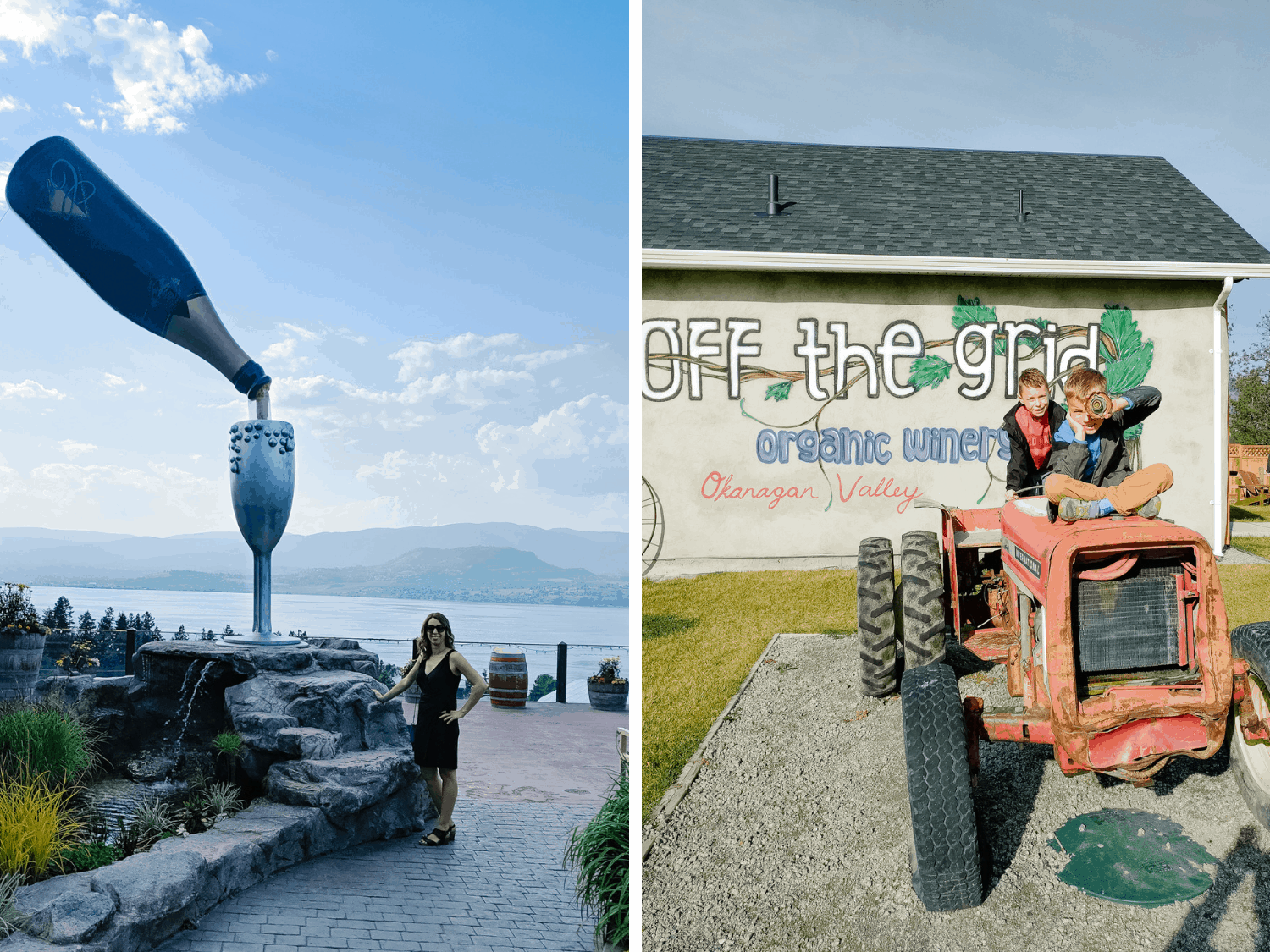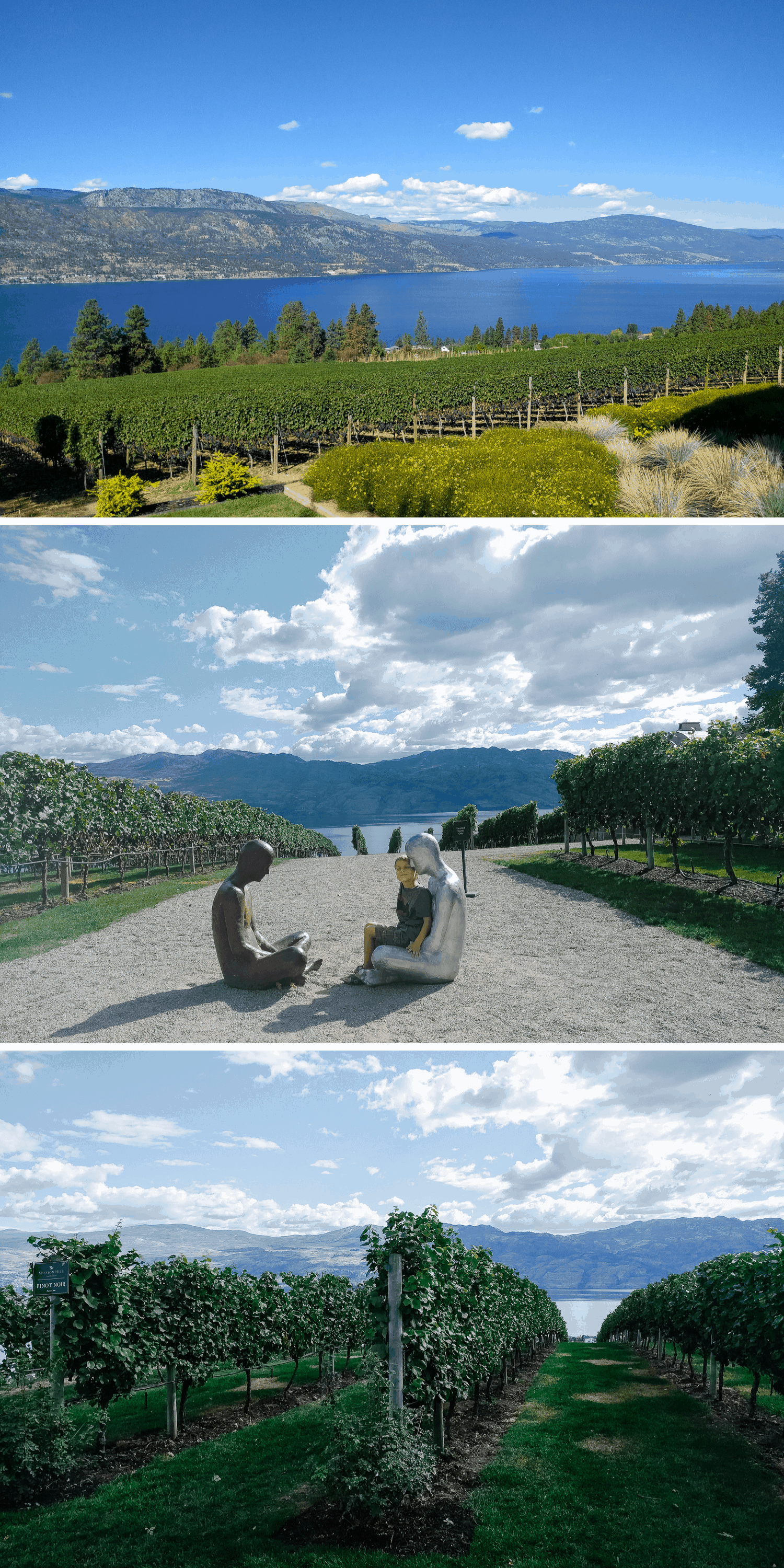 Craft Breweries + Distilleries + Cideries
Kelowna also has a lot of great craft breweries, distilleries and cideries to check out. You can find a full list HERE. Some of my favourites are:
Attractions
Plenty of fun attractions to enjoy in Kelowna. You can find a long list HERE or check out some of my favourites:
Myra Canyon Trestles: The breathtaking scenery and fantastic views of the surrounding mountains can be enjoyed on foot or by biking. Biking is the way to go if you want to see it all since it is 12 km each way. Myra Canyon has two large tunnels and 18 trestle bridges originally built as part of the Kettle Valley Railway.
Ziplining + Aerial Courses: If you are after some outdoor adventure, check out Oyama Zipline Adventure Park, Myra Canyon Adventure Park or WildPlay Kelowna.
Waterfront Boardwalk: Beautiful walk located downtown Kelowna along Okanagan Lake. While you are downtown, also check out the hidden Kasugai Garden Park – tranquil Japanese garden with a pond stocked with Koi.
Farms + Orchards: Kelowna is known for locally grown fruit and produce. You will find many orchards, farms and roadside fruit stands. Have a fun and delicious day checking some of them out.
Okanagan Lavender & Herb Farm: Explore the beautiful gardens and all the hand-crafted botanical products in the boutique. They also offer a number of workshops.
Start Fresh Cooking Classes: These classes are a ton of fun and an excellent way to spend an evening. The space is very inviting and you are greeted with a glass of bubbly and some delcious items to snack on. The classes that I have taken have been both informative and entertaining. And the best part is that you get to eat all the delicious food afterwards!!
Scandia Golf & Games: My kids love this place – mini golf, go-carts, batting cages and arcade games.
Indoor Activities: Is it a rainy or cold day? Here are some fun indoor options: H2O Adventure + Fitness Centre, Planet Lazer, Arcadia VR Lounge, McCurdy Bowling Centre, EnergyPlex, Fun Bugs Indoor Playground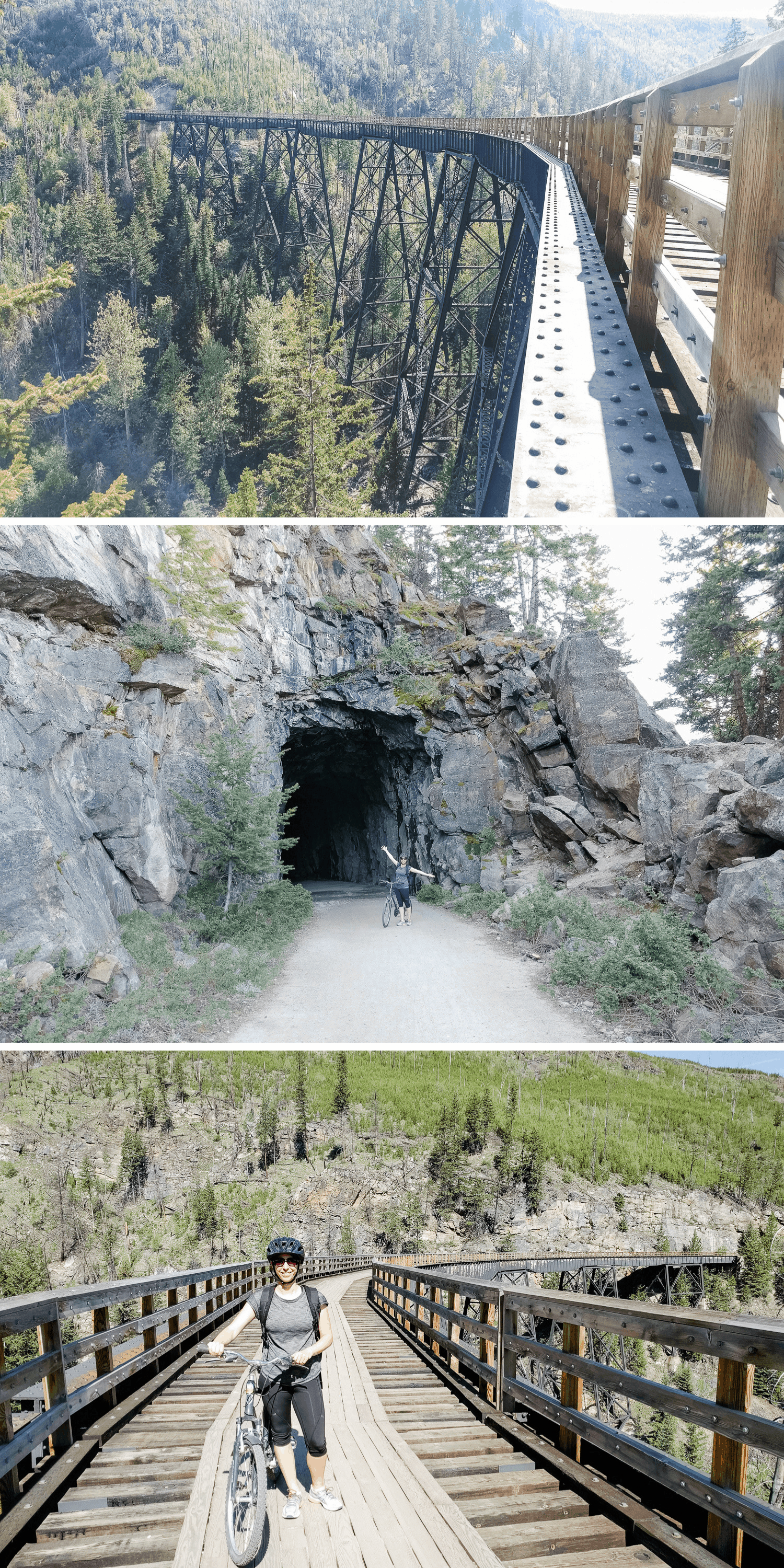 Where To Eat In Kelowna
Kelowna has an amazing local food scene which includes an abundance of wineries (see section above), orchards, farm-to-table restaurants and food artisans.
Favourite Restaurants
Here are a few of my favourite restaurants in Kelowna:
Favourite Patios
One of the best parts of the summer is chilling on a patio. Here are some of my favourite patios in Kelowna:
Smack Dab: This is Kelowna's largest lakeside patio and the perfect place to spend some time on a gorgeous day. They offer a casual, gastropub style menu. Or if you prefer a more upscale menu, you can dine on the patio of Lakeside Dining (Hotel Eldorado) next door.
Craft Beer Market: This is Kelowna's biggest rooftop patio and offers views of downtown Kelowna and Okanagan Lake. With over 100 beers on tap, the hardest part is deciding what to drink with your meal.
Perch Cafe & Lounge: This cool patio offers panoramic views of the city since it is located on the rooftop of the Innovation Centre. Come for the view and stay for the menu that utilizes locally sourced ingredients.
OAK + CRU Social Kitchen & Wine Bar: They are located inside the Delta Grand and have a patio on the lake. The farm to table inspired menu and great cocktails make this place an excellent choice when downtown.
Summerhill Pyramid Bistro: This restaurant is located at the Summerhill Pyramid Winery and the patio offers stunning views of Okanagan Lake and the vineyards. The menu highlights organic BC ingredients including those from an onsite garden. Best of both worlds – start off with a wine tasting and then head out to enjoy the patio!
Ice Cream
I love ice cream and we sure have some good places to treat yourself in Kelowna. Some of my favourite ice cream places are:
Parlour Ice Cream: They are located right downtown across from the sails. The ice cream is made from local ingredients and they have some unique flavour profiles. Try the salted caramel on a fresh, house-made waffle cone – my favourite!!
QB Gelato: This place is delicious! They make handcrafted gelato completely from scratch out of locally sourced ingredients.
Amore Mio: Not only can you get authentic Italian gelato here but they also have daily fresh baked goods, coffee and Italian pastas and paninis.
Food Shops
I love exploring all the local food shops and food artisans and am constantly discovering new ones! Here are a few of my favourites: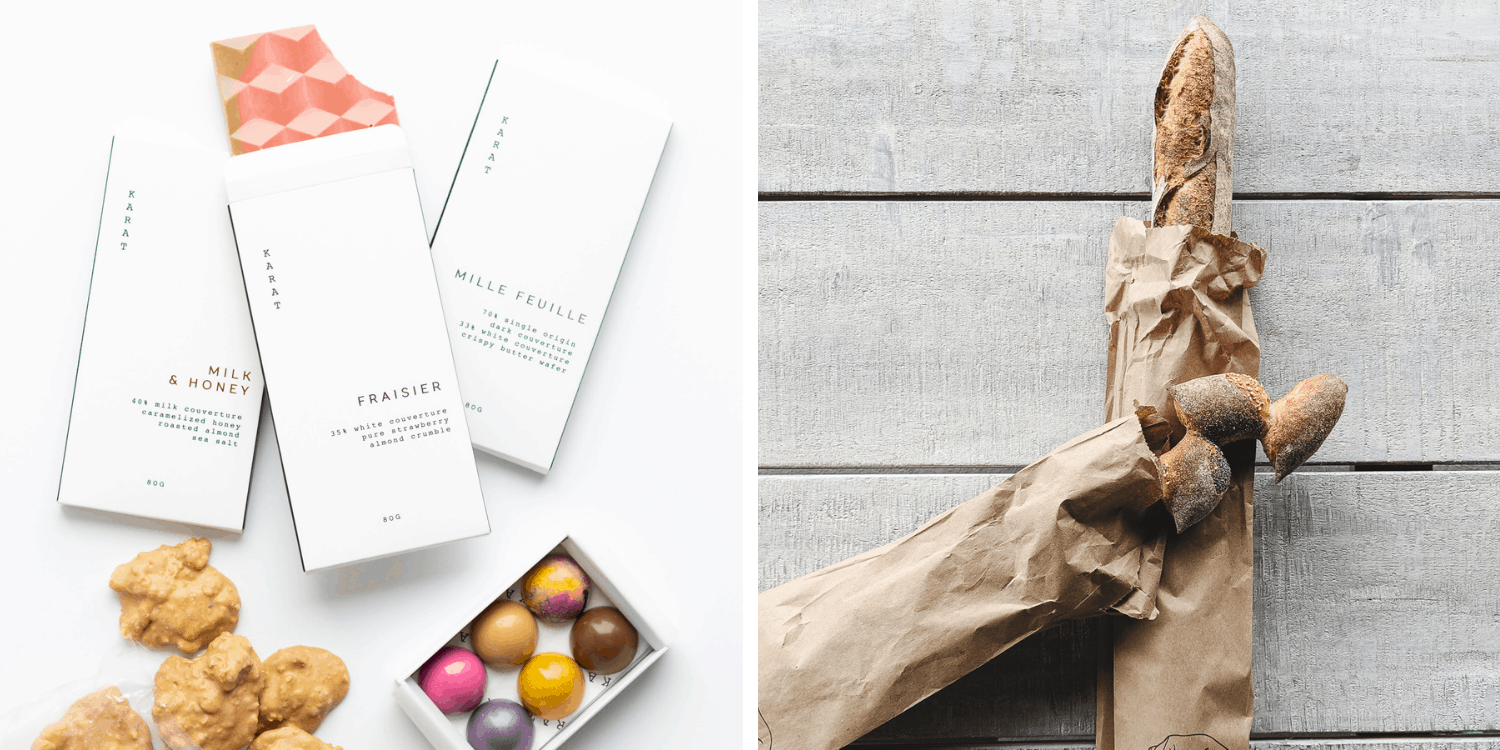 Places To Shop In Kelowna
So many cute little shops and boutiques to check out. Here are a few of my favourites:
Places To Get Pampered In Kelowna
Sometimes you need a little pampering…am I right? Here are a few places to treat yourself:
Sparkling Hill Resort & Spa: Less than an hour drive outside of Kelowna and you will arrive at this European-inspired spa resort. Stunning views, Swarovski crystal decor and home to the 40,000 sq ft KurSpa featuring pools, steams, saunas and a variety of treatment areas.
Orah Spa + Salon: This is an eco-luxury full service spa with a cozy, welcoming atmosphere. They offer just about everything you can think of.
Namaste Day Spa: A boutique day spa specializing in organic facials.
Wow! Who knew I had so much to say about this city (and I could have gone on and on even more!). I hope that this guide provided you with plenty of ideas of things to see and do in Kelowna. I will leave you with this cute video from Tourism Kelowna. Have fun exploring!!!
Looking for Kelowna Hotels?
If you are visiting Kelowna and need accommodation, here is a big list of options from TripAdvisor. A few suggestions with beautiful locations would be: Delta Grand, Manteo Resort and Hotel Eldorado.
Have you ever visited Kelowna? Let me know in the comments below. I would love to know what some of your favorite things to see and do are!
⬇ PIN it for later! ⬇