Learn how to make a delicious, nutrient rich, immune boosting turkey bone broth (stock). This recipe covers 2 different cooking methods: Instant Pot (pressure cooker) and Stovetop. The perfect way to use every part of your turkey!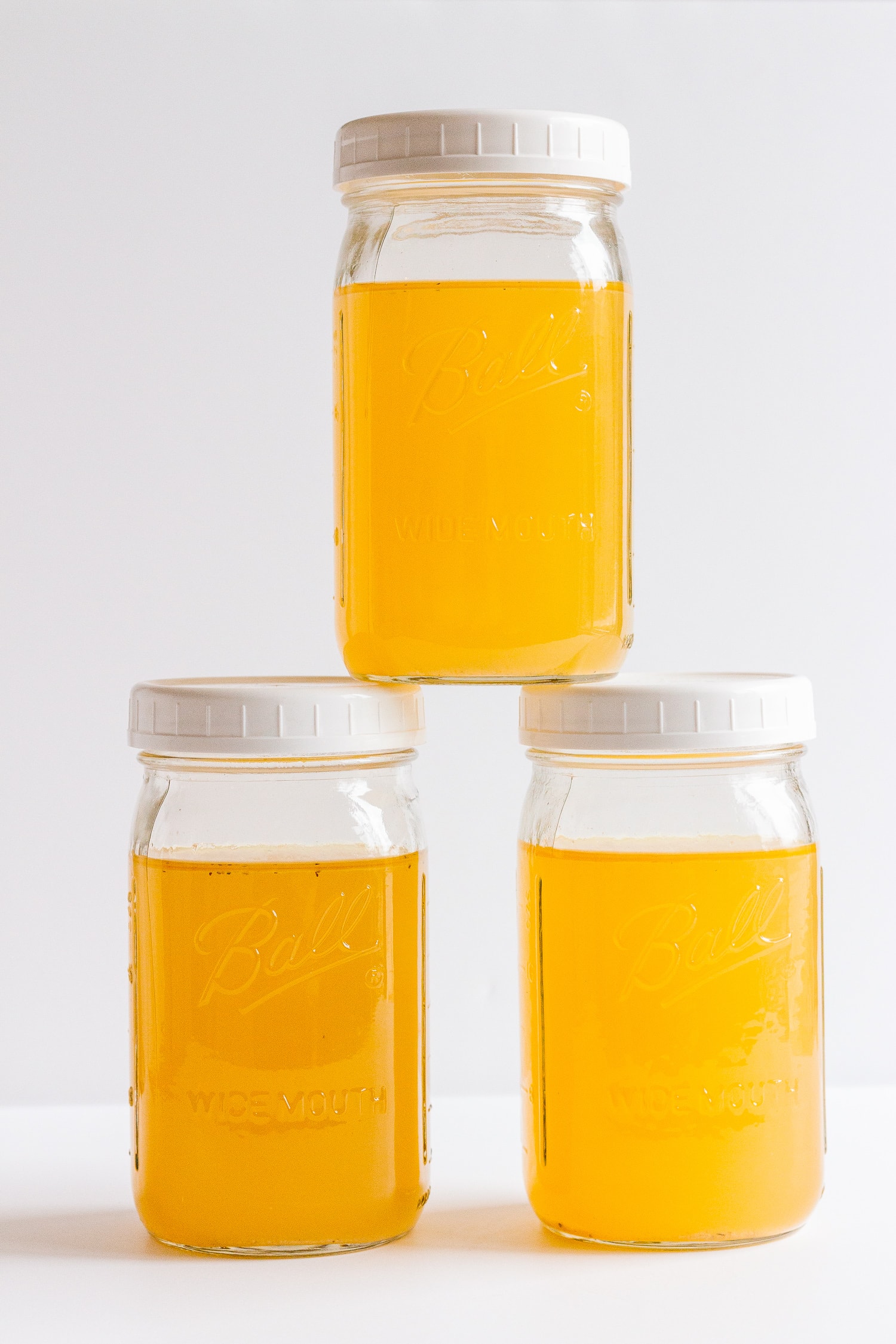 You have feasted on a delicious, roast turkey dinner, stored the leftover meat and now are left with the carcass. Don't toss it! You spent good money purchasing a quality turkey for your Thanksgiving or holiday meal so make sure not to let any of it go to waste. Transform your turkey carcass into a delicious, nourishing turkey bone broth (stock).
Let me show you how to make it using either the Instant Pot (my preferred method) or the Stovetop.
What Is Turkey Bone Broth?
Before we get started – what the heck is turkey bone broth? Turkey bone broth is simply a type of stock made by simmering turkey bones usually along with some veggies, spices and a touch of apple cider vinegar (helps to extract minerals and collagen from the bones and connective tissue).
Is Turkey Stock (Bone Broth) The Same As Broth?
Broth is made by simmering meat for a shorter period of time. Stock and bone broth (which are essentially the same thing) are made by simmering bones that have a small amount of meat attached to them for a longer amount of time. The terms are typically used interchangeably though within recipes.
Ingredients Needed
To make turkey bone broth, you will need the following ingredients:
Leftover Roast Turkey Carcass: You may need to chop it up into a few pieces so that it fits into your pot more easily. If your turkey is extremely large, use one half and store the other half in the freezer to make another batch of turkey stock at a later time.
Veggies + Aromatics: I like to add onion, carrot, celery, garlic and bay leaves for flavour.
Apple Cider Vinegar: This helps pull the nutrients and collagen out of the bones/connective tissue and into the water, resulting in a nutritious bone broth. Just a touch is used so it doesn't make your stock taste sour. This is the brand that I like to use.
Water: Everything gets covered with water and simmered into a nourishing bone broth!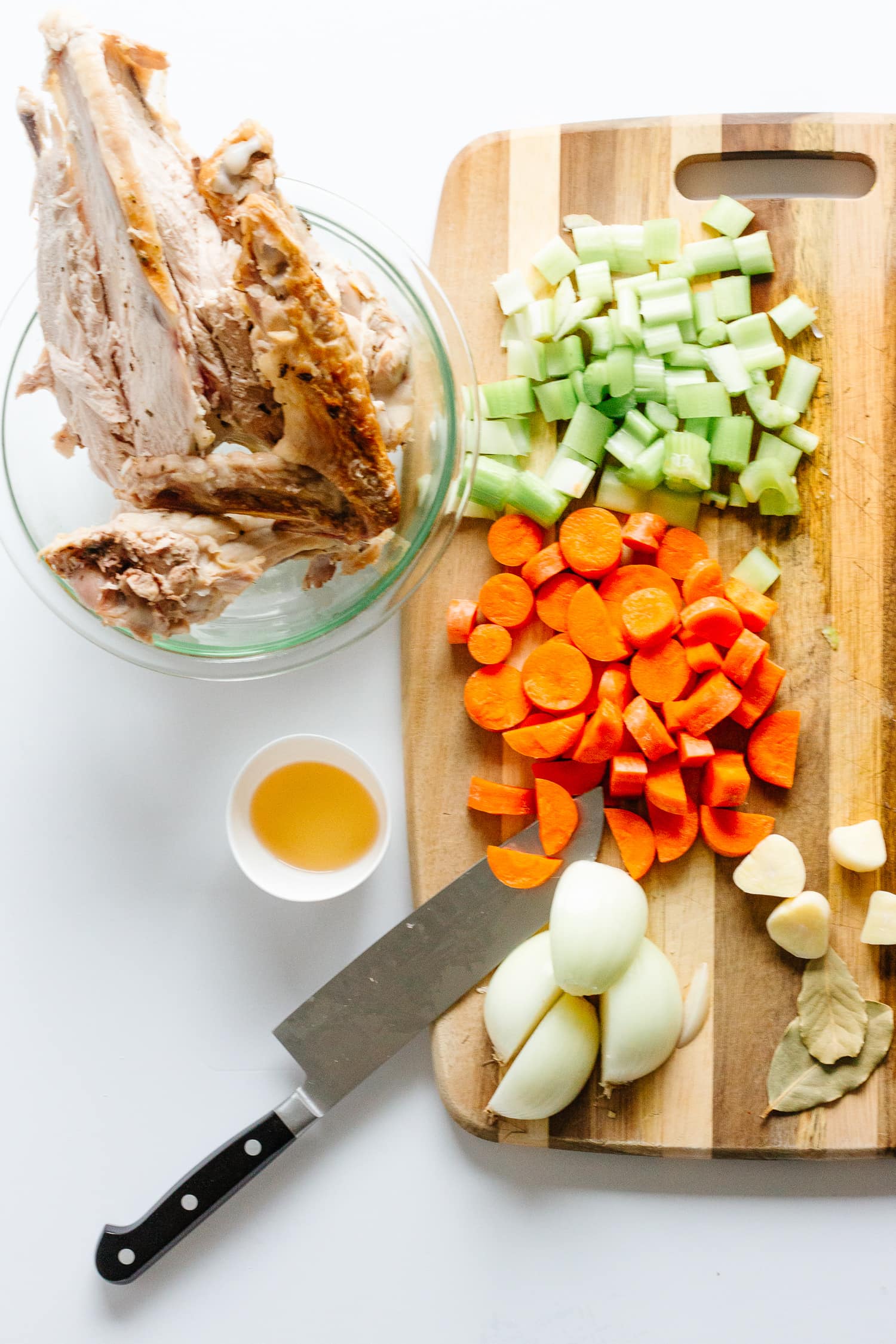 How To Make Turkey Bone Broth (Stock)
This recipe focuses on making turkey bone broth from a roasted turkey carcass. After your turkey dinner, remove and store any leftover meat. You can then either start making your turkey bone broth right away or store the turkey carcass in the fridge for a couple days. I usually make mine the following day. If you won't be able to get to it for a while, simply store the carcass in the freezer to use at a future time.
Instant Pot (Pressure Cooker) Method
This is my preferred method since using the Instant Pot (or any other pressure cooker) allows you to significantly cut down the cooking time. Simply…
Dump In The Ingredients: Add all the ingredients to the Instant Pot, secure the lid and set the steam release valve to the "Sealing" position.
Pressure Cook: Press the "Soup" button (or Manual / Pressure Cook) and set time to 120 min, followed by a natural release. Note: I usually use the "Soup" function when making broth/stock since this setting controls the pressure and temperature to ensure that the liquid never goes into a heavy boiling state.
Strain: Using tongs, pull all the large pieces out first. Then pour the rest through a fine mesh sieve into a large bowl or pitcher.
Store: Portion out for storage. See storage tips below.
New to the Instant Pot? Check out this helpful Instant Pot guide I created for beginners!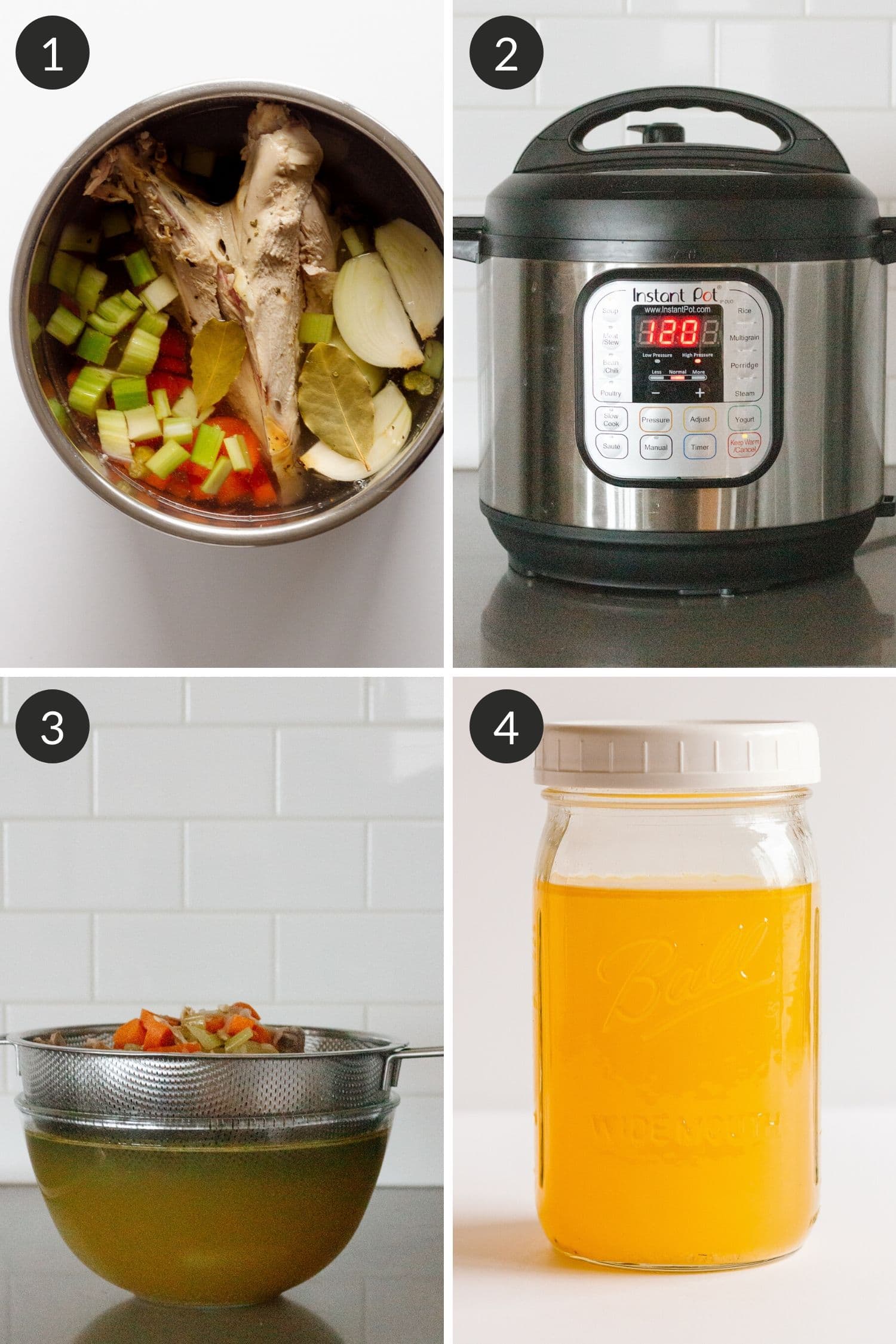 Stovetop Method
You can also make this turkey bone broth recipe using the traditional stovetop method. Simply…
Place Everything In A Pot: Add all the ingredients to a large stockpot.
Simmer: Simmer for a minimum of 3-4 hours. The longer the better though (12-24 hours is optimal) in order to extract all the good stuff.
Strain: Pull out all the large pieces first using tongs. Then pour the rest through a fine mesh sieve into a large bowl or pitcher.
Store: Portion it out and store. See storage tips below.
Detailed ingredient list and directions located in the recipe card below.
Can I Make Turkey Broth With Raw Turkey Parts?
You most definitely can! This recipe focuses on making the turkey bone broth with the leftover roasted carcass. However, if you want to make some using raw turkey parts, check out my Make Ahead Turkey Gravy recipe. It outlines the process of making a delicious turkey broth using raw pieces like the neck, backbone and wings. Or you can simply roast up the raw turkey parts and continue on with this recipe.
How To Store It
Broth or stock can be stored in the fridge for up to 5 days or in the freezer for 4-6 months. I like to portion mine out into various sizes so it can easily be used in a variety of different recipes. For example, if you are making a soup you will require a larger quantity whereas other recipes may only call for a small amount of stock or broth.
Storage Container Options
Here are a few great storage options to use when portioning out your turkey bone broth:
Tips For Freezing In Glass Jars
Here are 2 important tips if you want to freeze your broth in mason jars like I do. These tips will help prevent cracked jars because nobody wants that!
Leave Space: Leave at least 1 inch of space at the top of the jar to allow for expansion. If the jar curves in at the top, keep broth below that curvature.
Never Place A Hot Jar In The Freezer: NEVER do this! Make sure your jars are completely cool before freezing. I like to first completely cool my jars down in the fridge before storing in the freezer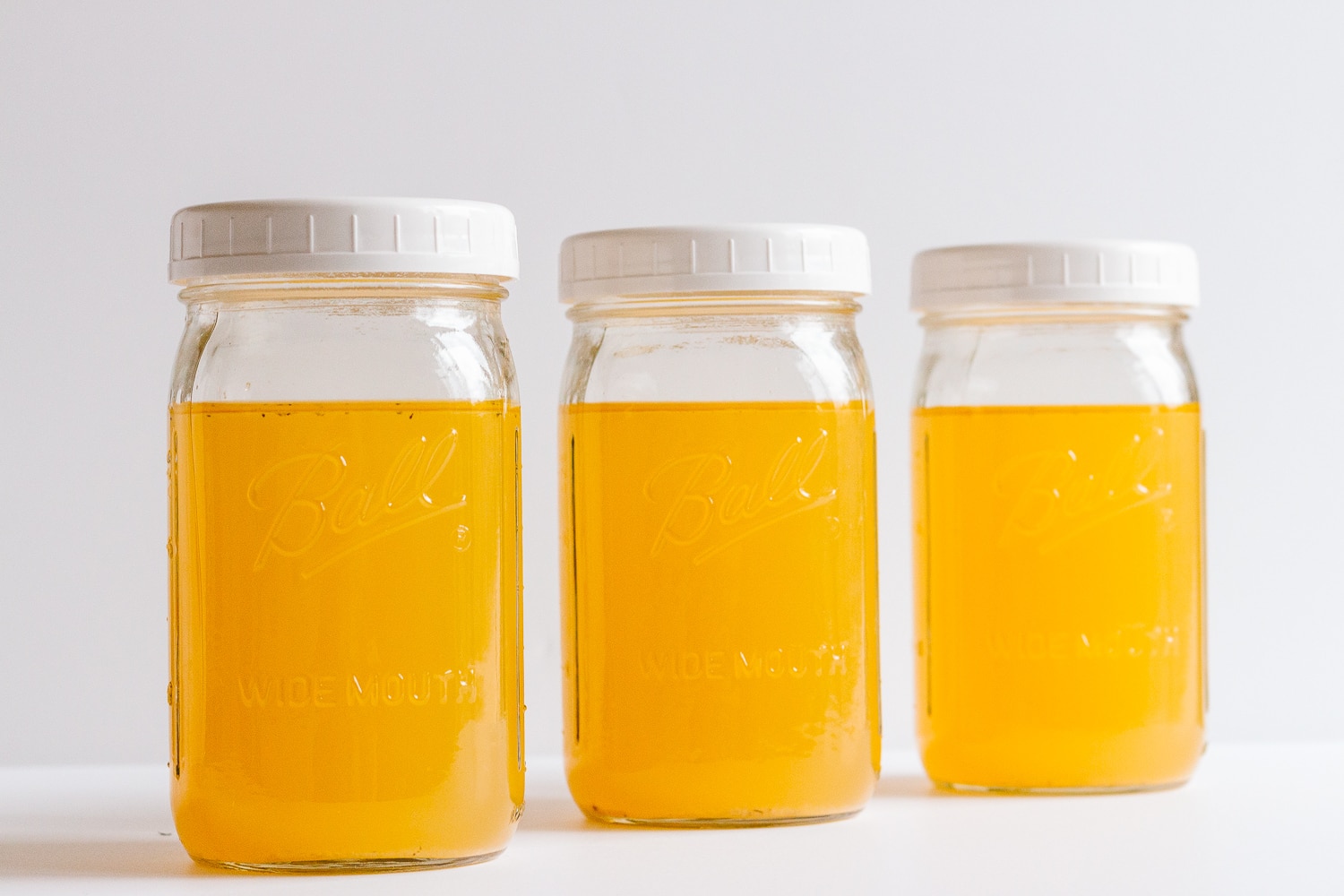 Should It Look Like Jello Once Cooled?
So your broth cooled down in the fridge and now it looks like jello… That is amazing! It means your broth is rich in gelatin and will turn back to liquid once heated. Don't worry if it didn't gel since it is still nutritious (just probably didn't have enough gelatin-rich bones).
Tip: You can also add in some of your own gelatin (I like this one) for an added boost.
What Are The Benefits Of Turkey Bone Broth?
Not only is turkey bone broth delicious but it also offers a number of benefits:
Nutrient-dense: rich in vitamins and minerals
Boosts the immune system
Supports joint health
Promotes healthy skin and shiny hair
Supports healthy digestion
Helps fight inflammation
If you want to learn more about the benefits of bone broth, here are a few detailed articles:
Ways To Use Your Turkey Bone Broth
This delicious, nourishing turkey bone broth can be used in a wide variety of ways:
Soups + Stews: Probably one of the most obvious ways but so yummy!
Sauces + Gravies: Perfect for flavourful sauces and gravies that call for broth or stock.
Sip it: Drink it on its own for a healthy, warming pick me up.
Rice + Grains: Use instead of water to cook rice or grains with a nourishing boost.
Any recipe calling for stock or broth: Many recipes call for some stock or broth. Skip the boxed stuff and add in your homemade bone broth.
What are your favourite ways to use turkey bone broth/stock? Let me know in the comments!
Print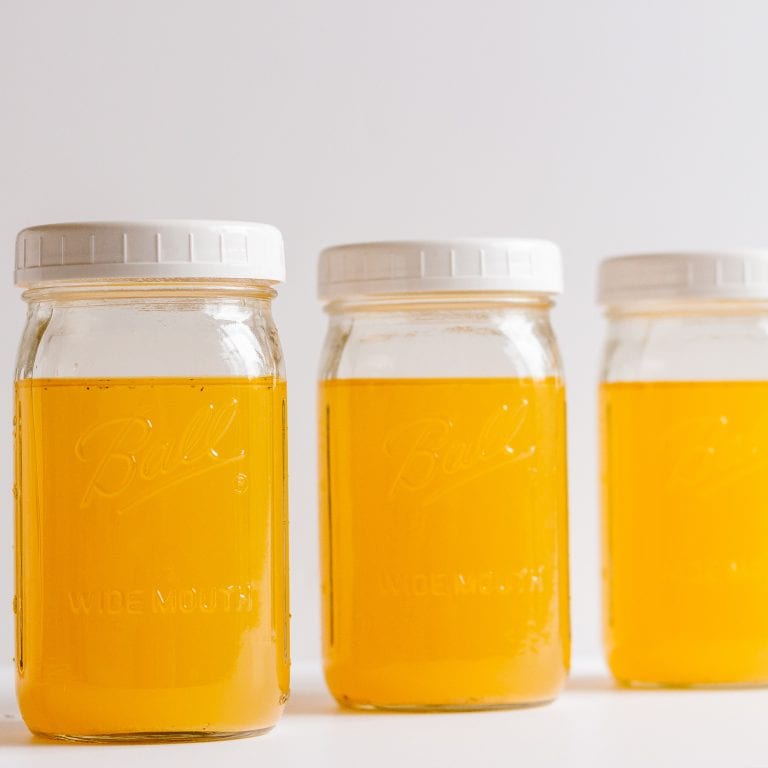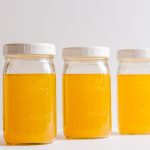 Turkey Bone Broth (Stock): Instant Pot + Stovetop
Author:

Vanessa | Maple + Mango

Prep Time:

10 min

Cook Time:

2 hours (up to 24 hours with stovetop method)

Total Time:

2 hours 10 minutes

Yield:

Varies

Category:

Soup
---
---
---
---
⬇ PIN it for later! ⬇