This delicious Spatchcock Turkey with Herb Butter is juicy, crispy-skinned and only takes 90 minutes to cook. Learn how easy it is to spatchcock and dry brine your holiday turkey.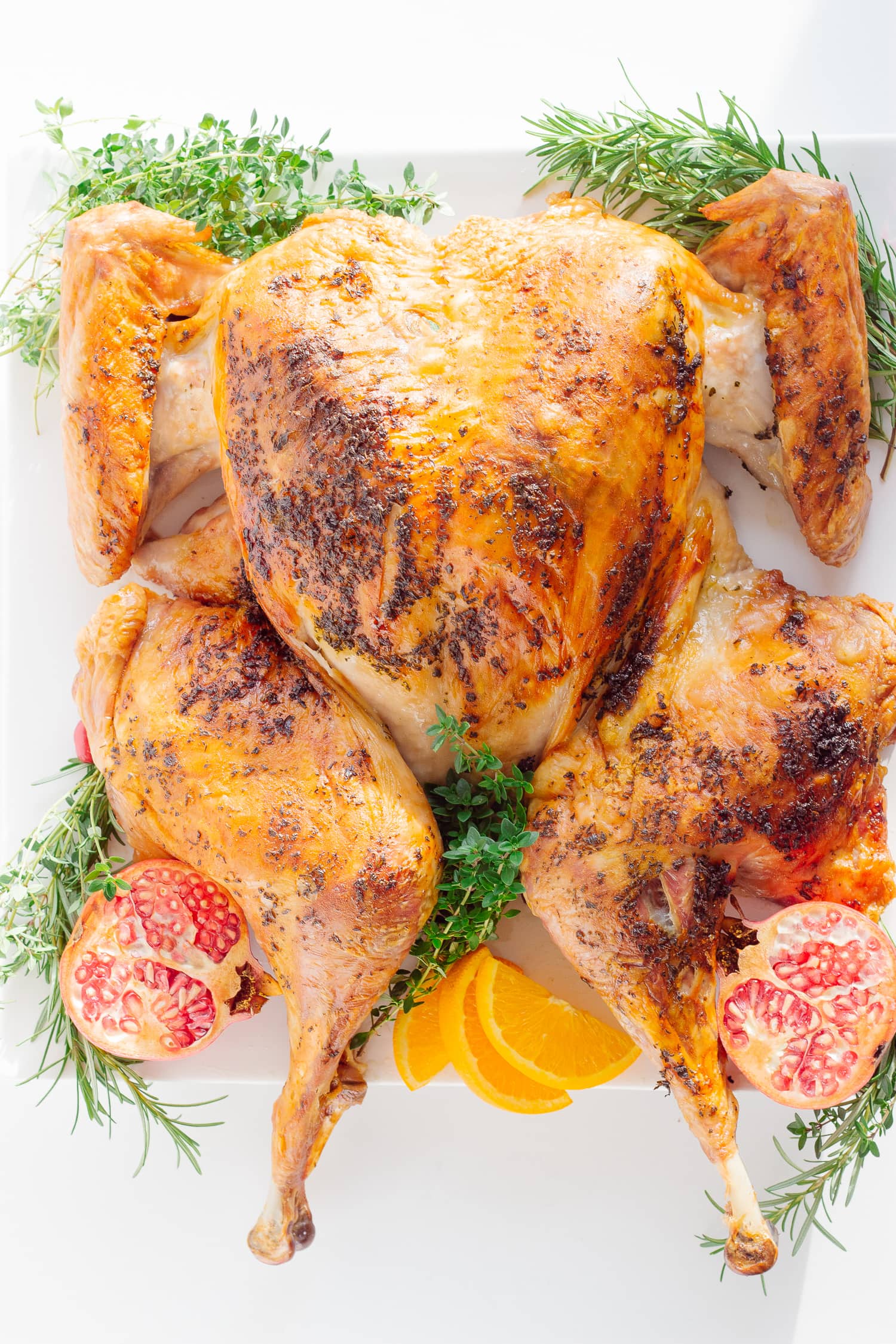 Want a delicious, juicy, crispy-skinned turkey that only takes 90 minutes to cook? Then you have to try this spatchcock roast turkey recipe! This is the only way that I have cooked our turkey for the past few years since I find it so much easier to prepare than traditional methods. The turkey is always juicy and the crispy skin is SO GOOD (just warning you that there may be fights over it😏).
There are 4 steps to making this turkey: spatchcock, dry brine, spread on herb butter and roast. Let's get started by learning how to spatchcock and dry brine a turkey…
What Does Spatchcock A Turkey Mean?
So you might be wondering what the term "spatchcock" even means (it is a funny little word). To "spatchcock" a turkey simply means that you remove the backbone which helps it sit flatter as it roasts. So a spatchcocked turkey is just a whole turkey that has had its backbone removed. The turkey is then opened up and laid out flat before roasting.
Is Spatchcock The Same As Butterfly?
Yup – A spatchcock turkey can also be called a butterflied turkey.
Benefits of Spatchcocking Your Turkey
Here are 5 reasons why you should spatchcock your turkey:
Faster Cooking: Spatchcocking your turkey speeds up the cooking process – takes about half the time of the traditional method. The flatter surface cooks more evenly and can handle higher heat.
Crispier Skin: All of the skin faces upwards and is evenly exposed to the heat resulting in more golden, crispy skin.
Evenly Cooked, Juicy Meat: Since the turkey is flat, it cooks much more evenly. Both the breast and leg meat can be done at the same time resulting in juicier meat.
Takes Up Less Oven Space: A flat turkey naturally takes up less space in the oven.
Make Ahead Gravy: You can use the removed backbone to make this delicious Make Ahead Turkey Gravy recipe without the need to purchase any additional turkey pieces.
How To Spatchcock (Butterfly) A Turkey
Ask the butcher to do it!!! This is my method of choice since it is obviously the easiest. Just make sure to tell the butcher to give you the backbone they cut out so that you can use it for broth or gravy.
If you are unable to have a butcher do it for you, here are the steps to spatchcock a turkey yourself:
Remove the neck and giblets from inside the turkey.
Using a sharp pair of poultry shears, cut out the backbone of the turkey by placing the turkey breast side down and cutting down both sides of the backbone to remove.
Optional: Using a paring knife, cut along the sides of the wishbone and pull out to make carving easier later.
Flip the turkey over so that it is breast-side up and using both hands, press down hard on the breast bone to flatten out the turkey (you will hear it crack).
You can also watch the process in this great little video I found: Click here to watch!
Why A 12-14 lb turkey?
The recipe mentions a 12-14 lb turkey since I find a turkey any larger than this is difficult to fit on a baking sheet once flattened out. If you need more turkey than this, just roast two 12-14 lb birds. Or you can cut a large bird in half down the middle and put each half on separate baking sheets (due to the larger breast size, you will need to decrease the cooking temperature and increase the time though).
How To Dry Brine A Turkey
To dry brine a 12-14 lb turkey, combine 3 tbsp kosher salt with 1 tbsp baking powder and sprinkle it all over the outside of the turkey. Set an oven-safe wire rack on top of a foil-lined baking sheet and place the turkey on top, skin-side up. Loosely cover with plastic wrap and place in the fridge for 1-3 days. For really crispy skin, remove the plastic wrap and leave uncovered in the fridge for the last 6 hours – 1 day.
Note: Make sure to use a natural turkey for this recipe. Not suitable for a pre-seasoned or self basting bird. I like to order a local turkey from the butcher shop since it also has the added bonus of having them spatchcock it for me. If you are in the US, ButcherBox is another option for sourcing a quality turkey.
What Does Brining The Turkey Do?
Brining improves a turkey's ability to retain moisture. With dry brining, the salt causes the turkey to first release moisture and then reabsorb the salty liquid. This breaks down muscle proteins and results in tender, juicy meat that is seasoned throughout.
There are 2 types of brining: wet and dry. Wet brining is done by placing the turkey in a big container of salted water whereas dry brining is just sprinkling the bird with a salt mixture. I like to dry brine since it is easier, less messy and results in crispy skin. There is no need to worry about water or turkey juices slopping around like there is with wet brining.
What Kind Of Salt Should You Use?
Use kosher salt! The granules are larger and easier to distribute. Salt that is too fine will make the bird too salty.
Why Does This Dry Brine Include Baking Powder?
Baking powder helps to make the skin crispy and who doesn't love crispy skin!?! Adding some baking powder to the dry brine mixture (1 part baking powder to 3 parts kosher salt), raises the skin's pH levels which allows the proteins to break down more efficiently. The result is crispier, more evenly browned skin.
Note: Make sure you use baking powder and not accidentally grab baking soda which can have a metallic taste.
How to Roast A Spatchcock Turkey
To make this Dry Brine Spatchcock Turkey with Herb Butter, simply…
Spatchcock The Turkey: Details above on how to do this.
Dry Brine The Turkey: Details above on the dry brine process: basically you sprinkle on a mixture of kosher salt and baking powder and pop the turkey in the fridge. So EASY!
Slather On Herb Butter: Mix chopped sage, thyme and rosemary into some softened butter. Spoon some under the skin of the turkey breasts and thighs. Massage the remainder all over the turkey.
Roast: Place turkey on a wire baking rack fitted over a foil-lined baking sheet. Pour 1/2 cup of water into the bottom of the tray to prevent drippings from smoking (along with some chopped onions, carrot and celery if you want more flavourful drippings). Roast turkey at 450F (425F convection) for 90 minutes or until a thermometer reads 165F on the thickest part of the thigh and 150F on the breast.
Rest: Allow the turkey to rest 20-30 minutes before carving.
Carve + Enjoy!: Carve the turkey and enjoy! I like to serve mine with this Make Ahead Turkey Gravy and this Cranberry Orange Sauce.
Detailed ingredient list and directions located in the recipe card below.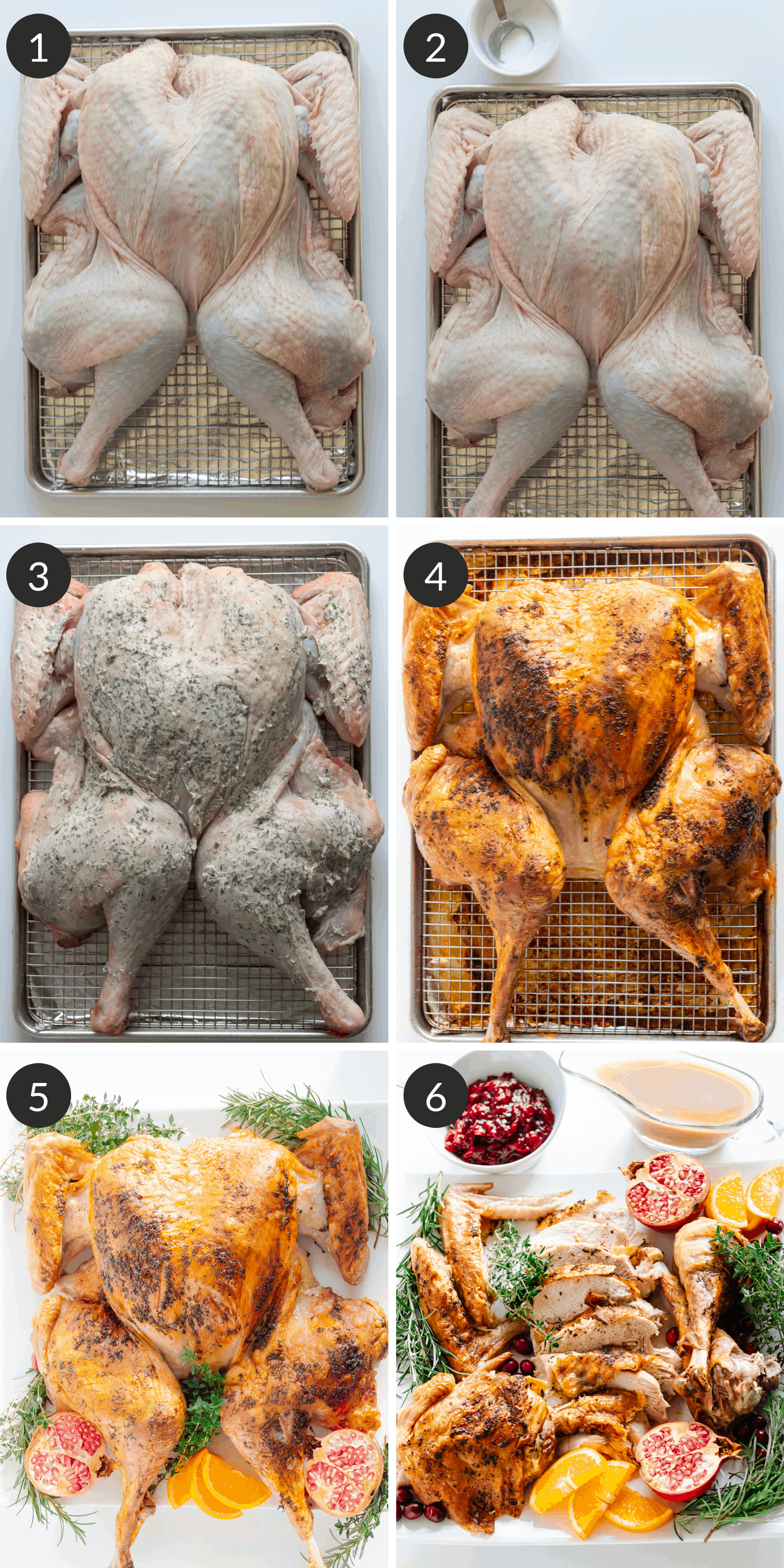 Equipment Needed
To make this roast spatchcock turkey recipe, you will need the following equipment:
How To Carve A Spatchcocked Turkey
I find carving a spatchcocked turkey to be a lot easier than a whole turkey. Watch this video to see how it is done.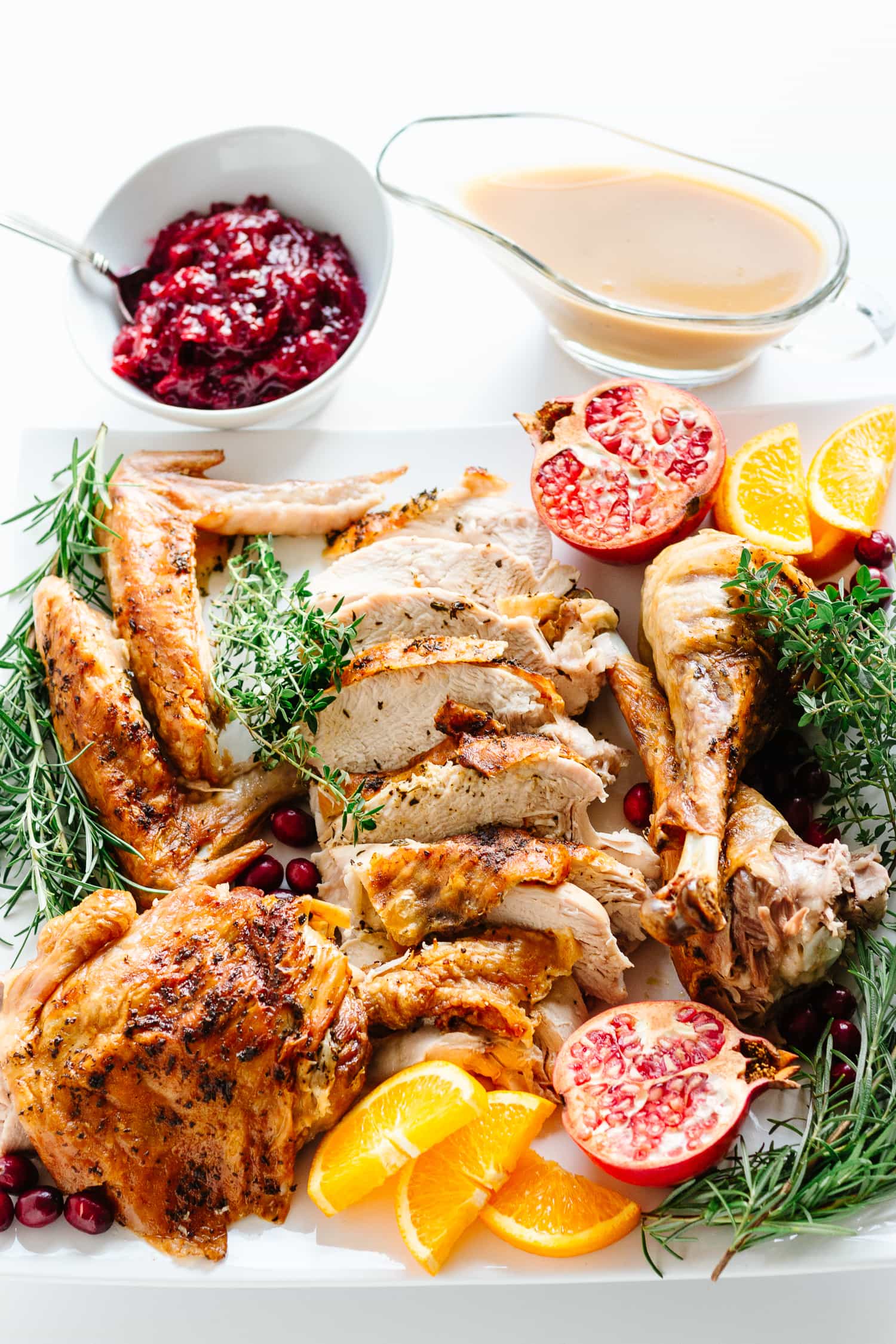 What To Serve With Roast Spatchcocked Turkey
Serve your turkey with your favourite holiday side dishes and these two delicious sauces: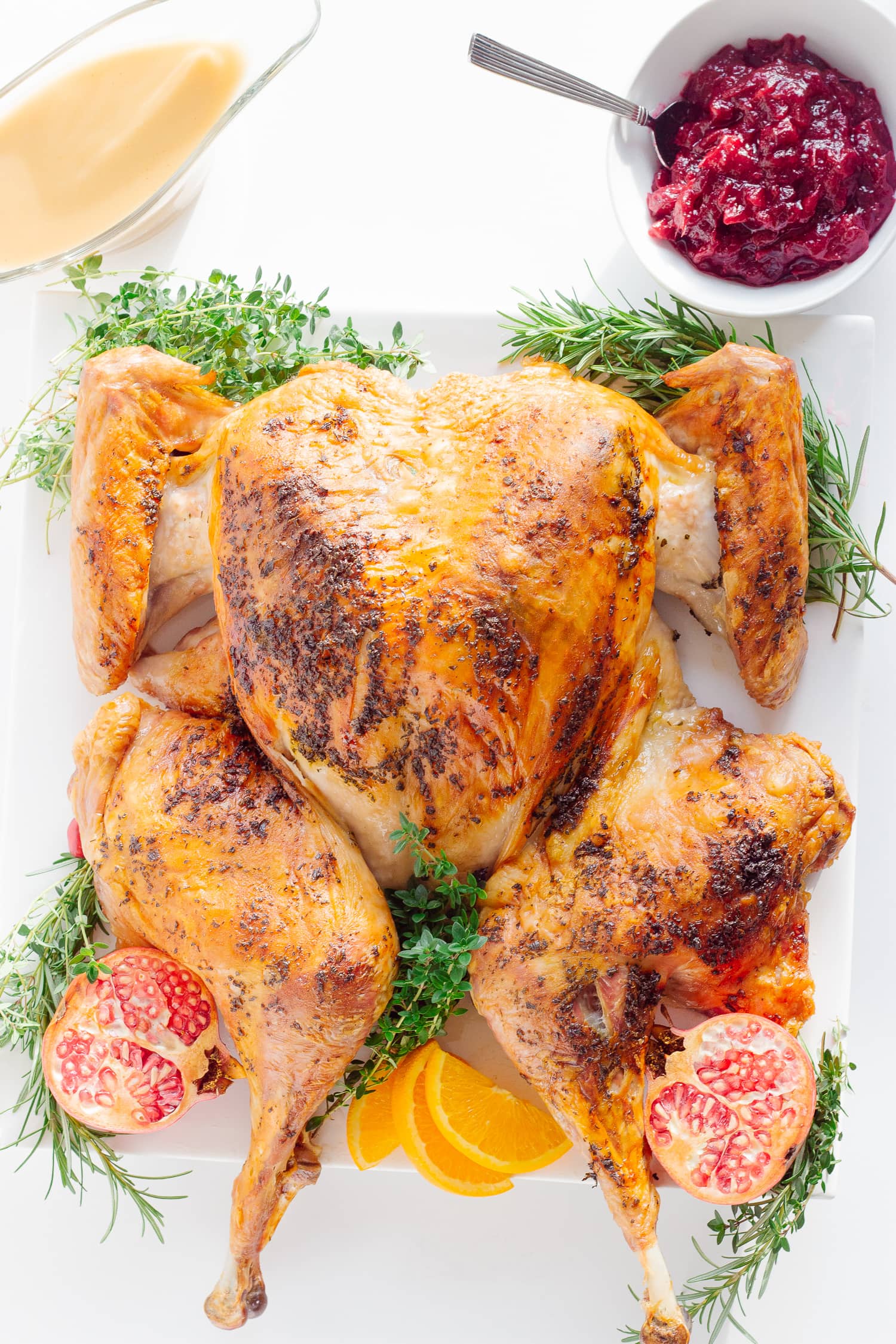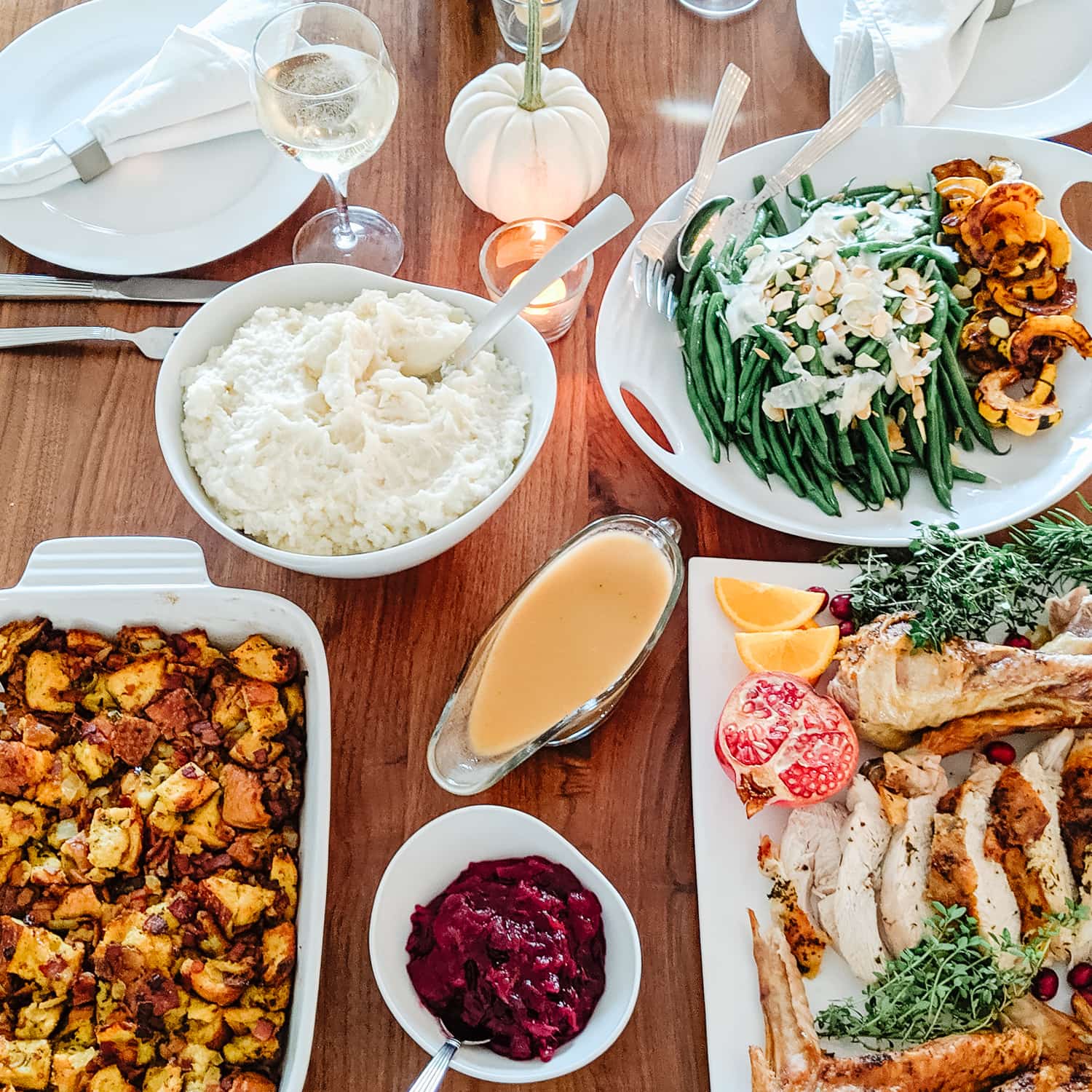 Don't toss that turkey carcass when you are done! Transform it into this delicious, nutrient-rich, immune-boosting Turkey Bone Broth (stock).
Do you spatchcock your turkey? Let me know in the comments!
Print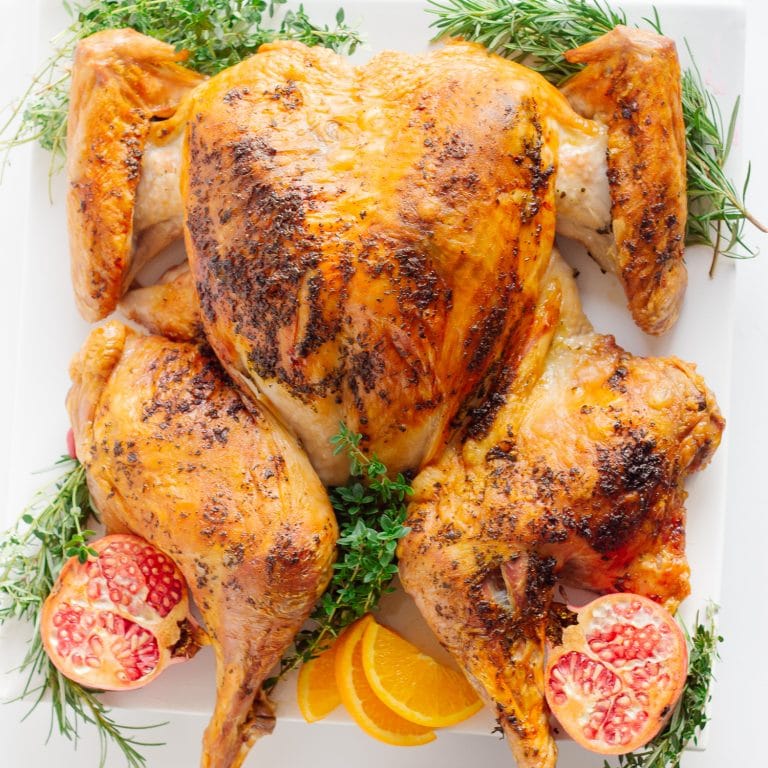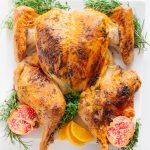 Dry Brine Spatchcock Turkey With Herb Butter
Author:

Vanessa | Maple + Mango

Prep Time:

30 min (plus 1-3 days in fridge)

Cook Time:

2 hours

Total Time:

2 hours 30 minutes

Yield:

Serves

10

–

12

1

x

Category:

Main Dishes
---
---
---
---
⬇ PIN it for later! ⬇