Looking for fun, easy and healthy Halloween snacks for kids? Here are 11 cute and spooky Halloween snack ideas – including both sweet and savory options!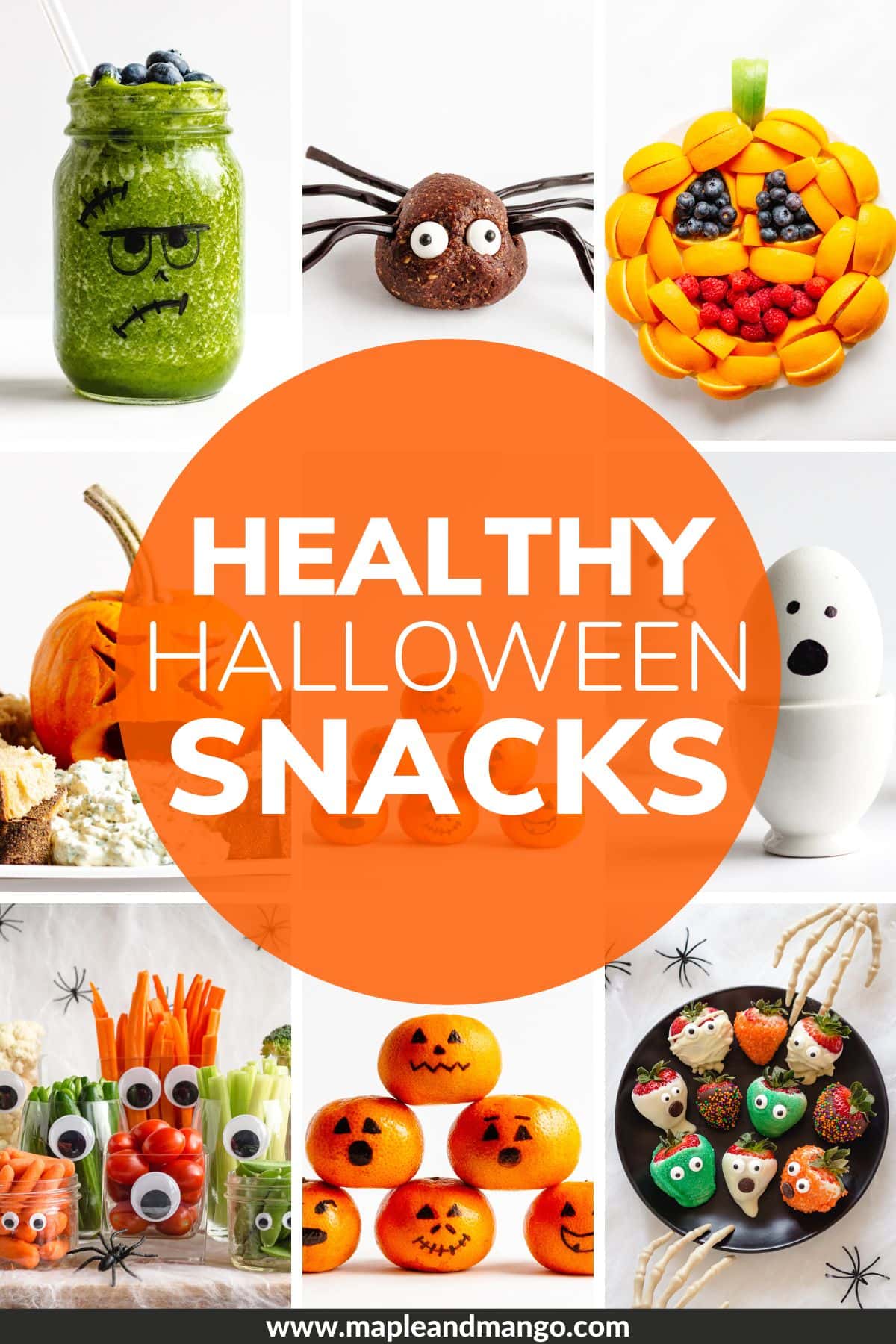 11 Halloween Snack Ideas For Kids
No tricks here! Just some easy and healthy Halloween treats! These Halloween snack ideas are perfect for Halloween parties or a fun afternoon snack for the kids. They also make great movie night snacks to go along with your favorite Halloween movie. Not just for kids either – adults will love these Halloween snacks too (we are all just big kids at heart after all)!
Are these Halloween snacks healthy?
Most Halloween food is packed full of sugar and additives. These 11 Halloween themed snack ideas provide a healthier alternative that are still super fun and easy to make. They range from super healthy options like Monster Veggies to a few special treats like Halloween Strawberries which do include a bit of chocolate and some candy eyeballs but are still a healthier option to the processed packaged treats.
Monster Veggies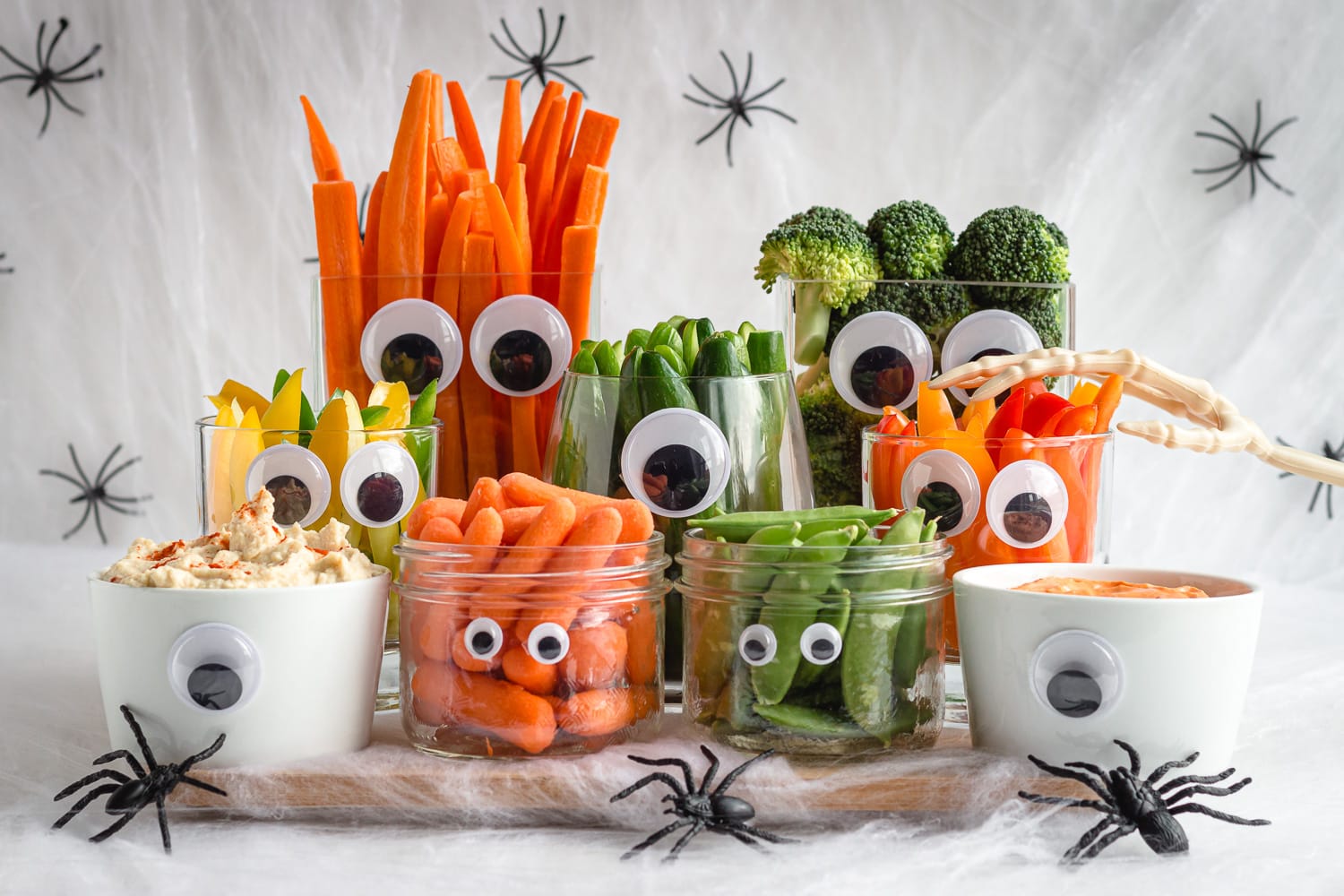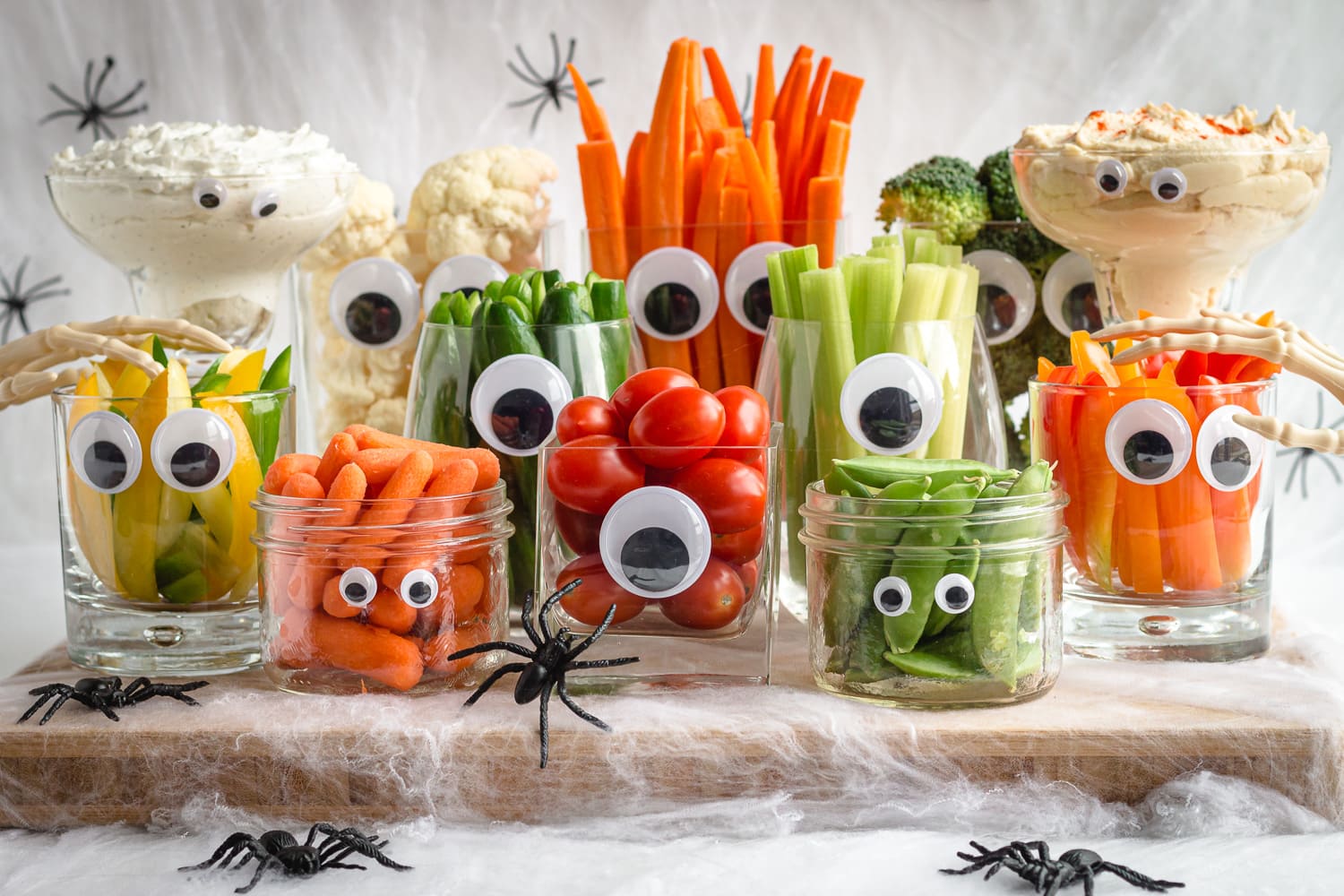 Transform veggies and dip into this spooky and cute Halloween Monster Veggie Tray! All you need is a variety of glassware which you then easily turn into "monsters" by attaching some crafting googly eyes. Then just fill them up with your favorite cut veggies and dip. EASY! Head over to this Easy Monster Halloween Veggie Tray post for step-by-step details and more Halloween themed veggie tray ideas!
Spider Energy Balls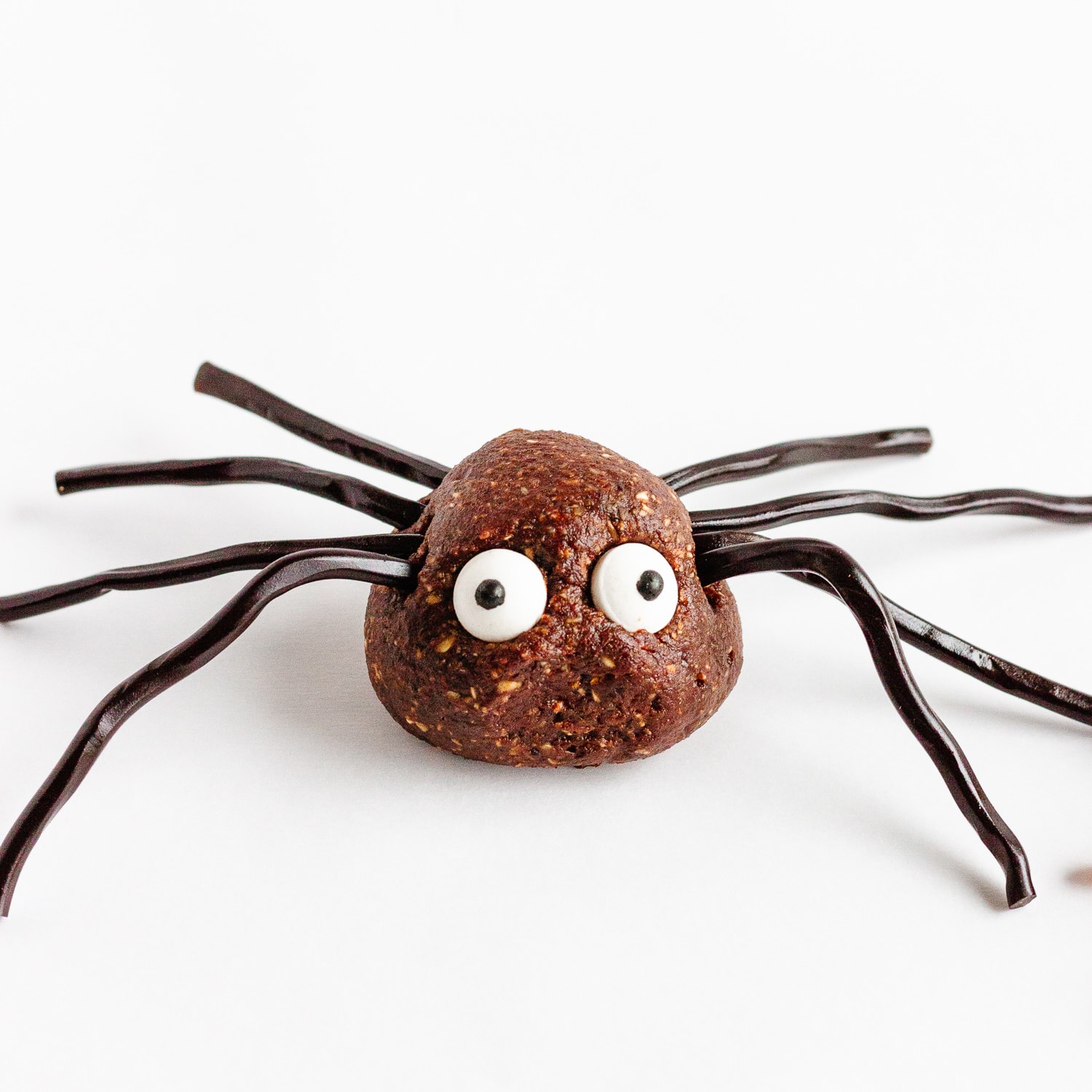 Transform your favorite energy ball recipe into these spooky (and cute!) spiders. Simply press two candy eyeballs on each energy ball and insert legs. The legs pictured above are made from black licorice laces. You could also cut fruit leather into thin strips.
Frankenstein Green Smoothie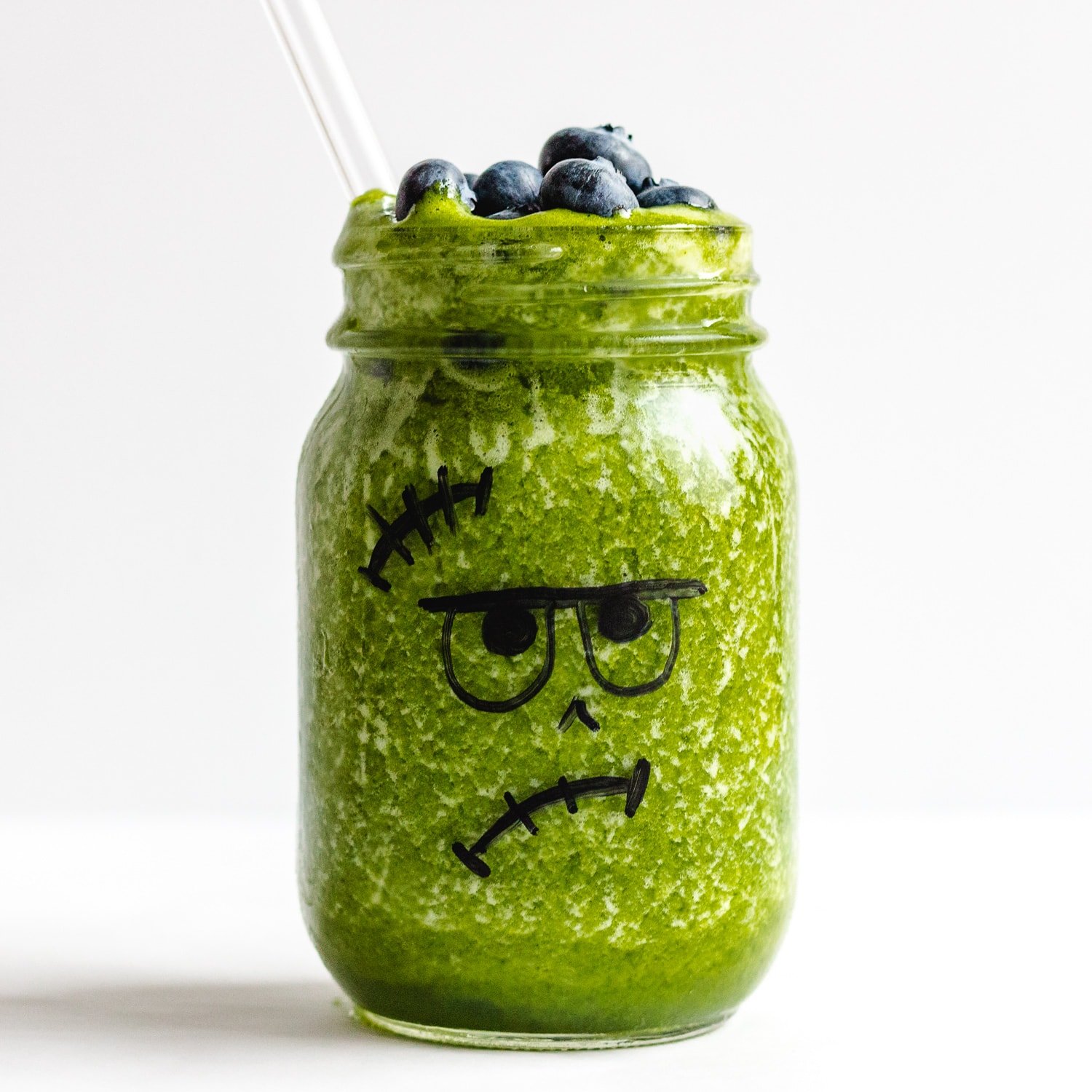 Turn an ordinary green smoothie into Frankenstein! Simply draw a Frankenstein face on the outside of a mason jar or glass with a Sharpie (black permanent marker). Then blend together your favorite green smoothie recipe and pour it in. Finish it off with a few blueberries on top. Note: No worries, the marker washes off the glass!
Jack O' Lantern Fruit Tray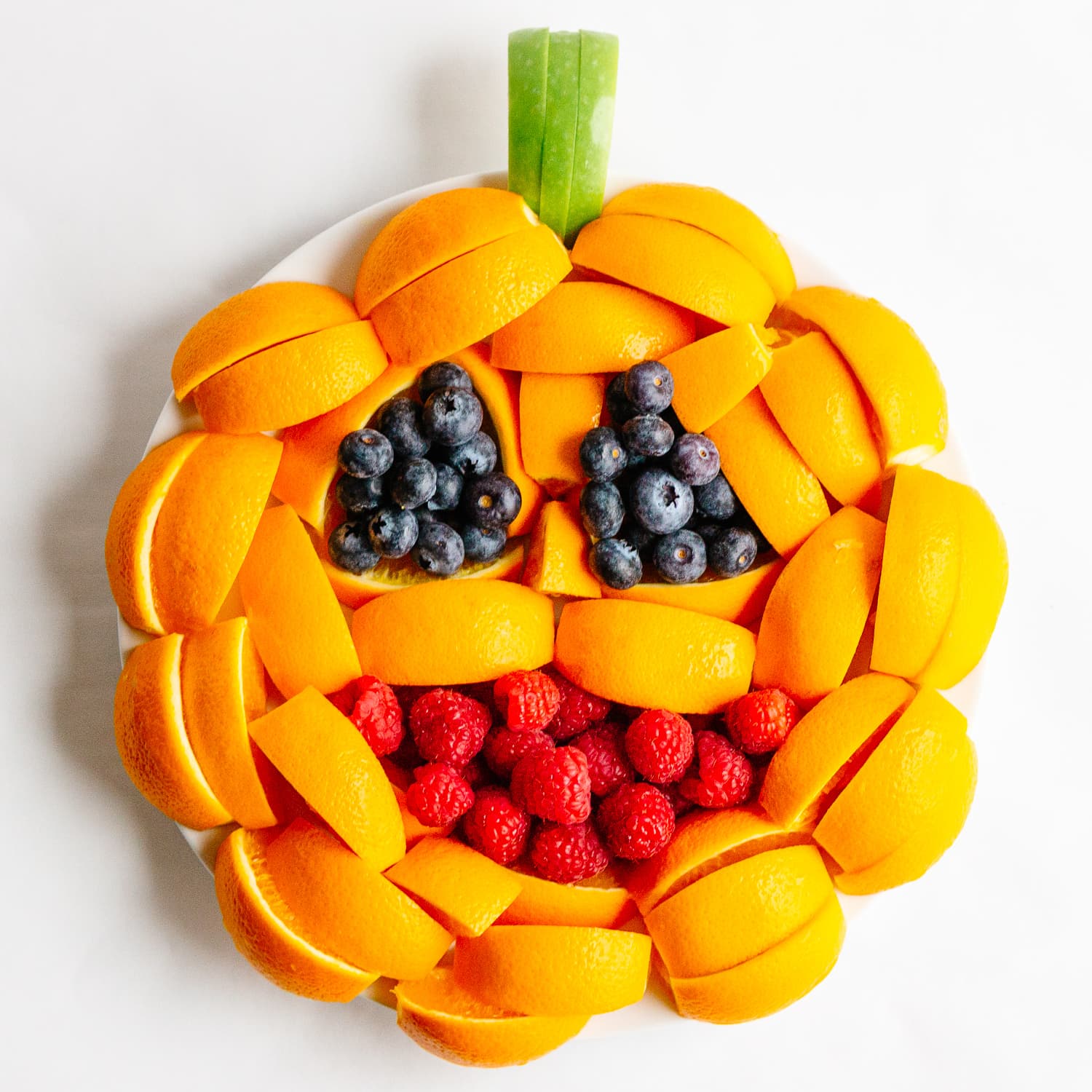 This Halloween themed fruit tray is made by simply arranging orange slices into the shape of a Jack O' Lantern. The spaces left for the eyes and mouth are filled with berries and a stem is made with a few green apple slices.
Puking Pumpkin Dip Platter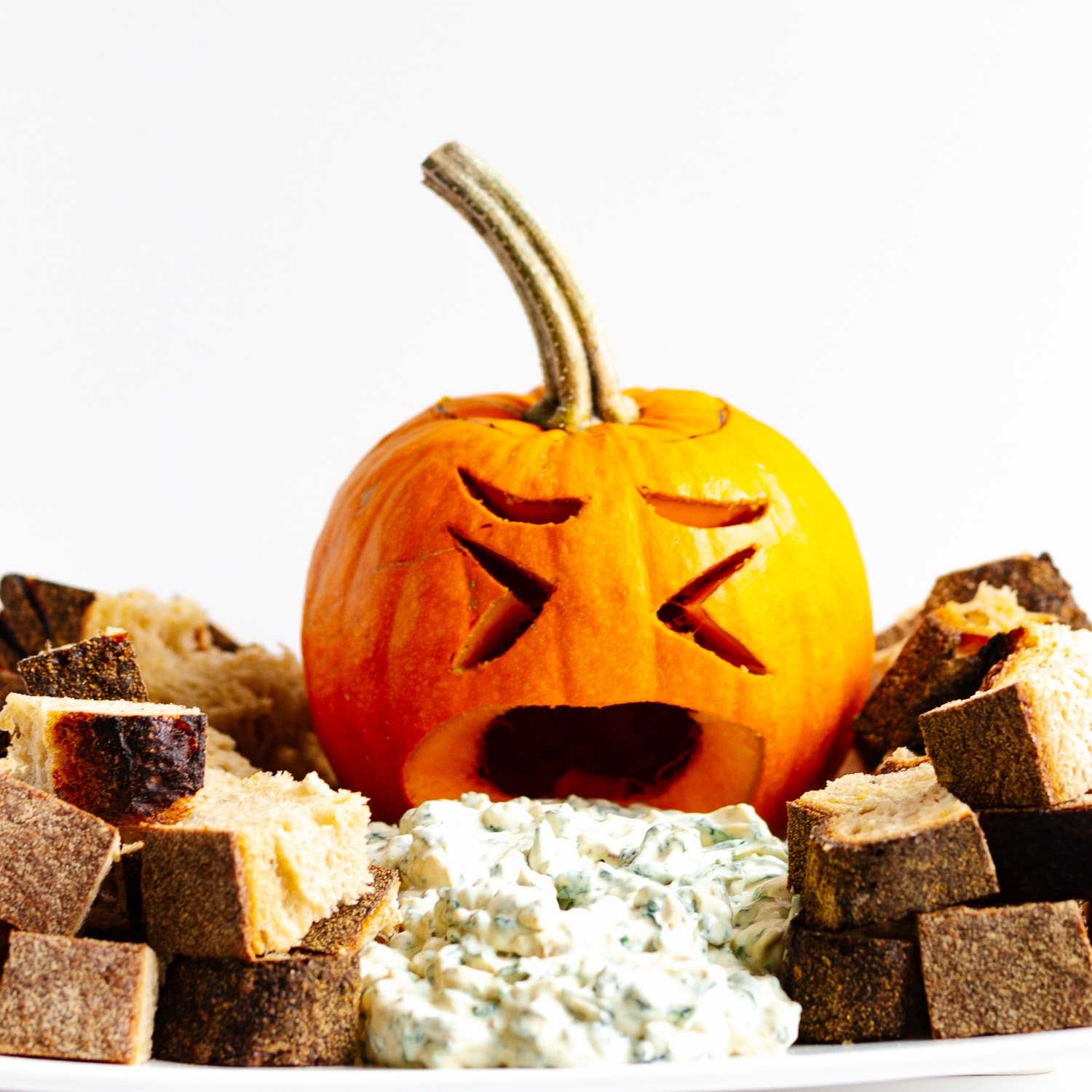 This one always makes me laugh since it's so cute and gross at the same time! Carve a small pumpkin to look like it is "puking". Place on a platter and spread out spinach dip to look as though it is coming out of the pumpkin's mouth. Cut some pumpernickel or rustic bread into cubes and place along the sides. Another fun option is to make this with guacamole and tortilla chips.
If you love this idea, then make sure to also check out this Halloween Taco Board which features a trio of puking pumpkins.
Ghost Bananas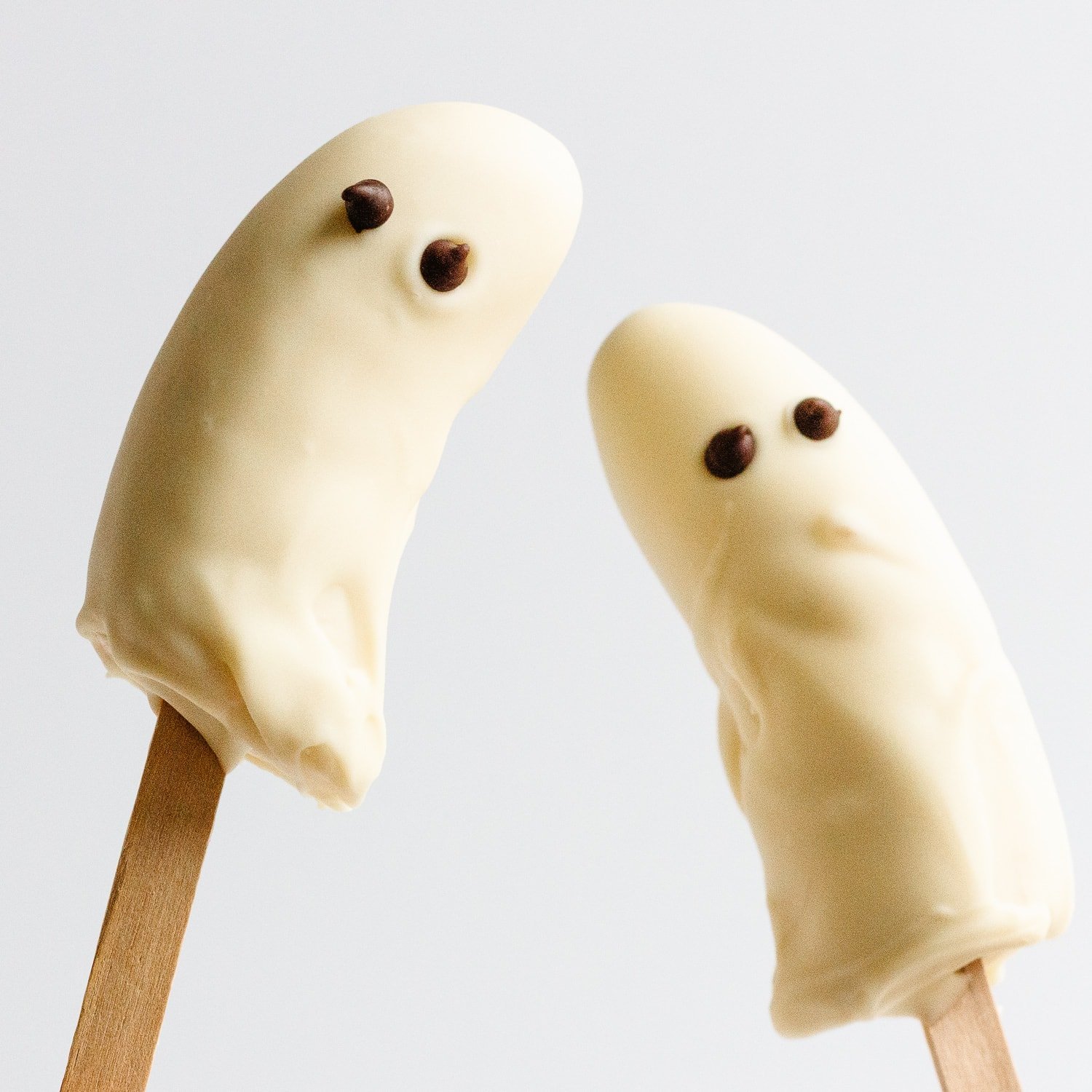 What did the banana dress up as for Halloween? A BOO-NANA! 🤣 These ghosts are a fun frozen Halloween treat! Simply, cut each peeled banana in half and insert popsicle sticks into the cut ends. Freeze for 15 minutes to make dipping easier. Melt some white chocolate and dip bananas in to coat. Add two mini chocolate chips for eyes and place on a baking sheet lined with parchment paper in the freezer to harden.
Jack O' Lantern Mandarins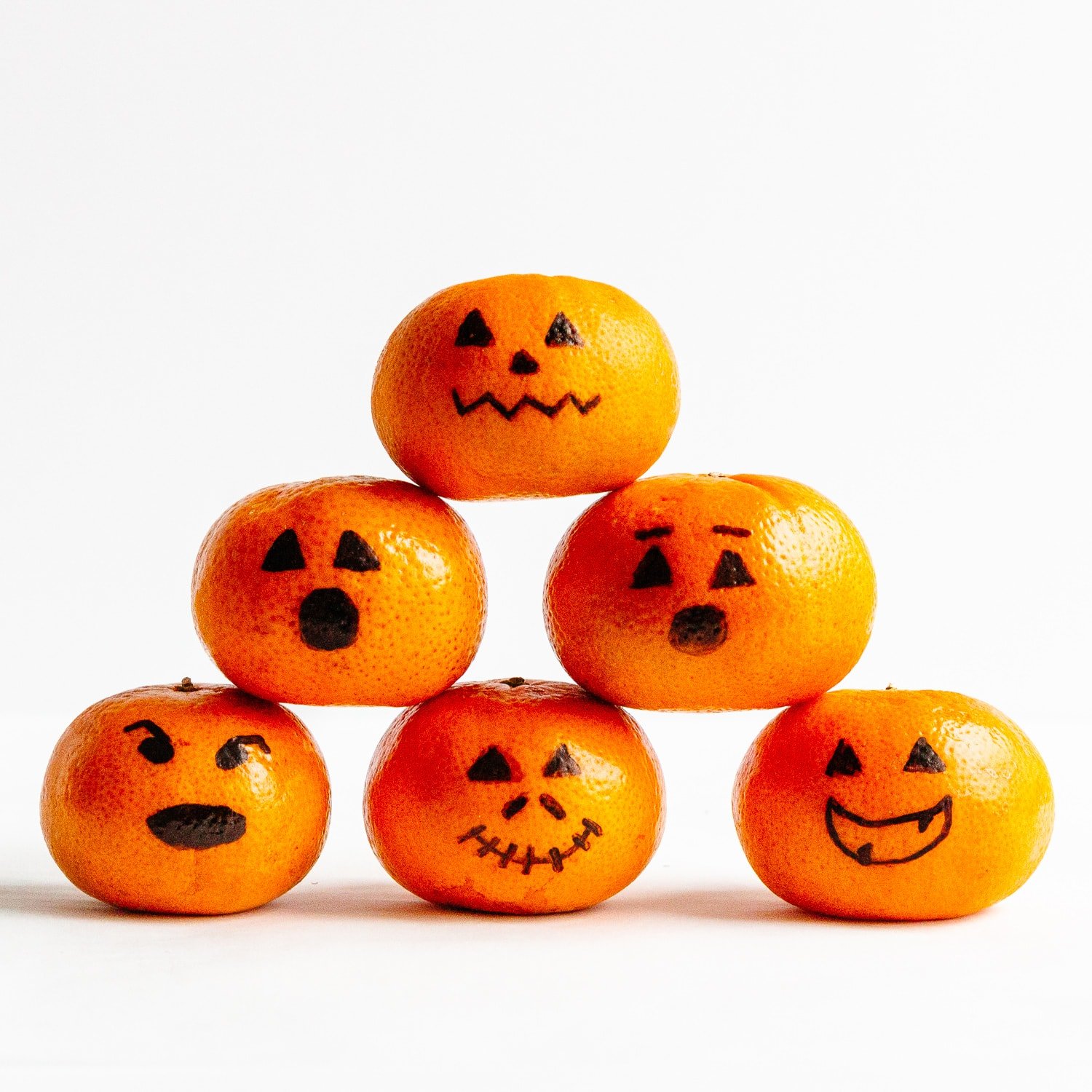 This super easy Halloween snack is a fun surprise to tuck into lunch boxes. Just grab yourself a Sharpie (black permanent marker) and draw faces on some mandarins. Tip: Let them dry for at least 30 min to avoid smudging.
Halloween Strawberries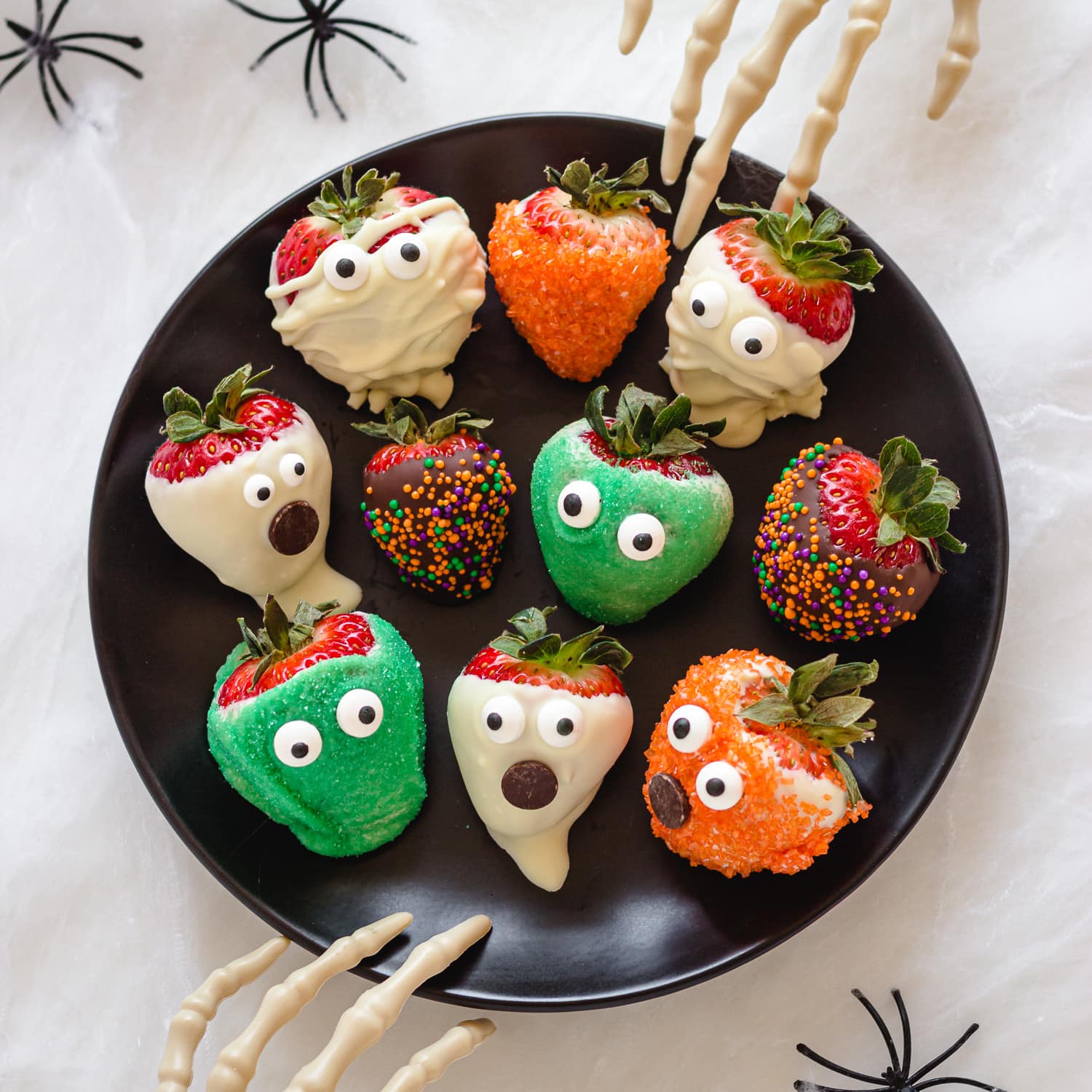 My kids love this Halloween treat! They are so cute and who can resist chocolate covered strawberries?! These spooky Halloween strawberries are easy to make with the addition of candy eyeballs, sprinkles and chocolate chips.
Head over to the Easy Halloween Chocolate Covered Strawberries post for step-by-step instructions and details on how to make all 5 versions (ghost, mummy, zombie, Halloween sprinkles and pumpkin).
Mummy Toast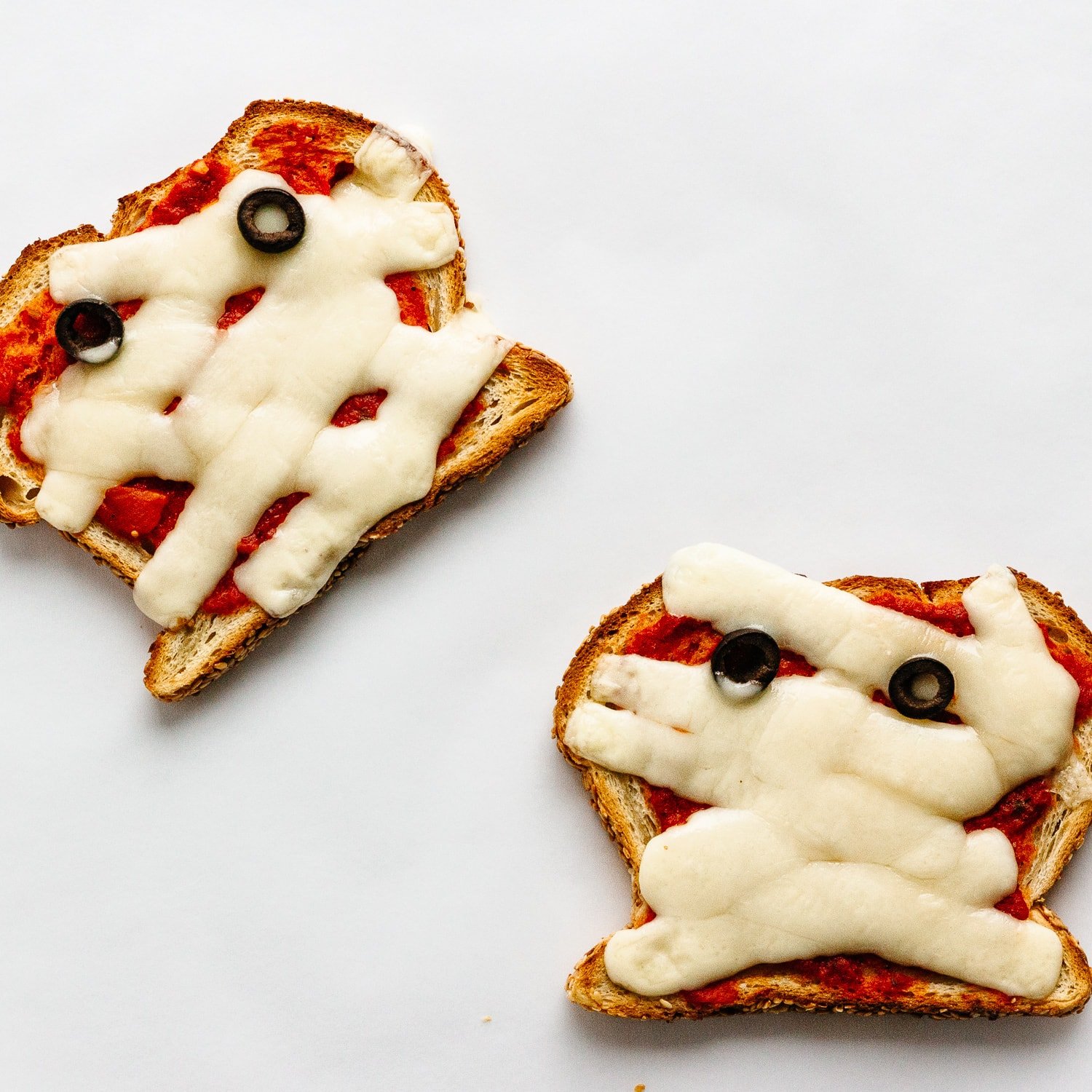 This Halloween food idea also makes a fun lunch for kids. Toast bread and spread on some tomato sauce. Cut mozzarella cheese into strips and arrange on the toast so that they resemble mummy bandages. Add some olive slices for eyes and pop under the broiler to melt the cheese. English muffins can also be used instead of toast!
If your kids don't like olives, leave them off and place two candy eyeballs on top before serving. It's kind of a strange combo but my kids don't seem to mind at all!
Ghost Hard Boiled Eggs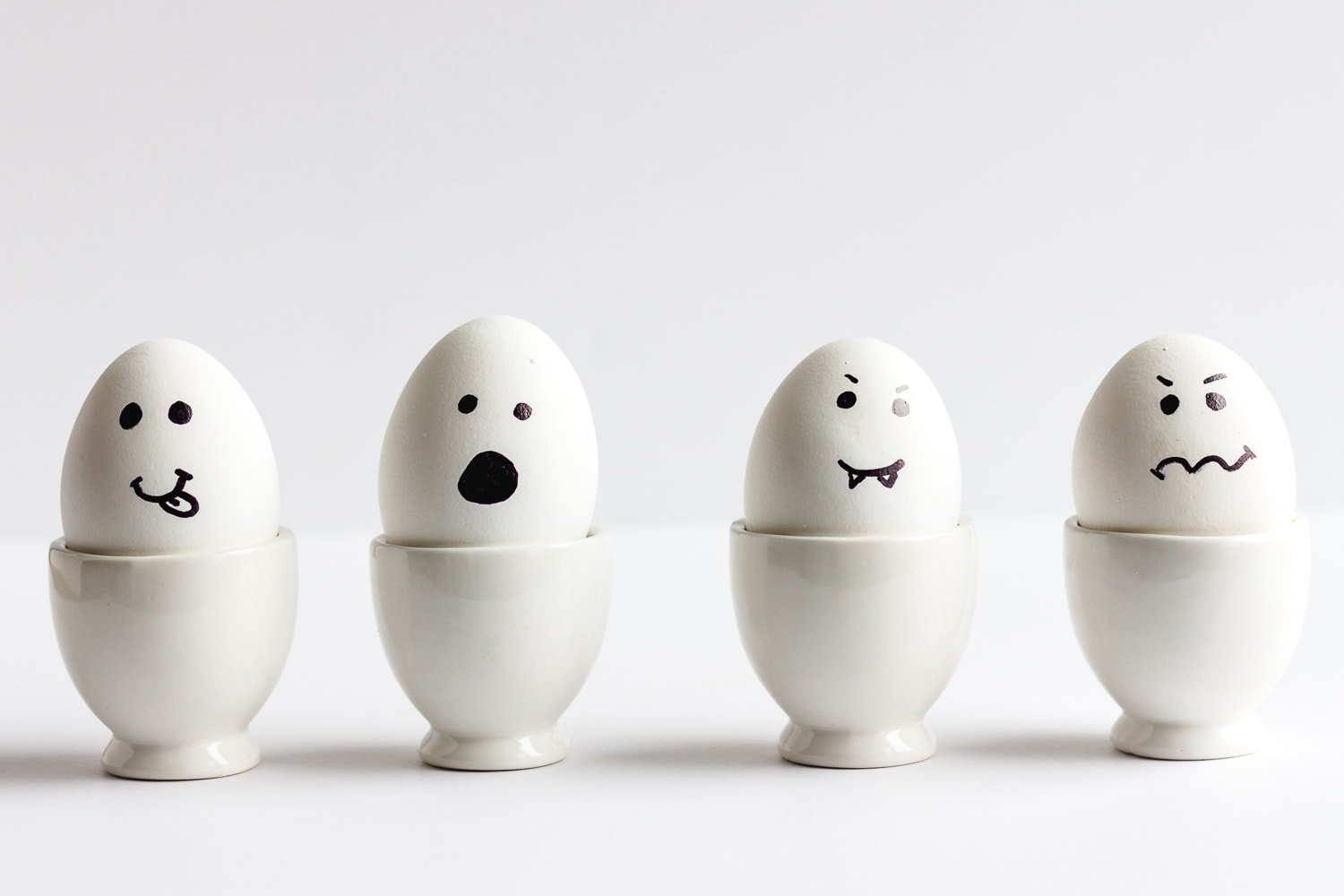 Halloween snacks can be as simple as these spooky hard boiled eggs. These healthy ghosts are great for breakfast, tucked into a lunch box or a fun snack. Simply use a marker to draw faces on the outside of hard boiled eggs. Note: Check out my tips for the Perfect Hard Boiled Eggs (stovetop and Instant Pot methods).
Halloween Popcorn Balls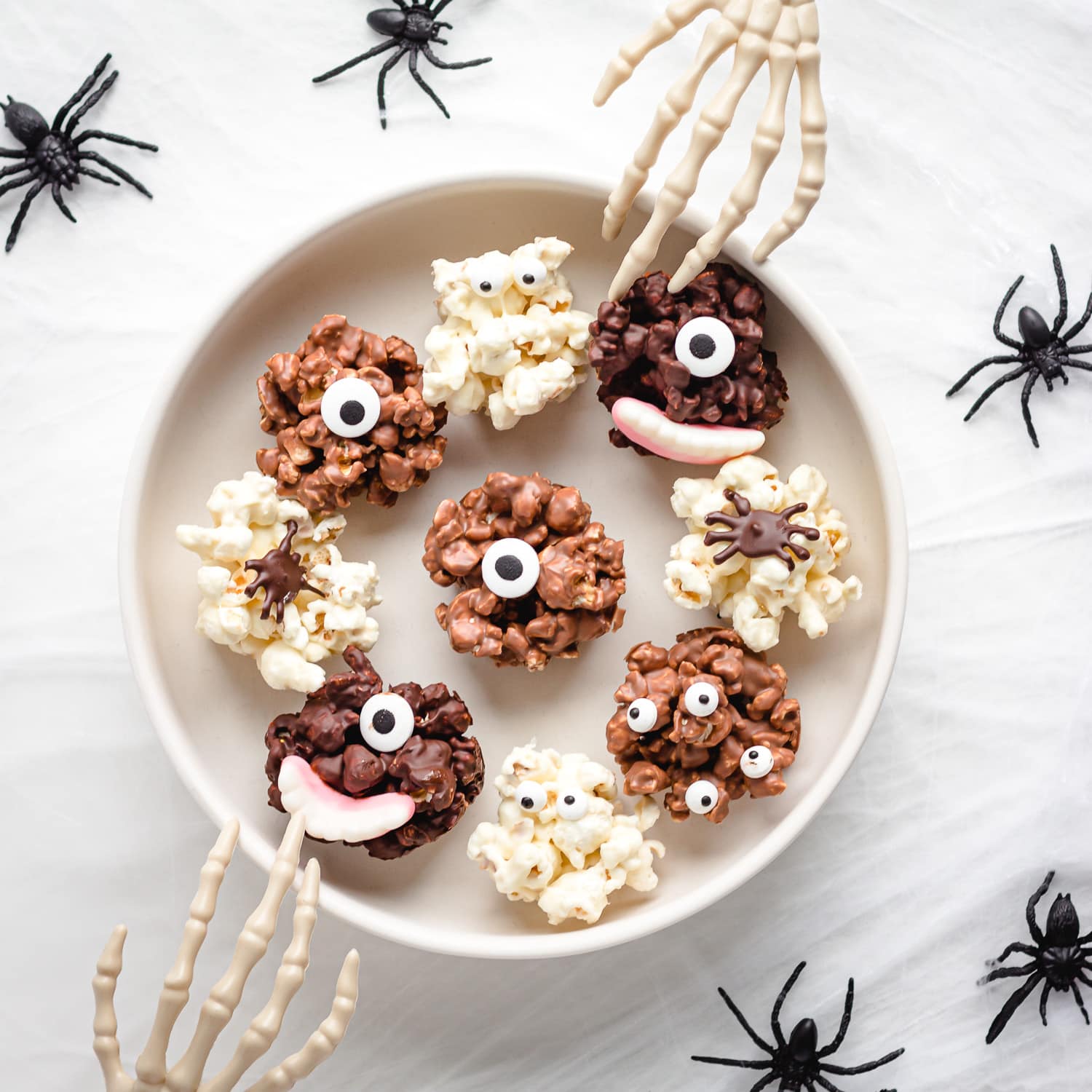 These 3-ingredient Halloween chocolate popcorn balls are a fun and easy Halloween treat that everyone loves. What's not to love about chocolate covered popcorn after all? It's so good!
Learn how to make them here > Chocolate Halloween Popcorn Balls.
Halloween Themed Lunch Box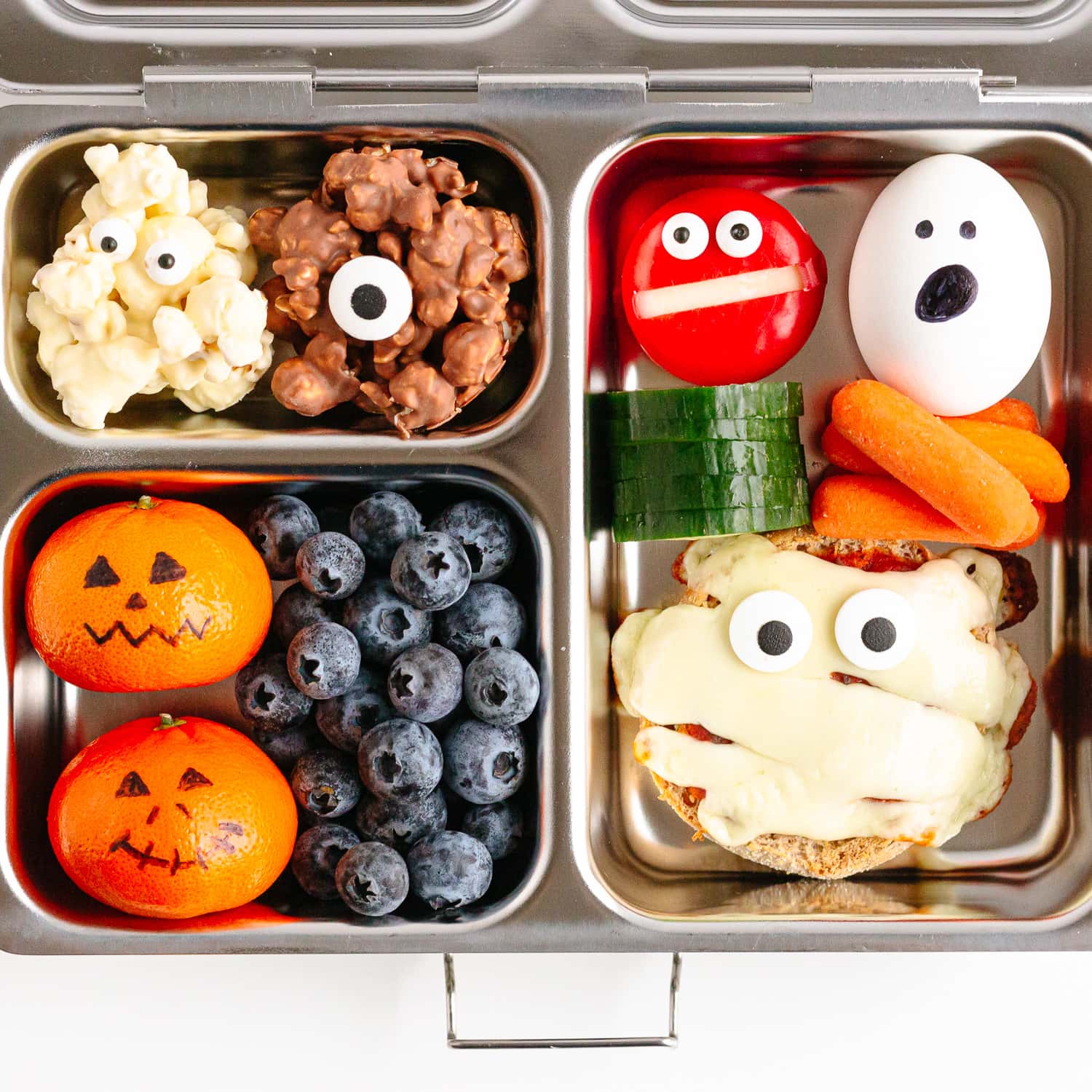 Some of these Halloween snacks would also work well packed into a school lunch box. Add some Halloween fun by tucking in one of these items or a few to make a full blown Halloween themed lunch box (see photo above for an example). For more school lunch inspiration, check out these Lunch Box Ideas For Kids.
More Fun Halloween Food
We covered Halloween snacks and treats but what about dinner? Make Halloween even more fun by serving one of these spooky and delicious main dishes for dinner! Also great for Halloween parties!
HAPPY HALLOWEEN!
⬇ PIN it for later! ⬇