Make Halloween even more fun by serving one of these spooky and delicious main dishes for dinner. These 10 Halloween themed dinner ideas are easy to make and feature family friendly recipes. They are guaranteed to add some spooky fun to your Halloween family dinner or party!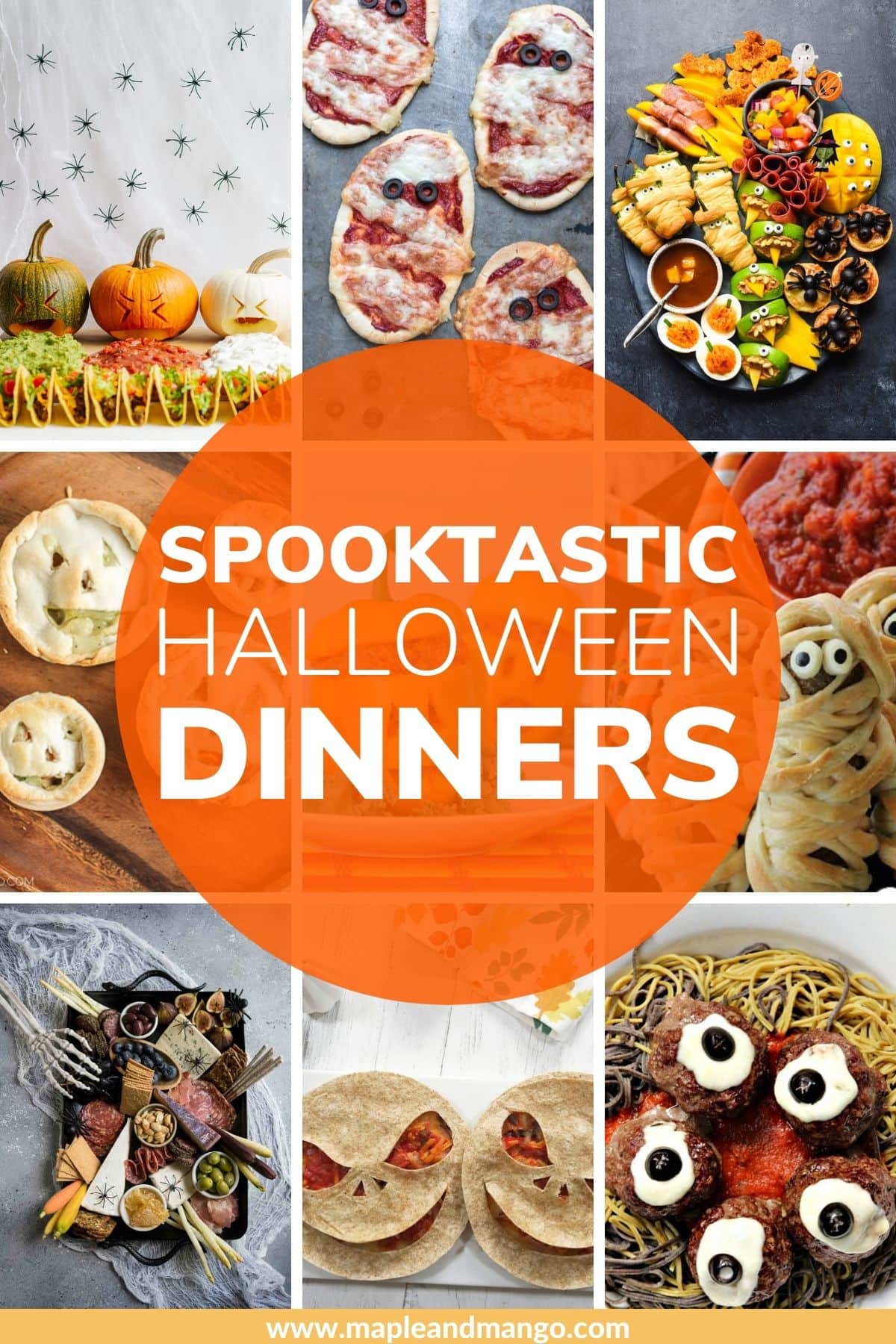 Surprise your family or friends with a fun and spooky Halloween themed dinner. Both kids and adults will love these ideas. All of them fall more into the cute/spooky category so they are suitable for the whole family (plus gruesome things just aren't my style since I scare easily – just ask my family, haha) . These dinner ideas would also be a ton of fun for a Halloween party.
10 Halloween Dinner Ideas
Looking for Halloween main dish recipes? From puking pumpkin taco boards and meatball mummies to spooky pizzas and snack boards, you are sure to find something "spooktacular". These 10 Halloween themed main dishes are guaranteed to add some spooky fun to your Halloween dinner.
What is a good dinner for Halloween?
Any dinner recipe can be transformed into a Halloween themed meal by simply adding some fun and spooky touches. All of the ideas below would be fantastic dinner options for Halloween. They focus on transforming some classic family friendly recipes (tacos, pizza, etc.) into fun Halloween themed dinners that both kids and adults alike will love.
These 10 Halloween dinner ideas are…
Easy to make
Family friendly / kid friendly
Deliciously fun and spooky
Perfect for both a Halloween themed family dinner or party
Add some Halloween fun to your dinner table by serving one of these fun, spooky and delicious Halloween themed main dishes. Let's check them out now…
Puking Pumpkin Taco Board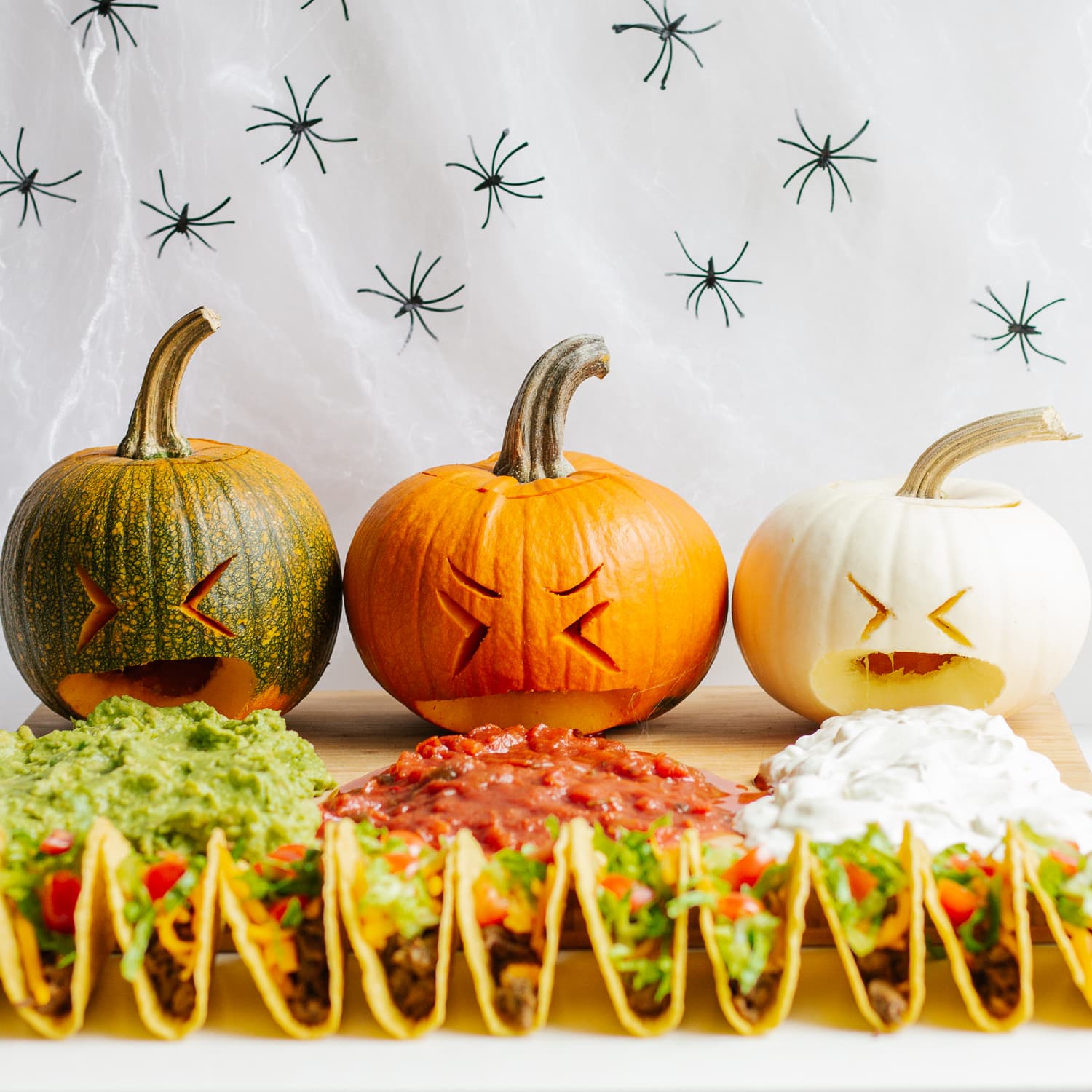 Puking Pumpkin Taco Board: Nothing screams Halloween more than a trio of pumpkins throwing up your taco toppings! It's cute, creepy, kind of gross and a whole lot of fun! Transform taco night into a spooky Halloween themed dinner with this hilarious taco board.
Spooky Halloween Pizza
Halloween-inspired pizzas are fun and easy to make! Here are two great ideas…
Mummy Halloween Pita Pizza by Veggie Desserts: These personal size pizzas are easily made with four simple ingredients. Kids will love them!
Halloween Graveyard Pizza by Stacey Homemaker: Spiders, worms, eyeballs and vampire tongues can all be found on this spooky pizza. Make it quickly by using a store bought frozen or "take and bake" cheese pizza as the base. Or use a homemade pizza if you prefer.
Meatball Mummies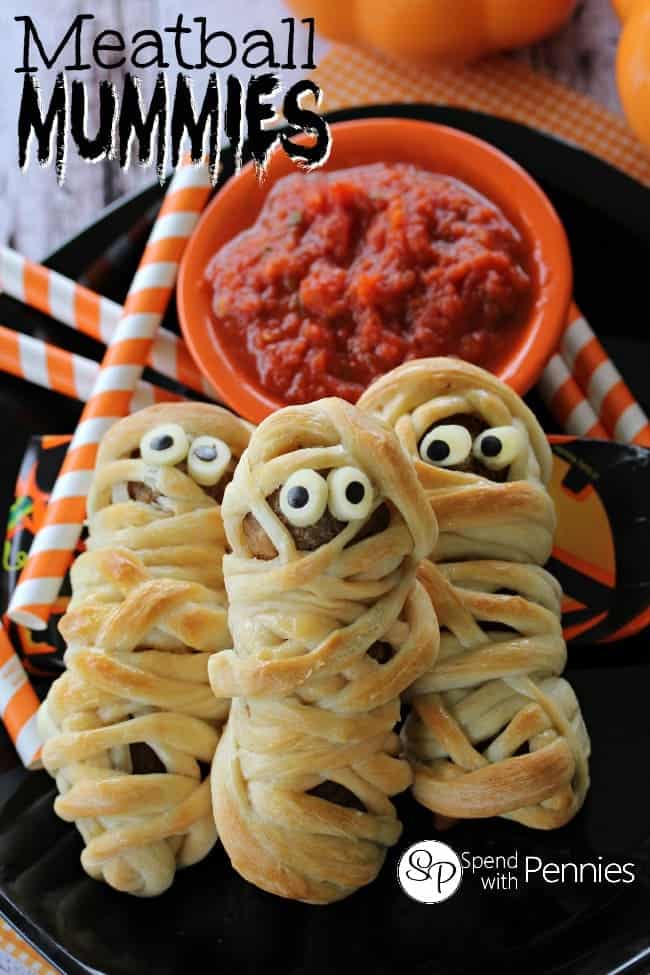 Meatball Mummies by Spend With Pennies: This is such a fun twist on the popular hot dog mummies we have all seen before. You can use frozen meatballs or homemade ones that have been cooked. So cute and easy to make!
Halloween Charcuterie and Snack Boards
Snack boards or charcuterie boards regularly make an appearance on my dinner table because everybody loves "snack dinner". Add some spooky touches and they will be a hit this Halloween. Check out these spooktastic boards for some ideas…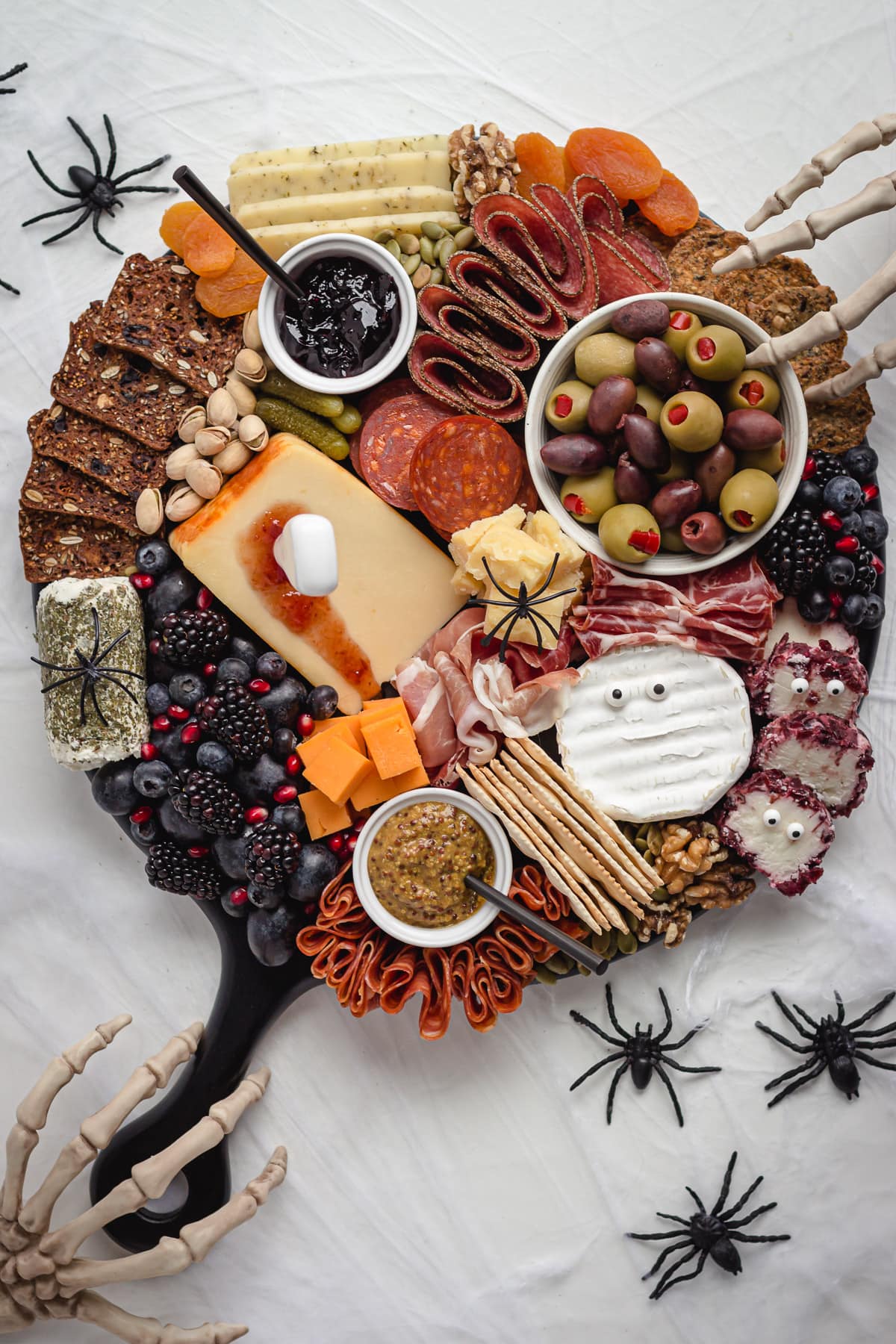 Spooky Halloween Charcuterie Board: I love a good charcuterie board and this is a fun and easy way to put a spooky Halloween spin on it. Choose ingredients in Halloween colors and include a few spooky additions. The post also includes 13 more Halloween charcuterie board ideas!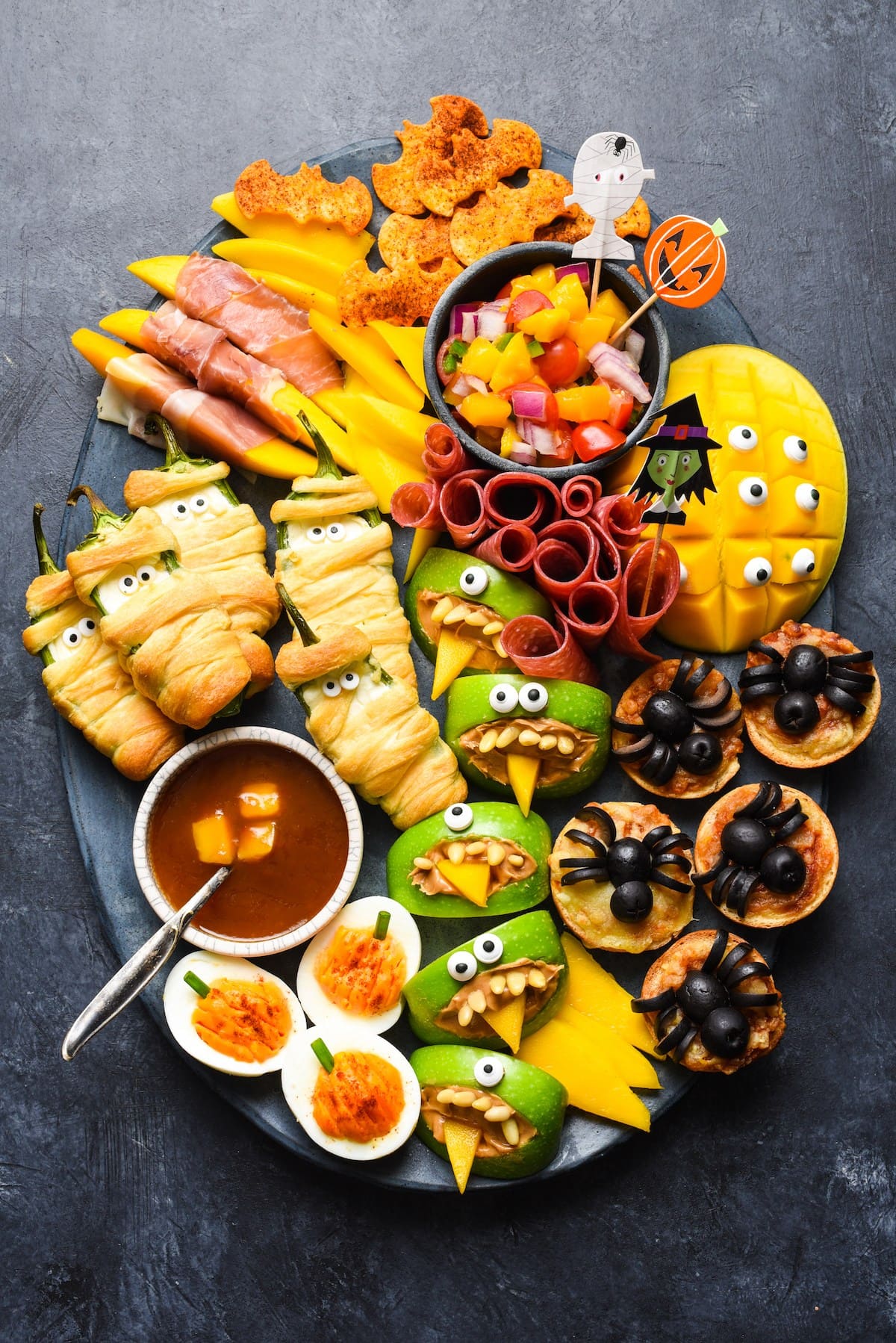 Halloween Snack Board by Foxes Love Lemons: This is one of the cutest Halloween themed snack boards that I have ever seen. Lots of different edible spooky creatures that would also make excellent party food.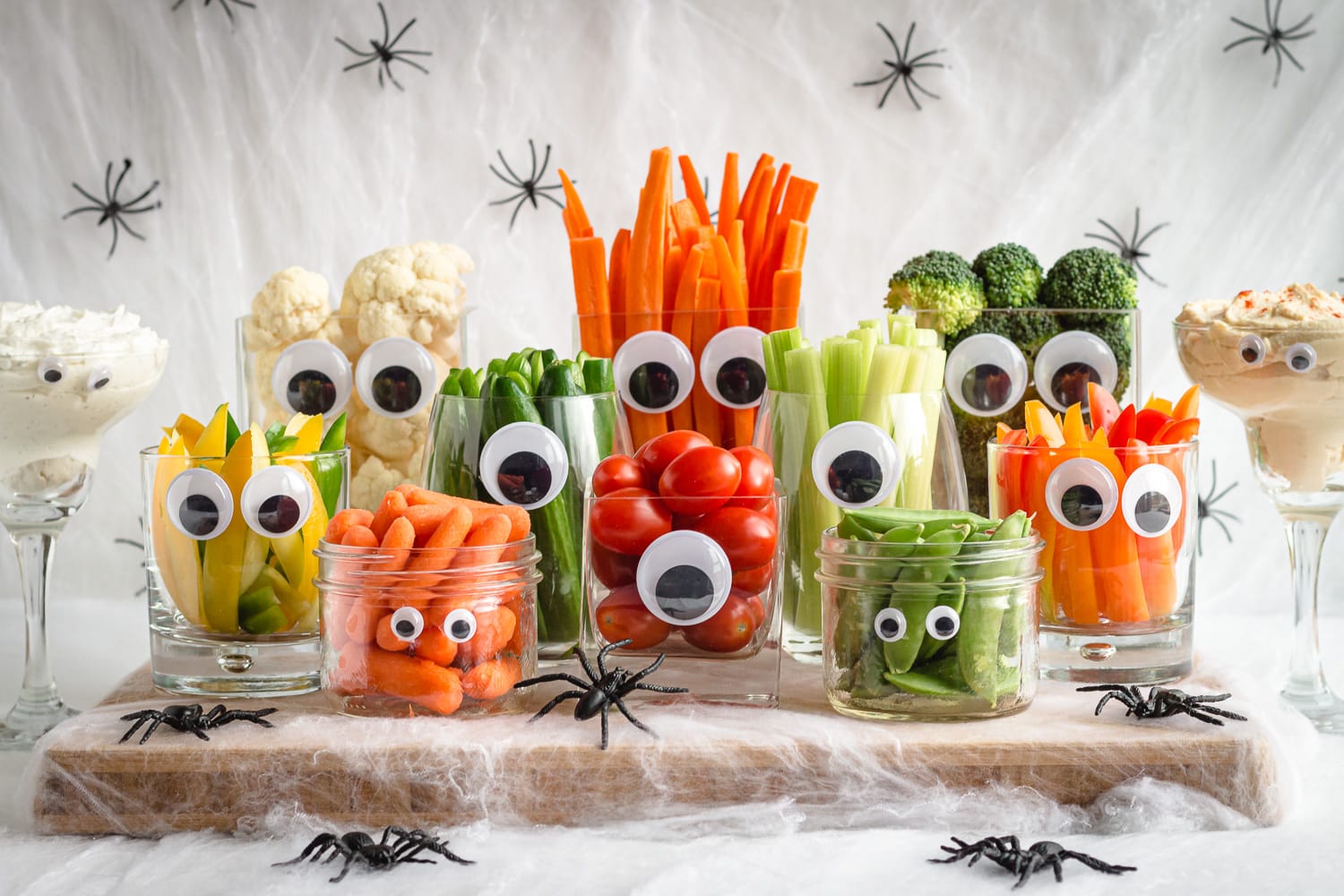 Easy Monster Halloween Veggie Tray: What a fun way to transform veggies and dip for Halloween! Serve it as a veggie side dish with one of the other dinner ideas here or alongside one of the other boards for a spooky finger food dinner.
Spooky Spaghetti And Eyeball Meatballs
Halloween Spooky Spaghetti and Eyeball Meatballs by Pink Fortitude: Turn your spaghetti and meatballs into a creepy looking plate of brains and eyeballs. No food dyes used here – this fun Halloween dinner idea is made from healthy real food ingredients.
Spooky Shepherd's Pie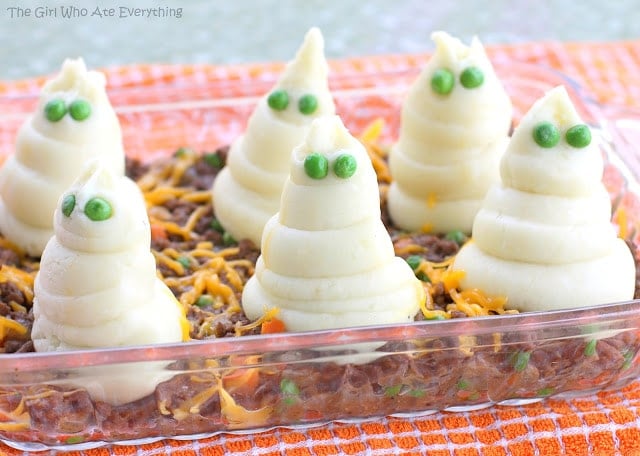 Spooky Shepherd's Pie by The Girl Who Ate Everything: This classic comfort food dish gets a Halloween makeover with the addition of the cutest mashed potato ghosts you ever did see!
Jack-O-Lantern Chicken Pot Pies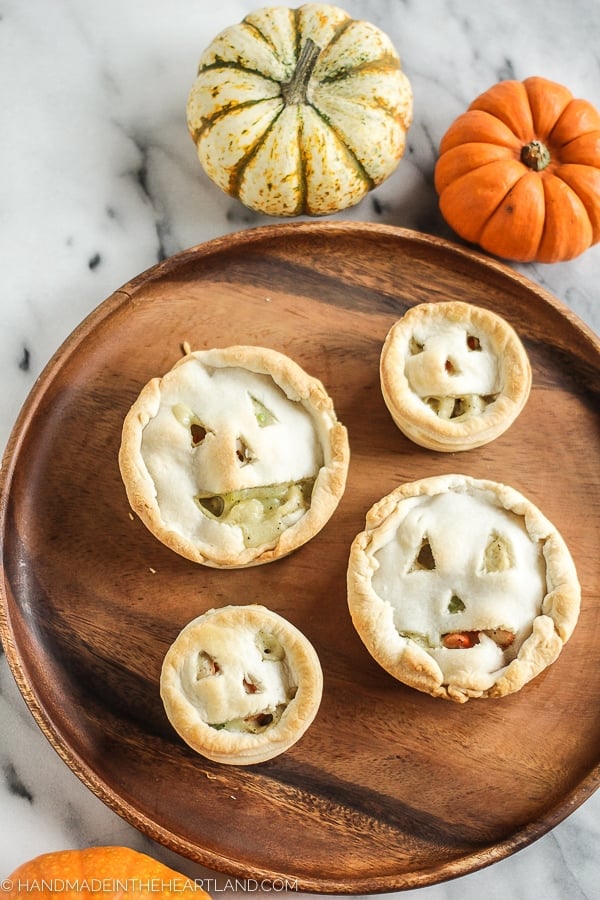 Jack-O-Lantern Chicken Pot Pies by Handmade In The Heartland: Have some Halloween fun by carving a jack-o-lantern face into the pastry of this classic dish. You can either make cute little personal size chicken pot pies or a larger standard sized one to share.
Mini Mummy Meatloaves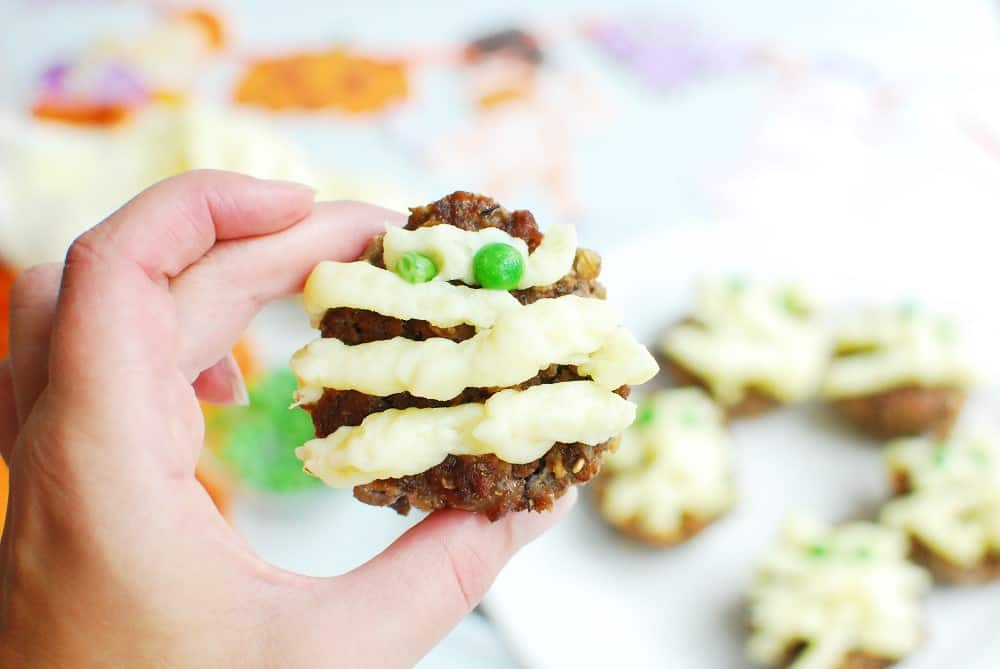 Mini Halloween Mummy Meatloaves by Snacking In Sneakers: The classic combo of meatloaf and mashed potatoes is turned into a fun Halloween themed dinner for both kids and adults.
Stuffed Pepper Jack-O-Lanterns
Bell Pepper Jack O Lanterns by Spabettie: Carved bell peppers are a fun Halloween night dinner. This post includes a variety of delicious stuffed pepper recipes to choose from.
Creepy Quesadillas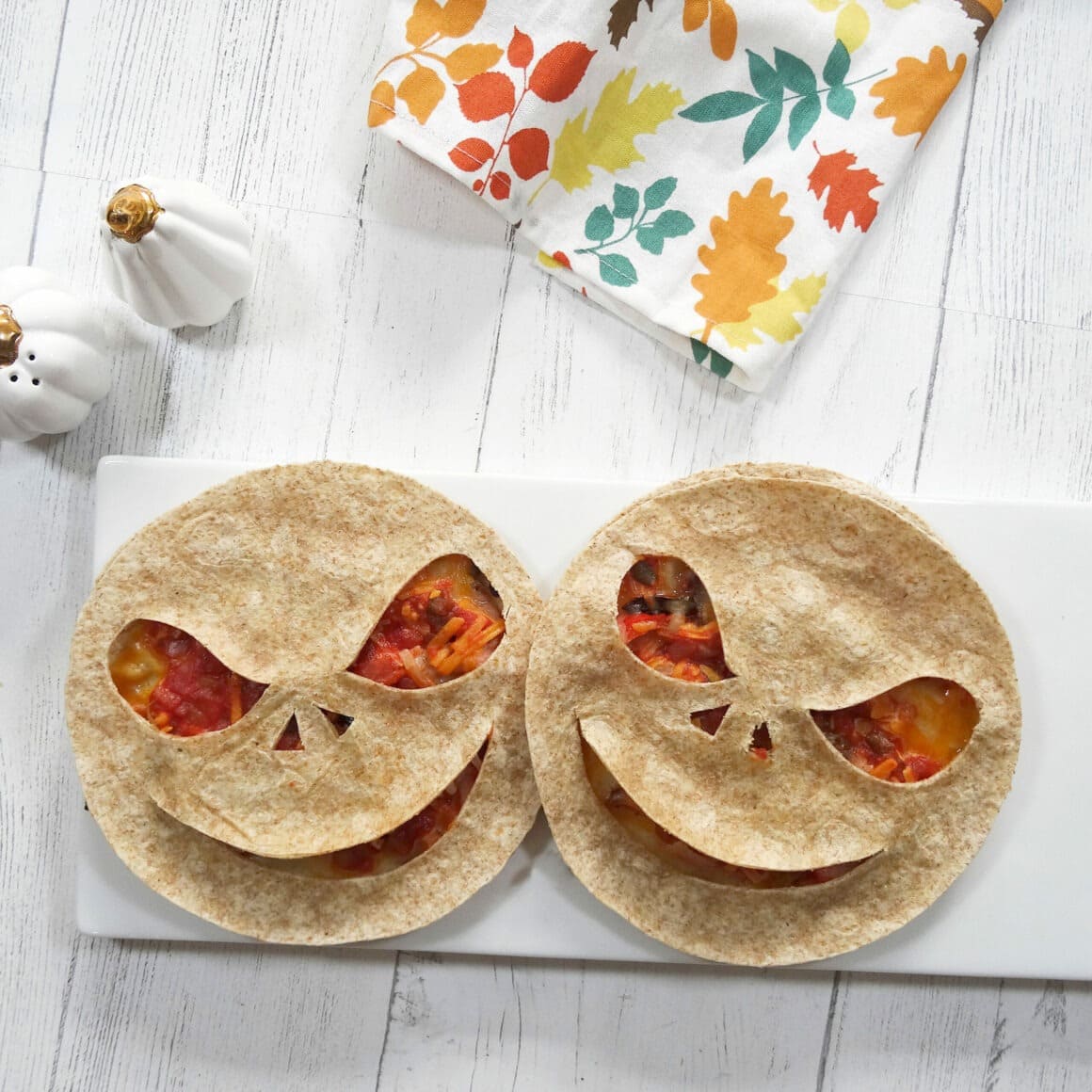 Easy Creepy Quesadillas by Champagne and Sugarplums: These creepy looking quesadillas are a quick and easy Halloween dinner option. Customize them with your favourite fillings!
More Halloween Recipes
Looking for some more fun Halloween recipes? You might enjoy these easy to make Healthy Halloween Snacks.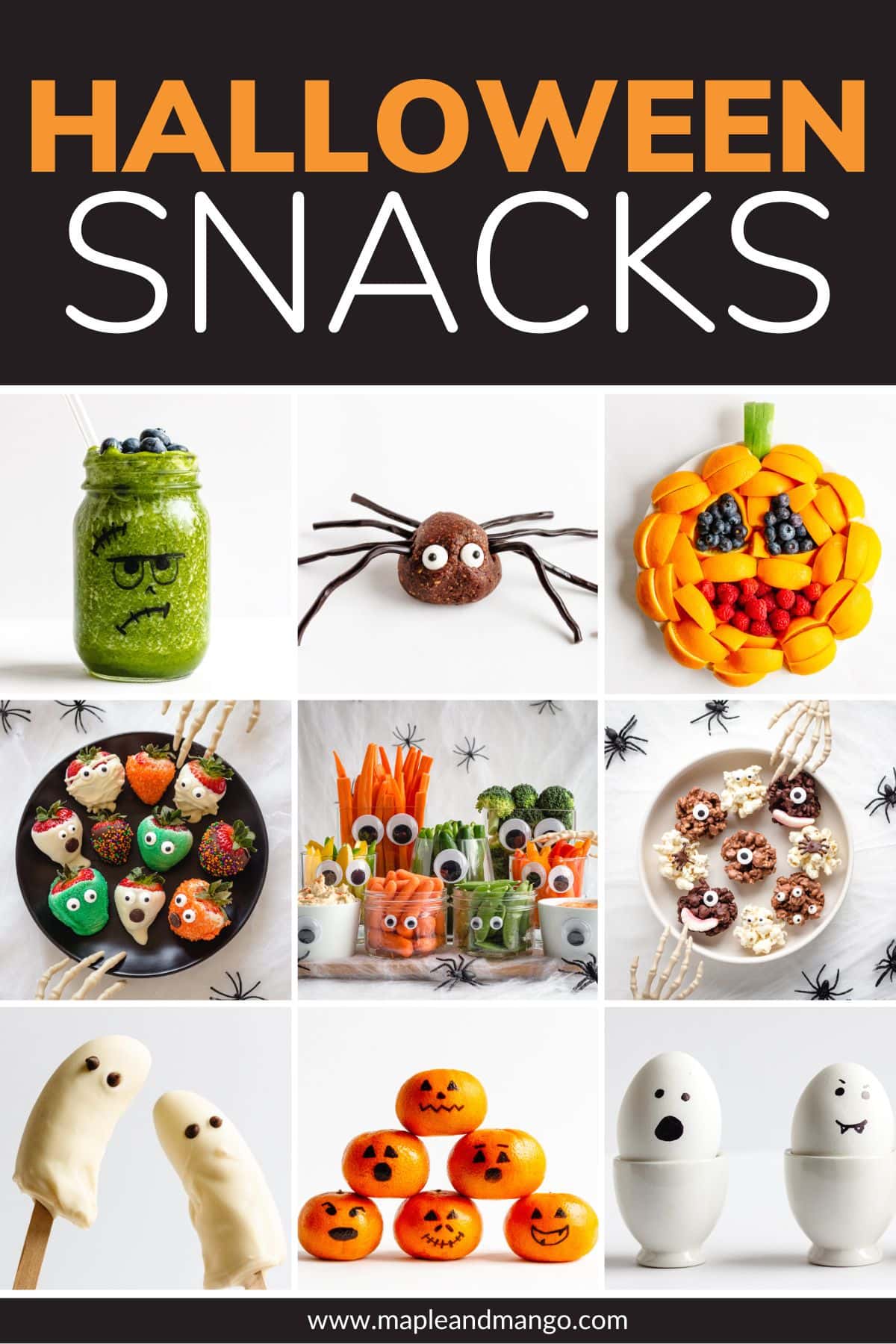 Or perhaps these easy 3-ingredient chocolate Halloween Popcorn Balls or Halloween Chocolate Covered Strawberries for dessert!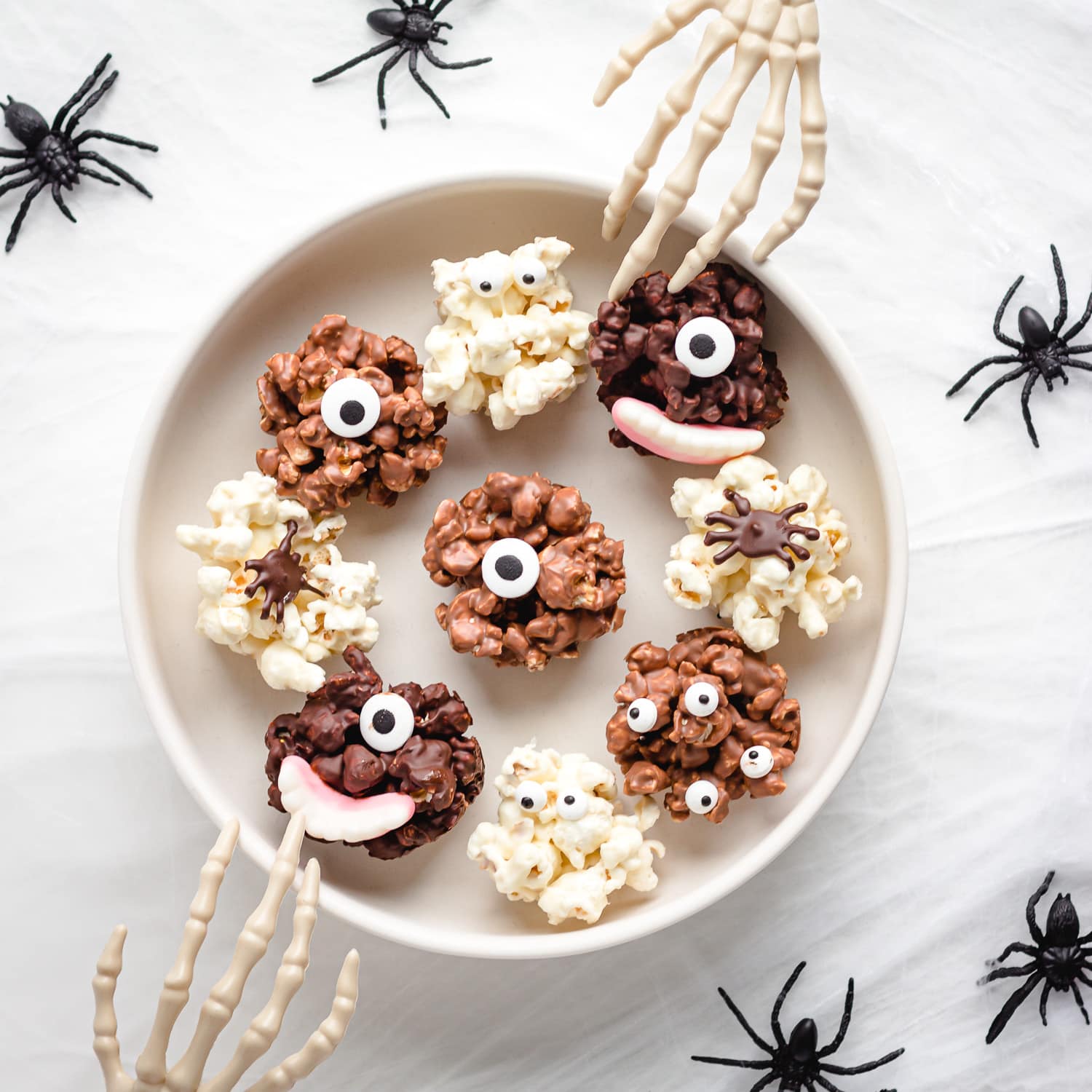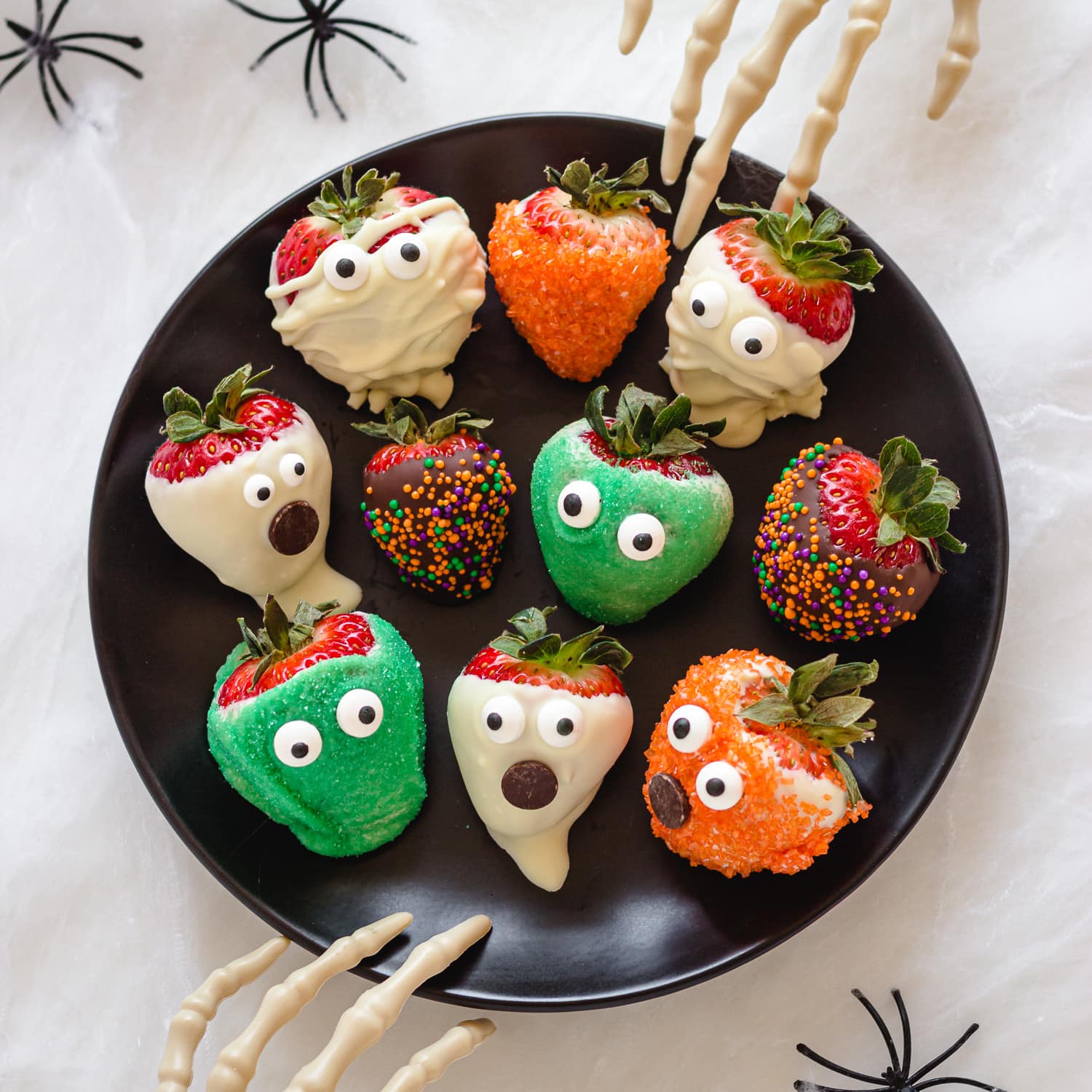 What are you serving for Halloween dinner? Do you have a standard go-to meal or are you trying out something new this year? Let me know in the comments below.
⬇ PIN it for later! ⬇