Looking for a great popsicle mold? Check out my top picks for some of the best stainless steel and silicone popsicle molds. Making homemade popsicles is fun and easy with these!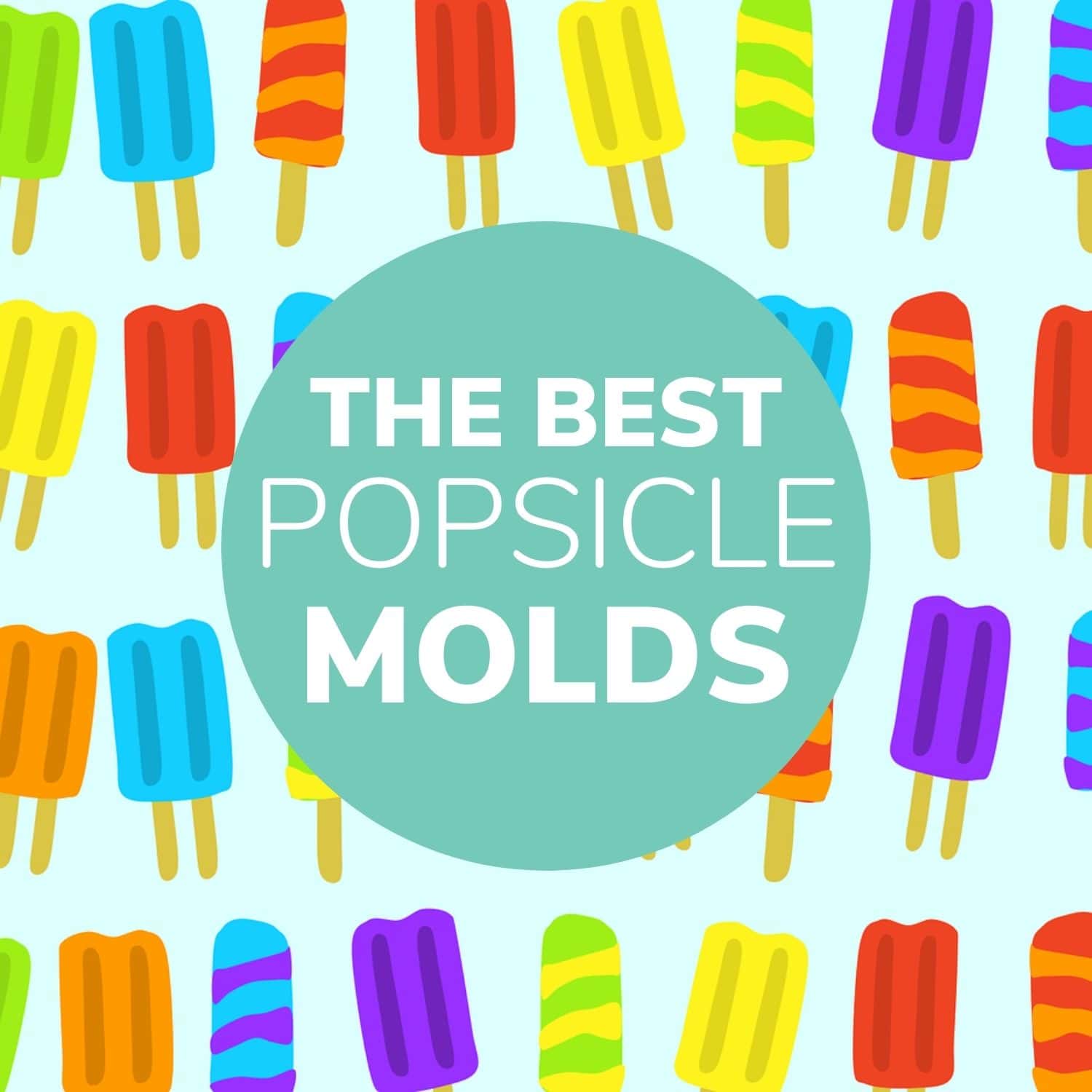 Popsicles are a refreshing treat in the summer that both kids and adults love! I like to make homemade popsicles, aka ice pops, ice lollies, ice blocks, etc. (wow – these frozen treats sure do go by a lot of names!). Regardless of what you call them, they are fun and easy to make if you have a good popsicle mold!
The mold is key! I struggled for years with cheap, plastic molds that would crack after one season or hold my delicious popsicles captive. There is nothing more frustrating than holding the tray under warm water FOREVER and still end up with just the stick in your hand. Not fun…not fun at all!
Now I use some great silicone and stainless steel popsicle molds. No more frustration! I only wish I had bought them sooner!
Must Have Criteria
These are the things I look for! The best popsicle molds, in my opinion, must meet the following criteria:
Made from durable materials: Silicone or stainless steel molds are more durable than plastic. No cracking or the need for constant replacements.
Easy release: No more frustration trying to remove your popsicle from the mold.
Individually frozen: No need to pull out an entire tray of popsicles from the freezer every time you want to grab one.
My Top Picks
These are some of the best popsicle molds for homemade ice pops!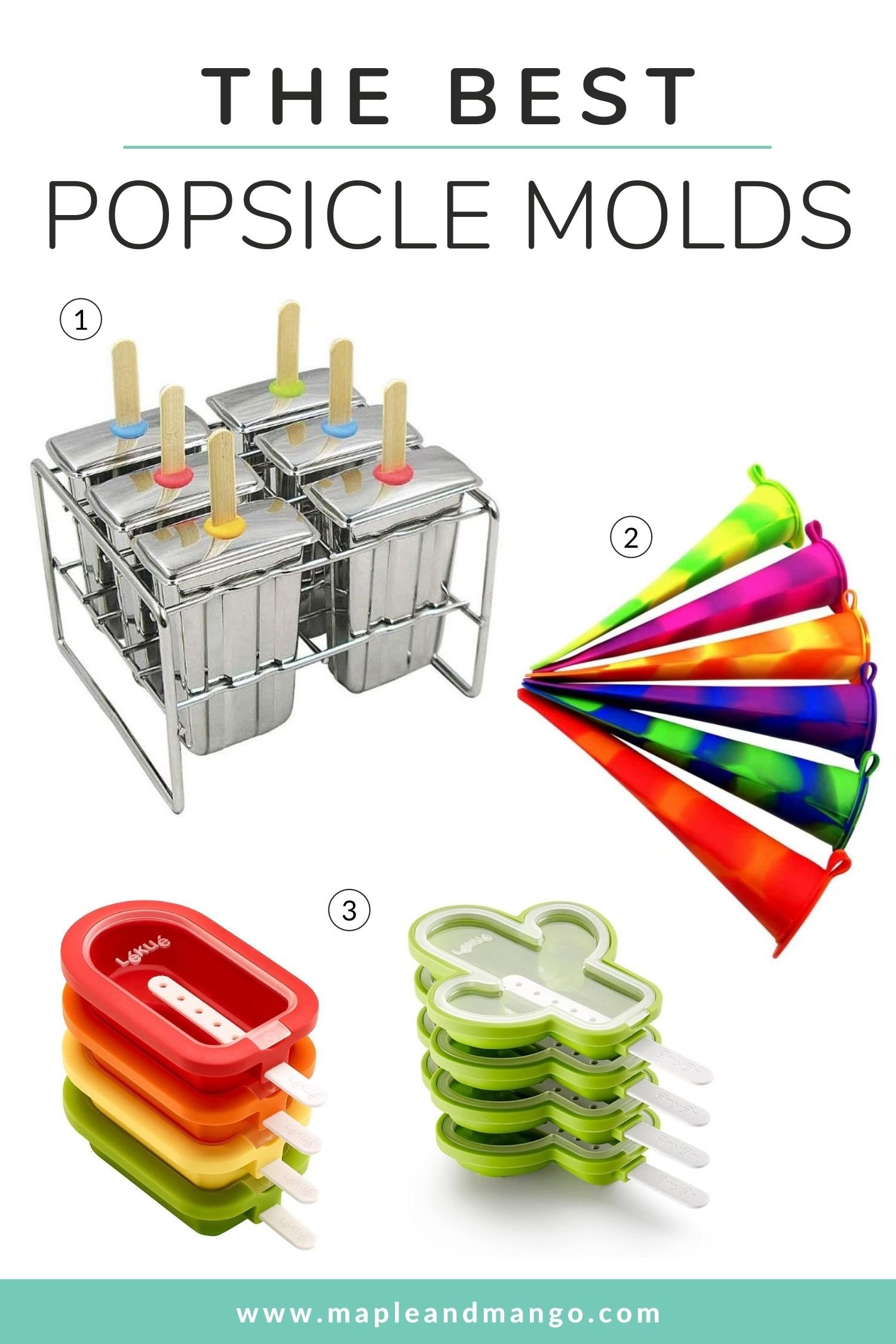 Stainless Steel Popsicle Mold
The Onyx Stainless Steel Popsicle Mold is my absolute favorite! This is a gorgeous set that produces beautiful popsicles and is also super functional. It is definitely on the more expensive end but this thing should last a lifetime.
Some of the benefits include:
Releases popsicle quickly: Just hold briefly under warm water (few seconds) and they slide right out.
Classic design: Makes larger classic style popsicles.
Durable: Made from pure stainless steel (should last a lifetime).
Individual design: Designed so that one popsicle can be removed or refilled at a time (no need to pull out the entire tray).
Perfect stick placement: Lids have little silicone rings which ensure proper stick placement. This eliminates any crooked sticks or needing to remember to insert them when partially frozen.
Silicone Push Up Popsicle Mold
These silicone push-up "freezie" style molds are so much fun for kids.
Some of the benefits include:
Less messy: No drips make these perfect for young children or on super hot summer days.
Durable and reusable: Less waste is always a good thing.
Attachable Lids: I love that the lids are attached – prevents losing the small lids that typically come with this style of mold.
Silicone Stackable Popsicle Mold
The Lekue Stackable Popsicle Molds are ideal for those with small freezers. They also come in a variety of fun shapes like this cactus shape.
Some of the benefits include:
Stackable: This saves space in your freezer which makes these perfect for people with little freezer space.
Great for chunky fruit popsicles: These are great for making popsicles with fruit pieces because the trays sit horizontally so the fruit won't sink to the bottom. You can easily place the fruit where you want it to show on the finished popsicle.
Easy to unmold: Just peel back the flexible silicone.
Fun for kids: These molds make smaller popsicles which makes them ideal for young children or those who prefer smaller treats. Kids also love some of the fun shapes these come in.
Benefits Of Making Your Own Popsicles
Why would you make your own popsicles when you can just go buy them at the store? Fair question! Here are a few of the benefits of homemade popsicles…
You control the ingredients: Most store bought popsicles contain highly processed sweeteners, artificial colors and flavors. When you make your own, you can use a variety of fresh, real food ingredients.
Save money: The "cleaner" popsicles you can purchase tend to be very expensive.
Less waste: No plastic packaging gets tossed out.
Easy to make: Most only require a few minutes of active prep time.
Customize flavours: You can get creative and make any flavour you like!
How To Make Homemade Popsicles
So now you have a mold but what do you put in it? It can be as simple as pouring in your favorite juice, smoothie, yogurt or pureed fruit. Or have some fun getting creative!
Here are a few great popsicle recipes for inspiration…
⬇ PIN it for later! ⬇