Need some ideas for Valentine's Day gifts for him? Check out some of my suggestions below on what to get the special man in your life.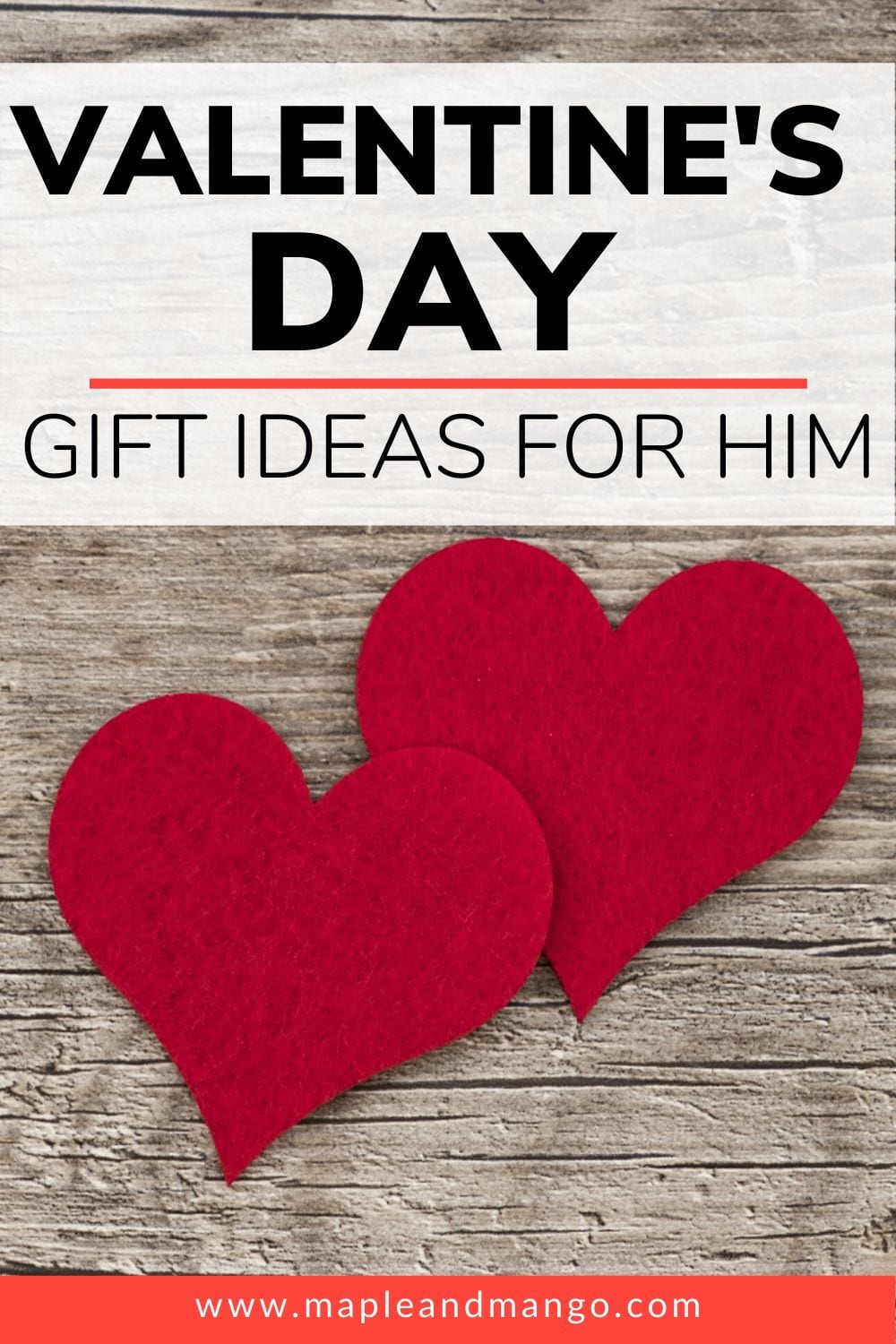 With Valentine's Day ♥ coming up, I have decided to put together a few gift ideas "for him". Because let's face it…coming up with Valentine's Day gift ideas for the special man in your life can be a challenge! So let's get into it…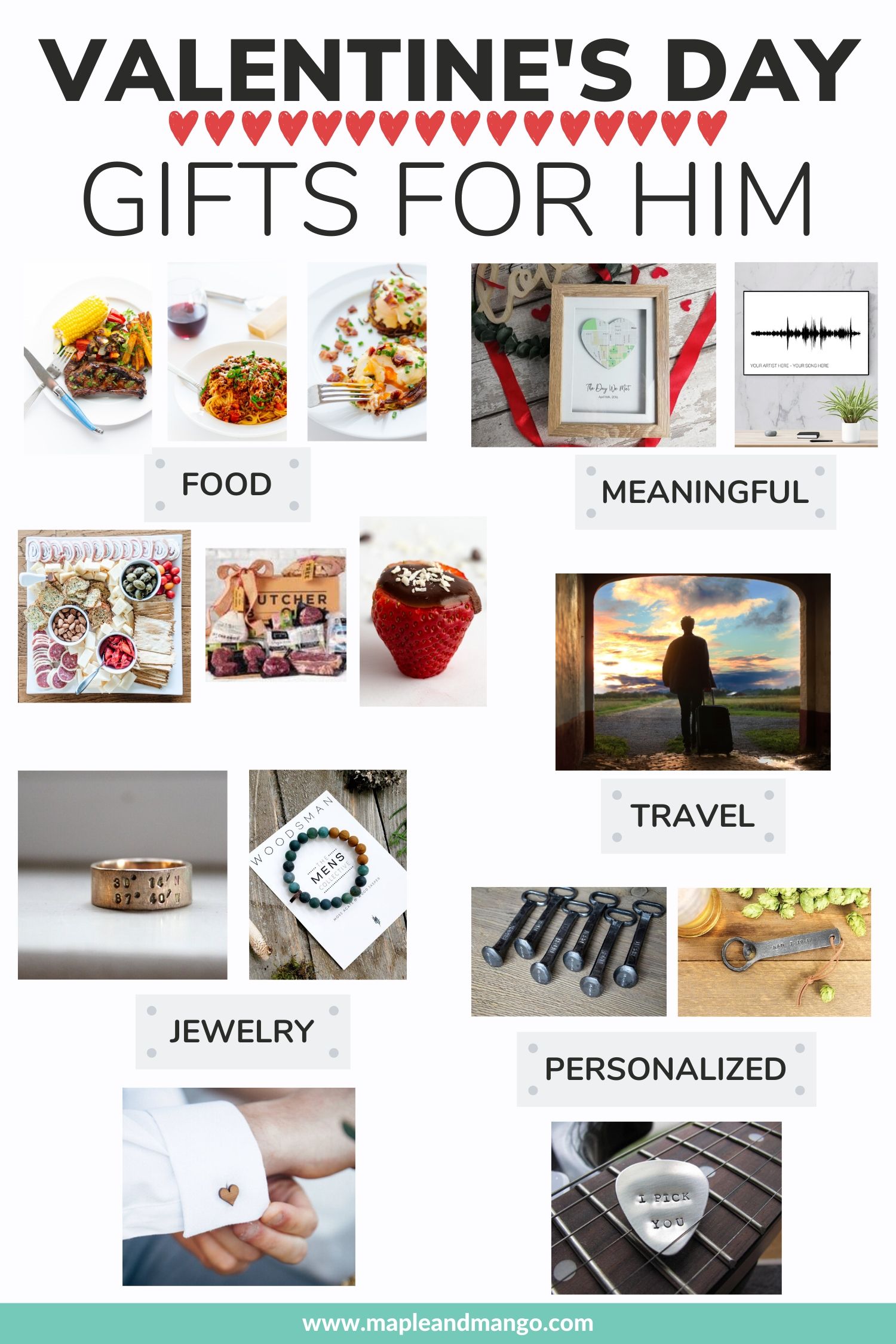 Food Ideas
If he is anything like my husband then all he really wants for Valentine's Day is a great meal. As the saying goes: "The way to a man's heart is through his stomach." If this rings true for your guy, then here are a few ideas.
Cook For Him
Prepare his favorite meal, put together a charcuterie board or make a decadent dessert. You know what foods he likes best but if you need a few suggestions, I am happy to provide some.
Take Him Out
Not up for cooking? Then take him out to his favorite restaurant or explore a new place together. If you are not sure where to go, ask friends for suggestions or check out the "Restaurants" section on TripAdvisor for ideas.
Gift Box or Subscription Service
Compile a selection of his favorite food items into a gift box. Gourmet grocers also sometimes offer beautiful baskets or boxes of specialty items. Another option is a subscription service. There seems to be one for just about anything you can think of! If he enjoys high quality meat, then ButcherBox would be a great option. They also offer great promos for new subscribers. The current promo for Valentine's Day offers free wild-caught salmon and grass-fed filet mignons (check out the latest promo HERE). Sounds like the makings of a romantic Surf and Turf date night (just saying!😉). Note: If you live in Canada, truLOCAL offers a similar service.
Travel Gifts
The experience of travel is always a great gift and allows you to make memories and spend time together. It could be as simple as booking a romantic night away somewhere close by or if budget allows you could spoil him with a trip to a special travel bucket list destination. This is the type of gift that has so many options at so many different price points. When planning a trip, I like to check out TripAdvisor and Booking.com.
Personalized Gifts
Personalized gifts can be a lot of fun! There are lots of great options available on Etsy – check it out HERE. A couple of fun examples include:
Meaningful / Sentimental Gifts
Looking for something a little more meaningful and sentimental. Here are two unique gift ideas.
Map Art – You could have a print created to represent a special moment in your relationship (i.e. day you met, spot of your first date, day you got married, etc).
Sound Wave Print – Create a cool sound wave print of a special song, sentimental spoken message, etc.
Jewelry For Him
Jewelry isn't just for women. Men can also appreciate a piece of jewelry. Here are a few ideas:
Hopefully this post provided you with some ideas and inspiration on what to get the special man in your life for Valentine's Day.
Looking for more gift ideas? If he likes to cook or grill then make sure to also check out these Foodie Gifts For Men!
⬇ PIN it for later! ⬇